By Gail Supplee Tatum, Columnist, The Times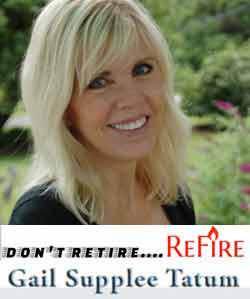 As we come out of the winter and enter the season of spring, with longer days and warming temperatures, it brings to mind my own movement through winter and how I handled this dormant period of time. I then pondered on how we, as humans, get through the winter.
Winter is that one season that has the most effect on our emotions. "The Winter Blues" is very real. That's why many have winter homes in Florida!
There are many animals and creatures that hibernate in the winter. They go dormant, if you will. Many of us go through, what I call, the human hibernation, where we don't go out as much. Instead, we stay in, make hearty meals, then curl up on our couches and watch a good movie. We become less active.
Winter is a very brown and bare season, which can cause a feeling of deadness. It's all in how we look at it.
I have come to look at winter as being a time of reflection, of rejuvenation, of preparation.
The end of fall and early winter are so busy with Halloween, Thanksgiving, Christmas, Hanukkah and the New Year, that we really don't dwell on the cold, the inclement weather and the short days. It isn't until after all of that hustle and bustle, that we take notice.
Those who aren't particularly fond of the cold, take that time to plan a getaway to a warm destination just to "thaw out". If you can, this is good for the soul.
Those who love the winter, look forward to all of the outside activities, like ice skating, snowboarding and skiing, to name a few. They don't pay attention to the short days where darkness falls before 5PM.
Here are a few ways to help you come out of the winter and prepare for the longer, sunnier, warmer days of spring.
Finish up those winter projects that you started. That sense of accomplishment will invigorate you with a feeling of completion! Anything unfinished will leave you feeling disconnected and out of balance. Tie up your loose ends!
Reassess and plan. As you look ahead and decide what's next, create your "jump into spring" To Do List with everything from cleaning to scheduling gatherings and participating in events that bring the best out in you. This can be you much joy!
Get your mind right. Nourish your mind with personal development, whether it is a book or, if you have a hard time sticking with one from beginning to end, read quotes, which you can get from by googling, "inspiring, uplifting quotes". You can also buy a book of quotes. The point is to center yourself in order to start your day out on the right foot. If you feel you don't have the time or the money to do any of this, find the time, as you rise from your sleep, to inhale deeply, a few times, and with each breath, state what you're grateful for. This, alone, can put your mind right.
Get your body right. Shed the winter coat and I'm not talking about the one in your closet! Start moving more. If you're not a fan of regimented exercise, then put on your favorite music; turn up the volume and dance, dance, dance!
Symbolically, coming out of the winter into the warmth and life of the spring, is the time for new beginnings. A fresh start.
We humans find many times throughout the year for the desire of new beginnings and for a fresh start. We use the New Year, our birthday and the season of spring as markers for those fresh starts.
We are a race of reinventing ourselves. It makes life exciting and pushes us to be all that we can be, where the possibilities are endless!
New birth springs forth from the winter. Each season brings its own energy but winter into spring has the most significance.
While nature looks brown and dead, there is excitement growing beneath the ground. There is an awaking just waiting to burst through the ground or pop out from the tress branches. Suddenly, a crocus appears! How does it make you feel? The word for me is hopeful. Hopeful of what is to come!
Although most of our area is snow covered and the bitter cold splashes on our faces, we don't have long to wait.
As we "spring" forward this weekend and set our clocks an hour ahead, let's not think about the hour we lose, but, instead, smile and know, spring is near bringing aliveness to our world.