By Denny Dyroff, Entertainment Editor, The Times
This week, the national tours of two Tony Award-winning musicals will visit the area – "Rent" in Philadelphia and "Something Rotten" in Wilmington.
"Rent", which had record-breaking sales when it played Philadelphia on numerous previous occasions, has established itself as one of America's all-time best Broadway shows. Based on Puccini's opera "La Boheme", it swept all the major theater awards, including the 1996 Tony Award for Best Musical and the Pulitzer Prize for Drama.
Now, the National Tour of "Rent" is coming back to Philly as part of the Kimmel Center's Broadway Philadelphia series. The hit musical will run from March 5-10 at the Merriam Theater (250 South Broad Street, Philadelphia, www.kimmelcenter.org).
The show's playwright Jonathan Larsen passed away the night before the Off-Broadway premiere of "Rent" in January 1996. Most likely, if he were still alive today, he would be astounded by the show's success – more than 20 productions worldwide, including Broadway and London's West End, and numerous awards such as Pulitzer Prize for Drama, three Tony Awards (Best Musical, Best Book of a Musical and Best Original Score) and four Drama Desk Awards (Outstanding Musical, Outstanding Book of a Musical, Outstanding Music and Outstanding Lyrics).
Many of the characters in the play are dropouts from the real world – artists, musicians, writers and their friends who are trying to survive on the outer fringes of society.
Ironically, Lyndie Moe, who plays the key role of struggling performance artist Maureen Johnson, is also a dropout – a college dropout. Moe is a Delaware resident who dropped out of Rider University after just one year.
"I grew up in Kansas until I was in fourth grade," said Moe, during a recent phone interview from a tour stop in Albuquerque, New Mexico.
"Then, my family moved to Delaware – to the Pike Creek area. I graduated from Delaware's Cab Calloway School of the Arts and then went to Rider University as a BFA major.
"I left Rider because I got this role in the National Tour of 'Rent.' I auditioned in spring 2017, got the role and then left Rider after my freshman year. I found out in June 2017 and we started the tour three months later.
"I figured it was a good move to leave school – if I'm already working, why not keep it going. I can always go back to school later. And, Delaware is still my home."
Considering that Moe wasn't even born when "Rent' first arrived on Broadway, it is not a show she grew up with.
"The first time I actually watched the movie was after my second audition callback," said Moe. "It came out a long time ago, I watched it when I was a little kid, but I really didn't understand it that much.
"As soon as I watched the movie during the audition period, I got familiar with the show. I really got into 'Rent.' I watched it and read it. I knew about Maureen. I knew that it was my dream role."
Maureen is Mark's ex-girlfriend and Joanne's current girlfriend. She is very flirtatious and cheated on Mark. Larson considered Maureen a lesbian, despite her previous relationships with men, and he specifically identified her as "lesbian" in the script itself.
Maureen is an outrageous, bisexual performance artist. It is assumed that she left Mark for Joanne, though this is never explicitly stated. Through it all, Maureen is always upfront – is always the Maureen her friends know and care about.
"I love how genuine she is – genuine and generous," said Moe. "And, she's unapologetically herself. She is a big advocate for equal rights, and she speaks her mind. She's weirdo – and she's very smart. I can learn a lot from her. I love Maureen so much."
"Rent" has a cast of "outcasts" – Mark, a struggling documentary filmmaker; Roger, a rock singer/guitarist ex-junkie who is HIV-positive;
Mimi, a Hispanic-American S&M club dancer and heroin addict; Joanne, a gay Ivy League-educated public interest lawyer; Tom, a professor and anarchist with AIDS; Angel, a drag queen street percussionist with AIDS; and Benny, a former friend/roommate of the group who turned into a "yuppie scum" landlord.
The show looks at all their lives and how they interact with each other and with society.
"'Rent' is all about accepting people for who they are," said Moe. "The characters struggle with AIDS, relationships and drugs. They all come from different paths of life, but they get along and care about each other. People can relate to this – about changing life or reaching out. It's a beautiful thing that Jonathan could make a show like this.
"I'm grateful that we get to share 'Rent.' There are so many different types and we don't dwell on the differences. It's great for people to be able to see this melting pot. It's important to get the message across. The show has remained so popular all these years because of the message. It's timeless."
Video link for "Rent" – https://youtu.be/HWY0oCzKYOs.
The show will run at the Merriam Theater now through March 10.
Ticket availability for the March performances are currently limited. "Rent" returns October 18-20, 2019. Tickets are on sale now.
A limited number of seats in the first two rows of the orchestra will be available for $25 (cash only) for each performance of "Rent. The $25 (cash only) tickets are available for in-person purchases at the Merriam Theater Box Office, located at 250 S. Broad St., on the day of each performance only, beginning two hours prior to the show. The ($25) tickets are limited to two tickets per person, while supplies last.
Please note: Lottery opens two hours prior to each performance; Lottery entries will be accepted for approximately a half-hour; 10 winners will be selected an hour and a half prior to each performance; Winners can buy up to two tickets for $25 cash only; One entry per person, per performance.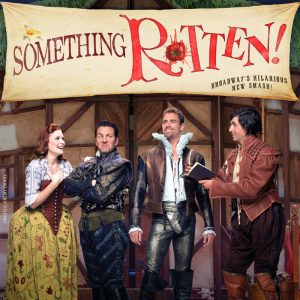 "Something Rotten!," which is running from March 7-10 at The Playhouse on Rodney Square (10th and Market streets, Wilmington, Delaware, 302-652-5577, www.thegrandwilmington.org) as part of the 2018-19 Broadway in Wilmington season, is an original musical comedy with a book by John O'Farrell and Karey Kirkpatrick and music and lyrics by Karey and Wayne Kirkpatrick.
Set in 1595, the story follows the Bottom brothers, Nick and Nigel, who struggle to find success in the theatrical world, as they compete with the wild popularity of their contemporary — William Shakespeare.
The Bottom brothers are desperate to write a hit play but are stuck in the shadow of that Renaissance rock star known as "The Bard." When a local soothsayer foretells that the future of theater involves singing, dancing and acting at the same time, the brothers set out to write the world's very first musical.
"Something Rotten!" is a hysterical, joyous celebration of everything theater fans love about Broadway.
The Second National Tour's talented cast features Matthew Janisse as Nick Bottom, Richard Spitaletta as Nigel Bottom, Mark Saunders as Brother Jeremiah, Matthew Baker as Shakespeare, Greg Kalafatas as Nostradamus and Jennifer Elizabeth Smith as Portia.
"The tour started rehearsal in late May," said Saunders, during a recent phone interview from a tour stop in Amarillo, Texas. "We teched late September in Columbus, Georgia and then opened in Detroit.
"I was pretty familiar with 'Something Rotten!' before I auditioned. I had seen the show in New York. I was in New York for a show trip and wanted to see 'The Crucible.' But, tickets for that show were too expensive so we bought tickets for 'Something Rotten!' I saw the show and fell in love with it."
Born and raised in St. Louis, Missouri, Saunders has been performing since he was a child. He trained in the BFA Musical Theater program at Lindenwood University prior to moving to New York.
"I also saw the show when it played at the Fox Theater in St. Louis before I moved to New York," said Saunders. "I was impressed by the musical references throughout the show. It's so cleverly written. Nothing is dumbed down. It's just hysterical – a smart fun show.
"The show works on two levels. You don't have to know anythingh about Shakespeare or Broadway to get the humor. It's just a funny show. You can go and have a good time. Everyone who has see the show loves it. It's really universal."
For fans of Broadway — and theater in general – the show works on two levels.
"There is also a part of the audience who really get all the theater references," said Saunders, whose favorite credits include Nicely-Nicely Johnson in "Guys and Dolls," Ronette in "Little Shop of Horrors," Miss Andrew in "Mary Poppins" and Davey in "The Lieutenant of Inishmore."
"They get excited about the first number ("Welcome to the Renaissance"). They either get it or they don't. If they do, we know it right away. We have a special heart for theater people who come to the show."
Brother Jeremiah is a leader of The Puritans and is determined to keep the world of theater out of his town.
"Brother Jeremiah is on a mission and he'll stop at nothing," said Saunders. "He's so funny – and he's also kind of delusional. He's so intent on stopping this production.
"I have so much fun playing the role of Brother Jeremiah. I'm a bubbly kind of person and Brother Jeremiah is the antithesis of that.
"All the characters in the show are great, and the music is wonderful. It's a two-and-a-half hour show but it moves really fast. There are a lot of funny scenes and the show just flies by."
Video link for "Something Rotten" — https://youtu.be/66_EN1EZKyY.
The show will be presented at the Playhouse on Rodney Square on March 7 at 7:30 p.m.; March 8 at 2 and 8 p.m.; March 9 at 2 and 8 p.m.; and March 10 at 2 p.m. Ticket prices range from $40-$100.