By Denny Dyroff, Entertainment Editor, the Times
This is the time of year we all could use some flowers to brighten the day.
Sure, there were holiday poinsettias and Valentine's Day arrangements but that's really not a whole lot of flowers.
With the weather grey and dreary and spring still a long time off, flowers could be a real mood-lifter.
And, if you're in the mood for flowers – lots and lots of flowers – all you need do is make a visit to this year's Philadelphia Flower Show at the Pennsylvania Convention Center (12th and Arch streets, Philadelphia, 215-988-8899, www.theflowershow.com).
The festive event opens on March 2 and runs through March 10. This year's theme is "Flower Power" in celebration of the impact flowers have on society in the year of the 50th anniversary of Woodstock.
The show, which is presented every year by the Pennsylvania Horticultural Society and celebrates its 190th anniversary in 2019, treats visitors to a spectacle of floral displays in every size, style and shape imaginable.
The show will feature 10 acres of exhibition halls with floral displays and vendors.
Floral competition is always a major drawing card at the annual show. The 2019 Flower Show will feature a large number of garden displays and thousands of plants and floral designs entered in various competitions. These entries will be reviewed and rated by a staff featuring over 200 expert judges from across the nation.
Additionally, visitors to the 2019 Philadelphia Flower Show will have the opportunity to witness one of the world's most prestigious floral design competitions, which hasn't been held in the United States since 1985. The FTD World Cup 2019 brings together the world's top floral designers, representing 23 countries, for an intense floral design competition where the winner will be named Interflora World Cup champion. Over the course of three days, the talented designers will produce breathtaking, larger-than-life floral creations from both predetermined themes and surprise packages of materials. The breathtaking creations will be on display throughout the week of the Show.
Another spcial feature this year will be "Butterflies Live!"
Butterflies Live! is an interactive and educational exhibit presented by California's SkyRiver Butterflies. This fully immersive habitat features native plants that attract butterflies and encourage pollination. More than 1,000 butterflies of 20-plus domestic and exotic species are included in the attraction. Upon entering the room, guests of all ages have the chance to walk through the pollinator garden and feed the butterflies
The show's biggest attraction each year is the massive "Marketplace" featuring over 150 vendors from all over America and several European nations. They will be selling flowers, orchids, floral-inspired furniture, sheds, artwork and unique garden-related crafts and supplies.
Throughout the week, hundreds of gardening experts will provide learning opportunities in the Lecture Series.
Be prepared for large crowds during the weekend hours. If you want a more leisurely visit, plan to visit the show during the week. Also, take public transportation if possible. Vehicular traffic in the area is frequently a nightmare and parking lots tend to fill up early even though they are charging exorbitant fees.
Tickets for the Philadelphia Flower Show are $35 on weekdays and $42 on weekends.  Tickets are $24 and $26 for students with valid ID and $19 and $20 for children ages 2-16.
Longwood Gardens (Route 1, Kennett Square, 610-388-1000, www.longwoodgardens.org) is in the middle of the run of its popular "Orchid Extravaganza" — an annual event that is running through March 24.
The celebration of the orchid species features thousands of orchid blooms along with a variety of displays and special exhibits throughout its four-acre conservatory. "Orchid Extravaganza" will also feature stunning displays of orchids in planting beds, containers and innovative exhibits.
The largest family of flowering plants in the world is the orchid — a flower that is acclaimed as one of the most beautiful, delicate and graceful flowers in the world. The Royal Botanical Gardens of Kew list over 20,000 accepted species with about 800 new species added each year. Additionally, horticulturists have more than 100,000 hybrids and cultivars.
The celebration of the orchid species features thousands of orchid blooms along with a variety of displays and special exhibits throughout its four-acre conservatory. "Orchid Extravaganza" will also feature stunning displays of orchids in planting beds, containers and innovative exhibits.
As one of the first plant collections at Longwood, orchids have held a place of distinction since 1922. The site's talented horticulturists celebrate the beauty and variety of orchids with an artful display that includes a towering 12-foot-tall archway, a spectacular orchid curtain, and hundreds of vibrant Vanda orchids adorning the Silver Garden.
Approximately 5,000 colorful orchids hang from baskets, create inspiring arrangements and adorn unique forms throughout "Orchid Extravaganza." Those who visit the floral extravaganza in March will have the opportunity to see Longwood Gardens' rare sky-blue poppies in bloom in the Conservatory during Longwood's inaugural Winter Blues Festival.
Admission to Longwood Gardens is $23 for adults, $20 for seniors and $12 for students.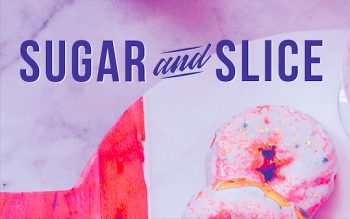 On Saturdays and Sundays in March, the Chaddsford Winery (632 Baltimore Pike, Chadds Ford, 610-388-6221, www.chaddsford.com) will present "Sugar and Slice: Donut, Pizza & Wine Pairings."
A $20 pass gets visitors access to four flavorful pairings – two donut & wine and two pizza & wine — featuring the winery's local partners Duck Donuts andPizzeria Pronto. The event will run from 11 a.m.-5 p.m. each day.
The "Pairing Menu" features: Kennett Square Mushroom Pizza with Kennett mushrooms, spinach and cream sauce paired with 2016 Traminette and Chaddsford White; Barbecue Chicken Pizza with grilled chicken, BBQ sauce, gouda and red onion paired with 2016 Harbinger and Sangri-la Sangria; Chocolate Bacon Donut with chocolate icing and chopped bacon paired with 2016 The Red Standard and Chaddsford Red; and Lemon Meringue Donut with lemon icing, graham cracker crumbs and marshmallow drizzle paired with 2017 Presage and Sunset Blush.
This is a "rain or shine" event.
On March 1, it will be time for another installment of Kennett Square's First Friday Art Stroll in downtown Kennett Square (http://historickennettsquare.com/recreation-culture/art-stroll/).
Kennett Square's Art Stroll is a monthly celebration of the local art scene as it is showcased in the galleries, shops and restaurants throughout town. Residents and visitors alike are encouraged to stroll the tree-lined streets and browse the many businesses that stay open late.
The Art Stroll runs from 6-9 p.m. on the first Friday of each month. After 5 p.m. on Friday, visitors can take advantage of free parking anywhere in the Parking Garage and at any street meter.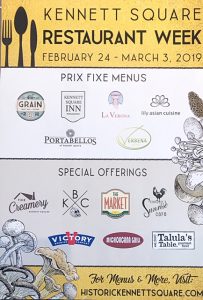 Now through March 3, Kennett Square will also be in a celebratory mood with Kennett Square Restaurant Week.
All weekend long, restaurants around Kennett Square will be featuring Prix Fixe menus.
The roster of participating establishments includes Grain, Kennett Square Inn, La Verona, Lily Asian Cuisine, Portabellos, The Creamery, Kennett Brewing Company, The Market at Liberty Place, Mary Pat's Provisions, Kaboburritos, Rump Roasters, Paradocx Vineyard, Sunrise Café, Michoacana Grill, Talulas Table, and Victory Brewing Company.
First Friday in West Chester (http://www.downtownwestchester.com/view_program.php?id=468) will also take place on the evening of March 1.

Shops and boutiques are open late on the First Friday of each month to show off their newest seasonal fashions and giftware items.
Visitors to the borough for the free "rain or shine" event will be able to browse the in-store specials and enjoy complimentary refreshments while they explore the variety of unique items each shop has to offer.
Another way to celebrate First Friday in West Chester is to attend "Brett Anderson Walker — Opening Reception." The event will be held on March 1 at Church Street Gallery (12 South Church Street, West Chester, https://www.facebook.com/events/2021030141346761/).
The reception, which is free and open to the public, will feature Walker's small pastels work.
At age 18, Walker declined a scholarship to Cornell University and instead embarked on a self-study tour of the major art museums of America and Europe. Traveling throughout Europe, he studied the great masters and immersed himself in their environment. Walker began painting with oils at age 14 and experimenting with pastels and sculpture in his mid-twenties. As a true multimedia artist, he also devotes himself to film and performance art. He presently works and lives in Chester County.
Walker's film "Run Run," which he wrote, produced and directed, was acquired by the Delaware Art Museum and has been shown in numerous venues, including the Zoetropolis Theater in Lancaster, the Chester County Art Association in West Chester, and the West Chester Film Festival. The 50-minute film delves into what Walker calls "the full range of emotions" that an artist experiences.
The event on Friday evening in West Chester, which will also feature cocktails takes place at a gallery where "children and dogs welcome."
There will also be First Friday happenings in Lancaster tonight.
Lancaster's popular First Friday (http://www.visitlancastercity.com/first-friday/) is an arts extravaganza that runs from 5-9 p.m. on March 1. Visitors to downtown Lancaster will have the opportunity to discover innovative exhibitions, performances and perhaps a few surprises as they walk the streets lined with trees and distinctive architecture.
Unique boutiques and excellent restaurants complement the art galleries, artisan studios, museums, performing groups, professional theater, symphony orchestra and art college that form Lancaster's arts community.
Another First Friday event this weekend will take place in Old City Philadelphia (230 Vine Street and locations throughout Old City Philadelphia, 215- 625-9200,www.oldcitydistrict.org).
On the first Friday of each month — year-round — Old City's galleries, studios, shops and restaurants open their doors for First Friday, in an epic exhibition of the neighborhood's vibrant arts scene.
Old City Arts Association launched First Friday in 1991 to introduce Philadelphia to the improving neighborhood and the artists and designers who were bringing it back to life. Two decades later, Old City is a nationally recognized arts destination, named in 2013 as one of the country's top ArtPlaces by the ArtPlace Foundation.
On the first Friday evening of every month, the streets of Old City fill with art lovers of all kinds who wander among the neighborhood's 40-plus galleries, most of which are open from 5-9 p.m.
There will also be First Friday celebrations in Ambler (https://firstfridaysinambler.wordpress.com), York (www.downtownyorkpa.com) and the Fishtown and Fairmount sections of Philadelphia.
On March 2, the Chadds Ford Historical Society will host its "Escape Brandywine" escape room at its Barn Visitors Center (1736 Creek Road, Chadds Ford, 610-388-7376, www.chaddsfordhistory.org).
"Escape Brandywine" is an escape room experience set inside the John Chads House (c.1725). This unique program occurs inside an authentic historical house with a Revolutionary War mission.
"Escape Brandywine" places participants into roles of spies on the eve of the Battle of Brandywine and charges them with finding General Howe's battle plans that have been hidden inside the house for safe keeping. Using real 18th century spy techniques, codes and cyphers, players have 60 minutes to solve puzzles that lead to the plans and an escape to deliver them to George Washington.
The event will have three time slots – 10 a.m., noon and 2 p.m. — or by appointment for groups of 8-12.
Video link for "Escape Brandywine" — https://youtu.be/968Jr_pWMBI.
Admission is $28 per person.
Some of baseball's greats such as Andre Dawson, Darryl Strawberry and former Philadelphia Athletics standout Bobby Shantz will be main autograph guests this weekend's Philadelphia Sportscard & Memorabilia Show, which is running March 1-3 at the Valley Forge Casino Resort (First Avenue, King of Prussia, 610-524-0822, http://www.phillyshow.com).
The show will feature dealers from all over the country who will be selling a wide array of sports-related items such as game-used equipment, autographed balls, posters, magazine, game programs and autographed pictures. – and plenty of Philadelphia Eagles Super Bowl memorabilia. Visitors can also find a huge selection of collectors' supplies including protective sheets, binders, ball protectors and display cases.
Another major focus of the show will be trading cards — especially baseball cards. Show attendees will be able to find everything from ultra-rare vintage Honus Wagner and Babe Ruth cards to the latest releases. All sports will be represented, including football, soccer, ice hockey, basketball, wrestling, Olympics and UFC.
Show hours are 2-8 p.m. on Friday, 9 a.m.-5 p.m. on Saturday and 9 a.m.-3 p.m. on Sunday.
Admission to the show is $8 per day or $18 for a weekend pass.
If you want to enjoy a session of skating this season at the Blue Cross RiverRink Winterfest (Delaware Avenue at Walnut Street, Philadelphia, 215-925-RINK, http://www.delawareriverwaterfront.com/places/blue-cross-riverrink-winterfest), you better act quickly.
This weekend will be the swan song for the rink's 2018-2019 season. March 3 marks the season finale. When Sunday's final session concludes, that's it – that's the end until next winter.
Unlike most of the suburban ice rinks, RiverRink features only public skating. Ice skating is the only use of the ice – no hockey leagues, no lessons, just public ice skating.
RiverRink has taken the ice skating experience on the Delaware River waterfront to another level by once again transforming the annual rink into a bona fide winter wonderland.
Open seven days a week, the Blue Cross RiverRink Winterfest is an immersive winter-themed experience with a popular bar and restaurant called The Lodge, winter beer garden-style landscaping, a brand-new light show, and a retail shopping experience from Art Star Gallery & Boutique.
The outdoor rink's hours this weekend are 1 p.m.-12:30 a.m. on Friday, 11 a.m.-12:30 a.m. on Saturday and 11 a.m.-10:30 p.m. on Sunday. Skating admission prices are $13 and include skate rental.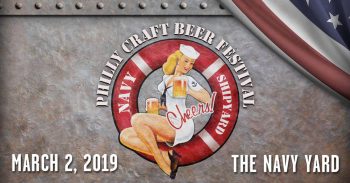 If you prefer an ice-cold beer to an ice-cold rink on Saturday, you could move a few blocks southeast from Delaware Avenue to the Philadelphia Navy Yard.
There you will find one of the most highly-rated beer festivals in the nation.
The ultra-popular Philly Craft Beer Festival will run from 12:30-5 p.m. (VIP)/1:30-5 p.m. (General Admission) on March 2 at the Philadelphia Navy Yard (4747 South Broad Street, Philadelphia, http://www.phillycraftbeerfest.com).
The award-winning Philly Craft Beer Festival will feature more than 200 of the best craft breweries — local, national and international.
These breweries will be offering samples of their finest brewing achievements to event attendees at two sessions, a VIP session and a General Session.  The VIP Session offers serious beer enthusiasts an extra hour and an opportunity to taste some rare and highly desirable beers that will not be poured during the general session.
When participants arrive, they will receive a souvenir five-ounce tasting glass with a two-ounce pour line. Ticket holders are welcome to sample any beer that the brewers have.
The event will be held outdoors under tents at the Navy Yard — rain or shine.
Tickets are $60 for general admission and $12 for designated drivers.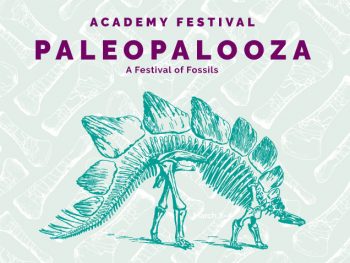 "Paleopalooza," which is billed as a "weekend extravaganza of fossils", is a festival featuring exhibits of fossils, dinosaur drawing lessons, trilobite races and talks by prominent paleontologists.
The 2019 edition of the event will be held March 2 and 3 at the Academy of Natural Sciences (1900 Benjamin Franklin Parkway, Philadelphia, 215- 299-1000,www.ansp.org).
The annual event, which is celebrating its 11th anniversary this year, will showcase rare fossils from the museum's world-renowned collections.
Visitors to the "Drawn to Dinosaurs" exhibit will be able to and watch Academy dinosaur enthusiast and paleoartist Christopher DiPiazza bring Hadrosaurus foulkii back to life in chalk.
Featured auditorium shows are "Ancient Animals," "Dinosaurs of the Bighorn Basin Paleontological Institute," "Storytime With Marty "The Mesozoic" Moose," and "Searching for Fossils at the Bottom of the World."
2:30 p.m.
Academy paleontologist Ted Daeschler shares his fascinating stories and amazing discoveries from his recent expedition to Antarctica.
During "Closer Look: Live Reptiles," which will be presented from10 a.m.-noon and 1-3 p.m., visitors will have the opportunity to meet some of the live reptiles that call the Academy home, learn about these remarkable relatives of the dinosaurs and compare them to the fossils on display nearby.
Other activities include "Guided Tours of Dinosaur Hall," "Fossil Preparation," "Mesozoic Market," "The Fossil Hunt," "Ice Age Antics," "Geology Rocks!," "Fossil Club Displays," "Dinosaur Farm Legos," and "Monsters of the Deep."
Ticket prices are $19.95 for adults and $15.95 for children (ages 3-12).
For all you parents who are looking for indoor activities to temporarily offer some relief from your kids' cabin fever, consider crossing the Delaware River for a visit to the Adventure Aquarium (1 Riverside Drive, Camden, New Jersey, 856-365-3300, www.adventureaquarium.com).
Families who visit the Aquarium will have the opportunity to explore and discover hippos, penguins, stingrays, sharks and more – all in one visit.
Some of the popular, family-friendly attractions are "Sea Turtle Cove," "Caribbean Currents," "Hippo Haven," "Creature Feature," "The Grotto," "Touch a Shark," "Ocean Realm," "Stingray Beach Club," "Shark Bridge," "Piranha Falls," "Penguin Island," "Shark Realm," and "Little Blue Beach."
Admission to the Adventure Aquarium is $29 for adults and $21 for children (ages 2-12). Children under two are admitted free with a paying adult.

On March 2, West Chester University will host the Seventh Annual Philadelphia Flute Day Fair (https://www.philaflutesociety.org/fairevents). The event will be held at Swope Music Building and the Performing Arts Center, which is located at 817 South High Street in West Chester.
The Flute Day Fair will be filled with a variety of events including concerts, flute choirs, master classes, exhibits, workshops and presentations.
Some of the music acts that will be performing and/or presenting workshops are Erica Peel and Amanda Harberg.
The Philadelphia Flute Day Fair will also feature a variety of exhibitors including Conservatory of Musical Arts, The Flute Pro Shop, Landell Flutes, Warfield's Fine Flutes, Levit Flute Company, Verne Q. Powell Flutes and Windworks Studio of Philadelphia.
Tickets are $40 for adults, $25 for seniors and youth and 15 for guests. Additionally, an Exhibit Hall Pass is available for $5 for those who do not plan to attend events but wish to visit the exhibits.
Chocolate will be on the menu this weekend at The Uptown! Knauer Performing Arts Center (236 North High Street, West Chester,https://uptownwestchester.org/). On March 3, the center will host "Chanting & Chocolate in Chester County" from 7-9 p.m.
"Chanting and Chocolate in Chester County," is a program sponsored by the Lasko Family Foundation.
It has a simple formula. Using old and new melodies, participants will chant together — and then have chocolate.
Music is known as the universal language. Participants will chant wordless melodies together — for the pleasure of being together and creating sound in community.
Facilitated by Rabbi Elyse Seidner-Joseph, "Chanting and Chocolate in Chester County" is open to everyone. There will be no religious teaching or prayer. People of all faiths or of no faith or of multiple faiths are welcome.
A free-will offering to support local charities is requested, not required. A different charitable organization will be sponsored each month.
If you're thinking about getting an RV — or any type from a home-away-from-home on wheels — then you should check out the Greater Philadelphia RV Show & Sale which is running now through March 3 at the Greater Philadelphia Expo Center (100 Station Avenue, Oaks, 800-290-6886, www.phillyrvshow.com).
Visitors to the show will be able to shop at exhibits by many of the top dealers of Southeastern Pennsylvania without having to drive all around the area to do so. The dealers will all be assembled together under one roof so comparison shopping becomes an easy task.
In addition to exhibits displaying all types of RVs, the show will also feature supplier booths, camping information and dealers specializing in parts and accessories.
The roster of participating dealers includes Stoltzfus RV & Marine (West Chester), RV Value Mart, Shady Maple RV, and Stoltzfus RV (Adamstown).
The line-up also includes Berks-Montgomery Camping Center, Hitch RV, Fretz Enterprises, Indian Valley Camping Center, Family Camping Outlet, Miller Trailer Sales, Showhauler, Tom Schaeffer's RV Center, Campers Inn and Boat-n-RV Superstore.
Show hours are noon-8:30 p.m. on March 1, 10 a.m.-8:30 p.m. on March 2 and 11 a.m.-5 p.m. on March 3. Tickets are $11 with children (under 12) admitted free.
On March 2, Wheatland (230 North President Avenue, Lancaster, 717- 392-4633, www.LancasterHistory.org) will present a special living history event called "Domestic Help Wanted."
In this first-person presentation, visitors will be transported back to Saturday, March 5, 1859 as Miss Hetty Parker, Wheatland's housekeeper, alongside President Buchanan and First Lady Harriet Lane, are in the middle of important hiring decisions — additional domestic help at Wheatland.
Visitors will have to wait and see — are they good candidates to work at Wheatland? Visitors can also learn about the Wheatland farm and how it functioned during President Buchanan's time period at this Living History.
"Domestic Help Wanted," a Living History program at Wheatland, is scheduled for March 2 with programs on the hour at 1, 2 and 3 p.m. Advanced reservations are strongly recommended, and guests are advised to arrive 15 minutes prior to their tour entry time for check-in.
Tickets are $15 for adults, $13 for seniors and $8 for students (ages 11-17).
On March 2, the Fair Hill Nature Center (630 Tawes Drive, Elkton, Maryland, fairhillnature.org) is hosting a special event called "Maple Sugaring."
Visitors will be able to learn how real maple syrup — not maple-flavored pancake syrup — is made. Demonstrations and maple sugaring tours are presented throughout the morning at the old-fashioned maple sugaring festival.
The tours show how authentic maple sugar is made — a process that involves tapping the trees and boiling down the sap. And, they will be boiling real maple syrup from Fair Hill Maple trees
If you've ever wondered why real maple syrup is such an expensive item — look at the numbers. It takes about 40 gallons of maple sap to make one gallon of syrup and it takes about 30 years for a sugar maple tree to grow large enough to tap.
As an added attraction, visitors to the educational event also will be able to try out some real maple syrup on pancakes and as maple sugar candy.
Tickets are $10 or "Maple Sugaring," which will run from 10 am.-noon.
Also on March 2, a special event titled "Maple Sugar Magic" will be held at Green Lane Park (2198 Hill Road, Green Lane, 215-234-4528, www.montcopa.org) at 11 a.m. and 2 p.m.
The family-oriented event, which is celebrating its 31st anniversary this year, will look at the centuries-old tradition of the maple harvest. Park staff will demonstrate tree tapping, boiling sap at the evaporator, and taste-testing pure maple products.
The event will also feature pure Pennsylvania maple syrup, cream and candy for sale.
On March 3, the Lancaster County Park Environmental Center (1 Nature's Way, Lancaster, https://apm.activecommunities.com/LancasterCountyParks, 717-295-2055) will present a special program titled "Maple Sugaring."
Visitors can join County Park naturalists for ongoing maple sugaring demonstrations in the sugar bush of Lancaster County Central Park. They'll be able to see trees tapped, sap boiled to syrup, and candy made from the syrup. Guests can drop in anytime during the program hours for an educational tour of the maple syrup making process.
The event will run from 1-4 p.m. Admission is free, but donations are appreciated. Maple products will be available for purchase.
Faithful Friends Animal Society (https://faithfulfriends.salsalabs.org/2019PancakesforPaws/index.html) will be presenting "Pancakes for Paws" at the Elks Lodge (1310 Carruthers Lane, Wilmington, Delaware) on March 3.
The menu features pancakes with assorted toppings, scrambled eggs, potatoes, coffee and orange juice. Vegan Pancakes also available. For those thirsty for something with a little more kick than coffee of OJ, Mimosas and Bloody Marys will be available at $5 each.
Raffle Tickets are three for $5 or 10 for $10 and raffle prizes will be awarded every hour. There will also be door prizes, kids' activities and special appearances from adoptable dogs.
Tickets for the breakfast are $12 for adults and $5 for children with three seatings – 9, 10 and 11 a.m.
The 56th Annual Gem, Mineral & Fossil Show will be held March 2 and 3 at Doubletree by Hilton (4727 Concord Pike, Wilmington, Delaware,http://delminsociety.net/marchshow/marchshow.htm).
Activities include interesting and educational exhibits of mineral, lapidary and fossil specimens, a "Fluorescent Mineral Room" with brightly-glowing, illuminated specimens, displays of minerals from the Iron Hill Museum, display of regional Native American stone artifacts and demos by the Archaeological Society of the Northern Chesapeake and famous, provenanced mineral specimens, as published in magazines.
Demonstrations by members of the Delaware Mineral Society and the Tuscarora Lapidary Society may include: Gem Faceting, Cabbing, Wirewrapping, Pearl Knotting, Viking Wire Weaving, Gem Tree Making, Bead-Wire Ringmaking, Fossil Fish Specimen Preparing, and more.
The show will also feature a large roster of outstanding dealers of minerals, fossils, gems, jewelry and lapidary supplies along with the "Club Members Booth" where show attendees can purchase self-collected specimens and self-made jewelry items at low cost and a "Children's Booth" where youngsters of all ages can purchase inexpensive minerals and fossils from $1 and up.
Hours are 10 a.m.-5 p.m. on Saturday and 11 a.m.-5 p.m. on Sunday. Admission is $6 for adults, $5 for seniors, $4 for juniors (12-16) and free for children (under 12). There will also be a large specimen raffle with one free raffle ticket per paid admission. There will also be a free Crinoid fossil specimen for all kids (while supplies last).