By Denny Dyroff, Entertainment Editor, The Times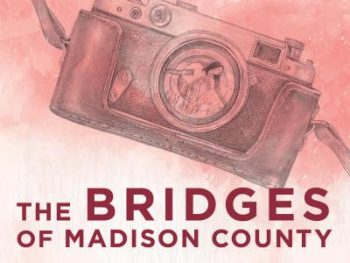 "The Bridges of Madison County" has a great track record and its latest chapter is about to be written as the Philadelphia Theatre Company continues its 44th season with a top-flight production of the hit musical.
Now through March 3, "The Bridges at Madison County" will be performed at Philadelphia Theatre Company's stage at the Suzanne Roberts Theatre (480 South Broad Street, Philadelphia, philadelphiatheatrecompany.org).
The show is based on the 1992 best-selling novel by Robert James Waller. In 1995, the book was adapted into an Academy Award and Golden Globe-nominated movie directed by Clint Eastwood, starring Meryl Streep and Robert Redford.
In 2014, the team of multiple TONY Award winner Jason Robert Brown (The Last Five Years, Parade, Songs for a New World) and Pulitzer Prize and TONY Award winner Marsha Norman ('Night Mother, The Color Purple) brought the story to the stage.  The show went on to win two Drama Desk Awards for Music and Orchestration and two TONY Awards for Best Original Score and Best Orchestrations.
The show in Philadelphia is directed by Mark Martino with Amanda Morton as the Musical Director Amanda Morton. It also features scenic design by Paul Tate dePoo III, costume design by Mark Mariani, lighting design by Elizabeth Mak and sound design by David Thomas.
"I got involved because Paige Price, the Philadelphia Theater Company's Producing Artistic Director, asked me to do it," said Martino, during a phone interview Tuesday evening after rehearsal at the Suzanne Roberts Theatre.
"We did shows together at Theatre Aspen in Colorado. She decided she wanted to do this show and asked me if I would direct it.
"I loved the movie. I watched pieces of the movie again when I was getting ready to do this production. I also saw the show in Broadway. The score, which won the Tony Award, is really remarkable. It's romantic, lush and almost operatic.
"It's about two people whose lives change in a few days. The story has resonated deeply with anyone who has seen it. For those three days, these two people find something that is almost perfect."
"The Bridges of Madison County" is a lush musical that captures the lyrical expanse of America's heartland along with the yearning entangled in the eternal question "What if…?" It is the touching story of Francesca Johnson, a beautiful Italian woman who married an American soldier to flee war-ravaged Italy.
Johnson is looking forward to a rare weekend alone on her Iowa farm while her family heads to the 1965 State Fair. Soon after they depart, ruggedly handsome National Geographic photographer Robert Kincaid pulls into her driveway seeking directions. What happens in those four days between the two may well alter the course of Francesca's life forever.
"It is set over a three-day period in Iowa," said Martino. "Francesca is a war bride from Italy – from Naples – who has spent 18 years as an Iowa housewife. Ironically, my grandparents came from Italy and settled in Indiana and I grew up in Indianapolis."
According to Price, "I thought that the central story was so huge, so epic, that the original singing ensemble intruded on it.  I have since learned that the show was initially written for a smaller principal cast and I'm so excited to have PTC realize that version.
"The score, and the heartbreaking choice at the center of the piece for our heroine have always held my interest in this work. Her life is not what she expected, and she has the chance to run away from it, perhaps to find unimaginable joy and happiness. It explores the road not taken, which I think every person on the planet can relate to."
People might be familiar with "The Bridges of Madison County" via the book, the movie, the musical – or all three. The musical features book by Marsha Norman, music and lyrics by Jason Robert Brown and is based on the novel by Robert James Waller.
"I think people are familiar with the movie," said Martino. "The book was a gigantic bestseller. It was on the New York Times Bestseller list for three years – 164 consecutive weeks. The film was a big hit too. The musical is the last of the three iterations."
The show at the Suzanne Roberts Theatre features a cast of eight along with a seven-piece orchestra.
"All but one member of the cast are Philadelphia actors," said Martino. "We began rehearsals about three weeks ago and it opens tomorrow night.
"It's a beautiful piece. It washes over you. All our actors are fantastic singers. And, it's up-close and personal because the Suzanne Roberts Theatre is a small intimate theater. It's a shared experience."
"The Bridges of Madison County" is running now through March 3 at the Suzanne Roberts Theatre. Ticket prices range from $20-$75.
In the spring of 2018, Mipso released its fourth full-length, "Edges Run," and immediately went on an album support tour – a tour that visited Philadelphia for a show at Boot & Saddle.
The North Carolina-based band is on the road again – still touring the album. On February 13, Mipso will return to Philly for a show at the Locks at Sona (4417 Main Street, Manayunk, 484- 273-0481, sonapub.com) with the Brother Brothers as the opening act.
The show was originally scheduled to be held at MilkBoy Philadelphia but because of an unforeseen city work project disrupting businesses at 11th and Chestnut streets, this show has been moved from MilkBoy to Locks.
Mipso features Jacob Sharp (mandolin, vocals), Wood Robinson (bass, vocals), Joseph Terrell (guitar, vocals), and Libby Rodenbough (fiddle, vocals).
"The band formed at the University of North Carolina in Chapel Hill," said Sharp, during a phone interview Tuesday afternoon from his home in Brooklyn.
"We were all native Carolinians. None of us were studying music. In our sophomore year, we played a show by accident. Friends liked it so we started playing together more and put out an album when we were in school. We were playing all kinds of string band music. We graduated in 2013 and went on the road full-time.
"We're not living in Carolina now. We're spread out. We're meeting up tonight in Brooklyn and our first show of the tour will be tomorrow night in Philly."
"Edge's Run" was released 10 months ago via a freshly-inked deal with AntiFragile Music.
"'Edge's Run' came out in April last year," said Sharp. "We did more than 70 shows around the U.S. and Canada. Then, it was festival season, and, after that, we toured Europe. This will be our first big tour of 2019. The second chapter in the life of the album is fun."
Mipso, influenced by the contradiction of its progressive home and the surrounding rural southern landscapes, is hailed as "hewing surprisingly close to gospel and folk while still sounding modern and secular" and was recently recognized by Rolling Stone as an "Artist You Need to Know Now."
Mipso released its debut album "Dark Holler Pop" in 2013.
"We released 'Dark Holler Pop' and it debuted at Number 8 on the Billboard Bluegrass chart," said Sharp. "Everything took off from there. Our band learned a lot in the studio. We entirely looked to bluegrass as a foundation. Now, there also is a lot of pop and country in our sound."
Mipso is a band with a variety of influences.
"We all came from different musical backgrounds," said Sharp. "Libby was a classical violinist. Joseph had bluegrass in his family, but he loved Jimi Hendrix and Phish. Woody was a jazz nut and I was more in the pop realm.
"When we released 'Old Time Reverie' in 2015, it did well on the bluegrass chart. It did well on the folk chart. And, it did well on the Heetseeker chart. A lot of people think our music is more folk or Americana. We just like to think that we write good songs."
Mipso's third studio album was "Coming Down the Mountain" in 2016.
"We recorded 'Edge's Run' in Eugene, Oregon with Todd Sickafoose," said Sharp. "We went there because he was a producer we wanted to work with. He brought a lot of inspired musicality to the songs."
Sickafoose is a highly-regarded producer and a much sought-after bassist who has performed and recorded with such artists as Ani DiFranco, Trey Anastasio, Erin McKeown and Noe Venable.
"We spent two weeks in Oregon in January two years ago," said Sharp. "It was dark and cold and rainy. We knew going into the session that we had heavier material. Then Oregon took the songs to a moodier place. It was also during the time Trump had his inauguration.
"The songs still have the same energy from which they were born but the heaviness has lifted a little. The evolution of the sounds you har has felt very natural.
"We have this tour coming up and then a second tour. Then, we'll be eyeing studio time in May, June and July. We've already started writing for our next album. We have a number of writing retreats coming up. Then, the next step is deciding the producer and the studio."
Video link for Mipso — https://youtu.be/RcfrzJdEM7M.
The Brother Brothers just released "Maryanne," the second single from its debut album. That album — "Some People I Know" — came out October 19 on Compass Records. Their first single, "Frankie,"  also appeared on Spotify's Fresh Folk and New Music Friday playlists.
The twins are twins but have never been the type of twins who are always together, dress alike and finish each other's sentences.
"We've been singing together since we were children," said Adam Moss, during a recent phone interview. "We started the band in March 2016.  A lot of it had to do with timing. We had been pursuing our own interests our whole life."
David Moss, who plays cello and guitar, said, "I was pursuing a solo career as a singer/songwriter. I was playing support gigs for other acts."
Adam, who plays fiddle, guitar and banjo, said, "I was shooting for freelance gigs. I was playing fiddle for whoever wanted to use me."
The brothers, who now call Brooklyn home, are originally from Illinois. Growing up in Peoria (Illinois), they sang along as children to their father's record collection of the Kingston Trio, the Everly Brothers, the Beatles, and the Beach Boys.
According to Adam, "That's where we learned to sing harmony and then one thing leads to another. All of a sudden, we could harmonize to anything we wanted to. It was a very natural progression."
David said, "We were always interested in classical music, so it seemed like the positive route. The idea of playing modern music was presented to us. It seemed like something interesting to do.
"Our last year in college at the University of Illinois, we started a gypsy jazz band called Hot Club of Urbana. It was really fun. Those are cherished memories."
Adam said, "After we played in Hot Club of Urbana, there was also a bluegrass band in town. They needed a fiddle player for the band. So, I joined and moved to Austin, Texas with the band."
Two years ago, the Moss brothers joined forces again.
Often leaning towards the darker, moody elements of Appalachian folk and bluegrass traditions, their songs are laden with near-perfect sibling harmonies, compelling writing, and imaginative arrangements.
"Most of them are songs that are written and then we add instruments to them," said Adam. "We do the songwriting process separately. David writes the bulk of the songs."
The Brother Brothers tour as an acoustic duo — David on cello and guitar, and Adam on the 5-string fiddle. With individual storied music careers under their belts, the brothers have finally teamed up to bring their experiences together.
Video link for BrotherBrothers – https://youtu.be/0bLTBP9VMnY.
The Mipso show at the Locks at Sona, which has the Brother Brothers as the opening act, will start at 7 p.m. Tickets are $17.