By Denny Dyroff, Entertainment Editor, The Times
The crazy weather we've been having recently could mean this will be a great winter for skating on frozen ponds around Chester County — or it could mean it will be a winter with no ice at all.
Fortunately, there are quite a few very good indoor locations for ice skating in the area.
One of the best local skating sites is Power Play Rinks (701 Haywood Drive, Exton, 610-458-9160, www.powerplayrinks.com). The site offers weekday public skating Mondays through Fridays from noon-1:30 p.m. Added weekend hours are from 8:35-10:05 p.m. on Fridays and 1-2:30 p.m. on Saturdays. Admission is $8.
Another Chester County site for public skating is Ice Line Quad Rinks (700 Lawrence Drive, West Chester, 610-436-9670, www.iceline.info). Hours for public skating are Mondays-Thursdays, 1-2:30 p.m.; Fridays, 1-2:30 p.m. and 8-9:30 p.m.; Saturdays, 2-3:30 p.m. and 8:30-10 p.m. and Sundays, 2-3:30 p.m. Fees are $10 admission and $3 skate rental is $2.
The Horizon Riverfront Rink (308 Justison St., Wilmington, Delaware, 302-425-4890, www.riverfrontwilm.com) is entering its third season this year. Hours are 4-9 p.m. Mondays through Thursdays, 4-10 p.m. on Fridays, 11 a.m.-10 p.m. on Saturdays and 11 a.m.-9 p.m. on Sundays. Admission is $8.50 (ages 13 and older) and $5.50 (ages 12 and younger). Skate rental is $4.
Premier Orthopaedics Ice Works (701 West Dutton Mill Road, Aston, 610-497-2200, www.iceworks.net) is open to the public every day. Hours for public skating sessions are Mondays-Thursdays, noon-1:30 p.m.; Fridays, noon-1:30 p.m. and 7:30-9:30 p.m.; Saturdays, 2-4 p.m. and 7-9:30 p.m.; and Sundays, 2-4 p.m. Admission is $10 for adults and free for children (four and under) while the skate rental fee is $2.
Haverford Skatium (1004 Darby Road, Havertown, 610-853-2226, www.havtwpparksandrec.com) offers public sessions Mondays through Thursdays from 10 a.m.-noon, Fridays from 10 a.m.-noon and 7-8:30 p.m. and Saturdays from 1:15-3:15 p.m. and 8:45-10:45 p.m. Regular admission is $8 while admission for children under six is $6 and for seniors is $3. Skate rental is $2.
Oaks Center Ice (87 Brower Avenue, Oaks, 610-650-9690, www.oakscenterice.com) has public skating on weekdays from 11:30 a.m.-1:30 p.m., Fridays from 11:30 a.m.-1:30 p.m. and 7:30-9:30 p.m.; Saturdays from 2-4 p.m. and 7:30-9:30 p.m. and Sundays from 2-4 p.m. and 6-8 p.m. Skating sessions cost $7 and skate rental is $3.
Wintersport Ice Sports Arena (551 North York Road, Willow Grove, 215-659-4253, www.wintersporticearena.com) features public skating Monday through Friday from 12-1:30 p.m. Weekend sessions are 8:30-10:10 p.m. on Fridays, 5:50-7:40 p.m. on Saturdays and 12:50-2:30 p.m. on Sundays. Fees are $10 and include skate rental.
Unlike most of the suburban ice rinks, RiverRink (Delaware Avenue at Walnut Street, Philadelphia, 215-925-RINK, www.riverrink.com) features public skating and that's all. At RiverRink, ice skating is the featured attraction — and the only use of the ice.
The outdoor rink's hours are 1-11 p.m. Mondays through Thursdays, 1 p.m.-1 a.m. on Fridays, 11 a.m.-1 a.m. on Saturdays and 11 a.m.-11 p.m. on Sundays. Skating admission prices are $4 and skate rental is $10.
RiverRink has a variety of themed night skates throughout its "Winterfest" season – including a popular one this weekend.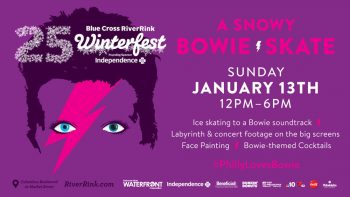 On January 13, the rink will host "A Snowy Bowie Skate" – one of the final events of the 2019 "Philadelphia Loves Bowie Week."
The skating event, which runs from noon-6 p.m., will feature a wide array of  Bowie-themed festivities including:  ice skating to a Bowie-themed soundtrack; face painting and games; a screening of the movie "Labyrinth;" Bowie concert footage on the screens in The Lodge; and themed drinks and cocktails.
Rizzo Ice Rink (1101 S. Front Street, Philadelphia, 215-685-1593, www.rizzorink.com), which is located along the banks of the Delaware River, offers public skating times from 3:30-5 p.m. every Wednesday, Friday and Sunday. There are also weekend sessions on Friday from 6:30-8 p.m. and on Saturday and Sunday from 5:30-7:30 p.m. Admission is free and skate rental is $4.
Wissahickon Skating Club (650 W. Willow Grove Avenue, Philadelphia, 215-247-1759, www.wissskating.com) is a private club that has guest member sessions each Friday from 8:30-10:30 p.m. and every Saturday from 12:45-2:15 p.m. Admission is $9. Skates can be rented for $3.
Class of 1923 Ice Arena Ice Skating Rink (3130 Walnut Street, Philadelphia, 215-898-1923, http://www.business-services.upenn.edu/icerink) is open for public skating on Mondays, Wednesdays and Fridays from 12:30-2 p.m. and Saturdays from 4:30-5:30 p.m. Fees are $6 while skate rental is $3.
The Rink at Old York Road (8116 Church Road, Elkins Park, 215-635-0331, http://www.rinkoyr.com) hosts public sessions on Fridays from 8:30-10 p.m., Saturdays from noon-2 p.m. and 8-10 p.m. and Sundays from noon-2 p.m. Fees are $10 and the cost to rent skates is $2.
If you're a pet owner or just a lover of pets in general, there's an event for your enjoyment this weekend at the Greater Philadelphia Expo Center (Station Avenue, Oaks, 800-677-4677, www.phillyexpocenter.com). From January 11-13, the huge convention hall is hosting the Greater Philadelphia Pet Expo.
The Expo features a huge number of vendors offering virtually everything pet-related including pet food, supplies, training, pet hospital information, treats and lodging. There will also be booths operated by humane groups and rescue services.
The line-up of special attractions includes
Gail Mirabella and The Dynamo Dogs, Johnny Peer's Muttville Comics, the Parade of Breeds, "Flyball Tournament," Rainforest Reptiles Show, "That Guy with the Birds," Buddy's Pet Resort, "Rabbit Hopping," "Rocky on Wheels," "The International Cat Association," "Butterfly Experience" and Illusion Ranch Alpacas
Admission is $13 for adults, $10 for seniors and military and $6 for children (ages 4-12). As an added attraction, Friday night is "Family Night" with all children under 12 admitted free.
There will be a lot of model trains on display and for sale when the "World's Greatest Hobby on Tour" visits the area for a two-day stop at the Greater Philadelphia Expo Center.
The show, which is scheduled for January 12 and 13 from 10 a.m.-6 p.m. and 10 a.m.-5 p.m. on Sunday, will have a wide variety of activities related to model railroading.
The event will have 50,000 square feet of huge operating model railroads, more than 200 booths featuring manufacturers and retailers, 100 Trains for kids to play with and a free riding train for kids.
Some of the elaborate operating train displays will be Philadelphia N-Trak N Scale Layout, North Penn O Gauge Layout, Allegheny Western Lines HO Scale Layout, Southeast Pennsylvania Garden Railway Society G Gauge Layout, East Penn Traction Club HO and O Scale Traction Layout and Reading Co. Technical & Historical Society HO Scale Layout.
There will be demonstrations, seminars and new products throughout the day both days. And, each day from 11 a.m.-1 p.m., Michael Broggie will give his highly popular presentation, "Walt Disney's Railroad Story, which is based upon his award-winning book of the same name.
Tickets for adults are $15 with children (15 and under) are admitted free when accompanied by adult.
If you're looking for a fun family activity – an indoor activity unaffected by the weather — Linvilla Orchards (137 West Knowlton Road, Media, 610-876-7116,www.linvilla.com) has something just for you — the miniature golf course "Fore! the Planet."
Linvilla Orchard's "Fore! The Planet," which opens for the year on January 12, is a highly interactive and playful museum exhibit created by the Academy of Natural Sciences in Philadelphia. This exhibition pairs important environmental issues with the fun of miniature golf.
It features 18 unique educational holes on a variety of topics — butterfly metamorphosis, a tropical rainforest, evolution, dinosaur extinction, food chains and more. Kids of all ages can enjoy playing miniature golf while learning about our environment on every hole.
The first hole is "Butterfly Life Cycle" and players must putt through each stage of the colorful insect's metamorphosis. The next five holes are titled "Seed Dispersal," "Bat Sonar," "Food Chain," "Evolution of a Golfer" and "Backyard Explorer" followed by "Natural Selection" and "Predators and Prey."
On the "Dinosaur Extinction" hole, players get to hit their balls toward the scientific theory of dinosaur extinction they find most plausible. The remainder of the thought-provoking holes are "Recycling," "Water Pollution," "Landfills," "Wild Corridors," "Bird Migration," "Spawning Salmon," "Alien Species," "Population Threats" and "Rainforest Threats."
The mini-course is open daily from 9 a.m. -5 p.m. Tickets are $6.95 (ages 11 and over) and $5.95 (ages 10 and under).
Whether you're a handyman, a home improvement fanatic or just a tinkerer who likes working on small projects around the house, you should check out the 38th Annual Philadelphia Home Show. The event is running January 11-13 and 18-20 at the Pennsylvania Convention Center (12th and Arch streets, Philadelphia, 215- 418-2003, www.phillyhomeshow.com).
The well-attended annual show features a large number of exhibits representing the home renovation and decorating industry. Showcased products and services include roofing, windows, flooring, decking, landscaping, spas, contractors, designers, water, swimming pools, doors, gutters security systems, cabinetry, entertainment systems, appliances, furniture, vacuums and more.
The Main Stage showcases the latest furniture trends for 2019. Top designers like Matt Blashaw of HGTV's "Yard Crashers" and Clint Harp, resident contractor on HGTV's "Fixer Upper's," will take the stage to share insider secrets and expert advice for every home improvement project
Tickets are $13 for adults and $3 for children (ages 6-12).
Every Friday and Saturday in January, the Chaddsford Winery (632 Baltimore Pike, Chadds Ford, 610-388-6221, http://www.chaddsford.com) will present "Wild West Murder Mystery Nights" from 6:30-9 p.m. each night.
Here is the scenario as posted by the winery – "There's been a swashbuckling murder aboard The Presage. We're settin' out to find that scallywags, and when we do – they're gonna walk the plank!
"There are two ways you can help us crack the case — uncover clues to pinpoint the murderer and motive or locate the hidden treasure. Along with a salty evening of mystery and suspense, you'll enjoy heavy hors d'oeuvres and, of course, a booty of Pennsylvania wine. Share this killer experience with your best mates – and don't forget to dress the part in your torn and tattered pirate threads."
Along with an exciting evening of mystery and suspense, visitors can enjoy heavy hors d'oeuvres and an array of Chaddsford Winery wines.
The "Menu and Pairing Lineup" features Captain Hook's Charcuterie Board with Specialty Meats and Cheeses with '17 Sauvignon Blanc, '16 Harbinger, and Sangri-la Sangria; Bourbon Glazed Chicken Wings with '16 The Red Standard and Sunset Blush; Red Beard's Risotto Rice Balls with Roasted Red Pepper, Asiago, and Fresh Basil with '16 Pinot Grigio and '16 Traminette; Caribbean Coconut Shrimp Tacos topped with Coconut Chili Aioli and Caribbean Salsa with '17 Presage and Chaddsford White; Main Deck Crabby Mac & Cheese with Fresh Lump Crab Meat with '15 Artisan Series 'sur lie' Chardonnay; and Toasted Coconut Cream Parfait & Chocolate Cake with White Chocolate Ganache and Rum-Soaked Raspberries with Warm Spiced Apple
Tickets are $60, and reservations are required.
The "Wine, Cheese & Honey Pairings at Penns Woods" at Penns Wood Winery (124 Beaver Valley Road, Chadds Ford, 610-459-0808, http://www.pennswoodsevents.com) provide a nice way for visitors to enjoy a winter weekend day.
Penns Woods Winery is joining forces with local cheese makers and local honey artisans to present exclusive pairings of wine, cheese and honey. The tastings will feature five premium Penns Woods wines, each paired with various cheeses and honey from local farms.
The mouth-watering tastings will be held every weekend in January from 11 a.m.-6 p.m. on Saturdays and 11 a.m.-5 p.m. on Sundays. As an added attraction, live music will be featured on January 12, 13, 19, 20, 26 and 27 from 2-5 p.m. each day.
Tickets cost $28 per person in advance and reservations are required. Cancellations must be made within 72 hours or ticket holders will be charged the full amount of the tasting. Reservations are made and kept on the hour.
"Grim Philly's Nightmare Before Christmas Tavern Tour (856-829-3100, http://www.grimphilly.com) will be held January 11, 12, 18, 19, 25 and 26.
Participants will have the opportunity to toast with the ghosts of Christmas past while drinking in the yuletide spirits of grog and nog on this entertaining fact-filled tour.
The evening's activities include trivia and drinking games for chances to win free beer, drink and/or food samples for all at each stop and a variety of drink specials.
Participants can relax in warmth enjoying authentic handmade Christmas beverages, snacks and prizes (included) as they learn a full range of the surprising histories of Yule, and Viking lore and Saturnalia — all which have worked their way in to our modern Christian celebrations including ideas of magick, gift giving…and origins in even infanticide and human sacrifice.
Guests will be able to revel in little known facts of our holiday past including the season's pagan roots in Roman, Celtic & German traditions, while learning of medieval, and New World additions in mumming and mistletoe.
The tour price of $45 includes guided historic tour of "Grim" Philly, tavern admissions and two "Christmas Drinks." The tours, which start at 6:30 p.m. on Fridays and 5 p.m., on Saturdays, will depart from 599 Market Street,  Philadelphia.
There will be birthday celebrations soon in Philadelphia for one of the city's most famous historical figures — Benjamin Franklin. A number of events celebrating Franklin's 312th birthday will be staged around Philadelphia's historic district.
Prior to the Franklin birthday celebrations, the Benjamin Franklin Museum National Historical Site (Franklin Court, Third and Market streets, Philadelphia, 215-965-2305,http://www.nps.gov/benjaminfranklinmuseum.htm) usually celebrated Martin Luther King Day by offering free admission on January 15. But this is not a usual year. Because of actions by the POTUS, there is an ongoing partial shutdown of the Federal Government – including national parks.
"Benjamin Franklin Tippler's Tour" (Historic Philadelphia Center, 6th and Chestnut streets, Philadelphia, 215-629-5801, http://historicphiladelphia.org/tipplers-tour) will be held on January 11,12, 18 and 19 and 20 starting at 5:30 p.m. each night.
The over-21 set joins a Colonial guide for the Tippler's Tour with Ben Franklin. It is a rollicking pub crawl with stops for drinks and snacks at several Old City establishments.
Ben Franklin, the "Birthday Boy," will join the tour along the way. He will hang around to chat with guests at City Tavern, the final stop, and to enjoy a Yards Brewing Company Franklin Spruce Ale.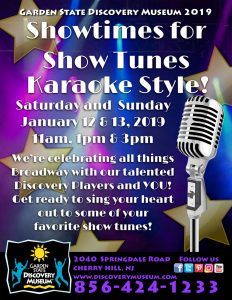 Every year, the Garden State Discovery Museum (2040 Springdale Road, Cherry Hill, New Jersey, 856-424-1233, www.discoverymuseum.com) presents special programs designed to bring smiles to the faces of its young visitors.
On January 12 and 13, the museum will host a program titled "Showtimes for Showtunes." Show times are 11 a.m., 1 and 3 p.m. each day.
At this event, which is included in museum admission, the museum staff is celebrating all things Broadway with its talented Discovery Players and the audience. Kids of all ages are invited to sing along with their favorite show tunes.
Next weekend's feature event will be "Sounds of Science" on January 19 and 20 followed by "Community Rocks!" on January 26.
Admission to the Garden State Discovery Museum is $14.95 for adults and children 12 months and over and $13.95 for seniors.