Jessie Moore Allred (1919 – 2019)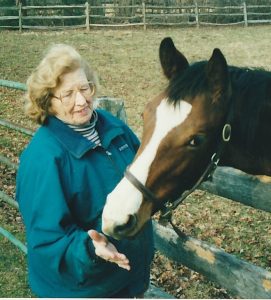 Jessie Allred passed away peacefully at her home on Wednesday, January 2, 2019, at the age of 99.
Jessie moved to Chester County at the age of 16 and quickly immersed herself in the local horse world.  Following her mother's love of horses, Jessie dedicated her life to racing horses and foxhunting.
She was a long-standing member of Mr. Stewart's Cheshire Fox Hunt, and also hunted with other local Fox Hunts, including the Brandywine and Radnor Hunts. In 1952, she was the first woman to win the Brandywine Point-to-Point against men. Then in 1956, she and her husband realized a dream when their horse, Gallant Ship, won the Maryland Hunt Cup. Jessie continued to breed and raise Thoroughbreds for racing until her retirement in the mid-1990s, and her greatest thrill was being on the rail whenever her horses were working or racing.
She lived and died on her farm in Coatesville surrounded by the family, horses, and land that she so loved.
Jessie was born in Hackensack, NJ, and was the only child of Perry and Margaret McKee Moore.
Jessie is survived by her son, Hugh, and her daughter Jessie, four grandchildren and two great-grandchildren.
Jessie was laid to rest at the Faggs Manor Cemetery on January 7, 2019.
A memorial service will be held for family and friends 11 a.m. on Saturday, February 2, 2019, at the Friendship United Methodist Church, 123 East Friendship Church Road, Coatesville, PA 19320.
Online condolences may be made by visiting www.foundsfuneralhome.com.