By Kelly Hockenberry, Columnist, The Times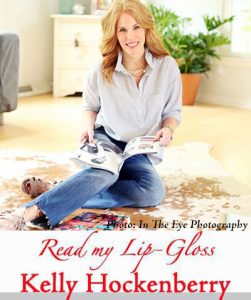 So, I had the best intentions to do a last-minute Christmas Super Six for y'all. But, then I realized that 90% of the world is currently wrapping gifts, not still buying them. (Know that I hate you if you fall into this category.) Therefore, I will spare you my holiday panic and move on to lecture about the other stuff on my mind.
Namely, that I discovered the "Screen Time" setting on my phone. OK. I am woefully behind on this too, considering that (apparently) it is common knowledge as of many, many months ago. But, I'm old. There are things that I am confident that this phone can do that I won't discover until they are obsolete on upgrades. I just figured out how to dim my screen (since, I have been told by my children that it's "TOO BRIGHT, MOM. JEEZ.") In my defense, I have NOT increased the font size, which is a much more obvious age predictor. Am I right?
Anywho. Back to the screen time thing. In my opinion, it was the most unsympathetic warning of my usage. Not only can you see the total number of hours per day, but it breaks it down into TYPES of views: Creativity (fine), Productivity (fine), Social Networking (super bad). Although I have used the excuse "but, I do a portion of my work on my phone"…it still doesn't account for the time spent scrolling through Instagram when I'm bored. There it was in black and white.
I'm not going to reveal my number. But, let's just say that I could probably come up with a solution to end global warming if I didn't have a cell phone.
AS A RESULT, I am committing (in writing) that for the year 2019, I will NOT reach for my phone every time I take a break. I will not wake up and go to sleep looking through other people's lives (that I don't even know. HOW strange is that?!?) I will focus on being present. I will go back to reading fashion magazines and watching Real Housewives. Listen, I never said that I would eliminate all mindless frivolity overnight. Give a girl a break.
Do me a favor. Go check your phone settings right now and report back if this is an issue. I am sure/hopeful that I'm not the only one!
Even better, if you have any suggestions for how you have cut back on your social media usage, leave your comment below. It will benefit everyone!
Be present as your present to your loved ones this holiday season.
Happy Weekend!