By Denny Dyroff, Entertainment Editor, The Times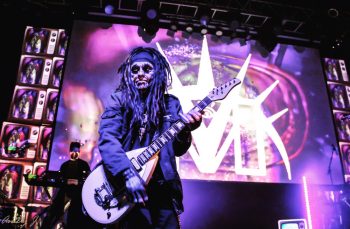 People may disagree about what kind of band Ministry is – industrial, metal, rock, goth. But they all have to agree that Ministry is one of the most intense bands they've ever heard – lyrically and sonically.
Ministry has been making music that rattles your bones, challenges your brain and touches a need for rebellion for almost four decades – ever since Al Jourgensen put together the initial five-piece line-up in 1981.
The six-time Grammy nominated industrial music pioneers released its first album, "With Sympathy." In 1983 and its 13th (and was expected to be last) album, "From Beer to Eternity" in 2013.
When Ministry's long-time guitarist Mike Sciaccia died of an onstage heart attack in 2012, it appeared that Jourgensen was going to send Ministry to the grave. He announced that "From Beer to Eternity" would be the last Ministry album ever.
Last year, Jourgensen had a change of heart. He brought Ministry back to life and the result was the "AmeriKKKant" album which was released back in March on Nuclear Blast Records.
Now, Ministry is on tour in support of "AmeriKKKant" – a tour that brings them to the area on December 8 at Franklin Music Hall (421 North Seventh Street, Philadelphia,https://www.bowerypresents.com/greater-philly/shows/franklin-music-hall).
Written and produced by Al Jourgensen, the nine tracks on "AmeriKKKant" are linked as one continuous piece of music with topics rooted in Jourgensen's unadulterated rage for what's happening in America today.
Jourgensen has said if he weren't a musician, he would probably be a history teacher. His music always finds roots in politics and current events and he goes there again with the new album — airing his aggressions about the waning respect for the U.S. Constitution, the growing acceptance of one's opinions replacing facts, the sexual abuse and disrespect of women and the toxicity generated by the man in the White House. 
The 22-date tour is in support of the critically-lauded release "AmeriKKKant," as well as the special 30th anniversary of "The Land of Rape and Honey," which was a landmark for both Ministry and the whole industrial genre.
The band, led by Jourgensen who just turned 60 in October, will play "AmeriKKKant" in full each night followed by a selection of songs from "The Land of Rape and Honey."
The current Ministry line-up features Al Jourgensen, guitars, vocals; John Bechdel, keyboards; Sin Quirin, guitars; Tony Campos, bass; Cesar Soto,guitars; and Derek Abrams, drums. With the exception of Abrams, who joined last year, every member of the 2018 group has been in the band for at least a decade.
Bechdel is the longest-running member – having joined Ministry in 2006. He has been a part of bands such as Fear Factory, Abstinence, Prong, Killing Joke, Murder, Inc. and Brian Brain. He has since worked with False Icons and Ascension of the Watchers.
"My first Ministry tour was with the 'Rio Grande Blood' album in 2006," said Bechdel, during a phone interview last week from a tour stop in Cleveland, Ohio. "Then, in 2007, we toured 'The Last Sucker' album, which was supposed to be the last Ministry album. Al's health was really poor at the time and he wanted to just say – I'm done."
But it was far from the final Ministry album.
"Around 2011, he said he and Mikey (Scaccia) had put together some good ideas," said Bechdel. "The band came back together, and the result was the 'Relapse' album in 2012."
"Relapse" was released in March 2012 and the future looked bright for Ministry. Scaccia died in December 2012 and the future looked very dark for Ministry.
"At first, Al said he didn't want to keep Ministry going," said Bechdel. "We were off for a while. Then, we came back and did the world tour for 'From Beer to Eternity' and we haven't stopped since."
Bechdel's sister is cartoonist and author Alison Bechdel. John Bechdel is a main character in her memoir "Fun Home," which was subsequently adapted as a musical and won a Tony Award for Best Musical in 2015.
"My sister wrote a memoir of our childhood," said Bechdel. "Our father was in the funeral business. We grew up in the funeral business in north-central Pennsylvania. It's supposed to be my story – a musician travelling and being away from his family – but her book also tells a bigger story."
Maybe Alison Bechdel's next musical should be the story of Ministry. It already has a lot of great songs and wild plot twists.
Video link for Ministry – https://youtu.be/kjEC49hTitI.
The all-ages show at the Franklin Music Hall, which has French synthwave artist Carpenter Brut and New Zealand metal act Alien Weaponry as opening acts, will start at 7:15 p.m. Tickets are $39.50 and $44.50.
Another concert this weekend at the Franklin Music Hall will take place on December 9 featuring Underoath, Dance Gavin Dance, Crown the Empire, and The Plot In You.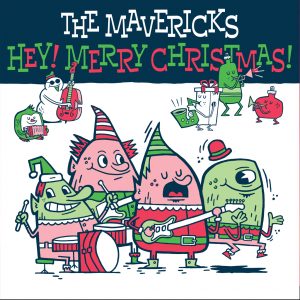 There will be another show in the area on December 8 featuring an American band that has been around since the 1980s – the Mavericks.
On Saturday night, the Scottish Rites Auditorium (315 White Horse Pike, Collingswood, N.J., http://scottishriteauditorium.com) will host the Mavericks' "Hey! Merry Christmas! Tour."
Last month, the Mavericks released their first-ever original holiday album, "Hey! Merry Christmas!" The album features the band's one-of-a-kind blend of rockabilly, Latino, folk, swing, blues, Cuban jazz and the incredible voice of Raul Malo on brand new songs inspired by the Christmas season. 
The Mavericks – Raul Malo (vocals), Paul Deakin (drums), Jerry Dale McFadden (keyboards), Edie Perez (guitar) — possess an ability to transform any room into a raucous musical celebration, elevating their songs to new heights with the kind of exhilarating performances that have long established them as one of the nation's best live bands.
The Mavericks came together in Miami more than a quarter-century ago and immediately built a strong following with its eclectic mix of a wide variety of genres – from rockabilly to standards to cowpunk. Despite personnel changes, financial difficulties, internal conflicts, a few periods in limbo and a variety of other challenges, the Mavericks are still going strong almost 30 years later.
The band makes music that is just as accessible and heartfelt as it is passionate and fun.
This is what makes "Hey! Merry Christmas!" so special, as the group redefines what Christmas music can be with songs that sit comfortably alongside the classics while bringing in new sounds and styles to carve out a space of their own. The Mavericks recently premiered the new "quintessential Christmas love song" called "I Have Wanted You For Christmas".
This is not the first time that the Mavericks have brought a holiday show to the area. In December 2016, they brought their "Sleigh Bells Ring Out!" holiday show to the Grand Opera House in Wilmington, Delaware.
"Two years ago was our last Christmas tour," said Perez, during a mid-November phone interview from Nashville as he prepared to head off to a rehearsal for the tour.
"That was our first time trying to take a crack at it using a mixture of Christmas music and Mavericks songs. This one is a more concentrated effort on Christmas music. It's a full stage production with a light show and backdrop. We're putting the show together right now. When people come to shows on this tour, they're coming for Christmas songs and Mavericks favorites.
"I'm sure there are people who want to hear old Mavericks songs. The interesting thing about the Mavericks is that the music we make – catalog, Christmas or even a Spanish song here and there – it doesn't change the dynamic because inside the song is the Mavericks trademark. Whatever the set list is, it will be a fun time for all."
"Hey! Merry Christmas!"  features 10 tracks of rocking, rollicking holiday music by the Mavericks.
"The first song we recorded was 'Christmas Time Is Coming 'Round,'" said Perez. "We went in the studio and Raul had this song that he thought was a good song and he got the band involved.
"We thought a Christmas project would be fun. Then, we could go out at the end of the year and celebrate the holiday season. We play 120 shows a year so we're a busy bunch of guys. We try to find breaks in our schedule where we can all be together and get in the studio.
"Over the past year-and-a-half, whenever there were gaps in our schedule, we'd do our best to get into the studio. It's a full-on effort that emanates from within the band. We have our own record label – Mono Records – so we are our own entity.
"For us, the big part of our business is the touring and we have found a way to make it all work. We finished the project in June or July. The artwork took a considerable amount of time."
Now, for a few weeks, the Mavericks are bringing their unique take on the holiday spirit to audiences around the states.
"We have a really fun show," said Perez. "For two-and-a-half hours, people can forget the outside world and have an evening of joy. The Mavericks are really good at spreading joy and good times."
Video link for the Mavericks – https://youtu.be/ezv2q99BGK8.
The show at the Scottish Rites Auditorium (315 White Horse Pike, Collingswood, N.J., http://scottishriteauditorium.com) will start at 8 p.m. Tickets
Usually, when someone refers to something as "old news," it means that it's passé – no longer relevant.
When it comes to The Steel Woods' new album "Old News," it means just the opposite. "Old News" is new and vibrant – a lively showcase of where the band's music is today.
Like their name, The Steel Woods are a hybrid musical force, part hard-edged, part Americana roots country folk, man-made, yet organic, rock but also bluegrass, R&B, blues, gospel, soul and heavy metal – "the materials which America is built on" according to co-founder Wes Bayliss.
The Nashville-based band is also steeped in the ethos of Southern Rock, with the music on its debut Woods Music/Thirty Tigers release, Straw in the Wind, both timeless and indefinable, sounding like it could've been recorded at any point during the past half-century.
The Steel Woods will play at Fillmore Philadelphia (1100 Canal Street, Philadelphia, 215-309-0150, www.thefillmorephilly.com) on December 8  in support of "Old News," which will be released on January 18 via Woods Music/Thirty Tigers.
Centered around the soulful and commanding vocals of lead singer Wes Bayliss and the instrumental prowess of guitarist Jason (Rowdy) Cope, The Steel Woods – Bayliss, guitar and vocals; Cope, guitar; Jay Tooke, drums, vocals; Johnny Stanton, bass — are a band steeped in Southern culture with a modern approach and powerful intensity? The band's sophomore release follows their 2017 debut "Straw In The Wind."
"We've been together for three years," said Bayliss, during a phone interview Friday afternoon from a tour stop in Baltimore, Maryland. "We started touring pretty heavily in early 2017.
"The band came about organically in Nashville. I met Rowdy and we had the same interests. So, we decided to put a band together. We had both been working in different projects. We found that we really had a lot of common interests."
The chemistry was spot on right from the start.
"We went at it with an open mind and trusted each other's natural directions," said Bayliss. "I'm more of a country player. He's a big-time pedal steel emulator but he likes to rock out.
"We write everything together. The main thing we wanted to focus on was to write really good songs. There's not a ton of big-league rock songs that have an Americana base. It's mostly about the lyrics first and then making it big and rocky."
The themes reflected on "Old News" range from perseverance to unity to hope and resilience. Inspired by conversations they had with people they met on the road, The Steel Woods strive to find common ground through shared life experiences and a musical connection. "'Old News" includes a Black Sabbath cover ("Changes") and four tribute tracks that honor Tom Petty ("Southern Accents"), Merle Haggard ("Are The Good Times Really Over (I Wish A Buck Was Still Silver)"), their dear friend Wayne Mills ("One Of These Days") and Gregg Allman ("Whipping Post").
"We started recording 'Old News' in June," said Bayliss. "We spent six days at Echo Mountain Studio in Asheville, North Carolina. Then, we went home and went to Blackbird Studio in Nashville to do the overdubbing and mixing.
"The album comes out January 18. We never stop touring, but we never play anything that hasn't been released. We've put out three songs so far from the album – 'Old News,' 'Rock That Says My Name' and yesterday 'Southern Accents' – so we are doing them in our live show."
Video link for The Steel Woods — https://youtu.be/7TNZyBPai5Q
The show at The Fillmore, which also features Cody Jinks, and Tennessee Jet, will start at 8 p.m. Tickets are $35.
Another southern band that delivers a powerful blend of country and rock will be performing in the area this weekend.
On December 9, Davisson Brothers Band is headlining a show at the Sellersville Theater (24 West Temple Avenue, Sellersville, 215-257-5808, www.st94.com).
Davisson Brothers Band is a country/rock band from the hills of West Virginia that features brothers Chris Davisson (lead guitar, slide guitar), and Donnie Davisson (lead vocals, rhythm guitar), Russell Reppert (bass guitar, background vocals) and Aaron Regester (drums).
Even through the band is from West Virginia and currently based in Nashville, its members are very familiar with West Chester.
Back in 2011, West Chester's Ryan Dunn, stuntman and one of the stars of the MTV reality stunt show "Jackass," and Zachary Hartwell died in a tragic car accident in West Goshen.
A short while later, Davisson Brothers Band were asked to play at a tribute show. The band members, who were friends of Dunn's, played the show for free.
The band released the following statement – "Ryan Dunn was the real deal. Through our travels we never met anyone like him. We found out that his sudden death left a lot of loose ends. When the benefit in September came up, we felt the need to return the love Ryan always showed us. We will continue to support Angie and the close ones to Ryan any way we can. We only met Zac one time and recently met some of his family and loved ones and we are glad to be able to support them."
A few months later, Davisson Brothers Band returned to Chester County to play a show at Alibi's Café in West Chester.
"We've been to the Philly area a lot – especially to West Chester," said Chris Davisson, during a phone interview Wednesday from his home near Clarksburg, West Virginia.
"We were good friends with Ryan Dunn and the guys from 'Jackass.' We've come up to West Chester many times. We used to play at Bam Margera's club, The Note."
Now, Davisson Brothers Band is returning to the Delaware Valley on a tour to support its new album, "Fighter."
No-one will ever accuse the band of flooding the market with recorded material. Davisson Brothers Band's eponymous debut album was released on March 10, 2009 on CharTunes/Yell Records. "Fighter" was released May 25, 2018 on Dreamlined/Star Farm Records. Following that pattern, the group's next album is due in June 2027 on a completely different label.
"We had worked around Nashville for a couple years," said Davisson. "After we released our first album, we wrote a lot and toured a lot.
"We waited for the right producer. We waited for the right management team. We started working with Keith (award-winning producer Keith Stegall) about four years ago.
"We wrote most of 'Fighter' in West Virginia and four of the tracks were co-written in Nashville. We recorded it in Nashville at Keith's studio – Dreamline Entertainment. Keith is a great producer. He's had 55 Number One hits. We also did some recording at two other studios in Nashville – Shooting Star and Sound Emporium.
"With 'Fighter,' we wanted to make a record true to what we do – living and breathing every note on the record. That's what we're all about."
"Fighter" is doing well in the states and extremely well in Australia where Davisson Brothers Band has built a very large fanbase. The album's first single, "Po' Boyz," was released in Australia first, where it topped the country music charts.
"It's been a while since our last record," said Davisson. "We keep writing. We're writers and we write a lot. We're working in new music right now.
"We have a new single coming out in January. We're wrapping up the vocals and getting ready to make a music video. In addition to that, we have a new reality TV show ready to go out in Australia.
"The band has been staying really busy. I can definitely say that it won't be another nine years until we release our next album."
Video link for Davisson Brothers Band – https://www.youtube.com/watch?v=JbLKB0QNidU.
The show at the Sellersville Theater, which has Jim Beer as the opening act, will start at 7:30 p.m. Tickets are $19.50 and $29.50.