By Denny Dyroff, Entertainment Editor, The Times
Dan Navarro became familiar to a lot of listeners not so much as a solo artist but more as one-half of the popular duo Lowen & Navarro.
Lowen & Navarro was a songwriting team composed of David Eric Lowen and Dan Navarro, who met in Los Angeles, California, in the 1980s.
They wrote the song "We Belong," which became a major hit for Pat Benatar in 1984.  They became active as a performing group in 1987. In 1990, they began to release a number of records of their own, including "Learning to Fall" and "Purpose."
In March 2004, Lowen was diagnosed with amyotrophic lateral sclerosis (ALS), also known as Lou Gehrig's disease. Because of compromises to his playing and singing, Lowen ceased touring.
The duo played its last shows in June 2009. Lowen died of complications of ALS on March 23, 2012 at the age of 60.
Navarro then spent years touring on his own. But now, he is on the road performing together with other musicians again in a project called Threefer Madness – aa project that also features Bruce Sudano and Chas Sandford.
On December 7, Threefer Madness will visit Chester County for a show at Kennett Flash (102 Sycamore Alley, Kennett Square, 484-732-8295, http://www.kennettflash.org).
"A little while ago, I got together with Bruce and we clicked as guys," said Navarro, during a phone interview Tuesday evening. "We talked about doing something together musically. Chas lives in Nashville and Bruce and he met down there. I go back about 30 years with Chas as casual friends. I came up with Chas in the 80s singer-songwriter scene and then lost touch with him for a while."
After a career spanning decades and a dozen albums with Lowen & Navarro, Navarro is releasing his first true studio-recorded solo album this spring – "Shed My Skin." Recorded and produced by Steve Postell, the album features Navarro (vocals, guitar, percussion) along with Postell (guitars), Jon Ossman (upright bass), Brendan Buckley (drums), Peter Adams (piano), Phil Parlapiano (accordion), David Glaser (mandolin), and Debra Dobkin (percussion).
"I was determined to write everything alone," said Navarro. "It took some adjusting after writing for 20 years in a partnership. I went in with the 12 songs we used. The 12 songs include eight originals, a few obscure covers and a standard thrown in."
Navarro's career started as a songwriter — most often with Lowen — for artists as diverse as Pat Benatar, The Bangles, Jackson Browne, Dave Edmunds, The Temptations, Dionne Warwick, The Triplets, Marco Borsato, and Rusty Weir.
"I've been in L.A. since high school," said Navarro. "I grew up in Calexico (CA) and went to UCLA to study music. I moved to L.A. in 1969. I'm 66 and I'm still living here.
"The thing about this run, it's not a comeback tour. It's what I do – and I keep doing it. I still have the energy to tour and do the drive. It's just me.
"About 90 per cent of my shows are just me. It maximizes the finances. And, it's easier to move around. I'm playing folk clubs, so I can get away with solo shows. And, I never need to rehearse."
Navarro has transitioned smoothly into a busy solo career over the past decade, touring nationally almost constantly.

He has a parallel career as a voice actor and singer in films such as "Pirates of the Caribbean 5," "The Book Of Life," "Rio," "Happy Feet," and "The Lorax" and TV work on variety of shows including "Family Guy" and "American Dad."
"I've been doing solo work for 10 years now and I've got it down," said Navarro. "I do close to 100 dates a year. I don't see any need to retire.
"I do have to find new things to say. Our generation has to find a way to stay relevant. To do that, you have to say something worth hearing. I'm not trying to be hip – but, I want to remain relevant."
By the mid-1960s, Sudano was playing bass guitar in his first band Silent Souls. He spent much of his time rehearsing and was soon playing live shows at popular New York nightclubs. While playing at the The Cheetah, Sudano met Tommy James of Tommy James and the Shondells and became his protégé.
"I came from a musical family," said Sudano, during a phone interview. "My father sang, and my uncles would come over with guitars and accordions. My grandfather brought me back an accordion from his visit to Italy when I was four.
"When I was eight, my father was taking me to the Brooklyn Fox to see the Murray The K shows with all kinds of bands. I always wanted to be a songwriter like Goffin and King or Mann and Weil.
"In my early teens, I put a band together and started playing clubs. I had a band through high school and college that played in clubs in the city (New York City). I was playing at The Cheetah and that's where Tommy James saw the band. We got to be friends. I'd go to his apartment and we'd write songs together including the hit 'Ball of Fire.'"
In 1968, Sudano became the keyboard player in the pop band Alive N Kickin', which he co-founded with Pepe Cardona.
Tommy James along with Bob King wrote a song for the band called "Tighter, Tighter". James also produced the track and sang backing vocals. The song was released on Roulette Records in 1970 and went to Number 7 on the Billboard Hot 100.
"I was playing a Hammond B3 with Alive N Kickin'," said Sudano. "At some point in the early 70s, I left Alive N Kickin'. I hit a rough spot, spiraled down and moved back to my parents' place in Brooklyn. I taught myself to play guitar and write songs. I went to L.A. with a bunch of songs and that's when Brooklyn Dreams happened."
Sudano formed the band Brooklyn Dreams and signed a recording deal with Millennium Records. The trio scored a hit with the single "Music, Harmony and Rhythm."
In March 1977, Sudano met Donna Summer. The Brooklyn Dreams and Summer immediately began writing songs together and within a few months Sudano and Summer were dating. In 1979, Brooklyn Dreams and Summer wrote the title track "Bad Girls" for the best selling album of Summers' career.
"Brooklyn Dreams broke up in 1980 after four albums," said Sudano. "That same year, Donna and I got married. I toured with her as a backup singer for a long time. I was also writing songs for her and for films. It wasn't until 2007 that I made my first solo album. It wasn't until Donna passed away that I committed to be a solo act."
Sudano has released four solo albums — the most recent of which is "The Burbank Sessions" in 2015.
"I'm still inspired — still being challenged," said Sudano. "I feel very vital and in the moment. I carry history but it's about being new in addition to being old. As long as you can make music that can move the listener, that's the trick."
"Wag More, Bark Less" is the most recent album by Sandford. For the veteran artist/songwriter/producer/engineer/guitarist, it took more than 20 years for his sophomore album ("Wag More, Bark Less") to follow his debut "Parallax View."

That album included songs that were soon covered by John Waite, Sammy Hagar, Rick Springfield and Sheila B. Devotion. When three of the songs he was writing for a planned second album turned into a #1 hit for Waite ("Missing You") and Top 5 singles for both Stevie Nicks ("Talk to Me") and Chicago ("What Kind of Man Would I Be"), Sandford found himself one of the most in-demand producer/songwriters in the business.
His songs have been recorded by a list that includes Tina Turner, Rod Stewart, Melanie, Roger Daltrey, Millie Jackson, Brooks & Dunn, Alison Krauss and David Wilcox. Sandford has also produced a wide range of artists, including Chicago, Stevie Nicks, Roger Daltrey, Rod Stewart, Berlin, Gene Loves Jezebel, House of Schock and Don Johnson.
Sandford now lives outside Nashville in Franklin, Tennessee and is still in demand as a writer, producer and session musician.
"These Threefer Madmess shows will be fun," said Navarro. "We never played together before. We never rehearsed. We'll be playing in the round – by the seat of our pants but not sloppy. The show will feature the energy of songwriters with stories to tell. Between the three of us, we have a lot of bases covered."
Video link for Dan Navarro – https://youtu.be/H_uZGnqFlUc.
Video link for Bruce Sudano — https://youtu.be/GQCM9aqagss.
Video link for Chas sandford — https://youtu.be/est-ImQiAKw.
The Threefer Madness show with Dan Navarro, Bruce Sudano and Chas Sandford on December 7 at Kennett Flash (102 Sycamore Alley, Kennett Square, 484-732-8295, http://www.kennettflash.org) will start at 8 p.m. Tickets are $22.
Another show at Kennett Flash this weekend will be Jackie "The Joke Man" Martling  on December 8.
After a three-year wait, area fans of Amber Run will have the opportunity to hear the British trio perform live when the band headlines a show at The Foundry at Fillmore Philadelphia (1100 Canal Street, Philadelphia, 215-309-0150, www.thefillmorephilly.com) on December 6.
The indie rock band from Nottingham, England features Joshua Keogh on vocals and guitar, Tom Sperring on bass guitar and Henry Wyeth on keyboards. Former members are Felix Arthur and Will Jones.
"We're here in Brighton (England) rehearsing for the tour," said Keogh, during a trans-Atlantic phone interview last week.
"We fly out on Sunday, have a rehearsal in New York and then start the tour in Philadelphia. This will be our first time to play in the U.S.
The band has been together for about five years.
"Doing a tour of the states has been a long time coming. We've toured Europe several times over. It's expensive to tour the states. It's a big country. We wanted to make sure that when we did get a tour of North America that we'd do it properly."
Keogh, Sperring and Jones were originally friends in grammar school in Buckinghamshire.
"Tom and I went to school together when we were young," said Keogh. "Then, we went to the University of Nottingham together – and left after two years. Initially, the band was a passion project between friends. We met Henry at the university. He lives with us now.
"We played our first show at a bodega in Nottingham. After that, we got picked up to play the Reading Festival and the Leeds Festival. Those huge festivals were our third and fourth shows. We released our first record a year later."
Amber Run's performance at the prestigious Reading Festival attracted a number of A&R men to the show. After a few weeks of negotiating, the band signed to RCA Records. The trio released three EPs on RCA in 2014 – "Noah," "Spark," and "Pilot." The band's debut album – "5am" – came out on RCA in April 2015.
"When we put out those records on RCA, there were some promises thrown around of a stateside tour," said Keogh. "It's just happening four years later than we thought it would. We just kept going from '5am.' 'I Found,' a single from 2014, just went gold in the states."
"I Found" has accounted for more than 75 million of Amber Run's 130 million total streams on Spotify while "5am" just cleared 20 million streams.  The band now is touring in support of its latest EP – The Assembly."
"The EP came out seven or eight months ago," said Keogh. "We want to put an end to that cycle. Our earlier music was too self-conscious. This week, we're releasing a new single called 'Carousel.' It's the first thing from our new record. It's slightly harder – and it's got more motive. We have a vision of what we want.
"When we play live in the U.K., we need to give people new stuff. In the states, we have people who have bene listening to us for five years and never saw us yet. We want to give them a taste of everything."
Video link for Amber Run – https://youtu.be/NyY7wnGIlTQ?list=UUPLAYER_amberrunvevo.
The show at The Foundry, which has Ellevator as the opening act, will start at 8 p.m. Tickets are $16.
Other upcoming shows at The Foundry are Ashley McBride on December 7, Lawrence on December 8, and Code Red on December 9.
Another area show on December 6 featuring an act from the other side of the Atlantic Ocean will take place at Union Transfer (1026 Spring Garden Street, Philadelphia, 215-232-2100,www.utphilly.com) when the venue hosts the Philadelphia debut of Polo & Pan.
Polo & Pan is an electro-pop duo from Paris, France featuring Paul Armand-Delille (Polo) and Alexandre Grynszpan (Pan).
"This is our second time to come to America," said Armand-Delille, during a phone interview Wednesday evening from a tour stop in Brooklyn, New York.
"We came over six months ago for a mini-tour on smaller stages. This is our second tour of the United States and Canada with shows in D.C., Philadelphia, Boston and New York. We go to Canada to Toronto and Vancouver. Then, we finish with shows in Seattle and Los Angeles.
"We've been working together for about five years. We met at a club in Paris. We both resided there."
Armand-Delille and Grynszpan first met in 2012 when they were both residents DJs at the popular Parisian club Le Baron.
"We got together and made music a couple times," said Armand-Delille. "We had fun. We have two different complementary takes on the music we like. We enjoyed playing with each other as DJs."
Armand-Delille draws a lot of his musical influence from his travels and the world music to which he was exposed. Grynszpan's roots are psychedelic music from the 60s and 70s, electronica and modern pop music.
"Our songs are like paintings," said Armand-Delille. "We write about places and things."
Polo & Pan are now introducing their debut album, "Caravelle," to North American audiences.
"On the album, we wrote together hand-in-hand," said Armand-Delille. "It's a different process when we're traveling. On laptops we come up with our own ideas. We're always producing new tracks when we're traveling – especially in planes and trains when there is no internet.
"We travel real light. We just have a mini-controller and we rent standard keyboards and turntables here in the states. We run Ableton along with Pioneer DJ gear. We also design signature instruments such as hang drums and bells and then make them digital.
"In Paris, we have our own studio and Hamburger Records is our own label. We do most of our mixing at Studio Saint-Germain."
Polo & Pan have released two versions of "Caravelle" – the original in 2017 and the "Deluxe" version in 2018. They also have released several EPs and a lot of singles and remixes. On this tour, they'll treat fans to a little bit of everything.
"We do some pop songs," said Armand-Delille. "Some of our songs are cinematic and some are clubby. We also have quite a few exclusive edits that we're using only for this tour."
Video link for Polo & Pan – https://youtu.be/f5IruTV-LGQ.
The show at Union Transfer, which has Risky Disco as the opener, will start at 8:30 p.m. Tickets are $
Other upcoming shows at Union Transfer are York Street Hustle on December 7 and Every Time I Die on December 11.
Another area show on December 6 will feature an act from another country – but not from across the Atlantic.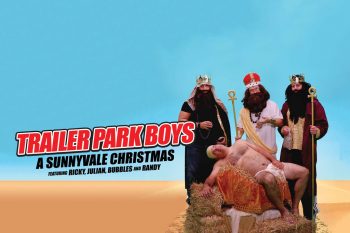 On Thursday night, the Tower Theater (69th and Ludlow streets, Upper Darby, 215-922-1011, www.thetowerphilly.com) will host Trailer Park Boys and their touring holiday show – "Trailer Park Boys – A Sunnyvale Christmas."
The full official title of the touring production is "Trailer Park Boys – A Sunnyvale Christmas featuring Ricky, Julian, Bubbles and Randy" and it features four of the main characters from the popular TV show which is based in Nova Scotia, Canada.
"It's a brand-new show this year," said Ricky, during a phone interview Wednesday afternoon from a tour stop in Rochester, New York. "We've done different holiday shows in the past but this one is all new.
"It's pretty much a show with a set script but we do have some improvisation. And, we also have a lot of audience participation."
What's supposed to be an intimate evening with the Trailer Park Boys quickly goes off the rails when, after escaping arrest for 'a simple misunderstanding', the boys realize they have limited time to party before the cops inevitably track them down.
Under pressure to pack as much partying as possible into the evening, audiences can expect the boys to be at their drunkest, highest and greasiest.
"It's a full story," said Ricky. "We're trying to teach the true meaning of Christmas to the audience – to show that it's about friends and family.
"While Ricky is trying to figure out the real meaning, Bubbles and Junior are trying to help him figure it out. It's just one evening in the boys' lives. We wrote it about a month ago."
Seeing Trailer Park Boys on your televisions is easy. Seeing them perform live is a different thing altogether.
"This tour is only out for two weeks," said Ricky. "We work year-round but we only tour about four weeks a year.
"We've been together for 18 years. It all started with just us getting together with a video camera doing shows."
Since beginning to air on the Canadian television channel Showcase in 2001, "Trailer Park Boys" went on to help establish the mockumentary style comedy that became popular as the decade progressed. The original show was canceled in 2007 but has been revived in recent years thanks to Netflix and fans of the shows wanting to see their favorite dope-smoking, liquor-drinking trailer park residents and their consistently failing life choices.
"I am surprised it's still going," said Ricky. "But the fans want us to keep it going – and our fan base continues to grow. We've been with Netflix for six years and that's helped the show get an even bigger audience."
Video link for Trailer Park Boys — https://youtu.be/1JDhgR-Lu9k.
The show at the Tower Theater will start at 8 p.m. Tickets are $29.50.
Other upcoming shows at the Tower Theater are Maxwell on December 8 and Ghost on December 11.
On December 7, the Keswick Theater (291 N. Keswick Avenue, Glenside, 215-572-7650, www.keswicktheatre.com) is presenting a show by Rufus Wainwright. Fans heading to the show would be smart to get their early enough to catch the opening act.
The opening act is Rachel Eckroth, an accomplished jazz pianist who has branched into the rock world. She will do the opening set and then return to the stage after intermission as one of Wainwright's band members.
Eckroth, who is originally from Phoenix, Arizona, has a new album and a new husband – and they're related. Her husband, who is her first husband, is Tim Lefebvre. He produced Eckroth's new album, "When It Falls," which is here third solo album.
"We got married a week ago," said Eckroth, during a phone interview Wednesday morning from a tour stop in Boston, Massachusetts.
"We started working on 'When It Falls' a couple years ago. It took a couple years to make and it just came out in October. Basically, it was made in L.A. – at a studio in Burbank. We also did some stuff at our home studio in Calabasas."
Featuring guitarists Derek Trucks and Doyle Bramhall II, drummers Matt Chamberlain, Gary Novak and Sterling Campbell, and bassist/producer/husband Tim Lefebvre (David Bowie/Tedeschi Trucks Band), the album explores sonic areas far removed from the singer's early work.
According to Eckroth, "The album I did before this was very jazzed out. Tim helped get me into more sonic textures and using pedals and more outside gear besides keyboards."
As a high school student, Eckroth was already performing in the Phoenix jazz scene. She graduated from the University of Nevada, Las Vegas with a BA in Jazz Performance. Then, Eckroth moved to New York City and studied under jazz pianist Stanley Cowell at Rutgers University and got her MFA in Jazz Piano.
"I was in New York until the end of 2015," said Eckroth. "My dad got cancer so I moved back west. January 2016 was when all the songs started. Some songs took longer than others. Every song has its own story how it was made.
"This is my second album with written lyrics. With my dad passing, that was a big thing. I wrote about that and also songs that were love stories, songs about going back and songs about my husband.
"Tim worked with David Bowie on the 'Blackstar' album. The day 'Blackstar' came out was the day my father died. Then, Bowie died two days later. All that had an effect on my songwriting."
Eckroth successfully made the crossover from jazz instrumentalist to rock singer-songwriter – and made it look easy.
"When I was 15, I was dead set on being a jazz piano player," said Eckroth. "In my 20s, I stopped singing and focused on piano. My previous solo album 'Let Go' was very jazz -influenced.
"When I met Tim, I decided to move away from the jazz sound. When Tim and I made my new album, he had spent a year working with Bowie on 'Blackstar,' so he was in rock mode."
Video link for Rachel Eckroth – https://youtu.be/IfnIcHDGTR0.
The show at the Keswick Theater, which has Rufus Wainwright as the headliner, will start at 8 p.m. Tickets range from $39.50-$59.50.
Other upcoming shows at the Keswick are Wow in the World on December 8 at 11 a.m. and Up Close and Personal on December 8 at 8 p.m.
Usually, if someone is talking about a singer named Odetta, they're talking about the folk music legend Odetta Holmes, who was known by just her first name. Odetta, was an American singer, actress, guitarist, lyricist, and a civil and human rights activist, often referred to as "The Voice of the Civil Rights Movement."
Now, there is another popular singer on the scene named Odetta – Odetta Hartman.
Hartman is currently touring in support of her new album "Old Rockhounds Never Die" – a tour that brings her to the area for a show on December 7 at Johnny Brenda's (1201 North Frankford Avenue, Philadelphia, 215-739-9684, www.johnnybrendas.com).
Raised by pioneering parents on the Lower East Side of Manhattan, Hartman's childhood featured exposure to community activism, renegade film screenings, poetry readings and trips to CBGB's. Musically, she listened to punk and rock as well as what her parents were listening to — her dad's extensive collection of soul and Afrobeat records and her Appalachian mother's classic country selections.
"I was named for the singer Odetta," said Hartman. "I was also named for Odette, the white swan on 'Swan Lake,' which was one of my mother's favorite ballets.
"I grew up on the Lower East Side in the time when it was the end of the hippies and the beginning of punk. I also have an older brother and a younger sister who are both musicians.
"I was born in 1989. Growing up on Avenue A was quite a trip in the 90s. We lived in a basement under a synagogue. My parents were always playing music around the house. There was old folk music and my mom was into Dolly Parton and Loretta Lynn. My brother got us into hip hop culture. I also listened to a lot of classical music as well as bands like the White Stripes and the Hives. I like Mozart, but I grew up with Patti Smith, Hugh Masakela and the Temptations."
It seemed inevitable that Hartman would start making music of her own.
"I began writing songs in early high school," said Hartman. "When I was in college at Bard College, I was in a fold band called the Sparrows. That was great and we made an album.
"After I graduate, I drove around the country with a friend – Gryphon Rue, who was a musician and a magician. I was in L.A. for a little while and then moved to San Francisco. That's when I started to play banjo and made my first solo EP – 'Tally Marks.' That was in 2012. My next EP was 'Bark' in 2014.
"I had a big band with strings and double bass. Then, I met producer Jack Inslee. He brought a digital perspewctive. Jack showed me how easy it is to make a multi-track. He challenged me to play all my parts. He said – with Ableton, we can clone you. As a result, on my last album '222,' everything was me.
"The '222' album and 'Old Rockhounds Never Die' are related. 'Rockhounds' is a little more self-assured because we were inventinbg a klanguage on '222.' The songs on the new album are bigger and bolder.
"Now, I'm excited to get back on the road. I'm touring the Northeast. I'll do a few more shows in the states after the Christmas break and then I'm doing a six-week tour of Europe. After that, I'll be heading to California for some shows in mid-March.
"For the shows I'm doing now, I don't have a band. Alex Friedman, an old friend from college, is playing drums for me – and triggering samples. It's a fun show."
Video link for Odetta Hartman – https://youtu.be/2k_Q3hATUSU.
The show at Johnny Brenda's, which also features The Ballroom Thieves, will start at 9 p.m. Tickets are $15.
Other upcoming shows at the venue in Fishtown are Justus Proffit & Jay Som on December 6, The End of America & Friends – Holiday Show on December 8, and The Spirit of The Beehiveon December 9.
The Holy Knives are a relatively new band, but they already have found one of the secrets to making great records – recording their music at Sonic Ranch.
The band, which is performing on December 7 at Ortlieb's (847 North Third Street, Philadelphia, 267- 324-3342), recorded its debut EP – "Ritual Bloom" – and its recently-released debut album – "Year of the Black Dog" – at Sonic Ranch.
Sonic Ranch, in the border town of Tornillo, Texas, is the world's largest residential recording studio complex. There are five world-class studios designed on a 1,700-acre pecan orchard which borders the Rio Grande and Mexico. Located 30 miles east of El Paso, Texas, the complex has five houses on the property where artists stay while recording.
The Holy Knives is the sonic vision of brothers Kyle and Kody Valentine, a band that infuses the sultry sounds of rock and roll with a tinge of desert psychedelia. Born and raised in New Orleans and now residing in San Antonio, The Holy Knives released their debut EP in May and followed with their first album in October. Both discs were recorded at Sonic Ranch with Latin Grammy-nominated producer Manuel Calderon.
"The Holy Knives officially came together in December 2017," said Kody Valentine, during a phone interview Wednesday afternoon. "When we made the EP, it was just my brother, me and our producer Manuel Calderon. He goes by the name Commanche Sound and is a member of the band the Chamanas.
"Sonic Ranch was a great studio to use because our music has the feel of the southwest — and a psychedlic vibe. The sound we want to pursue is desert dream rock.
"Previously, we were in a band called the Levees. That was a preamble to what the Holy Knives became. At first, we didn't know what we wanted to do. We just knew that we wanted to change our sound."
The Holy Knives took their name from a combination of two of their favorite works of art, the film "The Holy Mountain" by Alejandro Jodorowsky and the poetry book "The Singing Knives" by Frank Stanford. Both of these works, while of different mediums, conjure a flood of beautiful, thought-provoking imagery, as well as share a fearlessness and a quest for truth through the irrational that The Holy Knives strives to capture in their music.
Drawing musical inspiration from acts such as Timber Timbre, Arctic Monkeys, Beach House, and Portishead, The Holy Knives' could be imagined performing at the Bang Bang Bar from Twin Peaks or playing in a True Detective episode. Their belief is that music is a sacred weapon you can use to ward off the march of reality.
"Year of the Black Dog" was recorded with Calderon, who helped shape their desert dreamscapes – a mood-driven album with a western heart. The atmosphere creates a surreal backdrop to Kody's self-exploratory lyrics. When this album was being written, there was no thematic center for its ideas. Instead, it could be thought of as something more like a journal, a deep dive into themselves — a collection of cathartic confessionals that serves as their first self-portrait.
"The music really started to change when we met Manuel," said Valentine. "He wrote a lot of the drum parts and the bass parts. We also did a lot of pre-production for the album with him at Sonic Ranch in one of the smaller houses. We came up with the foundation there.
"Kyle and I will write tons of ideas – guitar and vocals – and bring them to Manuel in very raw form. Then, we'll start adding more and building up the songs. We wrote close to 100 songs for the album, produced about 30 and then finally picked the 10 songs for the album."
According to the Valentine brothers, "This collection of songs has been an undercurrent in both the writing of our EP and our album. Each of these pieces holds a unique place in our ears' hearts, and all of them in their own way had a place in shaping the emotions and soundscapes of the music we have been fortunate to create this year. Some of these songs accompanied us on the road, while others kept us inspired during our writing time. We hope that you can hear how these songs have played a part in making our music what it is, as well as discover something new to inspire you."
Now, the Holy Knives are introducing the album to live audiences.
"We play seven tracks from the album in our show on this tour," said Valentine. "We also play one song from the EP – 'Every Day.' The set list is a good representation of where we are right now."
Video link for Holy Knives – https://youtu.be/T4KwSWI0r4s.
The show at Ortlieb's, which also features Dirty Dollhouse / Rachel Andie and the V Element, will start at
Tickets are $10.
Other upcoming shows at Ortlieb's are Cult Leader, Primitive Weapons and God Mother on December 6, Ali Awan, Jimmy Scantron and Kirby & the VibeTribe on December 8, and Grace Vonderkuhn, Holy Roller, These Wild Plains, and Dominy on December 9.
The Steel City Coffee House (203 Bridge Street, Phoenixville, 610-933-4043, www.steelcitycoffeehouse.com) will host Porter & Sayles on December 7.
Chaplin's (66 North Main Street, Spring City, 610-792-4110, http://chaplinslive.com) will host Bernard Sarkissian and Tamara Sheen on December 8.
The Ardmore Music Hall (23 East Lancaster Avenue, Ardmore, 610-649-8389, www.ardmoremusic.com) will present Max Weinberg's Jukebox
with special guest Hey Joe on December 6, DJ Logic & Friends on December 7, Patterson Hood with special guest Chris Kasper on December 8, and Powerglove with special guests Lor and Gnarbot on December 9.
The Sellersville Theater (24 West Temple Avenue, Sellersville, 215-257-5808, www.st94.com) is hosting Cheryl Wheeler & Patty Larkin on December 7, The Ventures on December 8, The Cowsills Family Christmas on December 9, The Davisson Brother Band on December 9, and John Flynn on December 12.
The Grand Opera House (818 North Market Street, Wilmington, Delaware, 302-652-5577, www.thegrandwilmington.org) will present "A Charlie Brown Christmas" on December 8,  "Carols in Color" on December 9, and the Brach Boys' "Reason for the Season Christmas Tour" on December 13.
The Locks at Sona (4417 Main Street, Manayunk, 484- 273-0481, sonapub.com) will have Doug Paisley with special guest Rosali on December 6, Ellis Paul with special guest Lili Anel on December 7, and Wesley Stace with special guest Taylor Barton & GE Smith on December 8.