By Caroline Roosevelt, Columnist, The Times
Happy unofficial snow day, Chester County! Snuggle down and read on, we've got some events in the coming week. First off, a reminder, this weekend is the Unionville Art Gala at the Unionville High School. Event kicks off tomorrow night from 6 – 9pm with live music and hors d'oeuvres. The gala continues on Saturday November 17th from 11am – 4pm. Check out work by featured artist Frank DePietro as well as over 70 additional artists! All work for sale and there is opportunity to participate in a silent auction.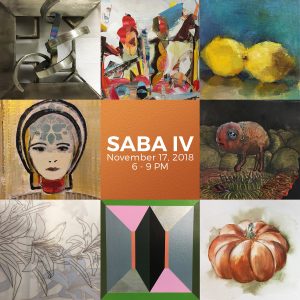 This Saturday, Delaware Contemporary hosts it's fourth annual SABA (Small Art Buying Adventure) featuring 351 pieces of work from regional and international artists. All artwork is priced at $25 and is exhibited anonymously. This is a really wonderful opportunity to  pick up some unique work for an excellent price and enjoy a fun event while you're at it with food and live music. Tickets are $40. SABA runs from 7 – 9pm on Saturday, November 17th.
Are you starting to look for unique gifts for the holiday season? Stop by Book Place, run by Virginia Beards in Oxford, PA. Book Place sells beautiful second hand books while also showcasing art! Right now when you stop by, check out oil landscapes by John Weaver. Book Place was founded by Richard Beards, a Temple University English Professor and continues to run under the guidance of Virginia Beards, a former Penn State English Professor. The mission to is provide affordble and unique books and art to the region. Book Place is a great place to show for artists as they only take 15% commission. Many of the artists who exhibit at Book Place have ties to Pennsylvania Academy of Fine Arts. Stop by and check them out next time you're in Oxford!
Chester County Art Association gives us something to look forward to after Thanksgiving with their exhibition, "Pure Abstractions: Similar Elements, Different Stories" featuring work by Donna Usher, Susan Melrath, and Ken Vavrek. Curated by contributing artist Susan Usher, this exhibition features the abstract work of three very different artists working towards a similar theme. In Usher's words, "The creations don't incorporate a specific subject matter they do utilize similar elements such as line, color, shape, space, and texture, conveying different stories with different visions." This show runs from December 1st to January 3rd at the Chester County Art Association West Chester location. Stop by for the opening reception Thursday, December 6th from 5 – 7pm or the artist panel discussion on Thursday, December 13th at 6pm.
This weekend is the last weekend for the Heron Crest Studios art sale! Stop by their location in Aston, PA to purchase unique gifts and stocking stuffers from local artists. This event runs from 11am – 5pm on Saturday November 17, and Sunday November 18th.