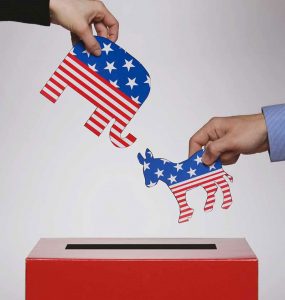 Tuesday, Nov. 6 is Election Day. Polls in Pennsylvania are open from 7 a.m. to 8 p.m. While the weather forecasts are less than ideal — possible thundershowers – there should be no major concerns to keep people from voting.
No matter what your personal view of the current political environment, you owe it to our future to cast your ballot.
For too many years, we heard "they're both the same" about the two political parties and that there was no real reason to vote.
It is evident over the last two years that the contrast between the two parties cannot be larger — a vote on Election Day will help to decide which path we as a commonwealth and as a nation take in the coming years.
A reminder: if you are voting in your polling place for the first time, you will need to present a photo ID (a driver's license, passport, military ID, voter registration card, firearms permit, a current utility bill, bank statement, paycheck or government check or any ID issued by the commonwealth or federal government — non photo ID must contain an address).
If for any reason you are denied the right to vote or local election officials cannot find your name on registration roles, insist on casting a provisional ballot. This way, if there was an error in your registration or some other issue, your vote can still be counted once the issue is resolved.
If someone challenges your right to vote and/or your identity, you may still vote normally by signing a challenge affidavit and producing a witness to vouch for you (have a witness come to the polling location with you).
Remember intimidation inside or outside the polling place is strictly illegal. If someone threatens you or attempts to prevent you from voting outside of the polling place, contact the Chester County Board of Elections and the Chester County District Attorney's Office. You can also submit a complaint to the Department of State via an online web form or by calling 1-877-VOTESPA (1-877-868-3772). For any local questions, you can contact Chester County Voter Services at (610) 344-6410.