To The Editor,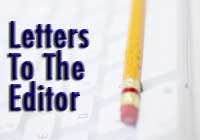 For 22 years, Steve Barrar has represented PA-160, and that's not a good thing. While Steve says he's been working hard for us, he's mostly been in cohoots with special interests based in Harrisburg. In short, they fund his campaigns while robbing the Commonwealth blind with his consent. Steve has leveraged this corrupt system to gerrymander himself into a taxpayer-funded job for life. To remain elected, he simply floods our mailboxes and local airwaves for a few weeks around election time, telling us what a great public servant he's been.
Long ago Barrar stopped listening to anything PA-160 voters really care about. For example, he supports PA being the only gas producing state without a severance tax. While his corporate donors pump our dwindling gas reserves down faulty pipelines, tax-free, to make plastics in China, Steve insists that our revenue-starved state needs to further 'tighten its belt',  This just passes the costs for needed services to the schools and local government, driving our real estate taxes sky-high. Meanwhile Barrar has a failing score on protecting the environment (36%), failing on women's health and reproductive rights (0%), and not dealing with skyrocketing healthcare costs – if it's a just or necessary need, Barrar is either against it or just doesn't care.
Fortunately, his opponent this year, Anton Andrew, is a breath of fresh air.  As a public defender, Anton has been helping people truly in need while also working diligently to protect the environment.  Anton fully supports reproductive rights, and wants to strengthen Obamacare, not dismantle it. Anton Andrew will work to end tax loopholes for big business, using the proceeds to help balance the budget and fully fund public education. Most importantly, Anton supports an end to gerrymandering and the vile partisan system it has helped to create in Harrisburg.  Anton Andrew is truly an antidote to the last two toxic decades of Steve Barrar.
Carol Catanese
Pennsbury Township