By Caroline Roosevelt, Columnist, The Times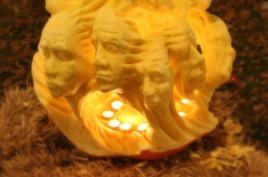 Fall is such a nostalgic, family oriented month, and my childhood memories are filled with the weekends my parents would take us to the pumpkin patch to pick out pumpkins to carve. Funny enough, I didn't care for the actual carving, but I lovingly selected my pumpkin, and waited impatiently for the toasted seeds we'd eat while carving. If you're a fall fan, like so many of us, get your tickets for the Great Pumpkin Carve at the Chadds Ford Historical Society.
Make a day out of it, the event runs from October 18 – October 20th and will showcase carved pumpkins by over 70 local artists. In addition, enjoy live music, food, cider, beer, and hayrides! Admission is $15 for adults, $5 for children 7-17, and free for children under 7. All proceeds go to the Chadds Ford Historical Society.
Speaking of fundraisers, stop by Galer Estate Vineyard and Winery on Friday, October 19 from 5 – 8pm for the Pop Up Art KSQ Fall Fundraiser. Pop Up Art KSQ was founded in 2017 and is organized by myself, as well as local artist Caitlin Kelley and Aaron Morgan. Together, we have put on the Pop Up Art Walks in conjunction with Historic Kennett Square's Expanded Art Strolls. This year we are finally branching out on our own and looking for community support!
Stop by Galer and enjoy an art auction featuring artists: Caroline Lathan-Steifel, Lele Galer, Frances Roosevelt, Agathe Bouton, Alessandra Manzotti, Sus Iserbyt, and Becky Brakeall. Enjoy light refreshments, a cash bar, and sign up for a membership to Pop Up Art KSQ and hear about our vision for the future of art and culture in Kennett Square! Please RSVP  online at www.popupartksq.org . I hope to see you there!
Okay, enough shameless self promotion, Church Street Gallery in West Chester will be featuring paintings by Jenn Warpole. The exhibition opens this Friday October 12th with a reception at 5pm. Warpole received her certificate and M.F.A. from Pennsylvania Academy of Fine Arts and finished up in 2009. She creates luscious oil paintings combining the figurative and the abstract. Her palette, a blend of pastels and natural tones creates a calming environment for her figures to dwell. I look forward to this exhibition as she beautifully connects traditional and original concepts.
Delaware Contemporary will present an exhibition of Gina Bosworth, one of their founding members, on October 19. Bosmoth is a mixed media artist using wire, silk, acrylics, linens and fabrics to dream up compositions that tackle the metaphysical questions such as, "Why is there something instead of nothing?" and "Is there an invisible life force?" Stop by and enjoy her work which will be up for the November Art Loop and on display through March 17th.
Check out the Juried Craft Exhibition at the Delaware Art Museum on October 20th. Delaware Art Museum has been hosting this exhibition since 1958. This year's exhibition has been juried by Haystack Mountain School of Crafts Director Paul Sacaridiz. Stop by for his gallery talk at 2pm on October 20th. In addition the exhibition, Delaware Art Museum has created an entire season of programming around the event including workshops, craft nights and additional gallery talks. Take a look at their website for all of the upcoming events. The exhibition will run through January 27th.
Speaking of the Craft Exhibition, tune into Art Watch Radio on WCHE 1520am every Wednesday from 1-1:30pm. Next Wednesday, Oct 17, Margaret Winslow, Curator of Contemporary Art at The Delaware Art Museum, hosts – juried Craft Exhibition, juror Paul Sacaridiz, Executive Director of the Haystack Mountain School of Crafts, and artist Linda Celestian. Until next time!