By Eliza Mohler, Staff Writer, The Times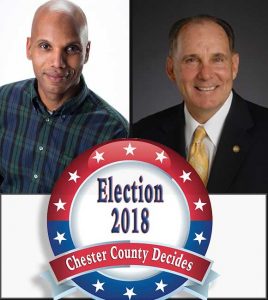 PA HOUSE DISTRICT 160 – With less than a month until Election Day, the race in the 160th district is shaping up to be a battle for the ages: The Son of Darby vs. The Kid from Kennett. The veteran vs. the rookie. Goliath vs. David.
Incumbent Stephen Barrar (R), who became the representative for the Pennsylvania House of Representatives' 160th District in 1996, is facing off against newcomer Anton Andrew (D), an attorney and non-profit founder who resides in Kennett Square.
Each of the candidates were asked their opinions about state and national issues, as well as each other:
What motivated you to run in this race?
Barrar: "There's a couple of reasons. Part of it is, I chair the committee on veterans affairs. There's a crisis in Pennsylvania that deals with first responders and there's pending legislation that I'd like to get through before I retire. Also, I have the best office staff in the state of Pennsylvania. They do a good job, and we do constituent work that benefits the residents of the 160th."
Andrew: "When I became aware of how gerrymandered our district was, which our incumbent and his cronies are responsible for, that was the straw that broke the camel's back. Voters, many of them who looked like me, were pushed out of the district."
How would you describe your opponent? 
Barrar: "I don't know him. I think I've met him once since he got involved in the race. I've never really talked with him other than a family day event in Chichester. Everything else about him I've read on his website. I think his ideology certainly leads to the left."
Barrar added, "I always say, there's not a darn thing I can give you for free, somebody's gotta pay for it. I believe my opponent would vote to raise taxes, and I've spent my career fighting against it."
Andrew: "When you're out of touch with the consensus across party lines, it's dangerous extremism. And I think that he (Barrar) has earned the title. 80% of voters in this district, regardless of party, oppose assault rifles. His stance is completely out of touch with reality. It's an existential threat to democracy when you start casting out some voters and choosing other voters. You've basically silenced the voice of those voters."
What is the most important issue to you in the race for this seat?
Barrar: "Property taxes are the one issue that comes up in every single election. We need to find a more fair way to fund education, which has been a goal since I was a young man. We haven't been able to push through a property tax plan that is fair to everyone."
Andrew: "Strengthening public education, investing in local infrastructure and the community, all of those are important issues. But the major structural problem is when you have leaders who aren't accountable to the voters who put them in office."
Andrew added, "Public education is the great equalizer in society. My parents came here when I was 10 so my sister and I could have the best possible education. Now people can't move into the district because the state doesn't pay its fair share. When someone sees their property tax and school tax bill, they can say 'Thanks, Steve Barrar.'"
If you could change one thing about how the Pennsylvania state government is run, what would it be?
Barrar: "There's a lot of things I would change. I believe that one of the things is to limit our leadership to 8-year term limits. When people tie those positions up for too long, they block out suggestions of others' ideas, and they're not as receptive to change."
Barrar also noted that limiting terms to eight years could help avoid the type of corruption that has happened among both Republicans and Democrats. "I think if you're doing a good job, people will vote to keep you in office," he said, noting that voters are much more aware what their elected officials are doing because of social media.
Andrew: "I would change making it easier for people to access the record of their elected official. Making it more accessible so that you don't have to search for it, that it's there for you. Greater transparency and making people aware of the positions that their leaders take." Andrew cited the recent fair district legislation and the last-minute changes made to it, which Barrar supported, as an example of non-transparency in the House of Representatives.
What is your position on the legalization of marijuana for recreational use in Pennsylvania?
Barrar: "I'm very torn on it right now. If there was a bill right now, I would vote against it."
Andrew: "I believe in the decriminalization of small, personal use amounts of marijuana."
Do you have any comment on the confirmation hearing for Brett Kavanaugh's U.S. Supreme Court nomination, or the related FBI investigation?
Barrar: "I hadn't thought much about it. As a state rep, I don't have any say about it. I think for (U.S. Senator Dianne Feinstein) to hold that information was disgraceful. I think that the Democrats are afraid that he's going to overturn Roe v. Wade and other statutes that they depend on. It paints a sad picture of what's going on in Washington, and I think it turns a lot people off about the political process."
Andrew: "For the good of our nation, we need to protect the integrity of the Supreme Court by making sure that only those judges of the highest caliber, who have earned the respect of all the American people, are appointed to this lifetime position. I believe we need to challenge the idea that men, particularly men in power, can prey on women and get away with it. On a personal level, I will do whatever I can to help create the America that I want for my 10-year old daughter."