By Mike McGann, Editor, The Times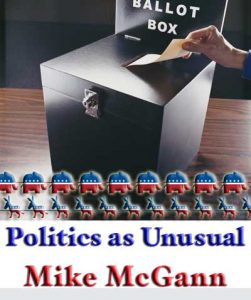 Those of you old enough to remember 1980s slasher movies (or those of who have seen countless Internet memes) might be able to relate to both local and national Republicans when I note it appears that "the call is coming from inside the house."
Yes, Bob Woodward's Fear and the now-famous Op/Ed in The New York Times display a litany of Republicans willing, even eager to dish the dirt on Donald J. Trump, Billionaire and his administration. But you might not know that there's a local version playing out — and that it has an interesting crossover with the national festival of crazy.
As you know, Chester County Sheriff Carolyn "Bunny" Welsh has been under fire for management of the department's K-9 team, which runs from donations. County Controller Margaret Reif asked for and then finally got a subpoena to get the records of the operation, which raised money until earlier this year from the county's official Website and uses Sheriff's deputies to staff. After much wrangling, Reif only got the last three years of records, not the nine sought in the subpoena.
As a result, Reif, after consulting with the County Commissioners, referred the matter to District Attorney Tom Hogan. Based on strong reporting by The Daily Local News' Mike Rellahan (tip o' the hat) Hogan issued letters to Pennsylvania Attorney General Josh Shapiro and U.S. Attorney for the Eastern District of Pennsylvania William McSwain, suggesting they look at the allegations as Hogan's office has previously made donations to the K-9 unit, creating a conflict of interest.
The allegation suggest that donations to the K-9 unit went for personal and political uses, like golf carts and personal vehicle upgrades. The AG and U.S. Attorney's Offices will both need to decide whether Hogan's office does have a conflict and then whether there is probable cause to start a formal inquiry.
And yes, her defenders have already called Reif's investigation a, wait for it, "witch hunt."
But the parallels and confluences go deeper.
Welsh, like a certain president, is getting wrecked in off the record comments by some of her fellow Republicans, including some high profile elected officials. One suggested that many in the party hopes she opts not to run for reelection in 2019: "She's been there too long. She's doesn't feel like anything can touch her" the official said on condition of anonymity.
Another expressed concerns that Welsh running again would "torpedo" the entire county GOP slate — cause them to again get swept for row office and lose control of the County Commissioners for the first time since the Civil War.
Welsh was at the White House — one of 44 sheriffs invited — when Trump reacted to the publication of the Op/Ed last week, she was in the front row and seemed to applaud quite enthusiastically when Trump said: "And you know, the dishonest media — because you people deal with it as well as I do. it's really a disgrace."
Interestingly, if either the AG or U.S. Attorney move forward with an investigation, Welsh would be the 11th of the 44 sheriffs at that ceremony currently under investigation.
Lastly, in what would appear to a deeply oblivious move, Welsh is rumored to be trying to bring Donald J. Trump Jr. to Chester County for a GOP fundraiser. The younger Trump appears to be a target of Special Counsel Robert Mueller's investigation for campaign finance violations by seeking items of value from a foreigner, in this case opposition research. Potentially, he may also face obstruction of justice, conspiracy to defraud the United States, plus additional non-related charges by the state of New York and the Manhattan District Attorney over the Trump Organization's conduct.
There's a certain deep denial when someone facing a potential state or federal investigation considers inviting someone already a likely target of multiple criminal investigations and like those 80's slasher film victims, the terror for those who realize the real threat is from within is real and palpable.
***
Speaking of self destruction, President Trump continues to speak about a "Red Wave" coming to sweep Republicans to office from sea to shining sea. But based on polling numbers I've seen locally, it doesn't seem likely.
Worse, it might keep some GOP voters from turning out because they think everything is just fine — this message seems to be reverberating around conservative media. While the same risk seems to exist for Democrats, the polling, the history and the current situation seem to indicate gains for Democrats, their messaging seems to be focused on not taking it for granted, that every vote counts and nothing is for sure.
Republicans — unlike Democrats — face two turnout issues in Chester County in 2018, much as they did in 2017: moderate Republicans, angry at the current situation not voting and the pretty undependable voting record of the pro-Trump block.
For the former, we have pretty strong empirical data — not polling, but election results — that indicate this is a major problem for Republicans in Chester County, something we noted about two years ago, by the way. A lot of moderate Republicans held their nose and voted for Hillary Clinton, rather than supporting Trump in 2016, which is why she won the county by more than nine points in 2016, just four years after Mitt Romney narrowly defeated President Barack Obama in 2012. Moderate Republicans and independents avoided Trump and Republicans. The situation got worse in 2017, when Democrats swept the county row offices — after not winning one seat since the 1850s.
Which brings us to 2018. If anything, moderate Republicans and independents are even less enthusiastic about voting for the GOP ticket. Democrats are fired up and raising money.
Add to that the struggles the GOP sees at the top of the ticket. Scott Wagner is not doing the party any favors with his campaign — not releasing his tax returns is just another sign that voters might see him as a greedy, immoral businessman with a limited self-censor (like Trump), which may play great in the middle of the state, but be a disaster in metro Philly and Pittsburgh. Tom Wolf, the Democratic incumbent, has been largely inoffensive.
In the U.S. Senate race, Republican Lou Barletta isn't getting any more traction than Wagner in his race against incumbent U.S. Senator Bob Casey Jr. Barletta's outspoken history in immigration issues at a time when we see children in cages, thanks to the Trump Administration, is not playing well with college-educated folks who just see it as needlessly cruel.
And then there is the 6th Congressional District race. Republican Greg McCauley seems a like a nice, but rather conservative guy (he reminds me a bit of U.S. Sen. Pat Toomey). But he has struggled raising money — a crucial issue in the new Chester County district. His Democratic opponent, Chrissy Houlahan has (as of June) out-raised McCauley by a lot. Not counting loans by the candidates to their campaign, McCauley raised just under $100,000. Houlahan, meanwhile had raised more than $2.3 million. Obviously, both those numbers are higher now, but it seems unlikely that McCauley has been able to close the funding gap — and will likely be badly outspent on local TV commercials.
As there are a segment of voters in both parties who don't like to vote for a perceived losing candidate, having a top of the ticket that looks like it will go down to double-digit defeat bodes poorly for local state legislative candidates.
Combined with polling I've seen, it looks like the red hurricane flag is in order for the following state house district Republicans: 155, 157, 158 and 167. All four districts — Rep. Becky Corbin, Rep. Warren Kampf, Rep. Eric Roe and Rep. Duane Milne — are in serious jeopardy just in a likely voter model. If GOP voter turnout is depressed, it could get ugly, quick.
If GOP turnout does slide, then the 160th race, pitting 11-term incumbent Steve Barrar against Democrat Anton Andrew could get really interesting, but you'd still have to make Barrar the favorite at this point.
Similarly, right now, Rep. Carolyn Comitta looks to be up by about 10 points on GOP challenger Nick Deminski in the 156th and Democrat Dan Williams looks to be out to a solid lead on Republican Amber Little-Turner in the race to replace retiring Rep. Harry Lewis Jr. in the 74th District.
Out in the western portion of the county, it seems like Democrat Sue Walker will need a tsunami to knock off Rep. John Lawrence in the 13th. Similarly, Pam Hacker will need a deep blue wave to unseat long-time Rep. Tim Hennessey in the 26th.
If the current preference and turnout project numbers hold — and the last three weeks suggest they may be eroding for Republicans — Democrats will win five or six state house seats in 2018, up from one in 2016.
It is important to emphasize that a four-point swing in either direction in terms of turnout could make a massive difference. If it swings back toward the GOP, Corbin and Kampf are probably closer to safe, while Roe and Milne would be in a coin-toss race. But, should it get four points worse for Republicans, they lose all six races and find themselves in a tight battle in the 160th and the chance for Walker to shock Lawrence in the 13th.
Keep in mind — as was the case in 2017 — my analysis is cautious. A year ago, I suggested that Democrats would likely pick up one Row Office seat, a prediction that was met with derision by local Republicans. Democrats won all four.
Watch the trend line, especially the last two weeks of Octobers for clues on how this is going.
***
While Wagner is getting deeply deserved grief for not releasing his tax returns and various public comments over the last few months, Wolf is getting some heat for declining to participate in more than one debate with Wagner.
Typically, the two gubernatorial candidates debate three times: in Pittsburgh, in Philadelphia and in Harrisburg. Wolf will only agree to an event in Harrisburg.
Look, I get that every incumbent governor wants to limit the number of debates. For incumbents, debates are little more than opportunities to screw up and to elevate the challenger to seem like an equal.
But someone is giving Wolf really, really bad advice here.
If there ever was a year that traditions and norms should be observed — as a clear contrast to others ignoring norms — it is this year. Wolf can and should engage with Wagner at least three times (not the silly 67 Wagner asked for, of course) if only to represent a respect for the traditions and norms of Pennsylvania politics.
Even if it weren't the norm, those who would hold office owe it to the voters to stand on a stage together and outline their visions and do so more than once.
Frankly, even from a pure politics standpoint, were it my race, I'd want to get up there with Wagner. First off, it would show a contrast to the voters of the competent, measured Wolf  — he's not exciting, but he keeps no one up nights worrying he'll bomb West Virginia — with the more erratic Wagner. Second, three events means a better likelihood of pushing Wagner to the point where he loses his cool on the stage in front of a large audience.
So, honestly, there's no good reason for Wolf to avoid doing three debates. It is a disappointment.