By Denny Dyroff, Entertainment Editor, The Times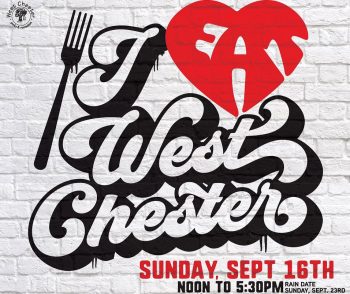 The Chester County Restaurant Festival (Gay Street and downtown area, West Chester, 610-436-9010, http://www.downtownwestchester.com/view_program.php?id=29) has been treating visitors to the borough with the opportunity to sample a wide variety of gourmet treats for almost 40 years.
This year, the free festival, which will be held on September 16 from noon-5:30 p.m. in downtown West Chester, is celebrating its 39th anniversary.
Many of the area's top restaurants — more than 65 altogether — will have booths where visitors can purchase samples of a mouth-watering array of culinary delights and gourmet food items. There will be approximately 110 vendor booths featuring arts and crafts, three stage areas for live music and the "Church Street Beer and Wine Garden" where patrons can sit and relax with a pint of refreshing brew.
Live entertainment will be presented throughout the day with a line-up featuring Mark de Rose, Half Past Seven, Dean Shot Tribute to Howling Wolf, Hambone Relay, Afro Bear, and Ensemble Novo.
Parking in all Borough of West Chester garages is $5 for all day.
In mid-August, Halloween items were already being displayed on area store shelves. Autumn officially arrives in about a week. Soon, the leaves on trees all around the area will be starting to change color. This means that the season of harvest festivals has arrived.
One of the first will be the Chaddsford Winery Harvest Festival which will be held September 15, 16, 22 and 23 at the Chaddsford Winery (632 Baltimore Pike, Chadds Ford, 610-388-6221, http://www.chaddsford.com).
The festival will feature an onsite Oktoberfest Bier + Wein Garten with German-style beers and warm Bavarian pretzels, and Reserve Winery Tours at 11:30 a.m., and 1:30 and 3:30 p.m. that offer an inside look at cellar activity during the height of production.
The $5 Specialty Harvest Wine Tastings feature '16 The White Standard, Newly-Released '16 Barrel Select Chardonnay, '16 The Red Standard, '16 Harbinger, Chaddsford Red, and Spiced Apple.
There will be complimentary samples of the winery's new Spiced Apple Ginger Mule featuring Boardroom Spirit's Fresh Ginger Vodka.
The live music roster features Vince Zellar, Rad and Kel, Acoustic Keys, Neil McGettigan with Kara Jones, and Marielle Kraft.
The food truck line-up includes The Polish Connection on September 15 and 18 and Mama Mia on September 22 and 23.
Admission is free, and all wine and food purchases are pay-as-you-go.
Galer Estate Winery (700 Folly Hill Road, Kennett Square, 484-899-8013, www.galerestate.com) has a variety of special events happening this weekend.
On September 15, there will be live music by Bill Hake from 5-7 p.m. John Rodden will perform on September 22 form 5-7 p.m.
On September 29, the winery will remain open later than usual – allowing guests to sit outside and sip wine while watching the festive nearby "Longwood Gardens Fireworks Display."
The Festival of Fountains at Longwood Gardens (Route 1, Kennett Square, 610-388-1000, www.longwoodgardens.org), which is running now through September 30, is always one of the area's prime summertime attractions.
With fountains that jet as high as 175 feet, gardens filled with colorful summer blooms, shade-friendly trees, exotic day- and night-blooming waterlilies, and live music outdoors, Longwood gardens has something for everyone.
The fountain project took two years and $90 million in renovations. The fountain features more than 1,300 jets and streams, a similar number of LEDs, a variety of flame features and a wide array of plants from around the world.
Longwood's popular Main Fountain Garden has returned for a second season after attracting more than 600,000 guests last year with its 1,719 jets twirling and dancing to music. The fountains perform daily at 11:15 a.m., 1:15, 3:15 and 5:15 p.m.
At night, Illuminated Fountain Performances return featuring a selection of dynamic new shows and past favorites. New fountain shows include the rhythmic "Carmina Burana," the soulful "Sounds of Motown," a contemporary take on American classics in the "American Songbook Reimagined," and the jazz-infused "In the Mood."
Illuminated Fountain Performances are at 8:15 p.m. in September. In addition to the Main Fountain Garden, Longwood is also home to a collection of other fountain gardens, including the enchanting Italian Water Garden and Open Air Theatre fountains, which also perform daily.
The ultra-popular Festival of Fountains features the gardens in their summer splendor. Flowering annuals and perennials abound, as well as the breathtaking Waterlily Display that showcases aquatic plants from all over the world.
Visitors can take a walk in the expansive Meadow Garden or enjoy a shady stroll among Longwood's historic trees. The outdoor Children's Corner features a garden designed just for kids, while the Idea Garden is a showcase of plant combinations, innovative vegetable gardens, and unusual plant varieties to inspire guests to try at home.
The Beer Garden is open Thursday-Saturday evenings with alfresco dining and Longwood Signature Brews created by Victory Brewing Company using ingredients grown at Longwood. Regional artists perform live in the Beer Garden from 6-9 p.m. May through August and 5-8 p.m. in September.
Admission to Longwood Gardens is $23 for adults, $20 for seniors and $12 for youth (ages 5-18).

"Shugart's Sunday — BBQ & BLUES," which is scheduled to get underway at 2 p.m. on September 16 in the Village of Sugartown (690 Sugartown Road, Malvern, 610-640-2667, http://www.historicsugartown.org), is a family-oriented event that raises vital preservation funds to protect the village of Sugartown in the heart of Willistown Township.
Historic Sugartown, Inc. is dedicated to the preservation of 11 structures and 9.2 acres within the Sugartown National Historic Register District. Historic Sugartown has meticulously restored the village and connects the community to America's past through engaging programs, events, art shows and workshops that explore rural 19th-century village life.
In 1804, Eli Shugart opened a tavern to serve weary travelers. Though he only stayed two years, the village became known as "Shugart's Town." Beneath the backdrop of Historic Sugartown's General Store and Worrall House, "Shugart's Sunday" will feature a festive afternoon with live local blues music and mouth-watering barbecue.
Featured attractions will be live music by The Dukes of Destiny, tasty barbeque by Bridgeport Rib House, water ice from Scoops 'N Smiles, sweet corn, hayrides to Willisbrook Farm, and a variety of family-oriented games and activities.
The 2018 Warwick County Park Community Day will be held on September 15 from 10 a.m.-2 p.m.
The annual late-summer event, which is free and open to all, will be held at Warwick County Park (382 County Park Road, Pottstown, https://www.chesco.org/390/Events).
The outdoor festival is billed as "a fun-filled day of family-friendly activities, crafts, food, music, and more."
Warwick County Park Community Day is sponsored by the Chester County Board of Commissioners, Facilities and Parks Department, South Coventry Township, Warwick Township, East Nantmeal Township, and Friends of Warwick County Park.
On September 15 and 16, Linvilla Orchards (137 West Knowlton Road, Media, 610-876-7116, www.linvilla.com) is hosting its annual "Arts, Crafts & Music Festival."
The event welcomes select local artists and crafts persons to gather and exhibit their work.
The annual show offers live musical performances and unique exhibitors for customers to browse a wide variety of woodcrafts, jewelry, photography and much more.
The live music schedule features Howlin' Blue, Wayside Shakeup, The TakeAways, The Whiskey Trail, Tumbleweed and 309 Express.
Visitors can also check out Linvilla's "Pumpkinland," which runs through November 5, features fairy tale characters from nursery rhymes along with a huge scarecrow and a really tall storybook.
Other activities include train rides, a straw bale maze, hayrides, pick-your-own apples and pony rides.
This is the time of the year when you can treat your taste buds to a wide array of authentic cuisines from around the world and never have to step foot inside a restaurant.
When autumn arrives, there are ethnic food festivals almost every weekend. The schedule for the next week has events representing Mexico, Germany and Greece.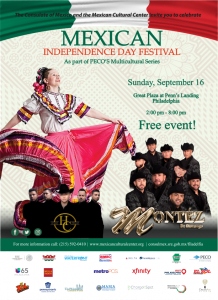 The Mexican Independence Day Festival (www.mexicanculturalcenter.org) will have its annual celebration of great food, music, crafts and more on September 16.
The free event will run from 2-8 p.m. at Great Plaza at Penn's Landing, which is located at 101 South Columbus Boulevard in Philadelphia
With more than 15,000 attendees, this festival is the largest event celebrating the Independence of Mexico in the Delaware Valley and it is recognized by the Delaware River Waterfront Corporation as the largest one-day cultural festival held at Penn's Landing.
The day features events such as "El Grito," a Mexican Independence Day tradition recalling the moment when Father Hidalgo rang the church bells marking the start of the Mexican War of Independence.
This popular festival celebrates not only Mexican Independence, but also Mexican culture and heritage, which will be highlighted through traditional Mexican artisan crafts, folkloric and mariachi performances, activities for children, and popular music performances.
During the event, attendees can also enjoy traditional Mexican food provided by local vendors.

The 11th Annual Boyertown Oktoberfest (Municipal Parking Lot, Reading Avenue, Boyertown. 610-369-3054, www.boyertownoktoberfest.com) is scheduled for September 14 and 15. The event will kick off with a "Homecoming Celebration" on Friday evening with live music by Vuja De.
Activities on September 15 include the tapping of the ceremonial keg, German music and entertainment, food, and wine and beer. Live entertainment will be provided by Red Headed Stepchild, MudPuppy and the Auerhahn Schuplatter Dancers.
Hours are 5-9 p.m. on Friday, 11 a.m.-9 p.m. on Saturday. Wristbands are $5 per day.
The Philadelphia Zoo (3400 West Girard Avenue, Philadelphia, www.philadelphiazoo.org) is presenting its annual Oktobearfest on September 15 from 5-8:30 p.m.
Oktobearfest is a craft beer festival fundraiser highlighting local breweries. There will be more than 45 beer stations with two styles of beer at each and food trucks vending throughout the Zoo.
Many of the Zoo's first-class animal exhibits are open that evening for guests to enjoy. The event also features live music, games and activities.
General Admission tickets are $55 and include admission to the Zoo, souvenir tasting cup, unlimited beer sampling and complimentary shuttle service to and from 30th & Market Street (across from Amtrak 30th Street Station). Non-drinker tickets are $35.
The 41sth Annual Greek Affair at St. Luke's Greek Orthodox Church (35 North Malin Road, Broomall, 610-353-1592, www.st-luke.org) is running from September 20-24.
The free festival focuses on food — tasty Greek main dishes such as moussaka (eggplant dish), shish-ka-bob (meat and vegetables on skewers) and placki (fish) and Greek dessert treats including baklava (phyllo, nuts and honey) and kataifi (shredded wheat and nuts).
Other activities at the free popular annual event are midway rides, vendors with crafts and Greek items, live music by Greek-American bands and folk dancing demonstrations. Additionally, the Taverna will be open from 9 p.m.-midnight on Friday and Saturday.
One of the most popular annual events at the Hagley Museum and Library (Route 141, Wilmington, 302-658-2400, www.hagley.org) is the Hagley Car Show.
The historic site, which is located in Delaware just a few miles south of Kennett Square, will host its 2018 Car Show on September 16 from 10 a.m.-4 p.m.
Visitors to the show will be able to browse the site and check out more than 500 antique and restored cars that date from the early 1900s-1980s. The show features vehicle parades, motoring music, video and go-kart racing and a festival food court. Activities are on Hagley's upper property.
This year's feature – "Vintage Hot Rods and Customs" — showcases cars with large engines built for speed and modified cars reflecting the owner's unique style.
Tickets for the Car Show are $10 for adults and $5 for children (ages 6-14). Admission is free for Hagley members and children five and under. The event will be held rain or shine. Visitors are instructed to use Hagley's main entrance off Route 141.
The Rittenhouse Square Fine Arts Show, one of the city's top craft fairs, is scheduled for this weekend. Now through September 16, the Fine Arts Show will have with top-caliber vendors lining the streets all around Rittenhouse Square (18th and Walnut streets, Philadelphia, http://www.rittenhousesquareart.com/).
Founded by artists in 1928, and run by a board of artists today, the Rittenhouse Square Fine Art Show is the oldest outdoor art show in the country.  Steeped in rich history and tradition, there is absolutely no other show like it.
Twice a year, professional artists from across the nation — and occasionally from other countries — convene in the scenic park in Center City to share their art with Philadelphia right here in Rittenhouse Square.
The Fine Arts Show, which is free and open to the public, will focus on hand-crafted jewelry, contemporary furniture, functional and decorative pottery, designer clothing, fine porcelain, blown glass, limited edition photography, sculpture, paintings, watercolors, oils, graphite and pastels.
Fair hours are 11 a.m.-7 p.m. on Friday, 11 a.m.-6 p.m. on Saturday and 11 a.m.-5 p.m. on Sunday. Admission is free. Street and garage parking is readily available.
The Greater Philadelphia Expo Center (100 Station Avenue, Oaks, 484-754-EXPO, http://www.phillyexpocenter.com) is hosting the Pennsylvania National Quilt Extravaganza now through September 16.
The event, which is billed as "the largest and most prominent textile arts event on the East Coast all under one roof," has been around so long that it now uses Roman Numerals to designate its vintage. This year's show is the Pennsylvania National Quilt Extravaganza XXIV.
On exhibit at the Extravaganza will be more than 600 quilts and garments presented in gallery style. There will also be more than 200 vendor booths with items including completed quilts and garments as well as the supplies and equipment used in making them.
The Pennsylvania National Quilt Extravaganza will also offer a wide array of lectures and workshops presented by some of the top professionals in the field of quilting and the textile arts.
Show hours are 10 a.m.-6 p.m. on Friday and Saturday and 10 a.m.-4 p.m. on Sunday. Tickets for adults are $15 on Friday and Saturday and $13 on Sunday. Children under the age 16 are admitted free.
The Kitchen Kettle Village's "Tailgating Festival" is scheduled for September 15 and 16 from 10 a.m.-6 p.m. each day at Kitchen Kettle Village (3529 Old Philadelphia Pike, Intercourse, 800-732-3538,http://www.kitchenkettle.com).
Special activities include "Whoopie Pie Filling Contest," balloon twisting for the kids with the "Balunguy," sampling locally-made apple cider from Kauffman's Fruit Farm, touring a sports-themed scarecrow display and watching a "Tailgate Parade" through the Village.
The "Tailgate Parade," which starts at noon, features the Pequea Valley Band, cheerleaders and other special groups.
Live entertainment is scheduled with continuous performances throughout the day by the Steve Davis Trio, Nick DeSanto, Dave Wilson Duo, Summit Hill Bluegrass Band, and The Dixieland Band.
There will be a special tribute to Banjo Jimmy, who performed in the Village for more than 30 years and recently passed away. On Saturday, from 1:30-3:30 p.m., the Heart & Soul Bluegrass Band will perform in his honor. Two of Banjo Jimmy's former band mates, Ed Mummert and Jack Gabriel, will join in for a few songs.
New this year will be a "Cornhole Tournament." The competition runs from 9 a.m.-noon on September 15. Fee to participate, which is $25 per team, includes a fun swag bag and the opportunity to win cash prizes and gift certificates.
There will also be a "Tailgate Games" area featuring a bounce house, inflatable basketball hoop shoot, face painting and more. This area has a $5 entrance fee with all funds raised benefitting local sports teams and booster clubs.
This weekend, it's time once again for the 39th Annual Scarecrow Festival at Peddler's Village (Routes 202 and 263, Lahaska, 215-794-4000, www.peddlersvillage.com). The festival hours are 10 a.m.-6 p.m. on September 15 and 16.
Peddler's Village's Scarecrow Making Workshops on the Street Road Green have been a family favorite for decades. The workshop fee of $30 (maximum group of 4 people) includes step-by-step instructions and building materials.
Participants can choose from a variety of clothing decorations and use plenty of straw to construct their very own life-size scarecrow to take home. Workshop times are 10 a.m., noon, 2 p.m. and 4 p.m. on both Saturday and Sunday.
Pumpkin Painting will take place on the Street Road Green on Saturday and Sunday from 11 a.m. until supplies run out.  Brushes, paint and pumpkins will be provided, and a nominal fee will be charged based on pumpkin weight.  No reservations are needed for this first-come, first-served activity.
The roster of live entertainers includes Borderline, Brian Elliot, Nassau Brass, The Overtones, Rendition Jazz Band, Acoustic Road, Toby Mochel and a Few Good Men, Giant Flying Turtles, Galena Brass Band, "Let's Play Today with Lolly & YoYo" and the Give & Take Jugglers.
Visitors can also stroll around the Village to see the Scarecrow Competition and Display, which showcases more than 100 creative and colorful scarecrows. The Scarecrows are on outdoor display through October 29.
The public is invited to vote for the winners. Ballots are available in all shops and restaurants. The ballot boxes are located in the Hospitality Center at the Cock 'n Bull, Giggleberry Fair, and Buttonwood Grill.
On September 1, Elmwood Park Zoo (Elmwood Park Zoo, 1661 Harding Boulevard, Norristown, www.elmwoodparkzoo.org) will be presenting "Night Adventure."
Visitors will be able to zip the zoo in the dark with Treetop Adventures' "Night Adventure!"
At the event, which runs from 7:30-11 p.m., participants can experience all the thrills of the zip line and ropes courses with the added challenge of darkness.
Adventurers will navigate through a section of the Treetop Zoofari course equipped with a headlamp. Young adventurers can also experience the night time fun on our Cub Climb course.
The "Night Adventure" ticket includes access to an all-you-can-eat buffet, which features Norristown specialties such as zeps, "Friday" zeps, soft pretzels, tomato pie, local beer and one drink ticket.
Non-adventurers can still be a part of the fun with the "Fan Pass," which includes one drink ticket and access to the all-you-can-eat buffet.
On September 14 and 15, the Marcus Hook Preservation Society is presenting its 10th Annual Pirate Festival from 11 a.m.-6 p.m. at 4 East Delaware Street in Marcus Hook (http://www.marcushookps.org/piratefestival.php).
The event will run from 5-10 p.m. on Friday and from 11 a.m.-6 p.m. on Saturday.
The "Pirate Festival in the Park" on Friday evening will feature a special "A Pirates Life Food & Drink Event" (for people 21 and over) featuring wine, beer and rum tasting. There will be live music with full access to the Pirate Festival in the Park.
This main festival on Saturday includes a full pirate encampment with period tents, demonstrations and showcases their wares, firearms, cannons and beer making.
The park area will feature games, food, live pirate music, face painting, pony rides, petting zoo, crafters, beer garden and more. All funds raised during this event go towards the ongoing restoration project of the historic Plank House, aka "Blackbeard's Mistress' House."
The Marcus Hook Preservation Society are the owners and caretakers of this one of a kind, hand-sawn plank log house.
The Pennsylvania Renaissance Faire (Pennsylvania Renaissance Faire Shire, Mount Hope Estate and Winery grounds, Route 72, Cornwall, 717-665-7021, www.parenfaire.com) is hosting its "Pyrate Invasion" on September 15 and 16.
From 11 a.m. until 8 p.m. each day, the huge faire will be dedicated to swashbuckler fans – youngsters and adults.
Pyrate School for Nipperkins offers a chance for all young would-be buccaneers to learn how to look like a pyrate, talk like a pyrate and brandish a sword like a pyrate. Suggested for ages 11 and under.
The Four Corners Pyrate Treasure Hunt features a great pyrate treasure is said to have been buried in Mount Hope, and the King needs help retrieving it.
With Royal Dog Days, His Majesty has issued an invitation to the lover of dogs to join him and the Royal Hounds upon the Fairegrounds Saturdays and Sundays in September.
Admission is $31.95 for adults and $12.95 for kids ages 5-11.
Whether you're a faerie, pirate, gnome, princess, super hero, troll or kid, you are invited to enjoy games, stories, enchanted crafts, costume parades, and children's museum tours at the Faerie Festival at Rockwood Museum and Park (4651 Washington Street Extension, Wilmington, Delaware, 302-395-5652, http://www.nccde.org/737/Faerie-Fest).
The event, which will be held on September 16 from noon-4 p.m., also features food trucks, merchants selling festive wares, and visits from special guests such as the Fairy Queen and other magical surprise guests!
Free activities include face painting, bubbles, bounce house, art on the rocks, story time, museum tours for children, costume parades, crafts, and performances by the First State Ballet Theatre, Delaware Children's Theater and Delaware Arts Conservatory.
If you're looking for a fun day of interesting and educational activities, head to Penn's Landing in Philadelphia on September 15 to participate in the 2018 Pennsylvania Coast Day (Penn's Landing, Delaware Avenue, Philadelphia, 800-445-4935, www.delawareestuary.org).
The family-oriented event is slated to run from 11 a.m.-4 p.m. at the site along the Delaware River. The free event provides visitors with a variety of ways to experience Philadelphia's main water tributary.
A limited number of visitors will enjoy free cruises on the yachts Patriot and Liberty. Other excursions include free pedal boating and row boating at Penn's Landing Marina. Families can also enjoy free crafts, face painting, prizes, model boat races, and hands-on exhibits.
There will also be a number of land-based activities including more than 20 interactive displays and children's activities near the RiverLink Ferry terminal.
Pennsylvania Coast Day is a rain-or-shine event.
The 40th Street Summer Series, which is co-produced by University City District, the University of Pennsylvania, and The Rotunda, will have its final show this year in the area behind the Walnut Street Library (40th and Poplar streets, Philadelphia, www.universitycity.org/40th-street-summer-series) with free monthly concerts.
The concert on September 15, which features New Sound Brass and Joy Ike, will take place on the green behind the library between Walnut and Poplar streets. The music will begin at 6 p.m. with other activities kicking off at 5 p.m. Admission is free.
If it's raining, the Summer Series will move indoors to the back room at The Rotunda at 4014 Walnut Street.
On weekends now through October 20, the Kalmar Nyckel will be offering public sails from two locations in Wilmington, Delaware.
On September 15 and 16, the ship will depart from the Dravo Plaza on the Wilmington Riverfront. The remainder of the sailings will leave from the Kalmar Nyckel Shipyard.
For two decades, the Kalmar Nyckel, which has its home base in Wilmington, has been hosting riders all over the world – especially in Delaware.
A ride on the Kalmar Nyckel is a totally different from most tourist water rides.
The ship is a beautiful recreation of the original Kalmar Nyckel, which was built in Holland in the 1620s. Her mainmast is taller than a 10-story building and she carries 7,600 square feet of sail area and six miles of rigging.
The original Kalmar Nyckel was a Swedish-owned, three-masted armed pinnace that sailed from Goteborg, Sweden in November of 1637 and brought the first permanent European settlers to the Delaware Valley.
Carrying 24 settlers from four countries (Sweden, Finland, Holland, and Germany), she landed on the banks of the Christina River. The site, which became known as "The Rocks", can be visited at Fort Christina Park off Wilmington's East Seventh Street.
The Kalmar Nyckel made four documented round-trip crossings of the Atlantic, more than any other "settlers' ship" of the era. The original ship was lost in the late 1600s.
In 1986 a group of citizens established the Kalmar Nyckel Foundation to design, build and launch a replica of the Kalmar Nyckel at a shipyard adjacent to the original landing site.
The new Kalmar Nyckel was constructed there and was launched on September 28, 1997. She was commissioned on May 9, 1998 and now serves as Delaware's sea-going Ambassador of Good Will. She is a fully functional sail training vessel and has represented Delaware all over the country.
Tickets are $35 for adults and $20 for youth (ages 17 and under).
The Strasburg Railroad (Route 741, Strasburg, 717-687-7522, www.strasburgrailroad.com) is always one of the most popular spots around when it hosts "Day Out With Thomas."
There is a mutual love affair between kids and Thomas the Tank Engine and it's especially evident when Thomas gets up-close and personal with his fans during his visits to the Strasburg Railroad.
Every year, the steam locomotive named Thomas makes several visits to Lancaster County where he entertains enthusiastic children and their parents. The locomotive, which has its own PBS television series, will return to Strasburg for "Day Out With Thomas" now through September 23.
For more than 50 years, Thomas the Tank Engine and his Island of Sodor friends have been favorites of preschoolers and their parents. Based on "The Railway Series" (classic stories authored by a father who loved trains and wanted a shared experience with his son), "Thomas & Friends" has evolved into a rite of passage that inspires imagination.
Fans will be able to get personal with Thomas the Tank Engine, a full-sized operating steam locomotive who will be talking for the first time ever. And, they will also be able to ride a train pulled by Thomas and meet the locomotive's buddy Percy.
Percy, who is a larger-than-life, full-size locomotive just like his friend Thomas, will be there for all days of the event. A ride behind Percy may be purchased as an add-on to the "Day Out With Thomas" ticket. Percy's ride will last approximately 12 minutes.
In between trips, Percy will talk with families and be available between trips for photos.
Tickets for "Day Out With Thomas," which are $21, include the train ride with Thomas the Tank Engine, as well as a variety of Thomas & Friends themed entertainment such as storytelling, video viewing, temporary tattoos of Island of Sodor friends and an Imagination Station. The Percy Package is available for an additional $6.