By Denny Dyroff, Entertainment Editor, The Times
Back in 2016, legendary jazz guitarist Mike Stern experienced a bad trip. But, it had nothing to do with a scary travel experience or a hallucinogenic mis-step.
Stern, who will headline a show on September 13 at the Ardmore Music Hall (23 East Lancaster Avenue, Ardmore, 610-649-8389, www.ardmoremusic.com), physically tripped and suffered several broken bones.
"It was July 3, 2016," said Stern, during a phone interview. "I was coming out of my place in Manhattan and I tripped over some construction debris that was left in the street and camouflaged.
"I broke both humerus bones near the shoulder. I went to the hospital and my hands were hurt too. I needed time to heal the broken bones. Then, my right hand got nerve damage. Thankfully, it was my right hand."
Stern wasn't going to abandon his music career just because he had seriously injured his hand and broken the long bones that run from the shoulder to the elbow – in both arms.
The nerve damage in his right hand prevented him from doing the simplest tasks — including holding a pick.
"I'm O.K.," said Stern. "I'm hanging in there. It's been a challenge but I'm getting used to it."
Following his initial surgery, Stern was back on scene in late October — guesting with Chick Corea in a celebration of Miles Davis' music during Corea's two-month residency at the Blue Note in Manhattan.
For that gig, he had to play seated while wearing a black glove outfitted with Velcro to help him hold onto his Velcro-fitted pick
"I had to figure out a way to play with glue secured to the pick," said Stern. "I got the glue from a drummer who was burned as a kid. It's actually wig glue."
Following a second surgery, Stern gained more control of his nerve-damaged picking hand and subsequently devised a scheme where he literally glues his right-hand fingers to the pick, which strengthened his grip, allowing him to more fully realize his signature speed, precision and fluidity.
"I can do it – but I have to fight for it," said Stern. "The amount of support I've gotten from people has been amazing. You don't really do it alone.
"Initially, it was just holding the pick. Dealing with glove is a regular procedure for me. You can get used to anything."
Stern went into Spin Studio in Long Island City between January and March of 2017 to record his 17th album as a leader.
The guitarist's sly, self-deprecating sense of humor comes across in the title of the album, "Trip," as well as on individual tracks like "Screws" (he initially had 11 screws put into his arm following his first surgery) and "Scotch Tape and Glue" (his current method for holding onto the pick.)
"Trip," which was released in September 2017 via Heads Up, a division of Concord Music Group, features trumpeters Randy Brecker and Wallace Roney, saxophonists Bob Franceschini and Bill Evans, bassists Victor Wooten and Tom Kennedy and drummers Dave Weckl, Dennis Chambers and Lenny White.
Produced by pianist-keyboardist Jim Beard, "Trip" is a showcase of what the acclaimed guitarist does best — riffing on post-Miles funk-fusion, urgent swingers and lyrical ballads.
According to Stern, "Sometimes you have some bad stuff that'll happen to you, but you kind of get through it and you realize that everybody has this stuff — good trips and bad trips. But you just got to keep trying, you got to get up and keep going as soon as you can, which I was able to do.
"I had to figure out a way to play. I don't know what I'd do if I couldn't play music. If you really want something bad enough, sometimes you have to fight for it — you find a way to make it happen.
Stern is definitely back on top of his game after months of struggle and uncertainty.
"I'm never going to just give up," said Stern, who played with Blood, Sweat & Tears, drummer Billy Cobham and legendary trumpeter Miles Davis prior to his solo career that has delivered close to 20 albums.
"It's getting a little better as time goes on. It's a challenge. It's more about what it feels like than what it sounds like. I'm always supercritical. I always think I can do better. But, people are digging it. They don't notice a difference from before.
"It hurts to play – but I'm dealing with it. The amazing thing about music is that it has such healing effects. When I'm playing, I don't notice the pain as much. Playing music is incredible."
And, Stern's new album is incredible.
According to Stern, "Everybody in the band played their asses off on this record. I was really happy with how it came out because everybody just put so much love and energy into it. When I get to play with the caliber of musicians on this recording, I'm just glad to be part of the band."
Stern's band for his show in Ardmore features Dennis Chambers on drums, Bob Franeschini on sax, and Tom Kennedy on bass.
"We're going to play some stuff from 'Trip' and some older stuff," said Stern. "These guys can play anything.
"I've been on the road non-stop for the last year, so I haven't had that much time to rehearse with these cats. But, they're so good they can kick my ass around the block."
Video link for The Mike Stern Band – https://youtu.be/KG7fIFuQTMw.
The show at Ardmore, which had Crosstown Traffic (Greg Davis, Wally Smith, Chico Huff and Tom Walling) as the opening act, will start at 7:30 p.m. Tickets are $35 and $42.
Other upcoming shows at the Ardmore Music Hall are Holly Bowling on September 14, Ted Leo on September 15, and The Stanley Clarke Band on September 16.
In Real Life is a hot new pop band whose name is somewhat ironic.
When a band forms "in real life," it often happens when a bunch of musician friends get together to jam, begin writing songs with each other and eventually become a cohesive music group.
That is the complete opposite of the way In Real Life came to be.
In Real Life, which is bringing its "Tonight Belongs To You Tour" to the Theatre of the Living Arts (334 South Street, Philadelphia, 215-222-1011, http://www.lnphilly.com) on September 13, owes its existence to a reality television show.
The pop quintet features Sergio Calderon, Michael Conor, Chance Perez, Andrew Ramos and Brady Tutton. They came together with the help of America's votes during their time on ABC's 2017 summer reality competition, "Boy Band."
The show premiered June 22, 2017, on ABC with hostess Rita Ora, and "architects" Backstreet Boys' Nick Carter, the Spice Girls' Emma Bunton, and Timbaland. The 10-episode season began with 30 young male vocalists competing to become a member of the new five-piece boy band.
Each week, the boys rotated into different groups and performed. Then, the "architects" put either two or three boys up for elimination and through live voting, one boy would be saved by America. At the end of the season, the final five remaining boys formed the boy band and received a recording contract with Hollywood Records.
After a 24-hour voting period the week before, it was announced at the final live show on August 24, 2017 that Tutton, Perez, Ramos, Calderon, and Conor were the winning members and formed In Real Life. There, the quintet premiered its debut single — "Eyes Closed."
"I first heard about the show last April," said Conor, during a phone interview Wednesday afternoon from a tour stop in Boston. "I was reached out to through a casting promoter. I was working at a pizza place and thought – this is a lot cooler."
Perez said, "I was working as a backup singer. My agent said I should audition for 'Boy Band.' At first, I said – No, I have a daughter and I have to provide for her. Then, I changed my mind."
Conor also had doubts at the start.
"At first, I didn't think about 'Boy Band' because I was trying to be a solo artist," said Conor. "I was a rapper. I was hesitant in that I didn't know if I'd fit because I was never a singer before. But, I was stoked for the opportunity to be a rapper in a boy band."
Versatility is one of the group's strengths. In Real Life is a pop boy band that experiments with other sounds such as pop-rap, dance-pop, teen pop and Latin pop.
"We're not trying to be like anybody else," said Perez. "We're original people."
In Real Life's line-up has a lot of diversity in band members' ages and hometowns.
Tutton, who was born on December 7, 2001, is from Shorewood, Wisconsin. Ramos, who is from the Bronx, was born October 23, 1997.
Perez, who was born on November 10, 1997, is from Seal Beach, California. Calderon, a native of Redwood City, California, was born on October 6, 2000. Conor, who was born on June 7, 1999, is from Shaker Heights, Ohio.
The band released its song "Tonight Belongs to You" in July and followed with "Got Me Good," which just dropped on September 6.
"I think the songs we released represent the different vibes of the band," said Conor. "The song 'Got Me Good' is the direction we want to go. We want to make mature pop rock.
"This is our first headlining tour. And, we had our first anniversary as a band last month."
Video link for In Real Life – https://youtu.be/TqDg-PLCJiE.
The show at the Theatre of the Living Arts on September 13, which has JAGMAC as the opening act, will start at 8 p.m. Tickets are $27.
Other upcoming shows at the TLA are Wintersun on September 14, Life of Agony on September 15, Alina Baraz on September 16, and Matthew Thiessen and The Earthquakes, on September 17.
Parrot Dream has its roots in a South American capital and its home in Brooklyn, New York.
The band, which revolves around the nucleus of Gonzalo Guerrero and Christina Hansen Appel, is currently touring in support of its debut album "Light Goes," which was just released on August 24 on Good Eye Records. The tour touches down locally on September 15 with a show at The Music Ward (5101 Grays Avenue, Philadelphia, https://www.facebook.com/PhillyMusicWard).
Formed by Appel (vocals, keyboards) and Guerrero (guitar) in Santiago, Chile in 2013, the duo relocated to Brooklyn. The band quickly began making strides musically — including amassing more than half a million streams on Spotify.
"We just started this tour," said Appel, during a phone interview Wednesday afternoon as the band travelled to a gig in Providence, Rhode Island. "It's a short tour of the Northeast."
When the duo relocated from Chile to Brooklyn, Appel came back to her old stomping ground having grown up in New Rochelle, New York.
"I studied Spanish on college and then wanted to travel," said Appel. "I had studied sociology in Buenos Aires (Argentina) and I wanted to go back to that part of the world. My plan was to go to Chile for a year and I ended up staying for five years."
Music was a part of Appel's life long before she went to college.
"I started piano when I was a teenager," said Appel. "When I was 14, I asked for piano lessons."
Music and cigarettes started her on the path that led to the formation of Parrot Dream.
"I met Gonzalo when I lived in Santiago," said Appel. "I met him at a party. I asked to bum a cigarette and ten we hung out. We began a relationship together and then started making music together.
"In 2014, we formed a band in Santiago with two friends. We named the band Pile of Birds an dtne found out another band in Chile had the name. So, we became Parrot Dream.
"We released a six-song EP in Chile called 'Set sail Someday.' Then, we decided to move to New York. It was just Gonzalo and I, so we formed a new band in New York."
In 2015, Parrot Dream issued its first stateside recording – "Jungle," a two-song single featuring the line-up of Francisco "Pancho" Véliz (bass), Diego Aravena (drums), Guerrero (guitar) and "Kiki" Appel (vocals).
"It took a while to form a band when we got to New York," said Appel. "We found a lot of good musicians here in Bushwick. We recorded the album at the end of 2017 at a studio in Greenpoint, Brooklyn."
The album was written over a span of two years and touches on themes of connection, love, memories and clarity. It features Appel's hypnotic synths and wistful vocals along with Guerrero's incendiary guitars. The musicians on the LP were Matt Sklar on bass and Agustin Faundez Rojas on drums and percussion along with Appel and Guerreo.
"Our sound became a little more layered – especially in comparison to the EP," said Appel. "The structure is pop – but less standard than ordinary pop.
"We were in the studio for four months altogether. The record was a history of the move from Santiago to Brooklyn. There was quite a bot of time between the first song that was written and the last one that was written when we were actually making the record."
Video link for Parrot Dream – https://youtu.be/v_xGalkFV-o.
The show at The Music Ward, which has Overwinter, Foxanne and Dweller as opening acts, will start at 7:30 p.m. Tickets are $10.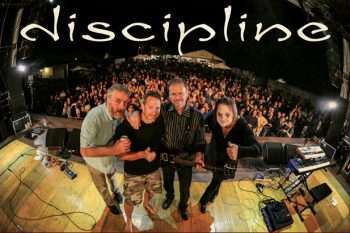 Kennett Flash (102 Sycamore Alley, Kennett Square, 484-732-8295, http://www.kennettflash.org) will present "Ronstadt Revue – A Tribute to Linda Ronstadt" on September 14, Discipline with special guests Valdez on September 15 and "Open Mic with guest host Andrew Reynolds" on September 16.
The Steel City Coffee House (203 Bridge Street, Phoenixville, 610-933-4043, www.steelcitycoffeehouse.com) will host The McCruddens with Shadow Merchant and David Karaban on September 15.
The Colonial Theatre (Bridge Street, Phoenixville, 610- 917-1228, www.thecolonialtheatre.com) will host Theatre Organ Concert with David Peckham on September 16.
Chaplin's (66 North Main Street, Spring City, 610-792-4110, http://chaplinslive.com) will have Flute Haven on September 13, Moral Support and Nothing Vital on September 14, The Output and CJ Dunleavy on September 15 and "Open Mic Night" on September 16.
Burlap & Bean Coffeehouse (204 South Newtown Street Road, Newtown Square, 484-427-4547, www.burlapandbean.com) will present
Edie Carey with Aiden James on September 14, and All Good People on September 15.
The Keswick Theater (291 N. Keswick Avenue, Glenside, 215-572-7650, www.keswicktheatre.com) hosts Sal Valentinetti on September 15.
The Sellersville Theater (24 West Temple Avenue, Sellersville, 215-257-5808, www.st94.com) presents Ana Popovic and James Pace Band on September 13, "7 Bridges: The Ultimate EAGLES Experience" on September 14, Doug Church (The True Voice Of Elvis) on September 15, and Amy Helm and Ken Yates on September 16.
The Queen (500 North Market Street, Wilmington, 202-730-3331, www.thequeenwilmington.com) will host "Rusty Blue Album Release Show" with RFA, Eyebawl, and Ooze on September 15 and "Drag Diva Brunch" on September 16.
Jamey's House of Music (32 South Lansdowne Avenue, Lansdowne, 215-477-9985, www.jameyshouseofmusic.com) will present the Rockin Johnny Burgin Band on September 14.
The Candlelight Theater (2208 Millers Road, Arden, Delaware, 302- 475-2313, www.candlelighttheatredelaware.org) is presenting "Brigadoon" now through October 28. Performances are Friday and Saturday evenings (doors 6 p.m./show, 8 p.m.) and Sunday afternoons (doors, 1 p.m./show, 3 p.m.). Tickets, which include dinner and show, are $63 for adults and $33 for children (ages 4-12).