Summer fun at Anson B. Nixon Park for the entire family is only  one day away
By P.J. D'Annunzio, Staff Writer, UnionvilleTimes.com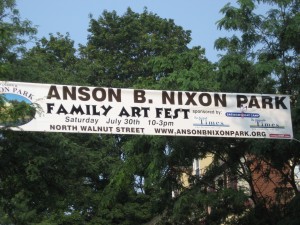 KENNETT SQUARE — Anson B.Nixon Park will be getting a splash of color on Saturday with the debut of the Family Art Fest; a creative, family-oriented fun event.
"In the past we've had something called family fun fest, but this year we've put a twist on it for arts, meaning performing and visual arts," Kennett Area Park Authority Chairwoman Pam Carter said, "We took it in the arts direction this year because we were looking a way of reinventing the summer event."
The revitalization of the festival is due in large part to Kris Smith, who heads Camp Saginaw's arts department.
From10 a.m. to 3 p.m. the park will host the Art Fest which includes a variety of participatory events for children including take-away projects such as mosaics, origami, abstract painting and rug weaving. To round out the fun, face painting, photography, and story-telling in a fairy story garden are also planned.
At a time when state budget cuts in education threaten the funding of the arts in schools, this fest could prove invaluable in exposing kids to the arts, and opening up new doors in terms of self expression.
"I think that young people need lots of opportunities to engage in the arts, and this a good way to do that," Carter said, "We have resources from the community to help facilitate that experience. A couple of the dance schools will be doing performances. A church is sponsoring a junk band that takes everyday objects and turns them into musical instruments. It's a good way to expose kids to performance and visual arts."
The festival's musical and dance performances consist of a wide range of acts including Junk Rock Recycle Band, Danza Tenochtli, theLongwoodPerformingArtsCenter, the Carousel Performing Arts Center, and special surprise guests.
A bike rodeo by Dr. Ray McLaughlin of Kennett Square is also planned for the Art Fest. All kids who bring their bicycles and helmets along to the Art Fest can get a bike safety check up and decorate their bikes with colorful streamers.  Dr. McLaughlin will demonstrate minor bicycle repairs and share safe bicycling rules throughout the day.  Some demonstration bikes will be available for those without bikes.
Those signing up for The Unionville Times' weekly e-newsletter at the Unionville Times/Kennett Times booth will be automatically entered to win a drawing for a special gift basket, featuring items from:
Country Butcher
Paper Market – Eco boutique
Michael Moyer State Farm Insurance
Picone Beauty &  Wellness  
Kennett Area YMCA
Cari&McCormick Orthodontics
Anson B.Nixon Park is located on North Walnut Street, off State Street in both Kennett Square Borough andKennettTownship. The 106-acre park has sand and grass volleyball courts, hiking, walking, and fitness  trails, basketball and tennis courts, a Frisbee golf course, six pavilions with picnic tables, grills, two ponds stocked with fish, a children's playground, and a performance pavilion. For further information about the park, visit www.ansonbnixonpark.org. The street address is 100 Waterworks Dr., Kennett Square, PA 19348.