By Denny Dyroff, Entertainment Editor, The Times
Hard to believe but we've arrived at Labor Day Weekend — the weekend when summer unofficially screeches to a halt. The official end of summer arrives later in the month but for some, summer is already over because the new school year has already begun.
One thing that will never change about the Labor Day Weekend is the longevity of the annual events staged on the last holiday weekend of the summer. Many of the area's annual Labor Day Weekend events have been held continuously for 40 years or longer.
The Ludwig's Corner Horse Show (Routes 100 and 401, Bucktown, 610-458-3344, www.ludwigshorseshow.com) is in elevated status near the top of the list of the Chester County's longest-running annual Labor Day Weekend events.
The show, which is held at Ludwig's Corner Horse Show Grounds, is closing in on its diamond anniversary. The 2018 edition of the show, which is the 75th annual staging of the event, will be held September 1-3 at its long-time site in the northern part of Chester County.
The three-day event will feature a variety of fun activities. Families can enjoy rides, vendors, face-painting, hayrides, live music, games, food concessions and children's games. There will also be a large number of booths with representatives of groups that are involved in the preservation of open space.
The very first Ludwig's Corner Horse Show was staged in 1943 as a small show to raise money for local scout troops. It featured just 88 horses. Now, it is a very large show with over 400 horses competing for three days in both hunter and jumper classes.
The featured equestrian event is the Lexus Jumper Mini-Prix competition. Other competitions will feature dressage, cones and cross country — and over $3,000 in prize money.
The horse show features a number of special events including a country fair, a carriage parade, pie-eating contests, a costumed pet parade, Creepy Crawlers Big & Small, a "Mounted Parade of Hounds," the Thorncroft Mainstreamers, hay rides, an antique tractor show, Silkie's Farm Alpacas, "Pioneer Games" and amusement rides.
The show will run from 8 a.m.-dusk each day. Tickets are $7 for adults and $3 for children (12 and under) on Sunday and Monday.
Having been around for more than a half-century, Duryea Day has one of Boyertown's most popular annual events. This year, Duryea Day (Boyertown Community Park, Second and Madison streets, Boyertown, 610-367-2090, www.boyertownmuseum.org) is celebrating its 53rd year with another top-flight "Antique and Classic Car Show."
The one-day event, which is hosted by the Boyertown Museum of Historic Vehicles, serves as a showcase for antique and classic cars and trucks of all types. This year, it will be held on September 1 from 9 a.m.-4 p.m. in the scenic park in downtown Boyertown.
Duryea Day was created as a tribute to local automobile pioneer Charles Duryea, who started building automobiles in Reading more than a century ago. Duryea was making automobiles long before most people in the area had even seen a car.
A Labor Day Weekend tradition, the "Antique and Classic Car Show" draws exhibitors from all over the Mid-Atlantic region with an amazing array of collector cars, antique trucks, hot rods, vintage motorcycles, custom cars and special interest vehicles.
Visitors have the opportunity to get up-close looks at a number of automobiles they probably have never seen before — cars made by long-defunct companies such as Franklin, Winton and Peerless. There will also be displays of timeless classics like the Ford "Model T."
The auto show will feature awards in the following categories – Antique Pre-War Car, Antique Post-War Car, Antique Commercial Truck, Street Machine, Antique Pickup Truck, Street Rod, Antique Motorcycle and Antique Sports Car.
In addition to the car show, Duryea Day also features live entertainment, food and beverage vendors, a 50/50 drawing, a "car corral" and an auto flea market. There will also be a variety of entertainment and special activities for children.
Admission to Boyertown Park for Duryea Day is $7 for adults and $3 for children (ages 6-12). Visitors to Duryea Day can take advantage of complimentary admission to the Boyertown Museum of Historic Vehicles. A special trolley will make continuous loops between the park and the Boyertown Museum of Historic Vehicles until 4 p.m.
There is a festival in northern Delaware is well past the century mark.
It's the Arden Town Fair (The Village of Arden, 2126 The Highway, Arden, Delaware, 302-475-3126, www.ardenclub.com) which is celebrating its 111th anniversary this year. It will be held September 1 from 10 a.m.-6 p.m.
The well-attended holiday event has many popular features such as delicious homemade baked goods, the Library Gild's used book sale, more than 120 vendors of handmade crafts and jewelry, children's games and rides and the antiques and collectibles market with more than 50 dealers.
Other attractions at the fair are the food court, pony rides, the dunk booth, booths selling plants from the Gardeners Gild, dance demonstrations, the popular Beer Garden with continuous live entertainment and the Holistic Expo at the Buzz Ware Village Center.
The Fair's lineup of live music this year includes Diamond State Concert Band, Crazy Chester and the Space Farmers, Mtn Lion String band, Stone Shares, Cure for Pain, Blue Reincarnation Project, Sarah Koon and The Tall Pines.
The Delaware Valley Bluegrass Festival (Salem County Fair Grounds, Route 40, Woodstown, New Jersey, 302-321-6466, www.delawarevalleybluegrass.org) has also been on the Labor Day Weekend schedule for a long, long time.
This weekend, the eagerly-anticipated annual music event, which runs from August 31-September 2, will celebrate its 47th anniversary. The festival will feature three days of old-time music – the kind of music that takes you back to a bygone era and makes you feel good.
The event was first held on Labor Day Weekend in 1972 in Glasgow, Delaware and was known as the Delaware Bluegrass Festival. It remained in Delaware through 1989 and moved to its current location in 1990.
Live music at this year's festival will start on August 31 with a lineup featuring David Davis & Warrior River Boys, Dom Flemons, Mile 12, Suzy Bogguss, Michael Cleveland and Flamekeeper, and Hot Rize.
Saturday's performers will be Jeff Scroggins & Colorado, Bill & the Belles, High Fidelity, Sister Sadie, The Quebe Sisters and Jerry Douglas Presents the Earls of Leicester.
The lineup for September 2 features Cane Mill Road, The Po' Ramblin' Boys, Mick Kinney & the Hickhoppers, Chris Jones & the Night Drivers, Seldom Scene, and Doyle Lawson & Quicksilver.
Single day tickets are $55 (Friday and Saturday) and $45 (Sunday). Weekend tickets are $110 and senior citizens (62 and over) get $5 per day off daily tickets or $15 off weekend ticket price. Student tickets are $35 for Friday or Saturday, $30 for Sunday and $60 for the weekend.
Another really, really old annual event in the area is the Labor Day Volksfest at the Cannstatter Volksfest Verein (9130 Academy Road, Philadelphia, http://cannstatter.org/).
Held every year since 1873, the Cannstatter Volksfest is the nation's oldest German festival and one of Philadelphia's longest-running Labor Day Weekend events.
The 146th annual staging of the festival, which is running from September 1-3, features tasty German food items such as Weisswurst, Bratwurst, Leberkaese, Heisser Leberkäse, Kartoffel-Salat, Schnitzel, Maultaschen, Spätzle, Pflaumenkuchen,  Zwetschgenkuchen and, of course, Frankfurters
One of the most popular sites at the fair will be the biergarten which will have an attractive variety of great-tasting German beer on tap.
The Volksfest is a family-oriented event that has amusement rides, games and an array of activities for every age group. There will be German music and dancing, souvenir booths, German German-American singing and vendors with German clothing.
The Volksfest will have live music each day with a roster of acts that includes Greater Kensington String Band, GTV Almrausch Dancers, Altweibermühle (Old Ladies Mill), Joe Weber Band and Bratwurst Boys Band.
Admission is $6 for one day, $9 for two-day pass, and $11 for three-day pass. Children under 12 will be admitted free.
The 53rd Annual Polish Festival the National Shrine of Our Lady of Czestochowa (654 Ferry Road, Doylestown, 215-345-0600, www.czestochowa.us) is being held from September 1-3 and again on September 8 and 9
Visitors to the festival will be able to feast on such Polish delicacies as kielbasa, pierogies, placki, holubki and chruschicki. There will also be several beer booths on the grounds.
The festival will feature rides, games, a "Polish Wedding & Dozynki," "Medieval & WWII Polish Living History Groups" and a full slate of Polish music and polka bands.
Admission to the festival is $12 per person.
The Allentown Fair (17th and Chew Street, Allentown, 610-433-7541, www.allentownfairpa.org) is without a doubt one of the oldest festivals in Pennsylvania – and one of the oldest in the country. It's an event that has been drawing large crowds ever since '52 – that's 1852.
The popular Allentown Fair was first staged in October 1852 when the Lehigh County Agricultural Society held its first fair. The huge annual fair in Allentown is still one of the state's premier late-summer attractions.
Now known as "The Great Allentown Fair", the 2018 edition runs through September 3. It will be the fair's 165th anniversary this year.
The Allentown Fair is a fun-filled event that spans generations and appeals to people of all ages. The multi-day event at the Allentown Fairgrounds features thousands of farm, garden and home exhibits and competitions along with thrill rides, amusement games, variety acts, international food and some of the top entertainers currently on tour.
The Grandstand Stage's 2018 schedule features Sugarland with Frankie Ballard & Lindsay Ell on August 31; 5SOS with The Aces on September 1; Niall Horan with Maren Morris on September 2; and J & J Demolition Derby on September 3.
The fair's list of daily entertainment attractions also includes XPOGO Stunt Team, "Marvelous Mutts," "Robinson's Pig Paddling Porkers," "Lil' Farm Hands," "4-H Petting Zoo," "Nerveless Nocks All American Thrill Show," and the "Rhinestone Roper Show."
As always, amusement games and rides are one of the fair's main attractions. This year, the Great Allentown Fair will again feature thrilling rides and games of skill and chance presented by Powers Great American Midways.
There will also be a wide array of agricultural competitions and exhibits each day at the fair. Tickets are $8 for adults with children under 12 admitted free.
Lancaster has a pair of craft shows this weekend that definitely qualify as two of the top events in the longevity category.
The Long's Park Art & Craft Festival (Harrisburg Pike and the Route 30 Bypass, Lancaster, 717-735-8883, www.longspark.org) and the Heart of Lancaster County Arts and Crafts Show (Root's Country Market-Auction, 705 Graystone Road, Manheim, 717-898-6297, www.heartoflancasterartsandcraftshow.com) have both been around for decades.
The 40th Annual Long's Park Art & Craft Festival runs from August 31-September 2 at Long's Park in downtown Lancaster. The 31st Annual Heart of Lancaster County Arts and Crafts Show is scheduled to take place on September 2 and 3 at Root's Country Market-Auction.
More than 200 fine artists and artisans representing 30 states were selected through a juried process for inclusion in this year's show at scenic Long's Park, an 80-acre park in the center of Lancaster. All proceeds benefit the free Long's Park summer entertainment series.
A large contingent of artisans will be selling their wares and demonstrating their crafts each day at Long's Park. The show will feature an array of categories, including drawing, glass, paper, musical instruments, ceramics, leather, printmaking, wearable fiber, mixed media, precious jewelry, painting, metal, decorative fiber, photography, sculpture, toys and wood.
The "Susquehanna Style Bistro" at Long's Park will offer guests a tasty selection of food from some of the region's finest restaurants and caterers. The selection of salads, pastas, sandwiches, seafood and desserts will be complemented by a selection of fine wines, craft beers and special mimosas.
The festival will also present live entertainment all three days.
Festival hours are 10 a.m.-6 p.m. on Friday and Saturday and 10 a.m.-5 p.m. on Sunday. Tickets are $10 for one day and $15 for multi-day.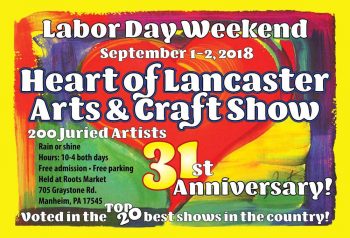 The Heart of Lancaster Arts and Craft Show is celebrating its 31st anniversary this year — and its seventh anniversary as a two-day event. This year's show will feature a roster of more than 200 artists and fine craftsmen from all around the East.
This juried event features a wide variety of traditional, primitive, and contemporary art and crafts. Importantly, all the items on display at this show are hand-crafted by the artists. The event also offers an array of crafts demonstrations.
There will be vendors with a wide variety of food and beverage items at the event, which is scheduled for September 1 and 2 from 10 a.m.-4 p.m. each day.
Additionally, live entertainment will be provided by the Susquehanna Pipes and Drums and the jazz group Over Easy.
One of the nicest attractions offered by the Heart of Lancaster Arts and Craft Show is free admission for all.
Another special event in Lancaster this weekend will be the "African-American Heritage Walking Tours" on September 1.
Tours, which depart from the Lancaster City Visitor Center (38 Penn Square, Lancaster), are available at 11 a.m. and 2 p.m. The tour is a safe and easy walk that takes between 60 and 90 minutes. Comfortable walking shoes recommended.
The walking tours visit sites such as black businesses on Penn Square; site of Elite Hotel; Thaddeus Stevens & Lydia Hamilton Smith Historic Site; Trinity Lutheran Church; Lancaster County Courthouse; Hamilton Club; Saint James Episcopal Church; site of the Lancaster Train Station; Shreiner-Concord Cemetery; Fulton Hall/Old Jail; and Central Market.
Cirque Italia is known for its trademark water circuses. Now, Cirque Italia is adding a new circus adventure — Paranormal Cirque (https://paranormalcirque.com).
The intriguing new production, which is intended for a mature audience, is running now through September 3 at the Neshaminy Mall (707 Neshaminy Mall, Bensalem,).
Paranormal Cirque will expose audiences to a unique creation of combined theatre, circus, and cabaret with a new European style flare.
This innovative horror story, which is presented in true circus style under a Big Top tent, features different shades of sexy and an incomparable storyline. Audiences likely will find it difficult to separate reality from illusion at this show as they fall into a parallel world and end up surrounded by monstrous creatures with hidden talents.
Paranormal Cirque's "CASTLE" (also known as the Big Top) presents a mesmerizing effect with its swirling Black and Red hypnotic colors while hosting a two-hour hypnotizing and enchanted show.
A careful casting selection has united the best artists from all over the world. Cirque Italia believes in multi-culturalism as one of our strongest assets. Just a few of the circus arts you can expect to see in this new production include the jaw-dropping Wheel of Death, mystifying magic, a woman hanging high in the air by her hair, six men on a horizontal pole, the infamous cyr wheel, and the always sexy-yet-dangerous silks. The show follows a strict animal-free policy.
Italian entrepreneur Manuel Rebecchi, President and Owner of Cirque Italia combined his vision with the flawless direction of the COO, Chanté DeMoustes, and has turned this once romantic project idea into a successful production. He wanted to create a show to cater to an adult audience where viewers could escape to another world.
Paranormal Cirque is a crazy yet fun fusion between circus, theatre, and cabaret, all working in perfect harmony and resulting in the evolution of a show that takes you into a world of dreams — or nightmares and fantasies. Fear, amusement, and surprise are only a few of the ingredients.
Video link for Paranormal Cirque — https://youtu.be/Q5vEJn5l5ME.
Ticket prices range from $10-$50 and are restricted — under 18 requires accompanying parent or guardian because the has adult language and material.
Chaddsford Winery (Route 1, Chadds Ford, 610-388-6221, www.chaddsford.com) is presenting its "Labor Day Jazz Festival" from September 1-3.
The festival will feature back-to-back sets from local jazz musicians. Visitors will be able to choose from a variety of seasonal wines and wine cocktails or select an ice-cold craft beer. Food trucks will be onsite dishing out snacks and street food.
The line-up of live music features Slim and The Perkolators from 11:30 a.m.-2:30 p.m. and Steve Liberace from 3:30-6:30 p.m. on Saturday; Trolley Jazz Trio from 12:30-4:30 p.m. on Sunday; and Rob Zinn Jazz from 12:30-4:30 p.m. on Monday.
This year's participating food trucks will be The Plum Pit and Gotta Lotta Gelatta.
On September 2, the Lionville Fire Company (15 South Village Avenue, Lionville, https://www.facebook.com/LFCO47/) is hosting its annual "Clam Bake."
Guest are invited to come to the event and support the Lionville Fire Company in one of its biggest fundraisers of the year — and the biggest block party of the season.
Just $40 gets you three dozen clams, all-you-can-eat corn on the cob, hamburgers, hot dogs, deli salads, Fred's Homemade Clam Chowder and drinks.
The $20 children's tickets for kids 3-12 do not include clams. Kids under 3 are free.
Activities include live entertainment, a horseshoe tournament, a raffle and a 50/50 drawing.
The West Chester Growers' Market (intersection of North Church and West Chestnut street, West Chester) will host its annual Labor Day Weekend Picnic.
The merchants at the outdoor market hold the event at the end of every summer as a "thank you" for its customers.
They will be grilling free locally-grown sweet corn and hot dogs for all market guests. They will also be offering free refreshing lemonade.
This event, which is free and open to all, is a rain-or-shine event.
The Native Plant Sale and Open Farm Days are scheduled for September 1 and 2 at Yellow Springs Farm Native Plant Nursery and Artisanal Goat Cheese Farm (1165 Yellow Springs Road, Yellow Springs, 610-827-2014, www.yellowspringsfarm.com).
Visitors to the Farm on Labor Day weekend will be treated to a free, family-friendly outing. This is an outdoor event, held rain or shine.
There will have hundreds of plants ready in the nursery — flowers, ferns, grasses, shrubs and trees – and gardeners ready to offer expert advice on plant selection. As a special Open Farm Days attraction, if you buy two perennials, you can get one free.
The two-day event will also have many goat cheese selections and yogurts ready for sampling and purchase.
On September 1, the Independence Seaport Museum (211 S. Columbus Boulevard Philadelphia, 215-413-8655, www.phillyseaport.org) is offering visitors the opportunity to enjoy spectacular views of fireworks on the Delaware River Waterfront. Fireworks will take place at approximately 9:30 p.m.
Advance tickets to the fireworks include admission to Independence Seaport Museum and its National Historic Ships, Cruiser Olympia and Submarine Becuna, plus a premium view of this illuminated spectacle from the top of its rotunda (reserved exclusively for ticket holders).
Visitors can make it a day on the waterfront by exploring the Museum, renting a boat at Paddle Penn's Landing, and grabbing refreshments on Deck, the museum's second floor terrace bar. Admiral's Tavern, the museum's pop-up beer garden on Olympia, will also be open on September 1.
Independence Seaport Museum will be open on Saturday, September 1 from 10 a.m.-10 p.m. National Historic Ships, Cruiser Olympia and Submarine Becuna will be open from 10 a.m. to 8 p.m.
The Draken Harald Hårfagre, the world's largest operating Viking ship, sails into Penn's Landing this weekend.
The historic ship will arrive on August 31 and drop anchor on the Delaware River waterfront until September 6.
In March of 2010, construction began on what would be the largest Viking ship ever built in modern times. Named after Harald Hårfagre, the king who unified Norway into one kingdom, the great dragon ship came together in the town of Haugesund in Western Norway.
The Vikings left almost no record of how they built their ships, or how they sailed them. Draken Harald Hårfagre is a recreation of what the Vikings would call a "Great Ship", built with archaeological knowledge of found ships, using old boatbuilding traditions and the legends of Viking ships from the Norse sagas.
Plank by plank, nail by nail, more than 10 000 of them, the ship was constructed by a band of experienced boat builders, historians, craftsmen and artists.
115 feet from stem to stern, 26 feet wide, 260 square meters of silk sail and a 79 feet tall mast made from Douglas fir. She is a seaworthy ship, able to sail the Oceans of the World.
At a hundred and fourteen feet of crafted oak, twenty-seven feet on the beam, displacing eighty tons, and with a thirty-two hundred square foot sail, this magnificent ship is indeed worthy of a king.
Norway's leading experts in traditional boat building and the square sail were engaged in the development and construction of the ship. The construction is an experimental archaeological research program, and the aim was to recreate a ship with the superb seaworthiness that characterized the ocean going long ships in the Viking Age.
During the Draken Harald Hårfagre's seven-day visit, guests can go on deck tours, see a screening of the new Draken documentary, explore the pop-up Draken Village, and attend a lecture by the ship's captain about the ship's adventures.
Video link for Draken Harald Hårfagre — https://youtu.be/XORSpUUy0lQ.
Tickets for the Draken Harald Hårfagre experience are $14, adults (ages 16 and over); $7, child (ages 5-15); free, children (ages 4 and under).
The Blue Corn Green and Organic Festival will be held on September 2 at Great Plaza at Penn's Landing (Chestnut Street and Delaware Avenue, Philadelphia, 215-922-2386, http://www.delawareriverwaterfront.com).
The Blue Corn Green and Organic Festival is a cultural effort to gather communities from all walks of life under a common awareness theme that supports the need for promoting a sustainable lifestyle that fuses old traditions with new ways of living.
This festival is a gathering of agriculture experts, market owners, restaurateurs, artists, musicians and tribal groups to support farmers local to the area and from Mexico.
The event will be held from noon-5 p.m. and is free and open to the public.
There will be a fun and educational event this weekend at Colonial Pennsylvania Plantation (3900 North Sandy Flash Drive, Newtown Square, www.colonialplantation.org).
"Back to School Science Day" will be held on September 1 from 11 a.m.-4 p.m.
Young students can take part in experiments such as dyeing cloth, churning butter, mixing soap and making candles. They will learn how to decide what it takes to breed "the perfect sheep."
Participants will be able to meet Ben Franklin, learn about his inventions, and discover the everyday science we take for granted.
The event will run from 11 a.m.-4 p.m. Admission is $10 for adults and $6 for children
A popular event in Delaware this weekend is "Steamin' Days" at Auburn Heights Preserve (3000 Creek Road, Yorklyn, Delaware, 302-239-2385, http://auburnheights.org) on September 2.
"Steamin' Days," which is held on the first Sunday of the month through November, focuses on steam power.
During "Steamin' Days at Auburn Heights," the site is bustling with activity. Visitors are encouraged to climb into an antique automobile or board one of the trains and experience what it was like to travel at the turn of the 20th century. They can also tour the magnificent 1897 mansion that was home to three generations of the Marshall family.
Also included is entry to the Marshall Steam Museum, which features the world's largest operating collection of Stanley steam cars along with a 1930s working Lionel electric train display, a hands-on engine display, kids' activities and exhibits and the Museum Gift Shop.
Activities run from 12:30-4:30 p.m. each time. Combo Tickets, which cover all rides and building tours, are $19 (13 and older) and $12 (age 12 and under).
On the same day, the Delaware Children's Museum (550 Justison Street, Wilmington, delawarechildrensmuseum.org) will host a special event called "Star Wars Science."
Participants will be able to meet their favorite Star Wars characters at the Delaware Children's Museum event. And, they can enjoy space science and Star Wars related programming in the DCM Studio and STEM Room.
The event will run from noon-3 p.m.
Admission is $8.75 per person.