By Denny Dyroff, Entertainment Editor, The Times
People often tend to squash or swat away insects when they encounter them — but that's not always a good thing. There are many insects who deserve respect and need your love.
This weekend, bug lovers will join with the staff at Tyler Arboretum (515 Painter Road, Media, 610-566-9134, www.tylerarboretum.org) for a special event focusing on insects.
On August 26, Tyler, which is one of the oldest and largest arboreta in the northeastern United States, will host the "Bugs and Butterflies" from 10 a.m.-2 p.m.
The arboretum will have butterfly experts available to provide information on creating a butterfly-friendly habitat in home gardens — an environment featuring all the butterflies' favorite plants.
Visitors will be able to learn all about butterflies that are native to our area — how they transform from egg to caterpillar, then to chrysalis, and finally to butterfly.
In Tyler Arboretum's Butterfly House, visitors will be treated to looks at a wide array of native butterflies, including Spicebush Swallowtails, Eastern Tailed Blues, Great Spangled Fritillaries, and, of course, Monarchs.
Tyler Arboretum, a non-profit public garden, encompasses 650 acres of renowned plant collections, heritage and champion trees and historic buildings — along with 17 miles of hiking trails through woodlands, wetlands and meadows.
Kids of all ages can participate in games and make-and-take crafts throughout the day.
Visitors will be able to learn about bees from Church Lane Apiary.
Admission to the festival is included with general admission tickets, which are $15 for adults (ages 16-64), $13 for seniors (65 and older) and $9 for youths (ages 3-15) and military. Children (under 3) are admitted free.
On August 25, there will also be a Butterfly Festival at Colonial Gardens (745 Schuylkill Rd, Phoenixville, 610-948-9755, www.colonialgardenspa.com).
The festive and colorful event, which will be held in the Garden from 10 a.m.-4 p.m., will feature a "Butterfly Release" of more than 200 butterflies with releases scheduled for 11:30 a.m. and 2 p.m.
Visitors to the annual event will be able to learn about Monarch butterflies and how to create their own way station to protect the fragile insects. There will be educational seminars about the life cycle of the monarch butterfly at 11 a.m. and 1:30 p.m.
Other activities will be food booths, a craft festival, guest speakers, children's activities, games and an assortment of vendors.
Admission is free and, as an added attraction, everything in the store will be 20% off.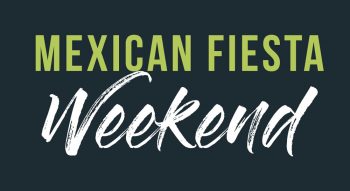 Chaddsford Winery (Route 1, Chadds Ford, 610-388-6221, www.chaddsford.com) is hosting its "Mexican Fiesta Weekend" on August 25 and 26.
The winery will be offering $3 Chips and Pico de Gallo, as well as carafes of Sangria and Sangria Wine Slushies.
The Dos Gringos food truck will be onsite cooking up flavorful Mexican fare, including tacos, burritos and quesadillas.
Visitors to the winery can enjoy live music, delicious food, and PA-made wine and beer – and then take home a case of Sangria at a 20% discount.
Live entertainment will be provided by Acoustic Keys from 11:30 a.m.-2:30 p.m. and Habanero Jazz from 3:30-6:30 p.m. on August 25 and Habanero Jazz from noon-3 p.m. on August 26.
The free event, which will be held rain or shine, will run from 11 a.m.-7 p.m. on Saturday and 11 a.m.-6 p.m. on Sunday.
There are three other interesting food events slated for this weekend.
The Chester County Vegan Festival, which is hosted by CARE (Compassion for Animals and Respect for the Environment), will be held on August 25 at East Goshen Township Park (1661 Paoli Pike West Chester, www.chestercountycare.com).
The festival, which will run from noon-4 p.m., will feature healthy nourishment, educational exhibits and a variety of fun, family-oriented activities.
The event will be catered by Phoenixville's El Burrito so visitors should be prepared for a "Fiesta Vegana" – a 100 per cent vegan lunch.
Live entertainment will be provided by the Penny Lane Jazz Ensemble, Saint Mad and Dottie & John.
Admission is $15 for adults, $10 for youth (ages 12-18) and $5 for children (ages 6-11)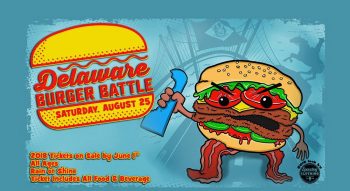 The Seventh Annual Delaware Burger Battle will be held on August 25 at the Cauffiel House (1016 Philadelphia Pike, Wilmington, www.deburgerbattle.com).
Every year since 2012, Delaware's most competitive chefs have gathered their grills to battle it out for burger supremacy at the Delaware Burger Battle. In six years, more than 20,000 burgers have been served.
The battle has welcomed 46 competing restaurants, 4000 guests, thousands of beers and has raised more than $47,500 for charity
Once you enter the arena, you're free to go from booth to booth sampling burgers from all the participating restaurants. Most people can't complete the circuit.
Tickets also includes adult beverages and soft drinks.
This is a rain or shine event, as well as all ages. Free parking is available nearby, and shuttles are provided.
Tickets are $50 for adults, $30 for designated drivers and teens and $10 for children (ages 5-12).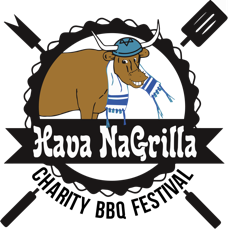 The "Second Annual Charity Smoke BBQ Festival" is scheduled for August 26 at Temple Beth Hillel-Beth El (1001 Remington Road, Wynnewood, phillykosherbbq.com).
It is the largest Kosher Charity BBQ Festival in the Country – and it is sanctioned by the Kansas City BBQ Society.
There will be 20 cooking teams competing under the competition guidelines of the Kansas City Barbeque Society, as well as the scrutiny of the kosher supervisors Keystone K.
Also billed as the "Hava NaGrilla Charity BBQ Festival," the event will run from noon-5 p.m. on the grounds of Temple Beth Hillel-Beth El.
Activities include live music by Jewish13, mechanical bull riding, the Kosher Guru as MC, a Philadelphia celebrity chef judge, a pickle eating contest and delicious taste treats including sumptuous smoked brisket sandwiches, vegetarian cuisine, a craft beer garden, and a" scotch & bourbon table."
The parking shuttle starts at 11:40 am. Shuttle vans and buses will be available at co-partner Kaiserman JCC's Wynnewood location at the corner of City Line Avenue & Haverford Road. Neighborhood parking will also be available.
Admission, $10 for an individual or $20 for a family. will benefit the Jewish Relief Agency.
If you're just in a dessert mood, then consider taking a drive to Conshohocken.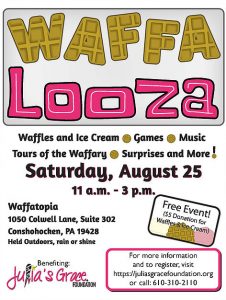 On August 25, the "Second Annual WAFFALOOZA" (https://www.juliasgracefoundation.org/waffalooza) will be held from 11 a.m.-3 p.m. at Waffatopia, which is located at 1050 Colwell Lane in Conshohocken.
The annual event is held as a benefit for Julia's Grace Foundation. It is billed as "A 100% family friendly event celebrating #8 of Julia's Top Ten List – Have waffles and ice cream!"
Julia Grace Eveland died from cancer in September 2013 when she was just nine years old. Julia's Grace Foundation brings moments of happiness and support to children with cancer and their families.
From giving special moments for a family to share, to providing items to make the long days in the clinic feel shorter, Julia's Grace helps children with cancer and their families smile with our special "hugs".
Julia's Grace Foundation also grants monetary assistance to families experiencing financial hardship as a direct result of a child's cancer treatment and care.
The Phillie Phanatic will be visiting WAFFALOOZA from 1-2 p.m. with antics for all and photos with fans. Another special guest at Saturday's event will be the Philadelphia Eagles' mascot Swoop.
Other activities at WAFFALOOZA include raffles, games, live music, recipe contests, tours of Waffatopia's Waffary — and of course, Waffles and Ice Cream (with a minimum $5 donation per person).
This weekend, area fans of country music will have the opportunity to hear many top-flight country acts perform live at a three-day, open-air festival.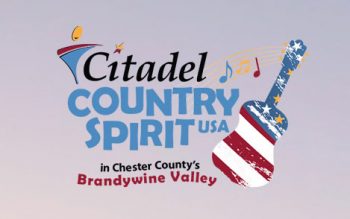 Citadel Country Spirit USA (Ludwig's Corner Horse Show Grounds. 5 Nantmeal Road, Glenmoore, countryspiritusa.com) will run from August 24-26 and feature a huge array of country stars including Alabama, Toby Keith, Trace Adkins, Brad Paisley and Cassadee Pope.
The concert on August 24, which starts at 2 p.m., features Tyler Rich, Cassadee Pope, Brett Young, Dustin Lynch, and Alabama. Ticket prices are $89 general admission, $119 pit and $109, $119 and $129 reserved.
The main stage line-up for August 25 includes Jimmie Allen, High Valley, Tyler Farr, Trace Adkins, and Toby Keith. On August 26, the headline acts scheduled to perform are Danielle Bradbery, Michael Ray, Jake Owen, and Brad Paisley
The concerts start at 2 p.m. each day. Ticket prices – per day — are $89 general admission, $119 pit and $109, $119 and $129 reserved. Three-day general admission tickets are $249 general admission, $309 reserved and $339 pit.
When purchasing tickets, "Caveat Emptor" (Latin for "Buyer Beware"). A,"Ticket Fee" of $40.50 is added to every three-day ticket – even if you print your own tickets at home.
If you're in the mood to enjoy some live country music this weekend without having to raid your rainy day savings account, you should go to Sweet Tea Trio's concert on August 24 at the Sellersville Theater (24 West Temple Avenue, Sellersville, 215-257-5808, www.st94.com).
Sweet Tea Trio — Savannah Coker, Kate Falcon and Victoria Camp – is a band that delivers country sounds with three-part vocal harmonies and catchy lyrics.
"We're three girls from three different parts of Alabama," said Coker, during a phone interview last week from Nashville. "I'm from Birmingham, Kate is from Southside and Victoria is from Tuscaloosa."
Now based in Nashville, the trio met in 2013 through a Birmingham artist development program called Nashville Bound. Each artist sang individually when they initially entered the program but quickly felt an instant vocal connection once they sang together. They have been performing together ever since.
"We didn't know each other until we met at Nashville Bound," said Coker. "Kate was 14, Victoria was 16 and I was 15. They put three singers together in a room. We got along really well and here we are five years later."
Falcon said, "After Nashville Bound, we learned another song and entered a singing competition in Mississippi. We won the competition and it just kept going from there."
Camp said, "We've been together ever since Nashville Bound and now we all live in Nashville. Our first album – a self-titled EP – came out in May 2017."
Sweet Tea Trio got its first real break when the girls signed to a joint venture management agreement between Robert Ritchie (aka Kid Rock) and Ken Levitan (founder and head of Vector Management).
"We're working on honing our skills," said Falcon. "We want to do more recording in Nashville. Our manager is Kid Rock and we've been writing with him a lot."
If you're a sport hunter or a member of the NRA, this is a band for you.
The song that initially caught Kid Rock's attention was a tune called "Huntin' is Good," which they introduced at the World Deer Expo in Birmingham, Alabama. It featured lyrics such as "With a click-click, bang-bang, he was down; Oh don't you know I love to hear that sound when a whitetail hits the ground."
"Huntin' is Good" was the trio's first song to garner major attention from the hunting industry.  Their performance and professional skills landed them the chance to sing at the annual Country Goes Hunting event in Blakely, Georgia in March 2014 and 2015.
"We're all three grew up hunting," said Coker. "We love the spirit of hunting."
Camp said, "We love the blessing of hanging a beautiful buck with a 12-point rack – but we do eat the meat too."
"We're working on recording again," said Camp. "It could be an EP or an album. It's still undecided. With the way the industry is now, singles seem better than albums. So, it's probably going to be an EP."
Falcon said, "With the instruments, twang and Southern harmonies, our main feel is country. But, we also have a rock side."
Camp said, "Any artist doesn't want to limit creativity. We are marketing for country. But, we're writing differently. It's more like country rock."
Video link for Sweet Tea Trio – https://youtu.be/3voC7y5o1lI. The show at the Sellersville Theater will start at 8 p.m. Tickets are $15 and $25.
One of the most popular late-summer events in southeastern Pennsylvania will take place this weekend in Lancaster.
The 19th Annual New Holland Summer Fest (New Holland Community Park, 400 East Jackson Street, New Holland, 717-669-1400, http://nhsummerfest.org) will be held August 24 and 25 and will feature the "Pennsylvania State Championship BBQ Cook-Off."
New Holland Summer Fest is a National KCBS Certified Barbecue competition. Each year 72 teams from around the country descend upon New Holland Community Park for a weekend of competition and fun.
The Grand Champion automatically receives an entry to the American Royal Contest in Kansas City, Missouri.
The barbecue competition is a major drawing card, but the event also has all that you would expect from a country fair — food vendors, children's activities and souvenir stands.
For the kids, there will be face painting, "Tag-Along," a clown teaching how to make animal balloons and "Kid's Q" where they can learn how to barbecue.
Also, on August 24, there will be an "Elvis Tribute Show" performed by Jeff Krick.
The family-oriented event and the Friday evening concert are free and open to the public. All proceeds from the weekend's activities benefit Garden Spot Fire Rescue Co. and the New Holland Community Park.

A popular event in downtown Lancaster running through August 26 is the 56th Annual Community Art Exhibit which will be held from 10 a.m.-4 p.m. at the Lancaster Museum of Art (135 North Lime Street, Lancaster, http://www.lmapa.org).
This annual juried exhibition celebrates the vast amount of artistic talent found throughout Lancaster County. Artworks by more than100 artists will be on view — including paintings, drawings, ceramics, sculpture, metals, carved wood and mixed media.
Awards include First, Second and Third Place as well as Honorable Mention and the People's Choice Award, voted for by visitors to the exhibit.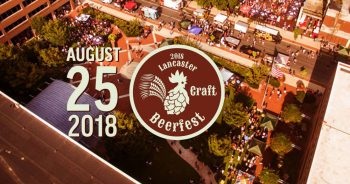 On August 25, the Sixth Annual Lancaster Craft Beerfest (Lancaster Square and Binns Park, Lancaster, http://lancastercraftbeerfest.com/) is returning to the central district of Lancaster.
The festive beer garden features a site where visitors can drink, eat, and listen to music all in one place. The festival provides craft beer drinkers with an amazing selection of unique beers, so they can discover new favorites and revisit old favorites.
This year, there will be two sessions – Session One from noon-3 p.m. and Session Two from 4-7 p.m.
More than 60 breweries will be participating in this year's Beerfest including Victory Brewing Company, Dogfish Head Brewing, Raven Beer, Straub Brewery, Lancaster Brewers, Oliver Brewing Company, Rotunda Brewing Company, Voodoo Brewery and Stoudt's Brewing Company.
Live music will be performed by Great Big House and Hiding Scarlet at Session One and 3rd Power Family Soul and The Rolli' Mill at Session Two.
Big Brass and Matt Duncan.
Tickets are $45 with designated driver tickets available for $12.
Another beer festival will be held in the area this weekend – in Bucks County at Fonthill Castle (130 East Swamp Road, Doylestown, 215-348-6114,www.mercermuseum.org).
Fonthill Castle will host its fifth annual end-of summer Beer Fest on August 25 from 2-5 p.m.
The brew-oriented event will feature quality drafts from more than 35 local and regional breweries in the beautiful outdoor setting of Fonthill Castle.
Guests at Saturday's festival will also be able to enjoy music, dine on light fare provided by T.H.E. catering, and receive a commemorative beer tasting glass.
General admission tickets, which are $60, include unlimited beer tastings.  All guests must be 21 years of age or older and have a valid ID to attend.
As an additional courtesy to participants, Fonthill Castle Beer Fest is also partnering with DART to provide free shuttle service after the festival to downtown Doylestown, so guests can take advantage of all the restaurants, bars and shops that Doylestown has to offer.
This month's edition of the "Full Moon Tour" at the Wolf Sanctuary of Pennsylvania (465 Speedwell Forge Road, Lititz, 717-626-4617, http://wolfsanctuarypa.org) is scheduled for August 25.
The Sanctuary offers this tour once a month on the closest Saturday to the full moon. This month, it's slated for this Saturday and the full moon is known as the Sturgeon Moon.
This event allows participants to create their own experiences. Instead of following a tour guide from pack to pack at a regulated pace that fits within a 45-minute time line, you get to go at your own pace from pack to pack.
There is also the option of talking to tour guides who are stationed at each pack. You can listen to what they have to say about the wolves when stopping at a station – and you have the option to ask questions.
With this tour, you move at whatever speed you find comfortable. If you get tired, you can go over and sit next to a roaring bond fire (weather permitting) and just relax.
Visitors are requested to bring a blanket, a flashlight, a chair and maybe some hot dogs and marshmallows.
The tour starts at 7:30 p.m. Tickets are $20, and no reservations are required.
The remaining "Full Moon Tours" at the Wolf Sanctuary this year are: September 22 – Harvest Moon; October 20 – Hunters Moon; November 24 – Beaver Moon; and December 22 – Cold Moon.
Another full moon event will take place on August 26 at The Nature Place (575 St. Bernardine Street, Reading, 610-372-4992, www.berksnature.org).
Starting at 9:30 p.m., Berks Nature will offer a special "Full Moon Hike" around the grounds of the society's site in Reading.
Participants are instructed to "leave the flashlights at home."
Berks Nature guides will lead the hike and give talks about bats and the moon as well as other nature topics.
Admission for this all-weather outdoor event is $7.
This weekend, there will also be "Full Moon Hikes" at two nearby Delaware State Parks.
Bellevue State Park (800 Carr Road, Wilmington, Delaware, www.destateparks.com) will stay open later than usual to offer a "Full Moon Hike" to visitors.
The event, which is free and open to the public, will take place on August 25 from 7:30-8:30 p.m.
Brandywine Creek State Park (41 Adams Dam Road, Wilmington, Delaware, www.destateparks.com) will host its hike celebrating the full moon on August 26.
The event, which is also free and open to the public, will run from 9-10 p.m.
The Allentown Fair (17th and Chew Street, Allentown, 610-433-7541, www.allentownfairpa.org) is without a doubt one of the oldest festivals in Pennsylvania – and one of the oldest in the country. It's an event that has been drawing large crowds ever since '52 – that's 1852.
The popular Allentown Fair was first staged in October 1852 when the Lehigh County Agricultural Society held its first fair. The huge annual fair in Allentown is still one of the state's premier late-summer attractions.
Now known as "The Great Allentown Fair", the 2017 edition opens on August 29 and runs through September 4. It will be the fair's 165th anniversary this year.
The Allentown Fair is a fun-filled event that spans generations and appeals to people of all ages. The multi-day event at the Allentown Fairgrounds features thousands of farm, garden and home exhibits and competitions along with thrill rides, amusement games, variety acts, international food and some of the top entertainers currently on tour.
The Grandstand Stage's 2018 schedule features The Great Truck & Tractor Pull on August 28, 311 & The Offspring with Gym Class Heroes on August 29; Gabriel 'Fluffy' Iglesias on August 30; Sugarland with Frankie Ballard & Lindsay Ell on August 31; 5SOS with The Aces on September 1; Niall Horan with Maren Morris on September 2; and J & J Demolition Derby on September 3.
The fair's list of daily entertainment attractions also includes XPOGO Stunt Team, "Marvelous Mutts," "Robinson's Pig Paddling Porkers," "Lil' Farm Hands," "4-H Petting Zoo," "Nerveless Nocks All American Thrill Show," and the "Rhinestone Roper Show."
As always, amusement games and rides are one of the fair's main attractions. This year, the Great Allentown Fair will again feature thrilling rides and games of skill and chance presented by Powers Great American Midways.
There will also be a wide array of agricultural competitions and exhibits each day at the fair. Tickets are $8 for adults with children under 12 admitted free.
On August 26, the annual Ukrainian Folk Festival at the Tryzub Ukrainian American Sport Center (County Line and Lower State roads, Horsham, 215-343-5412,www.tryzub.org) will celebrate its 27th anniversary from noon-8 p.m.
The event is billed as "A resplendent outdoor summer concert marking Ukraine's independence, the unity of her people, their struggle for freedom and dignity and Ukraine's entry into the family of advanced democratic nations."
The artists (dance troupes, musicians, singers and ensembles that have performed in previous years) have created a dynamic and integrated collaborative program. The artistic unity underscores the theme — "United Ukraine — United with Us."
Recent events in Ukraine such as the twilight struggle against unlawful Russian aggression have forged a unified Ukrainian national identity — both in Ukraine and in the Diaspora.
America's support of Ukraine's commitment to a self-determined democratic future — to life, liberty, freedom and justice — has created permanent bonds of friendship between the two nations. This year's festival honors these special relationships and developments.
The festival, which is one of the most popular late-summer ethnic festivals in the area, starts at noon with children's activities, vendor areas with Ukrainian crafts, food booths and live music.
The live entertainment at the festival includes performances by Efsane Crimean Tatar Ensemble, Voloshky Ukrainian Dance Ensemble, Iskra Ukrainian Dance Ensemble, violinist Innesa Tymochko Dekajlo and Vox Ethnika Orchestra.
From 4:30-8 p.m., it will be time for "Zabava," which is billed as a "Public Social Dance." The "Zabava" at this year's 27th annual staging of the festival, will feature the Vox Ethnika Orchestra performing a variety of eastern European dance music, including traditional, modern, ballroom and Polka.
There also will be vendors selling a wide variety of mouth-watering Ukrainian foods such as pyrohy (pierogies), holuptsi (stuffed cabbage) and kowbasa (kielbasa). Other items available for purchase include baked goods, picnic fare and cold beverages.
If you purchase online, print out ticket and bring it with you for entry.
Підтвердження покупця буде перевірене нашим списком при вступі (Confirmation of purchaser will be verified by a list at entry).
Admission to the festival at the gate is $15 for adults, $10 for students and free for children (under 13).
On August 25, Winterthur Museum, Garden & Library (Route 52, Wilmington, Delaware, 800-448-3883, www.winterthur.org) is hosting a special event called "Delawild."
Approximately 25 environmental organizations from Delaware and the Brandywine Valley will convene at Winterthur in a celebration of the environment and nature. The event, which is geared for environmentalists of all ages, will include hikes, workshops, lectures, and demonstrations presented by a wide range of environmental and conservation organizations.
The day's activities will include information on wild plants, wildlife, wild water, and nature in the city. Adding her support will be Delaware Lieutenant Governor Bethany Hall-Long, a politician known for her environmental advocacy and conservation efforts.
Additionally, Charlie Engelman, television host with National Geographic Kids, as well as a range of experts from a variety of local organizations, will be participating in the nature-centric event.
Some of the featured programs are "Passion for Pollinators," "Lookin' Out My Back Door' (Delaware Animals)," "Predators of the Past," "Waterwise Gardening and Rain Barrels," "Invasive Plants of Delaware," "Gardening for Wildlife," "Bee Keeping," "A Meeting of Migrations," "Native Plants for Pollinators," "Hummingbirds," "Tree ID Walk," "Healthy Foods for Healthy Kids—Gardening," and "Where Does Your Watershed?"
Admission is $20 for adults and $6 for children (ages 2–11).
Hagley Museum and Library (Buck Road East entrance via Route 100, Wilmington, Delaware, 302-658-2400, www.hagley.org) is presenting a special "Cannon Firing Demonstration" on August 26 at 1, 2, and 3 p.m. in the Machine Shop area.
The family-oriented event is fun, loud, exciting and educational.
Cannon firings in the Hagley Powder Yards demonstrate how black powder was made and used.
The demonstrations, which take place next to the Millwright Shop, are included with site admission tickets — Adults: $15; Seniors (age 62 and up): $11; Students $11; Children 6-14: $6.
As an added attraction, an in-depth, hands-on tour focused on gunpowder production, which ends with an explosive finish, is available on Hagley's Sights, Sounds and Smells Walking Tour.
There will be three other dates for cannon firings at Hagley this year — August 26, September 30, October 28, and November 11.
Another special event this Saturday at Hagley is "Science Saturday: Rocking Roller Coasters."
Participants can rock and roll with acceleration, physics, and lots of loops as they create a miniature roller coaster. Visitors of all ages are invited to discover solutions to science and engineering challenges.
Activities are included in admission and free to members. This is a drop-in activity and guests can join the fun at any time from 1-4 p.m.
The "Fifth Annual Art in the Park Craft Show" is scheduled to run on from 9 a.m.-3 p.m. on August 25 at Mondauk Common Park's Central Pavilion (1451 Dillon Road, Fort Washington, 215-654-1679, upperdublinlibrary.org) with the rain date set for August 26.
The show will feature more than 70 craft artists with a wide selection of their art — including jewelry, candles, soaps, knitted and crocheted items, digital art, photography, greeting cards, hair accessories and more.
The festival will also feature performances of "Puppet Shows with Miss Jean." The family-oriented shows will be presented at 11 a.m. and 1 p.m.
The show is free to the public. Parking is available on site. Sandwiches, snacks and cold drinks will be available for sale by The Friends of the Library. All proceeds benefit the Upper Dublin Public Library.
If you're into anime, then you should definitely take a short drive to northern Delaware on August 26 for Anime Day at the Art Studio (310 Kiamensi Road, Wilmington, Delaware, 302-995-7661, http://nccde.org/1253/Anime-Day).
Anime Day at the Art Studio is a family-friendly, bento box-sized, anime and manga convention. Guests will be able to meet local manga artists, learn about anime and participate in workshops.
Featured attractions include vendors, anime screenings, cosplay and more.
Some of the highlights of the event, which runs from 11 a.m.-4 p.m., will be the opportunity to play Pokemon TCG  and to participate in colorful "Cosplay Contests." Because this is a family friendly event, no nudity or overly revealing cosplays.
There will be "Anime Screenings" presented by the Delaware Anime Society (DAS).
The DAS will screen the following Anime videos (all of which are PG-13) — 11 a.m.-noon, "My Hero Academia"; noon-1 p.m., "Gargantia on Verduous Planet"; 1-2 p.m., "Fairy Tail"; 2-3 p.m., "Slayers"; and 3-4 p.m., "Eureka Seven."