By Denny Dyroff, Staff Writer, The Times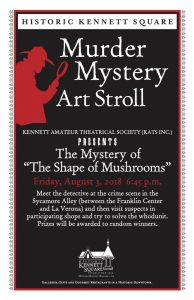 Friday is August 3 and that means it is August's first Friday.
The first Friday of the month is a good time to spend an evening in Kennett Square, West Chester or Lancaster – a time to enjoy special First Friday activities.
Kennett Square will celebrate First Friday with its Art Stroll (downtown Kennett Square, http://historickennettsquare.com) from 6-9 p.m. on August 4.
The event celebrates the local art scene with special activities in the galleries, shops and restaurants throughout town.  Many of the town's businesses and galleries will stay open late for First Friday.
Kennett Square's Art Stroll is a monthly celebration of the local art scene as it is showcased in the galleries, shops and restaurants throughout town.  Residents and visitors alike are encouraged to wander along the tree-lined streets and browse the many businesses that stay open late.
Kennett Square will also celebrate First Friday with a Murder Mystery Art Stroll in downtown Kennett Square featuring the Brandywine Valley's favorite murder mystery – "The Mystery of 'The Shape of Mushrooms'."
Participants will meet the detective at the scene of the crime in Sycamore Alley to gather clues, question murder suspects in participating downtown locations, and attempt to identify the murderer and solve the mystery.
Suspects, denoted by costumes and potential murder weapons, will be stationed at various participating locations in downtown Kennett Square. Additional suspicious characters will walk around town with clues available for purchase (proceeds benefit Kennett Amateur Theatrical Society).
Winners will be randomly selected and awarded prizes at the end of the evening. Participants do not have to be present at the 6:45 p.m. improvisation to participate in the mystery. Participation is free, and all ages are welcome.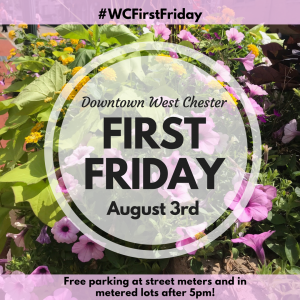 Also, on Friday evening, West Chester hosts its version of First Friday (downtown West Chester, http://www.downtownwestchester.com). The First Friday event for this month will be held in downtown West Chester on August 3.
First Friday activities, which are held on the inaugural Friday each month, feature great shopping opportunities and delicious food offerings. Stores are open late and many of them feature free refreshments and shopping specials.
As an added attraction, there will be free on-street parking after 5 p.m.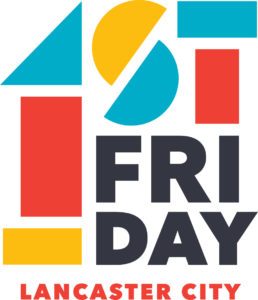 Lancaster also has a lively First Friday celebration very month. This month's edition of First Friday Lancaster (https://visitlancastercity.com/first-friday) will run from 5-9 p.m. on August 3 in downtown Lancaster.
The event will feature attractive exhibitions at art galleries, artisan studios and museums. There will also be live performances presented in a variety of genres — professional theater, symphony orchestra and performing groups.
Time is running out, but you still have time to check out the annual Goshen Country Fair (Goshen Fairgrounds, Park Avenue, East Goshen, 610- 430-1554,www.goshencountryfair.org). Be advised – you need to hurry.
The free family-oriented event is held each year as a benefit for the Goshen Fire Company. It will open at 6 p.m. from Monday through Friday and at 5 p.m. on Saturday.
This is an authentic down-home country fair with all the agricultural events found at most traditional country fairs, including competitions each night at 6 p.m. – cattle on August 3 and sheep on August 4.
The 69th Annual Goshen Fair will also feature competitions for pies, vegetables, jams and jellies, specimen flowers, bread, cookies, flowering houseplants, cakes, flower arrangements, and candy. Nightly attractions include live music performances, tug-of-war competitions and pie-eating contests.
The schedule for live music includes C.C. Lawmen on August 3 and Johnny "Cash" Barnett Band on August 4.
Another long-running traditional fair will start the day after the Goshen Fair concludes.
The 164th edition of the Reading Fair (1216 Hilltop Rd, Leesport, 610 372-2649, http://www.thereadingfair.org) will open on August 5 and continue through August 11.
The Midway will feature "The Fearless Flores Thrill Show."
Traditional festival activities include a "Corn Cobb Toss," a "Pie Eating Contest," "Raw Egg Toss," "Hay Bale Throwing," a "Round Ball Bale Contest," a "Water Balloon Toss" and a "Pedal Power Tractor Pull."
There will also be auto racing throughout the week along with tractor and truck pulls on August 9 and 10. And, there will be the always-popular Beer Garden from 5-10 p.m. each night.
The live entertainment schedule includes Crazy Hearts Band on August 5, Billy Bauer Band on August 6, Flamin' Dick and the Hot Rods on August 7, Philadelphia Funk Authority on August 8, Pagoda City All Stars on August 9, The Large Flowerheads on August 10, and the Blues Brotherhood on August 11.
General admission is $5 — $4 for senior citizens and military.
Chaddsford Winery (Route 1, Chadds Ford, 610-388-6221, www.chaddsford.com) will present "Wine Slushie Weekend" on August 4 and 5.
The event's live music schedule will feature Larry Roney from 11:30 a.m.-2:30 p.m. and Slim and the Perkolators from 3:30-6:30 p.m. on  August 4 and The Little Red Rooster Blues Band from 12:30-4:30 p.m. on August 5.
The special weekend activity, which will run from 11 a.m.-7 p.m. on Saturday and 11 a.m.-6 p.m. on Sunday, will showcase a variety of "Chaddsford Wine Slushies" — four unique frozen libations made with delicious seasonal ingredients and Chaddsford wines.
Featured Slushie flavors are Piña Colada with Spring Wine, Peach Bellini with Chaddsford White, Frosé with Sunset Blush and Cherry Bomb with Chaddsford Red.
The "Wine Slushie Weekend" will have Hood's BBQ Truck as its featured food truck both days.
This event is rain or shine. Slushies will be available while supplies last. Admission for children is free if accompanied by an adult (21 or over). Chaddsford Winery reserves the right to refuse entry to any individual not accompanied by an adult.
Seating at the Winery is available on a first-come, first-served basis.  Guests are encouraged to bring blankets or folding chairs to guarantee comfortable seating on the grounds. No outside alcohol permitted.
Admission to "Wine Slushie Weekend" is free and all wine and food purchases are pay-as-you-go,
On August 4, Linvilla Orchards (137 W. Knowlton Road, Media, 610-876-7116, www.linvilla.com) will host its annual Peach Festival from 9 a.m.-5 p.m.
Live entertainment will be provided by Michael Stephens from Philly Bloco, Officer Offbeat. Sustainable Ritchie from Bear Creek Orchards, and "Story Time with Cindy Madara."
Additionally, Roasty Toasty will be doing his thing from 11 a.m.-4 p.m. – serving up fresh-roasted corn on the cob brushed with butter and sprinkled with your choice of seven different seasonings.
The schedule features a full slate of family-oriented activities throughout the day including appearances by costumed characters, pony rides, face painting and a crafts area. And, visitors can pick their own peaches starting at 8 a.m.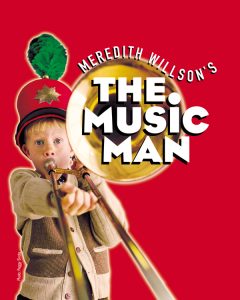 If you want to hear classic songs like "Seventy-Six Trombones" and "Till There Was You" performed live in the context of their original show under the stars, plan on visiting Longwood Gardens (Route 1, Kennett Square, 610-388-1000, www.longwoodgardens.org) this weekend because Brandywiners, Ltd. is performing the award-winning musical "The Music Man" in Longwood's beautiful Open Air Theatre.
Every summer, the company presents a large-scale musical production at Longwood Gardens and contributes the proceeds to cultural, educational and civic causes throughout the Delaware Valley.
This summer, the Brandywiners, Ltd. present the Tony award-winning musical "The Music Man," the humorous tale of con artist Harold Hill.
In 1957, the show became a hit on Broadway, winning five Tony Awards, including Best Musical, and running for 1,375 performances. The cast album won the first Grammy Award for Best Musical Theater Album and spent 245 weeks on the Billboard charts. The show's success led to revivals, including a long-running 2000 Broadway revival, a popular 1962 film adaptation and a 2003 television adaptation.
Performances are set for August 2-4.
Tickets for the Brandywiners, Ltd. production include admission to Longwood Gardens beginning at 9 a.m. on the day of performance as well as a spectacular fountain display immediately following the show. Tickets are $30 for adults, $25 for students (ages 13-21) and $15 for children (ages 12 and under).
The Festival of Fountains at Longwood Gardens (Route 1, Kennett Square, 610-388-1000, www.longwoodgardens.org), which is running now through September 30, is always one of the area's prime summertime attractions.
With fountains that jet as high as 175 feet, gardens filled with colorful summer blooms, shade-friendly trees, exotic day- and night-blooming waterlilies, and live music outdoors, Longwood gardens has something for everyone.
The fountain project took two years and $90 million in renovations. The fountain features more than 1,300 jets and streams, a similar number of LEDs, a variety of flame features and a wide array of plants from around the world.
Longwood's popular Main Fountain Garden has returned for a second season after attracting more than 600,000 guests last year with its 1,719 jets twirling and dancing to music. The fountains perform daily at 11:15 a.m., 1:15, 3:15 and 5:15 p.m.
At night, Illuminated Fountain Performances return featuring a selection of dynamic new shows and past favorites. New fountain shows include the rhythmic "Carmina Burana," the soulful "Sounds of Motown," a contemporary take on American classics in the "American Songbook Reimagined," and the jazz-infused "In the Mood."
Illuminated Fountain Performances are Thursday-Saturday evenings at 9:15 p.m. from May-August and at 8:15 p.m. in September. In addition to the Main Fountain Garden, Longwood is also home to a collection of other fountain gardens, including the enchanting Italian Water Garden and Open Air Theatre fountains, which also perform daily.
The ultra-popular Festival of Fountains features the gardens in their summer splendor. Flowering annuals and perennials abound, as well as the breathtaking Waterlily Display that showcases aquatic plants from all over the world.
Visitors can take a walk in the expansive Meadow Garden or enjoy a shady stroll among Longwood's historic trees. The outdoor Children's Corner features a garden designed just for kids, while the Idea Garden is a showcase of plant combinations, innovative vegetable gardens, and unusual plant varieties to inspire guests to try at home.
The Beer Garden is open Thursday-Saturday evenings with alfresco dining and Longwood Signature Brews created by Victory Brewing Company using ingredients grown at Longwood. Regional artists perform live in the Beer Garden from 6-9 p.m. May through August and 5-8 p.m. in September.
Admission to Longwood Gardens is $23 for adults, $20 for seniors and $12 for youth (ages 5-18).
There will be several featured attractions this weekend at the Morris Arboretum (100 Northwestern Avenue, Chestnut Hill, 215-247-5777, www.morrisarboretum.org).
On August 4, the colorful arboretum will host "Nature Play."
The event, which will run from 11 a.m.-3 p.m., will take place at Top of the Oak Allée.
Play time can be very structured at times. But, unstructured, make-it-up-as-you-go play has existed since life began on earth. Its details may have changed, but not its essence.
Morris Arboretum understands this and offers a monthly "Nature Play" — unstructured fun in a natural setting. Located in a designated area, there is space to explore and engage with nature — from digging in the dirt to turning over tree stumps to building teepees…and more. It's billed as "a party for the imagination."
This special activity is included with garden admission.
If you're up with the sun, you can start your day with an early morning visit to Morris Arboretum. Starting at 8 a.m., visitors are invited to find the shining dew on more than 12,000 labeled plants in the Arboretum's living collection.
Admission is $19 for adults; $17 for seniors (65 and older); $10 for students (ages 13-17 or with ID), active military and retired military; and free for children (under 3).
Time travel isn't limited to sci-fi movies with tons of special effects.
If you want to take a trip deep in the past and travel back centuries, there is the Pennsylvania Renaissance Faire (Mount Hope Estate and Winery grounds, Route 72, Cornwall, 717-665-7021, www.parenfaire.com).
This year's 38th annual staging of the event, which bills itself as "the most wondrous event in all the Knowne World", runs from August 4 through October 28.
The festive annual event features authentic Elizabethan food and drink, traditional crafts from the guildsmen of yore and old-time games of skill — and a cast of hundreds of colorfully costumed re-enactors.
Every summer, the Faire, which takes place at Mount Hope Estate and Winery's authentic 35-acre recreation of a 16th-century village in Olde England, features a new story from a different year of England's past.
This year's Faire will take you back in time to the year 1520.
King Henry VIII has accomplished much in his 11 years on the throne. He has won wars both across the Channel and to the North in Scotland. He has crafted the Treaty of London, which helped broker peace across all of Christendom.
England's swaggering monarch now sits his throne at the height of his glory. But his most challenging task yet awaits him — achieving a long-lasting peace and alliance with France, England's oldest rival.
A meeting between King Henry and the French monarch, Francis I, was to have taken place in the French port town of Calais. But a sudden and unexpected outbreak of plague there has made the location unsuitable. To that end, Henry has invited Francis to the Shire of Mt. Hope, where they hope to broker a sustainable agreement between the two ambitious nations.
But the young King Francis is known to be something of a hot-blooded braggadocio himself, and some worry that Henry may not respond with the best grace to a rival so similar in competitive temperament as he.
More than 70 shows are scheduled throughout each day on the Faire's numerous stages.
Without a doubt, the most popular attraction is the Jousting Arena. Visitors to the Faire flock to Bosworth Field whenever it's time for the Ultimate Joust. Peasants lead cheers for their favorite knights while musicians pound out a heart-thumping beat. The Master of the List announces the combatants and soon an encounter of royal proportions ensues.
The Faire offers a wide variety of activities for visitors, including listening to bagpipe music, checking out handsome Lords in their colorful silks, watching a jester's acrobatics, learning how to juggle, being the recipient of a gypsy woman's flirtations and watching the march of Beefeater Guards.
Guildsmen's Way is the area that features a large number of merchants and artisans, including jewelers, candle makers, potters, herbalists, leather smiths, clothiers, and pewter makers — all offering for sale and demonstrating their ancient wares.
And, there are more than 20 Royal Kitchens located around the faire with menus featuring a wide variety of food and beverage.
Single-day tickets are available at the gate for $31.95 but can be purchased in advance online for $27.95. For children (age 5-11) single-day tickets are available at the gate and online for $12.95. Season Passes are also available at $125 for adult and $45 for children.
Another trip back in time this weekend is being presented by Pennypacker Mills (5 Haldeman Road, Schwenksville, 610-287-9349,http://www.montcopa.org/pennypackermills).
"In the Good Old Summertime" will be held on August 4 from 11 a.m.-3 p.m. at the historic site in Montgomery County.
Visitors to the event will be treated to an afternoon of vintage music on the porch, lawn games and a car show with the Delaware Valley Classic MG Car Club.
Other activities include tour through interactive exhibits in the History Center, tour the air-conditioned mansion, Victorian dress-up for photos, garden tours and hands-on fun in the 1900's History Center.
Admission is free with a suggested donation of $2 per person.
There will be another Montgomery County Park with a special event this weekend — Pottsgrove Manor (100 West King Street, Pottstown, 610-326-4014,http://montcopa.org/index.aspx?nid=930). "Living History Sundays" will be presented on August 5 from 1-4 p.m.
Pottsgrove Manor's staff and living history volunteers will demonstrate 18th-century trades, crafts, and pastimes. Many of the audience-friendly events are interactive.
This event also features free admission with a suggested donation of $2 per person.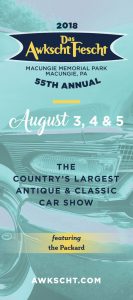 You can also take a trip back in time by attending Das Awkscht Fescht (Macungie Memorial Park, Main Street, Macungie, 610-967-2317, www.awkscht.com). If you pronounce it correctly, it will sound like you're clearing phlegm from your throat.
Das Awkscht Fescht, which is celebrating its 55th anniversary this year, runs from August 4-6 in Macungie, a small town just south of Allentown.
The event is billed as one of the largest antique and classic car shows in the country with more than 3,500 cars on display.
The popular annual event takes its name from "Der Augscht", which is the Pennsylvania Dutch word for "August."
Das Awkscht Fescht, which is held the first weekend of August each year, is a traditional summer festival with a full roster of family fun events.
There is a completely different car show each day – the Variety Show with thousands of pre-1991 automobile models along with a variety of classic tractors, trucks and motorcycles; the Antique and Classic Car Show with over 1,200 antique cars, classic automobiles and sports cars; and the Special Interest Car Show featuring more than 30 car clubs with over 1,000 vintage autos.
Every year, the primary focus of the automobile side of Das Awkscht Fescht is on the impressive display of vintage autos — especially the featured car, which this year is the Packard. The Packard was one of the first classic American luxury cars, boasting the famously enigmatic slogan "Ask the Man Who Owns One".
There will be a variety of kids' shows and activities including jugglers, magicians, ventriloquists, clowns and a special creative activity and display center.
Kids of all ages will enjoy the Antique Toy Show, which is held at Eyer Middle School, and Toy Town, which is staged outdoors.
Other attractions include daily bingo sessions, picnics in the park, a playground, a huge public swimming pool, an arts and crafts show featuring over 120 artisans and an "Antique Auto Flea Market."
Admission to the festival is $8 for adults and $3 for children (15 and under).
On August 5, the Great Plaza at Penn's Landing (201 South Columbus Boulevard, Philadelphia,
www.delawareriverwaterfront.com) will be the site of the African Cultural Alliance of North America Inc. (ACANA) African Festival.
The annual outdoor concert brings artists, groups, and dance troupes from around the African continent to perform in a free event.
The festival provides a wide range of African entertainment, from traditional dance performances to modern Afropop and reggae musical performances.
The family-oriented event also features African food vendors, as well as sales booths with traditional and modern clothing, arts and crafts.
Headliners include Yemi Alade, Rafiya, Sharon Katz and the Peace Train, and the Universal Dance and Drum Ensemble.
Sunday's event, which is part of the PECO Multicultural Series, is scheduled to run from noon-8 p.m.
On August 3, the Delaware River Waterfront Corporation's series of free jazz concerts kicks off at Great Plaza at Penn's Landing.
"Smooth Jazz Summer Nights Series," which is the longest-running free event produced by the Delaware River Waterfront Corporation, is back for its 22nd season at the Great Plaza.
Every Friday in August, there will be performances by nationally-renowned jazz and blues talent. Attendees are requested to arrive by 7 p.m. because the concerts start promptly at 7:30 p.m.
The series will begin with a concert by Boney James on August 3. The series line-up also includes Jeff Kashiwa on August 10,
Adan Hawley on August 17, Leela James on August 24 and The Baylor Project on August 31.
An interesting event in Delaware this weekend is "Steamin' Days" on August 5 at Auburn Heights Preserve (3000 Creek Road, Yorklyn, Delaware, 302-239-2385, http://auburnheights.org).
"Steamin' Days," which is held on the first Sunday of the month through November, focuses on steam power. During "Steamin' Days at Auburn Heights," the site is bustling with activity.
Visitors are encouraged to climb into an antique automobile or board one of the trains and experience what it was like to travel at the turn of the 20th century. They can also tour the magnificent 1897 mansion that was home to three generations of the Marshall family.
Also included is entry to the Marshall Steam Museum, which features the world's largest operating collection of Stanley steam cars along with a 1930s working Lionel electric train display, a hands-on engine display, kids' activities and exhibits and the Museum Gift Shop.
This Sunday's theme is "What Will You Invent?" Guests will be able to test their engineering skills by building an invention out of recycled materials
Activities run from 12:30-4:30 p.m. each time. Combo Tickets, which cover all rides and building tours, are $19 (13 and older) and $16 (age 12 and under).
There will be a lot of model trains and a lot of toys on display and for sale when Greenberg's Train & Toy Show visits the area for a two-day stop at the Greater Philadelphia Expo Center (100 Station Avenue, Oaks , www.greenbergshows.com).
The show, which is scheduled August 4 and 5 from 10 a.m.-4 p.m. both days, will have a wide variety of toys for sale — space toys, Thomas the Tank Engine items, dolls, collectible bears, Barbie, Matchbox, action figures, die-cast models, wrestling stars, Pokemon figures and much more. And, there will be an amazing array of toy trains.
The event will feature a number of operating train displays, including  Strasburg Model Railroad Club HO Scale Layout, Allegheny Western Lines HO Scale Layout, Reading Co. Technical & Historical Society HO Scale Layout, North Penn S Gaugers S Gauge Layout, Philadelphia N-Trak  N Scale Layout, Royersford Modular Model Railroaders HO Scale Layout, East Penn Traction Club N Scale Layout, Keystone  -Trak  N Scale Layout, Railroad in a Box HO Scale Demonstration Layout, Tim's Miniature Transit HO Scale Layout, and Train Collectors Association O Gauge Layout.
This weekend's show will also offer free clinics on a wide variety of topics, including track work, using accessories and using a digital command control. There will be a large number of dealers with toys, trains, accessories and hobby publications. Other features include hourly door prizes.
Tickets for adults are $10 for Saturday and $9 for Sunday. Children (12 and under) are admitted free.
The Philadelphia Comic-Con, which is scheduled to run from 10 a.m.-4 p.m. on August 5 at the Clarion Hotel Conference Center (76 Industrial Highway, Essington, 856-217-5737, www.philadelphiacomic-con.com), features comic books, trading cards and other collectibles
— both modern and vintage.
The event, which has an admission fee of $3, also features a number of special autograph guests. This Saturday, the guest artists are Ron Wilson, 70s Marvel Comic Book Artist; Paris Cullins, Artist – Blue Beetle, Blue Devil & New Gods; Jay Taylor, Artist – On the Square Comics; Alex Waller, Artist – The Kubert School; and Derwin Roberson, Anime Artist.
The popular collectibles event, which is the area's longest running comic convention, will host dealers from all over the Northeast with sales booths featuring Gold & Silver Age comics, action figures, non-sport cards (including Topps "Journey to Star Wars: The Force Awakens").
Also featured will be Japanese Manga, gaming cards such as Pokemon and Magic the Gathering, original artwork and all the latest issues of today's popular comic book series.
The roster of top-flight vendors includes veteran dealers and relative newcomers. As an added attraction, there will be hourly door prizes beginning at 11 a.m. with $100 in show cash to be given away.
Bethlehem's Musikfest (downtown Bethlehem, 610-332-1300, www.musikfest.org) is a special event — an event that is more than just another popular summertime festival in the Lehigh Valley.
Over the years, Musikfest has established itself as one of America's top annual music festivals an event that offers big name headliners as well as a wide variety of folk, rock, pop and ethnic music acts.
It also sports some impressive numbers.
The festival, which is celebrating its 33rd anniversary this year, features free music performances on most of its indoor and outdoor stages.
Musikfest, which is running now through August13, presents over 300 live musical performances and draws over one million people to the Lehigh Valley every August.
The main concert stage at Musikfest is the Sands Steel Stage which features national touring acts with tickets are required for all shows.
The following is this year's main stage schedule: Aug. 2: Trombone Shorty's Voodoo Threauxdown Tour; Aug. 3: STYX and Joan Jett and the Blackhearts; Aug. 4: Daughtry; Aug. 5: Jim Gaffigan; Aug. 6: Dierks Bentley; Aug. 7: Kesha; Aug. 8: Gary Clark Jr.; Aug. 9:  Grouplove; Aug. 10: Brantley Gilbert; Aug. 11: All Time Low & Dashboard Confessional; and Aug. 12: Jason Mraz.
The will also be a multitude of free concerts with acts such as Nalani & Sarina, Squirrel Nut Zippers, Marc Broussard, Marshall Crenshaw, We Are Scientists and The Original Wailers.
Musikfest is much more than just festival offering a wealth of music. It also features interactive arts and theater activities for children along with a large number of concessions offering a wide array of food and beverage treats.