To the editor: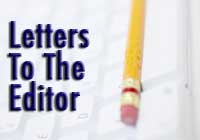 My name is Sue Walker, and I am the Democratic candidate for Pennsylvania House District 13.
I read your editorial assessment of the upcoming election on November 6th  (Chescotimes 7/28/18) with great interest.  You encapsulated a number of issues regarding our nation and state, and you predicted how the election will ultimately hurt the Republican party.  Your piece was quite generous in forecasting an overall "win" for the Democrats.  However, you provided two exceptions.  One was the race for the Pennsylvania District 13 house seat, which you noted as "GOP safe".  I disagree.
In the past, District 13 has been safe for the GOP.  Representative Lawrence has been a solid and consistent vote for the party.  However, I suggest that the constituents of District 13 ask, "Are we safe with the GOP and Lawrence?"  Let's consider Representative Lawrence's voting record.
Voted in favor of HB 2154.  Allows 5 barrels or 210 gallons of crude oil to spill on a property without having to report it.  Not safe for the environment.
Voted against Act 89.  An infrastructure investment plan to repair long neglected roads (including roads specifically used by dairy farmers) and bridges.  Not safe for school buses, commuters, farmers, or anyone who travels Pennsylvania's roadways.
Refused to vocally support or co-sponsor HB 1400.  The bill requires universal background checks for firearm purchases or closing "the long gun loophole".  Not safe for anyone.
At the end of the last legislative session, Speaker Mike Turzai gaveled the session to a close four days early. By doing so, he effectively killed a wide range of bills that had bipartisan support and compromised the safety of all Pennsylvanians including:
an anti-hazing bill aimed at college fraternities and sororities
a bill to protect domestic violence victims from their abusers
a bill that promoted fair districts in Pennsylvania
The closing lines of your editorial state, "While the words and outrage may get the headlines, it's the lack of basic competency here that should have people worried."
I couldn't agree more.
If elected to be the next Representative of District 13, I will work for my constituents in a bi-partisan manner whenever possible.  We must find common ground with one another and return to good governance and legislation, instead of the obstructionism and power plays currently in full view in Harrisburg.  I've signed the Pennsylvania No Nonsense Pledge and believe in accountability, transparency and fairness as a code of conduct.
Unlike Rep. Lawrence, I will always put the safety of my community ahead of all else and promote and protect the livelihood and lives of all Pennsylvanians.  We should expect more and we deserve better.
That's why I'm running.
GOP safe?  Let's see what the voters think on November 6th.
Sue Walker,
Franklin Township