By Caroline Roosevelt, Columnist, The Times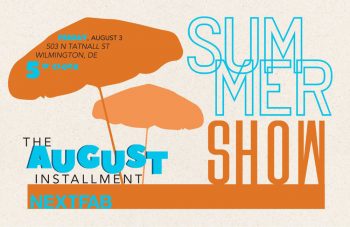 Thunderstorms threaten our last First Friday of the summer, but then again, that's to be expected (and not necessarily delivered upon) right? Also the Wilmington Art Loop is taking a summer hiatus but that isn't stopping the Wilmington area from celebrating local art this Friday. Prevail, we will! Weather and summer slump be damned!
Stop by between 5 – 9 to check out myriad openings at Delaware Contemporary while taking advantage of the cash bar, food trucks, and live music. Featured opening receptions include some shows I've covered, and some I've not: Fusions (Allen C. Smith and Connie Zehr), The Future People (Cameron and Rachael Van Dyke.  I wrote about this one early in the summer and look forward to seeing their artistic take on multimodal transportation!), The Little Things (Neil Breton and Haley Lauw), On Madison: Showcasing Our Own (staff exhibition), The Creative Act (Michael Linderman Friends' solo exhibition), and, Reenvision (Studio Artist Haley Kyong). While you're there, enjoy some contemporary blue by Ed Dwornik with Stump Junction and a pop up exhibition in the main entrance by Matt Glick.
If you want some offbeat art events to nestle into your itinerary, stop by Spaceboyclothing and NextFab makers space. Spaceboyclothing will be featuring some Philly proto-punk, psychadelic rock, grunge 90's, bands; Eyebawl, Gozer and The Bad Larrys. (Eyebawl is on Spotify and I'm currently listening to the song, Prom Queen and all about those surf rock guitar sounds.) Local art, comedy, and food trucks about in this downtown venue. Event begins at 7pm.
Next up is NextFab, a makers space which will be featuring art by local artists and makers as well as complimentary refreshments. This should have an interesting smattering of work as NextFab is a makerspace for digital and traditional fabrication.
Delaware College of Art and Design is presenting a new show curated by Terrance Vann and Alim Smith (aka "The Color Brothers") entitled "Local & Famous: A Celebration of Homegrown Talent".  The exhibition will challenge the traditional form of art showcasing by presenting it more as a pop up festival. Works featured will all be local and will include the vibrant, the accessible, and street art as well. Featured artists include: Shanina Dionna, Iron Dahlia Tattoos, K.O. Simms,  among other artists, and local galleries. The even will be featured in the Toni & Stewart B. Young Gallery at Delaware College of Art and Design through August 19. The event on Friday runs from 5-10pm.
Ellen Bartholomeus of Blue Streak Gallery just installed Ginny Lockmans' photographs at The River Tower at Christiana Landing. Pop by and take a look at them this month.
Moving into Pennsylvania, Malvern, to be exact, Gallery 222 will be unveiling a new exhibition curated by Randall Graham entitled, "Trust The Process".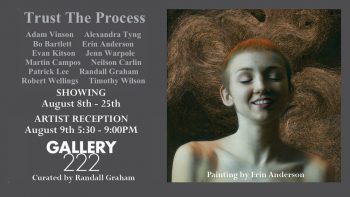 This exhibition opens August 8, and focuses on the stages of completion in art. The gallery, which is divided into three section, will each separately focus on either more finished work, or sketches and works in progress (#wips to the Instagram crowd!) and small, affordable pieces! Featured artists include: Adam Vinson, Alexandra Tyng, Bo Bartlett, Erin Anderson, Evan Kitson, Jenn Warpole, Martin Campos, Neil Carlin, Patrick Lee, Randall Graham, Robert Welling, and Timothy Wilson. Tagline for this exhibition reads as follows, "Sketches…..studies…experiments…happy accidents…marks…influences- The Process". I look forward to checking out this exhibition which will run through August 25. Reception will be held August 9 from 5:30 – 9pm.
Perfectly relevant, will be next weeks' Art Watch episode (1520WCHE AM) when Lele Galer, painter and sculptor, interviews – artists Randall Graham & Neil Carlin, regarding new group show at Gallery 222. Tune in next (and every) Wednesday from 1-1:30pm. Until next time!