By Kelly Hockenberry, Columnist, The Times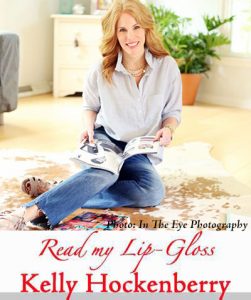 Ladies, get your credit card ready! It's time for the Super Bowl of Shopping : The Nordstrom Anniversary Sale!!!!!!!
This yearly event is eagerly anticipated because the discounts are dramatic AND new (never seen before) fall items are included! It is the PERFECT time to pick up a coveted item, stock up on basics, and (gasp) shop for Christmas presents! OK, I am not the least bit organized enough to think that far ahead…but, hats off to those gals who do.
The early access for Nordstrom card holders has already started. So, if you are in that boat, click away! If you aren't, the sale is open to the public on July 20th.
Here's a helpful tip. If you see something you love, BUY IT. This sale is crazzzzzy and things sell out in the blink of an eye. There is FREE SHIPPING and FREE RETURNS so take advantage of that huge perk. Personally, I think it's rather brilliant that they do that because chances are high that you will over-purchase and then want everything and not send it back. Am I right?
I figured, what kind of (self proclaimed) fashionista would I be if I did not make a Super Six out of this celebratory occasion?! I have a very, very long wishlist…so, reining it in to a half-dozen pieces is rather difficult. But, I'm a trooper. So, here we go:
Make + Model Good Vibes Jogger Set (Normally $80, Sale $52.80) –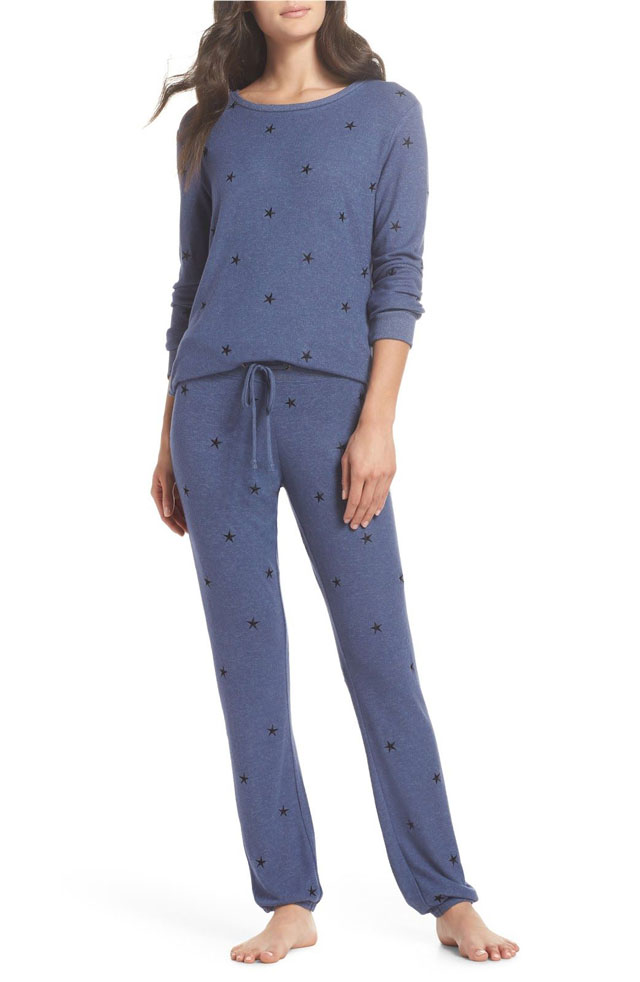 You know from past articles how much I love my athleisure wear and this set is perfection. Adorable pattern, great color….totally cute. And, at almost $30 off, it is a bargain! Wear the pieces separately to extend the use. The sweatshirt would be great with jeans. Put on a white tank top and jean jacket with the joggers and it's a whole new look. Find it here https://bit.ly/2JoHax5
J.Crew Tipped Short Pajama Set (Normally $85, Sale $56.90) –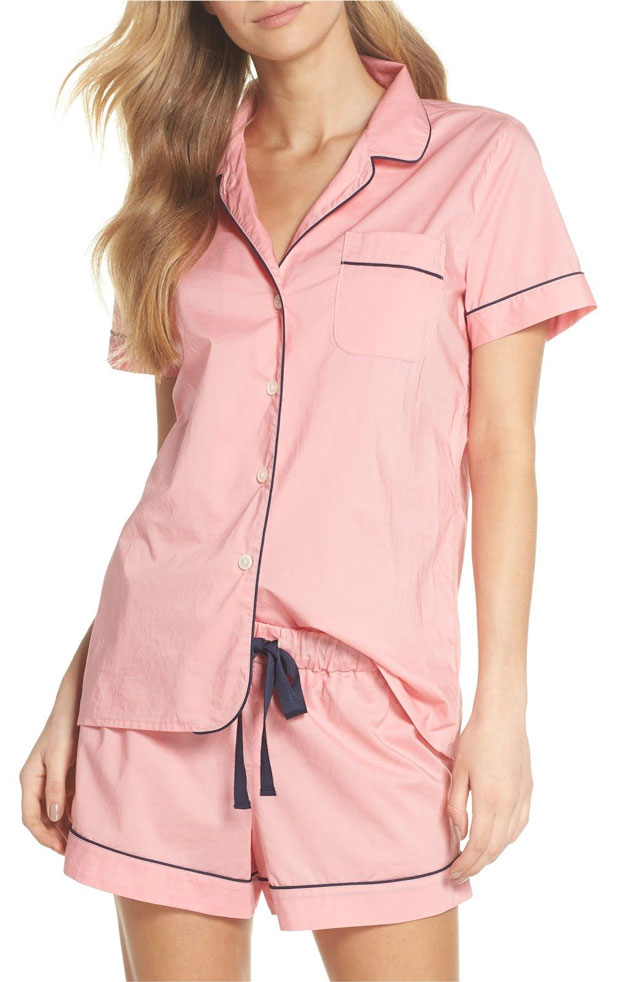 I think this pajama set would make a fantastic gift. It comes in several colors but the pink is my favorite. It is elegant without being too formal. I can picture coffee on the patio in this little ensemble, can't you? Buy it here https://bit.ly/2zE0Mhn
Steve Madden Sultan Chelsea Wedge Sneaker (Normally $89.95, Sale $59.90) –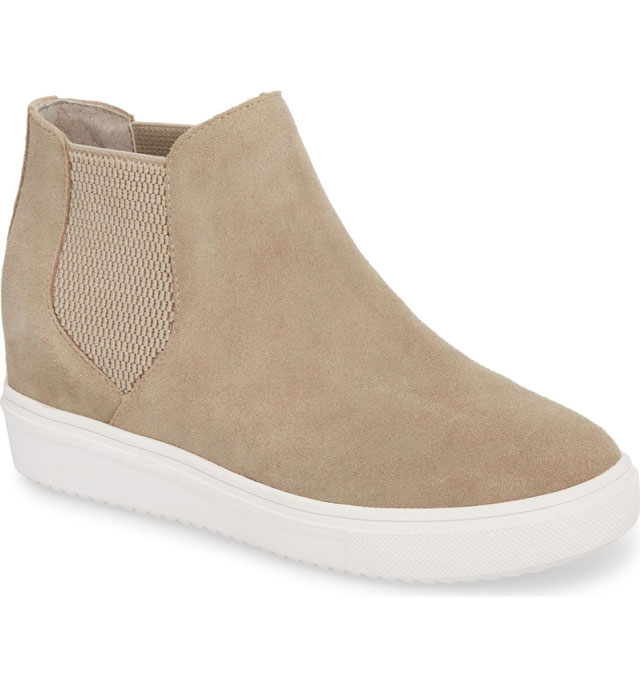 This is a great alternative to a bootie in the fall and winter. The suede fabrication makes this high top sneaker a dressier option than your summer tennis shoe come chillier weather.
Imagine running errands on a Saturday morning in your favorite jeans and a chunky, knit sweater. Comes in camo (super cute) and black, too. Get yours here https://bit.ly/2L6O0wp
Le Specs Air Heart 51mm Cat Eye Sunglasses (Normally $89, Sale $58.90) –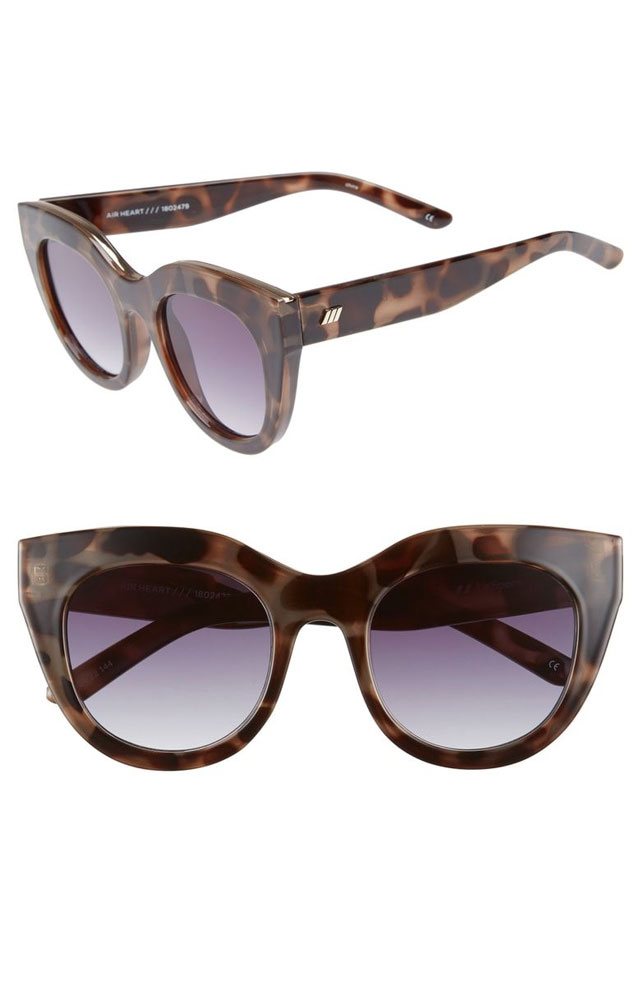 I'm a sucker for sunnies. Sunglasses are a year round accessory, so invest wisely. This pair is trendy without being over the top. I love the tortoise frame and gradient lens. Click here to purchase https://bit.ly/2Laktlu
Vince Camuto Tie Waist Jumpsuit (Normally $148, Sale $98.90) –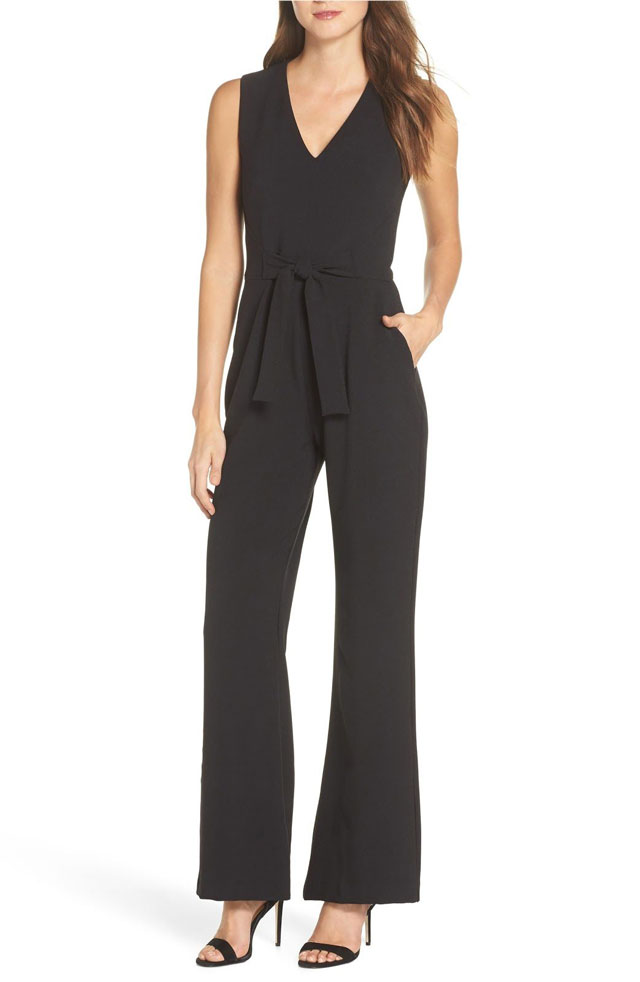 I bet you have a LBD (little black dress) hanging in your closet. But, do you have a LBJ? Come on, figure it out on your own. I've given you the tools. THIS JUMPSUIT is all the praise hands I can give. Figure flattering, looks very expensive, and can be dressed up or down depending on the accessories and shoes. Winner, winner. It's a MUST HAVE. Grab one for yourself https://bit.ly/2Ne3b48
Rebecca Minkoff Lucy Leather Belt Bag (Normally $88, Sale $58.90) –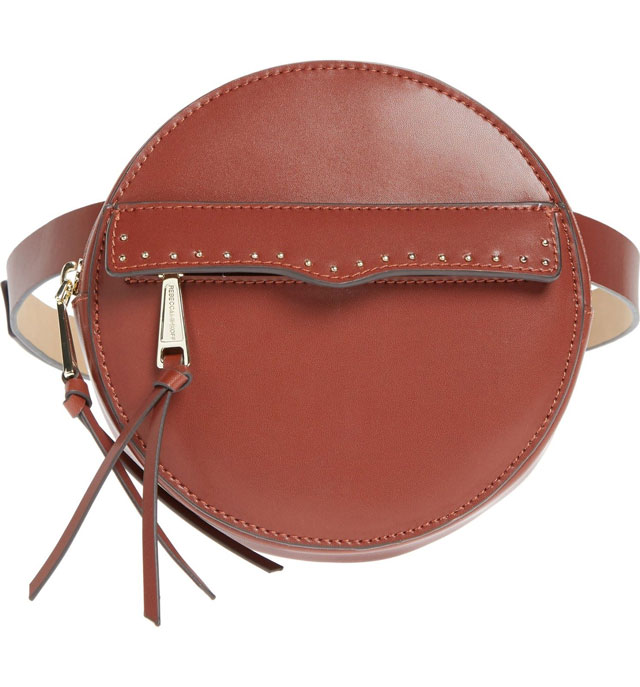 OK, not everyone is into the updated fanny pack. I get it. But, I'm obsessed. Like, totally obsessed. I looooooove this one. It's funky and cool and not at all like the belt bags of the 80's. And, you can score this one (comes in black, too) for thirty dollars off! Woo hoo https://bit.ly/2JobRCV
Hope that you enjoyed my picks! As always, feel free to share what items are in YOUR cart for the Nordstrom sale in the Comment Section below.
Happy Shopping!