By Nicole Brown, Correspondent, UnionvilleTimes.com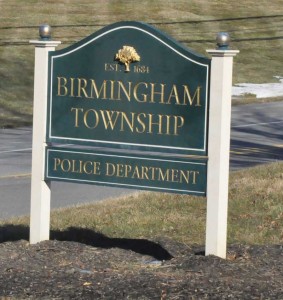 BIRMINGHAM — After nearly a year of negotiations, a resolution to the Leonhard landscaping mediation agreement was reached Monday night at the Board of Supervisors meeting. The business has been operating on the Birmingham property for 25 years; however, recent debate focused on the Leonhard's selling firewood on the property.
At the Township Supervisors meeting on June 20, residents expressed particular concerns regarding the sale of firewood on the property. The heavy machinery and loud noises beginning as early as 7A.M. were the main complaints of the residents.
Township Solicitor Kristin Camp explained that the sale of firewood violated the original agreement between the Board and the Leonhards.
To resolve the issue, two additional terms were added to the agreement. The Leonhard business will be limited to a commercial landscape business allowing hardscape, landscape, and snow plowing services only. Firewood on the property will only be permitted for personal use.
The Leonhard family was not present at Monday's meeting, but they had previously signed the amended agreement.
Residents Peter Gangel and Kathleen Harkins, who had previously complained about the firewood sale activity on the Leonhard property, were present. They had no additional comments, but they each requested a copy of the agreement.
Supervisor John Conklin expressed his appreciation of the public's input on this issue over the past few months and said the matter could not have been settled without its help. With no other comments from the supervisors, the agreement was approved.
For the remainder of the meeting, the supervisors quickly discussed three other topics.
The potential construction of Arden Forge sewage pumps on residents' property concerned the state Department of Environmental Protection (DEP). Its interest is in the maintenance of the pumps. DEP requested the rights of the property owners and the responsibility of the township properly documented, stating that the township must ultimately maintain the pumps.
Newspaper ads for snow removal bids seem a little premature in the current 90-degree weather; however, township Secretary and Treasurer Quina Nelling announced that the bids usually begin the Tuesday after Labor Day. Therefore, the supervisors approved the creation of the ads that should appear in August.
A new $25 fee will be charged to any resident who requests a tax certification sent to them.