By Caroline Roosevelt, Columnist, The Times
Ohhhh! There are so many interesting things happening this month – specifically of the more contemporary persuasion. Summertime can be a bit of a roll of the dice, considering so many art organizations slow down their regularly scheduled programming to accommodate waning summertime crowds. It's also a time for them to try some new things and see how they stick. I think the latter is happening, in a few places this summer.
Let's start with the Brandywine Art Museum. Tied to the Brandywine Conservancy, whose mission is to protect at conserve the Christianna Watershed, this summer's exhibition "Natural Wonders: The Sublime in Contemporary Art," feeds off of this cooperation. The exhibition features work by Suzanne Anker, Lauren Fensterstock, Patrick Jacobs, Maya Lin, Roxy Paine, Miljohn Ruperto & Ulrik Heltoft, Diana Thater, Jennifer Trask, Mark Tribe, Kathleen Vance, T.J. Wilcox, and Dustin Yellin. The pieces range from paintings, to sculpture and, counterintuitively, incorporate some high tech media as well (including 3D printing, lenticular screens, and 4K digital cinema). This exhibition asks the viewer to look into the relationship between nature and machine. The exhibition is organized by Brandywine River Museum of Art.  Suzanne Ramljak is the guest curator. On view starting June 23.
The Delaware Contemporary welcomed a new exhibition on June 18 entitled: "The Future People: Creating Public Imagination" by Cameron and Rachael Van Dyke. Although the reception won't occur until August 3rd, the exhibition is on display now. The husband and wife team (I love when this happens!) designed a bunch of futuristic multimodal transportation items that question what is it to identify with certain space, and time. These funky little pseudo-cars favor energy efficiency, environmental impact, futuristic sculptural design as opposed to more traditional car values (speed, luxury, comfort). Really, it provides a similar dialogue as the one I have with peers often regarding tiny homes. I want one, I want the values to shift, I want to be at least breaking even when it comes to my carbon footprint, but….I sure to like the idea of a 10 foot live in bathtub, and multiple walk in closets. Could I live in a tub? Or a walk in closet? At this point, no. To circle back around, check out this exhibition! I love the colorful, pop/mod futuristic (that's a lot of genres smashed together, Caroline) machines and can't wait to challenge myself on what a car even means to me.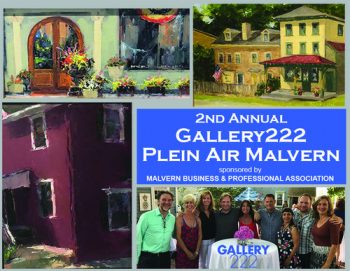 Let's step back and see what more traditional offerings are going on during the summer. For one, Gallery 222's Plein Air Painting and Community Scavenger Hunt is this weekend. Several well known local artists will be participating including: Randall Graham, Monique Sarkessian, Elise Phillips, Kristi Gilfillan, Robert Bohné, Fred Danziger, Jeremy McGirl, Barbara Berry, Denise Sedor, Nate Durnin, Sarah Baptist, Jan Wier, Nancy Bea Miller, Mick McAndrews & Georganna Lenssen. There's a fun, interactive quality to this. Stop by and say hi to any of the artist with the G222 flag and receive an entry form. The more artists you see, the higher your chances are to win some fun prizes! Winners will be announced June 29 at the artist reception from 5:30 – 8:30pm. Finished pieces will be on display from June 27 – July 14.
Finally, I'll dip into a little taste of Philadelphia, as I just interviewed international artist and printmaker, Agathe Bouton for Art Watch on 1520 WCHE AM. Her prints, all one of a kind, have been exhibited all over the world including Burma, Turkey, France, Australia, Senegal, and the Ivory Coast. Now she comes to Philadelphia's 3rd Street Gallery for a retrospective on her work entitled, "From One Continent to Another – 20 Years of Printmaking.
Agathe was warm and capitvating as she described how she had to abandon the comforts of a studio at times, and adapt her art the the resources available. She went into such detail with her unique etching and printmaking process, and the elements that have shaped her work. Listen to the interview on Lele Galer's website! More importantly, meet the artist and discover her work at two upcoming opportunities.
Third Street Gallery will host a closing reception July 1 from 3 – 5pm with an artist talk at 4pm. She will also be exhibiting in a group show at Printed Image Gallery on Broad Street in Philadelphia. The opening reception is TONIGHT from 5:30 – 8pm. Exhibition runs through September 29.
Next week on Art Watch, WCHE 1520AM Lele Galer hosts – Jam Michener of Art Holdings Hands And Hearts, and Mary Galligan of Art Partners, both art organizations in Coatesville. Until next time!