By Denny Dyroff, Entertainment Editor, The Times
Eternal Summers, which is headlining a show on June 14 at Boot and Saddle (1131 South Broad Street, Philadelphia, 215-639-4528, www.bootandsaddlephilly.com), is a young band from Virginia that has been described as a "dream punk" band.
The Roanoke-based trio featuring Nicole Yun, Daniel Cundiff, Jonathan Woods plays jangly pop songs – jangly pop songs with substance. The music is light and lively yet meaty at the same time.
Considering the fun vibe of Eternal Summers music, it seems the band's new album is oddly named. The LP – "Every Day It Feels Like I'm Dying…" – was just released on Nevado Music on May 4. When it was released, Rolling Stone magazine put it on its list of "10 New Albums to Stream Now."
"We recorded 'Every Day It Feels Like I'm Dying…' in June of last year," said Yun, during a phone interview Monday afternoon from a stop in Revere, Massachusetts.
"We went to Austin, Texas to record the album at Resonate Music studio with Louie Lino. We decided to co-produce it with Louie and spent 10 days in the studio. It was the first time we didn't have a writing period before we went to the studio to cut an album. We took two-and-a-half years off the road. It was a long period of organic time to listen to music – and to play music.
"This is a collection of songs built over a year. We recorded 14 tracks and trimmed it down to 11. We could have written more but we were a little burned-out from our album-a-year clip. We also had done a few EPs."
Eternal Summers' discography includes "Silver" (2010), "Correct Behavior" (2012), "The Drop Beneath" (2014), "Gold and Stone" (2015), and "Every Day It Feels Like I'm Dying…" (2018).
"When we were making the songs for the new album, we were in a different mindset," said Yun. "We were listening to more jazz. And, we were listening to bands like Soft Cell – bands that aren't traditional rock bands.
"Five of the songs on the album are like this. The rest of the songs on the album we songs that rock harder that we thought were important to gave on the album. We even have an instrumental track called 'Reprieval.' Our earlier stuff was more jangly. This is more rick. We road-tested about half the songs."
Having formed in 2009, Eternal Summers has now been operating as the trio of Nicole Yun, Daniel Cundiff and Jonathan Woods longer than they did as a duo without Jonathan.
"We all knew each other from different bands in the Roanoke scene," said Yun. "Eternal Summers stared with me and Daniel as a duo. We made an eight-song EP and then got vested on the project. Eventually, we became a trio. We're a power trio with an expanded musical palette.
"For our live show, we're doing seven songs from the new album. It's fun to get these songs out live. We use samples for the luish parts of somne songs. It adds the extra lushness that we had in the studio."
Video link for Eternal Summers – https://youtu.be/-RPxsUWMZZQ.
The show at Boot and Saddle, which has Très Oui and Overlake as opening acts, will start at 8 p.m. Tickets are $15.
Other upcoming shows at Boot & Saddle are Colouring on June 15, David Keenan on June 16, Paal Nilssen-Love Large Unit on June 17, the Voidz on June 18, Michigan Rattlers on June 19, and Cicada Rhythm and Ciaran Lavery on June 20.
If you looked at the name of the headline act at the Sellersville Theater (24 West Temple Avenue, Sellersville, 215-257-5808, www.st94.com) on June 15, you would likely draw two conclusions – the music will be Southern Rock and the act will feature a musician who is part of the Allman Brothers musical family.
And, you'd be right on both accounts.
This Saturday night, Michael Allman is returning to the popular venue in Sellersville to treat listeners to an evening of straight-ahead rock – with a lot of Southern Rock in its DNA.
Allman is the son of the late Allman Brothers Band guitarist Gregg Allman. The son of the guitar great was destined to be a rocker.
Surprisingly, he didn't know either until he was six.
Allman was born in 1966 and his mother was Mary Lynn Sutton. In his earliest years, Michael Sean Allman was known as Michael Hendrick, using the name of the man his mother married to legitimize his birth. Sutton and Hendrick never lasted, and she went on to wed Daniel Green, the man Allman originally believed was his father.
"I always wanted to be a pilot," said Allman, during a phone interview when he was visiting Philadelphia on Tuesday afternoon.
"My stepfather was a pilot. He was one of the top Learjet pilots in America. He was moving toward being a pilot for the Blue Angels and an astronaut for NASA.
"But, he died in a Learjet plane crash when I was six years old. I was crying about his death and that was when my mom told me who my real dad was – that his name was Gregg Allman."
It was quite an intense ride on an emotional roller coaster for the young Florida boy – this is your dad…your dad just died…your dad is alive…the guy who died was your stepfather…your dad is one of the most famous rock musicians in the world.
"It took me a long time to figure it all out and accept it – years to make sense out of it," said Allman. "It really seemed that I had lost my father in a plane crash."
When Gregg Allman died in May 2017, he left behind five children from different mothers — Michael Sean Allman, with former waitress Mary Lynn Green; Devon Allman, with ex-wife Shelley Kay Winters; Elijah Blue, from his marriage to Cher; daughter Delilah Island Allman, with ex-wife Julie Bindas; and daughter Layla Brooklyn Allman, with girlfriend Shelby Blackburn. Delilah Island Allman is the only one who is not a musician.
"Gregg Allman is my father," said Allman. "I can guarantee you there are 10 or more people who can say the same thing and be telling the truth. Call him the father of our country – a kid in every state."
Michael Allman had a rough childhood and ended up in a military academy when he was 15. Two years later, his mother was diagnosed with breast cancer. When she was hospitalized for treatment, Allman moved in with his dad.
After high school, Allman drifted into the music world – working as a bartender, a sound board guy in clubs and a DJ. One gig as a DJ had bad consequences.
"I was working in a club in South Carolina," said Allman. "Three drunks got thrown out of the bar. They came back and started shooting. I started chasing them and I got knifed. I got stabbed a lot, went to the hospital and needed 300 stitches to patch me up. I was in the hospital for a month."
Allman also had to deal with testicular cancer in 2002. Surgery was a success and he is still cancer-free.
In the next musical step in his story, Allman began singing with local bands.
"Steve Perry was my idol – and my inspiration for my vocals," said Allman. "That was the voice I had for a long time – until I discovered whiskey and cigarettes. I had my own band in the late 80s and most of the 90s. I also had two sons and wanted to have a good married life. So, I left music behind and worked in construction."
Allman split from his first wife, went back to music and then remarried. At her insistence, Allman again traded the life of a rocker for the life of a working dad.
"After a while, it was driving me crazy," said Allman. "I felt trapped – trapped by family life. I gave up music for her. I will never do that again. I stayed with her for 10 years and we never had any kids.
"When she left, I said – nothing is stopping me now. I found my old manager's phone number. I re-connected with him and soon we were in the studio making a record. The album came out in 2009."
Now, Allman is working on a new album.
"I have six songs done already," said Allman, who lives in New Port Richey, Florida.
"Actually, I have two albums I'm working on. One is an unplugged blues solo album. The other is a hardcore band album – a blues band album that I'm making in Atlanta with two guys from the Georgia Satellites. I'm making the solo blues album in my living room."
Allman doesn't have a set band for when he performs in different parts of the country. For his show in Sellersville, he will be backed by The Mile High Club, a Philadelphia-based band featuring John McNutt (guitar), Tommy Zamparelli (guitar), Marc Iezzi (drums), A.J. Hager (bass) and Tim McKinstry (keyboard).
"I've been playing with these guys since 2105," said Allman. "It gets better every tear. Our set list for this show is about 70 per cent Allman Brothers Band and 30 per cent Michael Allman songs — and each Mile High guy does a solo."
Video link for Michael Allman – https://youtu.be/CD70M1nQ77Q.
The show at the Sellersville Theater, which has Tommy Edwards as Sir Rod (Stewart) as the opening act, will start at 8 p.m. Tickets are $25 and $39.50.
Other upcoming shows at the Sellersville Theater are Steve Forbert & The Renditions on June 16, Reverend Horton Heat w/ Big Sandy & Lara Hope & The Ark-Tones on June 19 and Marc Broussard on June 20.
There is good news this weekend for fans of the upstate New York rock band Joywave and there is some not-so-good news for the same group of fans.
On June 17, Joywave will be performing in concert at the BB&T Pavilion (1 Harbour Boulevard, Camden, New Jersey, 856-365-1300, http://www.bbtpavilion.org).
That's the good news.
The tour is not Joywave's tour. It's 30 Seconds To Mars' Monolith 2018 tour – a tour that also features Walk The Moon and Misterwives. The show in Camden also includes Chvrches, The Neighbourhood, Love In Future Times, The Aces, Slenderbodies, L.I.F.T, and Portugal. The Man.
That means Joywave — vocalist Daniel Armbruster, guitarist Joseph Morinelli, keyboardist Benjamin Bailey and drummer Paul Brenner — is limited to a 30-minute set. Tickets for the front sections are in the $90 range and pit tickets are $139.50.
Having to spend close to a C-note to hear their favorites play for a half-hour – for Joywave fans, that's the bad news.
"It's a clean 30-minute set," said Armbruster, during a phone interview Wednesday afternoon from a tour stop in Burgettstown, Pennsylvania.
"It's definitely a very different thing for us. We're primarily playing for fans of 30 Seconds To Mars. We've got to win them over.
"I'm looking forward to each show. I thrive on antagonizing people. So, a 30-minute set in front of a hostile audience is great for me."
Joywave is coming off its "Thanks. Thanks For Coming" 2017/2018 U.S. tours.
"On our tours, we got to play as long as we wanted and to play whatever we wanted to play," said Armbrister. "The set list for this tour is totally a greatest hits thing.
"We've had six songs on the Top 30 Alternative charts so that fills 25 of the 30 minutes. We have to play the things people know. It's not really a challenge to make a 30-minute set list. It's actually pretty easy."
Last year and most of this year, Joywave has been touring in support of its sophomore album, "Content," which was released in July 2017 via Hollywood Records/Cultco Music. It debuted #10 on the iTunes Alternative Album chart and spun off two alternative radio hits — "It's A Trip!" and "Doubt."
"We just put out a new single titled 'Compromise," which we've been playing live for a while," said Armbruster. "There is no new album coming soon but we've been working loosely on new music.
"When we finish this tour, we'll go right back out on the road for the third part of our 'Thanks. Thanks For Coming' tour. This is still part of the 'Content' album cycle. The next part of the 'Thanks' tour will be the end of that cycle.
"We want to keep touring. Next up after this tour will be an unannounced fall co-headline tour. We have been working in the studio here and there and I've been writing a lot. You can do a lot of things on the road. And, with this tour, I have a lot of time every day to do things."
Video link for Joywave – https://youtu.be/rTfGoa4p_EQ
The show at BB&T Pavilion, which includes Joywave, 30 Seconds to Mars, Love In Future Times, Walk the Moon, Misterwives, Chvrches, The Neighbourhood, The Aces, Slenderbodies, L.I.F.T, and Portugal. The Man, will start at 1 p.m. Ticket prices range from $20-$139.50. Also playing the BB&T Pavilion this week is the Dave Matthews Band with shows on June 15 and 16.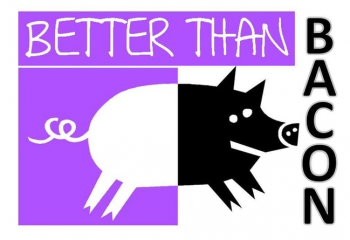 Kennett Flash (102 Sycamore Alley, Kennett Square, 484-732-8295, http://www.kennettflash.org) will host "Backtrack – An Evening of Acapella" on June 14, Better Than Bacon Improv Comedy 7th Anniversary Show on June 15, Ben Kaplan on June 16, Open Mic with Guest Host Nick Fagnilli on June 17 and Jake Armerding on June 20.
The Steel City Coffee House (203 Bridge Street, Phoenixville, 610-933-4043, www.steelcitycoffeehouse.com) will host Suzanne Westenhoefer on June 15.
The Colonial Theatre (Bridge Street, Phoenixville, 610- 917-1228, www.thecolonialtheatre.com) will present "City Rhythm Orchestra presents Basie & Sinatra" on June 15.
Chaplin's (66 North Main Street, Spring City, 610-792-4110, http://chaplinslive.com) will have Girl Science, Gamma Wolf, MoreThanJon, and Victor Traps on June 15.
The Ardmore Music Hall (23 East Lancaster Avenue, Ardmore, 610-649-8389, www.ardmoremusic.com) will host Roosevelt Collier Trio pays homage to Jimi Hendrix + Darla + Funky Dawgz Brass Band on June 15, Bone Thugs-N-Harmony on June 16 and "Grateful Dead for Kids!" presented by The Rock & Roll Playhouse on June 17.
The Keswick Theater (291 N. Keswick Avenue, Glenside, 215-572-7650, www.keswicktheatre.com) presents Al Di Meola on June 14, Get the Led out on June 15 and 16, and "Happy Together Tour" with the Turtles on June 20.
The Candlelight Theater (2208 Millers Road, Arden, Delaware, 302- 475-2313, www.candlelighttheatredelaware.org) is presenting the hilarious comedy farce "Boeing Boeing" now through June 24
Performances are Friday and Saturday evening (doors, 6 p.m.; show, 8 p.m.) and Sunday afternoon (doors, 1 p.m.; show, 3 p.m.). All tickets include dinner and show and are $63 for adults.
Disney Theatrical Productions in conjunction with the Kimmel Center's Broadway Philadelphia will be presenting the long-awaited Philadelphia premiere of "Disney's Aladdin" now through July 1 at the Academy of Music (Broad and Locust streets, Philadelphia, 215-731-3333, www.kimmelcenter.org). Tickets start at $20.