By Denny Dyroff, Entertainment Editor, The Times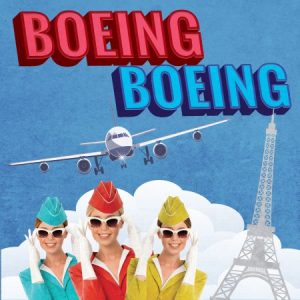 The Candlelight Theatre (2208 Millers Road, Arden, Delaware, 302- 475-2313, www.candlelighttheatredelaware.org) is always a great place to enjoy an evening of top-flight musical theater entertainment along with a tasty buffet dinner.
Each year, the comfortable theater, which is located a few miles south of Concordville, has an annual schedule that features all musicals – except for one play.
Now through June 24, the Candlelight is presenting that "one play."
But, the production will not be too heavy for the dinner theater crowd – no weighty drama, no serious topics, nothing mentally intense. Instead, the play is a comedy – a very funny farce titled "Boeing Boeing."
"Boeing Boeing" is set in Paris, France –- set in an era when Paris was the "City of Love," flight attendants were called stewardesses, and the "Swinging 60s" was all about fun-loving good times. It was also an era when "stewardesses had to be single females between the ages of 21 and 27 and have a 'neatly proportioned figure' and 'pleasing appearance'."
It's 1964, it's Paris, and Bernard, an American architect playboy, is successfully juggling being engaged to three attractive stewardesses with the help of his faithful housekeeper, Berthe. When changed schedules have the flight attendants arriving at his door on the same day, panic also arrives.
A rip-roaring bedroom farce written by Marc Camoletti, "Boeing Boeing" debuted on Broadway in 1965. The 2008 revival garnered several Tony nominations including Best Featured Actress, Best Director, Best Costume Design and Best Sound Design and won the Tony for Best Revival of a Play and Mark Rylance who played Robert, won for Best Leading Actor.
The English language adaptation, translated by Beverley Cross, was first staged in London at the Apollo Theatre in 1962 and transferred to the Duchess Theatre in 1965, running for a total of seven years. In 1991, the play was listed in the Guinness Book of Records as the most performed French play throughout the world.
The show at Candlelight, which is directed by Bob Kelly, has a cast featuring Tori Healy (Berthe, the maid), Ian Agnew (Bernard), Eric Rupp (Robert), Heather Ferrell (Gabriella), Marybeth Williamson (Gloria), and Sophie Jones (Gretchen).
Previously, Jones performed the pivotal role of Guinevere from the time she was Lady Guinevere until the time she was Queen Guinevere in the Candlelight's production of "Camelot."
Jones grew up in Mankato, Minnesota and graduated from the University of Minnesota-Mankato in spring of 2015 with a Bachelor of Fine Arts degree in musical theater.
After graduation, she travelled east to Pennsylvania. Jones also travelled back in time – initially to the 16th century and then to the fifth and sixth centuries. Her journey to the 16th century took place in the middle of a recent summer.
"I got cast in the Pennsylvania Renaissance Faire at Mount Hope," said Jones, during a phone interview Monday afternoon from her apartment in South Philadelphia.
"I spent the summer through November living in Manheim and working at the Faire. I was an apothecary – an apothecary selling mints."
Jones then left central Pennsylvania and relocated to South Philly. It was then that her career path took her to the theater in Arden, Delaware.
"I saw a Theatre Philadelphia page posting about auditions at the Candlelight," said Jones. "I figured – why not audition? That was back in mid-November. I did the usual audition and then Bob (Kelly) asked me to come back a second time.
"I had never seen the show, but I was familiar with some of the songs from back when I was taking voice lessons. When I was auditioning for the BFA Musical Theater program at the University of Minnesota-Mankato, one of my main songs was 'The Simple Joys of Maidenhood.'"
Jones had no such unfamiliarity with "Boeing Boeing."
"I had actually done the show a couple years ago," said Jones. "I played Gretchen in the summer of 2015 in South Dakota at the Prairie Repertory Theater in Brookings, South Dakota. "I really like the role. Every time you do it again, it's different. This Gretchen is definitely more mature.
"When I saw that Candlelight was doing 'Boeing Boeing,' I thought – oh, this is exciting because I had already done it. It's a great little show – perfect for the summer. It fits really well with the Candlelight's production schedule."
Jones has gotten to be "old friends" with Gretchen.
"I like Gretchen's exuberance for life," said Jones. "She's not afraid to voice her opinion. She's a little bit no-nonsense, And, she's stubborn.
"This role is a blast to do. It's a very active and physical role, I don't have to go to a gym because I get a lot of cardio on stage."
Even though there are no lavish musical production numbers, Candlelight audiences are still loving this show.
Asked why audiences like this show so much, Jones said, "Because it's fun to watch other people try to deal with their own mistakes – how they get in trouble and plot to get out of it."
Video link for "Boeing Boeing" — https://youtu.be/ywyDF7y19ms.
Performances are Friday and Saturday evenings (doors 6 p.m./show, 8 p.m.) and Sunday afternoons (doors, 1 p.m./show, 3 p.m.). Tickets, which include dinner and show, are $63 for adults and $33 for children (ages 4-12).
On June 7, Winterthur Museum, Garden & Library (Route 52, Wilmington, Delaware, 800-448-3883, www.winterthur.org) will host its inaugural presentation of the 2018 "Summer Nights at Winterthur" series with a live outdoor concert by The Stonethrowers.
"Summer Nights at Winterthur" features live music, a beer garden, a variety of food selections, and other offerings at "Winterthur After Hours," including our first-ever garden exhibition, "Follies: Architectural Whimsy in the Garden."
Each "After Hours" event will be located in the beautiful Winterthur landscape – allowing visitors to explore the Galleries and grounds.
The concert, which will be held along Clenny Run stream from 5:30-8 p.m., features the sounds of Marc Silver's Americana band, The Stonethrowers. The group performs an array of original and traditional songs with a unique mix of country and popular music. "After Hours on Clenny Run" are BYO (Bring-your-own) items.
At 6:30 p.m., Winterthur's Director of Garden and Estate, will lead a 30-minute walking tour of featured garden follies in Winterthur's new exhibition, "Follies: Architectural Whimsy in the Garden." Tour participants are instructed to gather at the entrance to the cottage store.
Video link for The Stonethrowers — https://youtu.be/S7yw_MjAaqI.
Tickets are $15 for adults, $5 for students and free for children (13 and under).
When bands are just getting started, it is often said that the only way for them to go is up.
This was especially true for Too Many Zooz, a New York City-based band featuring Leo Pellegrino (baritone saxophone), Matt "Doe" Muirhead (trumpet) and David "King of Sludge" Parks (percussion).
Too Many Zooz got its start playing on the subway platforms in Manhattan. The only way for the trio to eventually was "up" – up into the daylight, on to the stages of clubs and eventually playing backup for Beyoncé for her televised CMA Awards performance in November 2016 in Nashville, Tennessee.
"We just finished a tour and I'm here in San Francisco, one of my favorite places," said Pellegrino, during a recent phone interview. "The other guys are in other places right now.
"We're starting a new tour of the East Coast on June 7 in Washington, D.C. Then, we're playing some dates on the West Coast."
That tour brings Too Many Zooz to the area on June 8 for a show at Fillmore Philadelphia (1100 Canal Street, Philadelphia, 215-309-0150, www.thefillmorephilly.com).
Pellegrino and Muirhead met when they were students at the Manhattan School of Music. Pellegrino and Parks had played together in Drumadics, a local busking band. In mid-2013, they formed a trio and began busking together at various stations in the New York City Subway. They gained fame when a video of one of their subway performances, recorded by a passer-by at the Union Square station, went viral on YouTube in March 2014.
The trio has released four EPs since 2014, dropped its first full-length "Subway Gawdz" in 2016, and has racked up millions of views of its live videos on YouTube. Beyoncé's team was impressed with the videos and hired the band to perform on the songs "Daddy Issues" and "Formation" on her album "Lemonade," which was nominated for the Grammy for Album of the Year.
"Matt and I live in Philadelphia now – so that was a change," said Pellegrino. "It really doesn't matter where we live because we tour so much. Philly is close to New York – and it's also a big city.
"I have a lot of people in Philly. I'm from Pittsburgh and Pittsburgh people migrate to Philadelphia. I went to CAPA for high school in Pittsburgh and then to college at Manhattan School of Music. That's where I met Matt and then David and I met in the subway. Union Square was our favorite – but we never had an official permit to play there until recently.
"We released four EPs and then out debut album. We recorded the album last April at Platinum Sound Recording Studios in Manhattan. And did a few tracks at Studio Trilogy in San Francisco."
Too Many Zooz created its style by playing in the subway for people – as many as 30,000-40,000 people over the course of a few hours.
The trio's discography includes "F NOTE" EP (January 2014), "Fanimals" EP (September 2014),  "Brasshouse Volume 1: Survival of the Flyest" EP (November 2014), "The Internet" EP (May 2015) and "Subway Gawdz" LP (June 2016).
"The biggest change in our playing is that we have to do more songs," said Pellegrino. "When we first started playing, it was all improvisational. After a while, we learned to play songs that people wanted. Now, it's a combination of songs and improv."
Too Many Zooz describes its music as "brass house." It is an amalgamation of New York City music – jazz, hip hop, funk, rock, R&B, improv and even EDM.
"Our music is a mixture of sounds," said Pellegrino. "It is representative of New York City. But, we're not playing the subways too much lately because we're out on tour a lot – all the time."
Video link for Too Many Zooz – https://youtu.be/mD2xXNg_Vy8
The show at The Foundry will start at 9 p.m. Tickets are $17.
Other upcoming shows at The Foundry are Logan Henderson on June 9, Have Mercy on June 10, Aly & AJ on June 12, and the "Snow Tha Product: Vibe Higher Tour" on June 13.
The Kimmel Center for the Performing Arts is currently presenting the 2018 Philadelphia International Festival of the Arts (PIFA) at a variety of locations around Center City Philadelphia. It marks the fourth staging of the PIFA event. Known for its engaging performances curated by The Kimmel Center from around the globe, the festival was first developed in 2011 drawing increasing audiences locally and attracting regional visitors seeking out the ultimate Philly experience. The 2018 festival is running now through June 10.
Performances include live theater, dance, and interactive visual art installations that transform the city for a multi-arts takeover of the Kimmel Center Cultural Campus, public spaces, parks, and outdoor spaces throughout the heart of Philadelphia.
One of the most ambitious presentations is "Cristal Palace," which is being performed nightly at 8 p.m. through June 10.
Transe Express, the celebrated French performance troupe, returns with the world premiere of Cristal Palace, a 360-degree immersive event featuring a musician-topped chandelier as the centerpiece for the most unusual dance party Philly has ever seen.
On June 7, "SEA (Singular Extreme Actions)" will be staged at the Perelman Theater at the Kimmel Center at 7 p.m.
Audience members can watch as the laws of physics are put to the test at SEA (Singular Extreme Actions), a Philadelphia premiere event from the mind of MacArthur Genius Award winner Elizabeth Streb. Human bodies careen through, around, and above a physical and kinetic set, thrilling audiences with athleticism and a healthy dose of bravery. "SEA" is a kaleidoscope of movement where every performer is dubbed an "action hero".
This will be the Philadelphia premiere of SEA (Singular Extreme Actions).
"Tape Riot" by Asphalt Piloten will be performed at secret locations revealed to ticket holders on June 7 and 8 at 5:30 and 7:30 p.m. each day.
Without the constraints of a theatrical performance structure, this hybrid dance art tour permits audience members freedom of movement throughout the city. Starting at a Center City, Philadelphia, mystery location – revealed only to ticketholders through a communication before the performance – audiences will be guided through a journey leaving artistic traces of gaffer tape as hints along the way.
Along the way, they will experience pieces of artistry from a quartet of artists which combine electronic soundscapes, and award-winning choreography to create a dynamic performance. Asphalt Piloten's "Tape Riot," which is a U.S. premiere, is a performance that pushes against traditional boundaries by infiltrating urban public spaces to create a totally unexpected and unique experience.
The Philadelphia premiere of "The Fever" by 600 HIGHWAYMEN will be presented at the SEI Innovation Studio at the Kimmel Center on June 7 at 7 p.m., June 8 and 9 at 7 and 10 p.m. and June 10 at 2 and 6 p.m.
At a time when we feel most divided as a nation, the Obie Award-winning creative team The New Yorker calls "New York's best nontraditional company" gifts audiences with a common purpose through acting together. The newest experiential show from 600 HIGHWAYMEN taps into the limits of human existence.
On June 9, PIFA will feature the second part of the Philadelphia premiere of "Taylor Mac: A 24-Decade History of Popular Music," performed by Taylor Mac in association with Pomegranate Arts.
"PART I (1776 – 1896)" was performed on June 2. "PART II (1896 – Present)" will be performed on June 9 at the Merriam Theater from noon-midnight.
This epic 24-hour performance art concert exorcizes the social history of the United States — 240 years in the making and 24 hours in the telling. It is a spectacular pop odyssey with more than 24 musicians and 100 local performers — including burlesque performers, a choir, a marching band, and knitters.
The only presentation of the complete 24-Decades on the East Coast, this epic event (hailed as a Ring Cycle for the 21st Century), will be presented as two 12-hour parts, the longest presentation segments since Taylor's historic 24-hour marathon performance in Brooklyn last fall. Major support for "Taylor Mac: A 24-Decade History of Popular Music" has been provided by The Pew Center for Arts & Heritage.
The popular PIFA Street Fair is scheduled for June 9 from 11 a.m.-7 p.m. along Broad Street south of City Hall.
The Street Fair, a free family-friendly event, will feature seven blocks of art, food, entertainment, and vendors that will take place all day on Broad between Chestnut and South streets.
Activities at the fair include a Ferris Wheel, "Virtual Reality Swings," "Super Slides," a large "Merry-Go-Round," a "Rope Obstacle Course,"
"Camel Corral," "Bike Race Sandbox," and "Paper Boat River."
The entertainment schedule includes "Olympic Dream High Dive Show," "First Capital Drumline," "Les Tambours" by Transe Express, "Camden Sophisticated Sisters and Distinguished Gentleman," Temple University Marching Band, West Philly Orchestra, The Kimmel Center's La NOCHE Band, The Ambassadors Jazztet, UDEF Tour Breakers, Spiral Q and Kulu Mele.Some of the many popular food vendors at the Street Fair will be Brulee, Turkish Grill, Caribbean Islands Cuisine, Philly Fry – Cannoli Café, Li Ping Corn Company, Roe Restaurant, Buzzetta Festival Foods, Laughing Crab Catering, Fezziwig's, Nick's Roast Beef, Cow and the Curd Zuzu Confectionery, Garces, Kono Pizza, Reggae Reggae Vibes, Buzzetta Festival Foods, The Spicy Belly, and Los Gallos Restaurant & Taqueria.
Video link for PIFA — https://youtu.be/V0WArC0DLuY?list=PLnv7BwM96MN-3oe4AY_UpgKoQkqtZR9pD.
Ticket prices vary with event – many are free.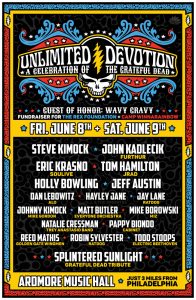 Over the last week-and-a-half, the Dead has been alive in the Delaware Valley with a variety of Grateful Dead-related shows.
Last weekend, Dead & Company played two nights at the BB&T Pavilion in Camden, New Jersey and the DeadPhish Orchestra performed at MilkBoy Philadelphia.
Now, Ardmore Music Hall (23 East Lancaster Avenue, Ardmore, 610-649-8389, www.ardmoremusic.com) will present "Unlimited Devotion: A Celebration of the Grateful Dead" weekend on June 8 and 9.
The venue will host a massive two-night fundraiser and concert event with iconic social activist and "official clown" of the Grateful Dead, Wavy Gravy, as the guest of honor and a star-studded lineup of musicians to celebrate the music of the Grateful Dead and much more. "Unlimited Devotion: A Rex Foundation Fundraiser" will include performances by Steve Kimock, Eric Krasno, John Kadlecik, Jeff Austin, Tom Hamilton, Holly Bowling and many more.
The weekend festivities also include an extraordinary Grateful Dead art exhibit, panel and VIP experiences. Proceeds from the weekend will benefit the Rex Foundation (founded by the Grateful Dead) and Camp Winnarainbow, Wavy Gravy's summer camp for kids. For the past two years, Wavy Gravy has hosted his birthday at Ardmore Music Hall, raising over $50,000 for the Rex Foundation and Camp Winnarainbow.
The lineup for June 8 at 7:30 p.m. features Tom Hamilton (JRAD); Holly Bowling & Friends with Steve Kimock & Johnny Kimock; The Wavy All-Stars: John Kadlecik, Dan Lebowitz, Reed Mathis, Jay Lane, Hayley Jane, Mike Borowski; Everyone Orchestra, conducted by Matt Butler with Steve Kimock, Eric Krasno, Todd Stoops, Natalie Cressman, Robin Sylvester, Johnny Kimock, Hayley Jane, and Pappy Biondo.
The June 9 matinee "Grateful Brunch" will start at 12:30 p.m. and include "In-the-Round Acoustic Storytelling" featuring Steve Kimock, John Kadlecik, Dan Lebowitz; Panel Discussion with Wavy Gravy, Cameron Sears (Grateful Dead manager); and Scott Shapiro's Grateful Dead Collection (Poster Art Exhibit).
The evening show at 7:30 p.m. on June 9 will feature Rooster Conspiracy: Eric Krasno, Todd Stoops, Reed Mathis, Jay Lane; Jeff Austin Band with Pappy Biondo; The Gravy All-Stars: Steve Kimock, Dan Lebowitz, Jeff Austin, Robin Sylvester, Natalie Cressman, Matt Butler, Johnny Kimock with Eric Krasno & Pappy Biondo; Splintered Sunlight with John Kadlecik; Hayley Jane; and Pappy Biondo.
Video link for Wavy Gravy All Stars — https://youtu.be/OOjGQXAUB5E.
Tickets are $37 for June 8, $20 for the June 9 brunch, and $37 for the June 9 evening show.
Another upcoming show at the Ardmore Music Hall is Terence Blanchard featuring The E-Collective on June 13.
Kennett Flash (102 Sycamore Alley, Kennett Square, 484-732-8295, http://www.kennettflash.org) is presenting Kategory 5 – Rewind To Vinyl on June 8, and StringSongs featuring Tim Farrell, Michael Manring & Vin Downes with Master Class on June 9.
The Steel City Coffee House (203 Bridge Street, Phoenixville, 610-933-4043, www.steelcitycoffeehouse.com) will host Conor & The Wild Hunt with Bent Benjamins on June 9, and The Philadelphia Main Line Ukulele Meetup Group on June 10.
On June 8, the Keswick Theater (291 N. Keswick Avenue, Glenside, 215-572-7650, www.keswicktheatre.com) presents "The Best of Doo Wop — Volume IV" starring Kenny Vance, Larry Chance & The Earls, La La Brooks, Original Lead Singer of The Crystals, Joey Dee, and The Fireflies.
The Sellersville Theater (24 West Temple Avenue, Sellersville, 215-257-5808, www.st94.com) will have Larry Campbell & Teresa Williams on June 7, Blues Beatles on June 8, The Soul Survivors on June 9, Dom Flemons on June 10, Gaelic Storm on June 11, Paul Barrere & Fred Tackett on June 12, and Geoff Tate's 30th Anniversary of "Operation: Mindcrime" on June 13.
The Grand Opera House (818 North Market Street, Wilmington, Delaware, 302-652-5577, www.thegrandwilmington.org) will present Chris D'Elia's "Follow the Leader 2018 Tour" on June 8, "Homage" on June 9, and Joe Biden's "American Promise Tour" on June 10.
The Queen (500 North Market Street, Wilmington, 202-730-3331, www.thequeenwilmington.com) will host "The Office Trivia" on June 7 and Dave Hause on June 9.