By Caroline Roosevelt, Columnist, The Times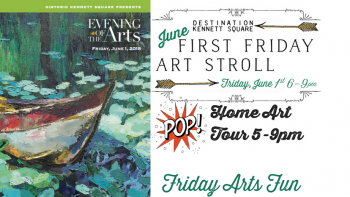 It's that magical time again. Time for the Kennett Square First Friday Expanded Art Walk. This rotations' theme is Destination: Kennett Square. Kennett Square does not have your typical art venues. Square Pear, which is prominently located at State and Broad Street serves as the only real gallery in town. So what does an expanded art walk look like in a town where art has limited and temporary homes? Let's find out together.
First, there is Evening of The Arts at the Genesis Building on State Street. Historic Kennett Square hosts over 37 local artists at this annual fundraiser. You can enjoy a beer or glass of wine from sponsors, Victory Brewing Co. and Galer Estates. Enjoy light bites from local restaurants and take in some music provided by Kennett Symphony members. Enjoy work by  T.S. Kist, Neilson Carlin, Karen Delaney, Lele Galer, Carol Lesher, Tracey Rothenberger, and Sarah Yeoman and more. Evening of The Arts runs from 5 – 8:30 pm. The show is organized by Historic Kennett Square and artist John Baker.
Next, Meredith Langer of Historic Kennett Square and Holiday Village Market, debuted her first Flea Market to coincide with the Farmers Market a few weeks ago. Check out it's second running this Friday from 4 – 8pm. If you are a fan of the Holiday Village Market, you'll love this truncated version featuring returning vendors: Mid Center Sistes, Give A Fig, and one of my personal favorites, Joey Five Cents. This market has you covered, as it offers vintage clothing, ceramics, prints, jewelry and more! You can't miss it, the market is just across from the Farmers Market on State Street between Broad and Union.
Just a little further east on State Street, Square Pear will host their upcoming show "Opposite Views," featuring Steel Sculptors Stan Smokler, Helen Mason and illustrator Alexi Natchev. Natchev has been hosted by Delaware Museum of Art in 2013, and just ended a show at The Mezzanine Gallery put on by the Delaware Division for the Arts. He is an internationally renowned childrens' book illustrator, and his work resembles the rich and layered tempera murals, and panels of the Renaissance era in some instances in and in others, he creates more simplistic, jovial illustrations. His style is recognizable yet attains a level of malleability. He is currently an Area Coordinator for Illustration with Delaware College of Art and Design and has previously taught at Savannah College of Art and Design and Maryland Institute College of Art. This exhibition will be on view through the end of June.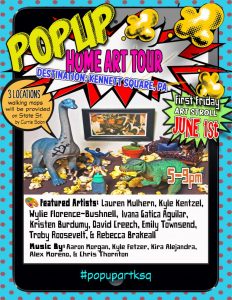 For a more intimate art experience, wander down to the area of Magnolia, Center, and Union Streets for the trifecta of in home art galleries making up the Pop Up Art Walk put on by PopUpKSQ and sponsored by Kennett Arts and Kennett Township. This one is a little trickier, as you have to get your map first, at the Marilyn Monroe Statue between 4:30 – 8:30pm. Once you pick up your map, you can check out three locations which I'll list here by address:
242 Center Street
316 South Union Street
137 Magnolia Street
Each location will feature multimedia work of local artists, as well a live music and food. This event features fashion design by Wylie Florence Bushnell, video art by Kyle Kentzel, Sound art by Sam Ferraro, floral installations and watercolor by Kristen Burdumy, Photography by David Creech and Emily Townsend, Paintings by Racer LeVan, Lauren Mulhern, and Ivana Gatica Aguillar, and prints by Rebecca Brakeall. Stick around at each spot to enjoy the ambience and music provided by Kyle Fetzer, Kira Alejandro, Chris Thornton, Alex Moreno, and Djing by their in house DJ Aaron Morgan. Returning again for some culinary treats will be Sarah Bates of Brewers Hideaway Farm! Stop by this magical set up of one night only in home art galleries from 5 – 9pm.
Saturday, stop by the much anticipated annual Scarlett Thicket Farm exhibition Abstractions hosted by Peter Welling(just "down the street" on Street Road). Local artists include: Frances Roosevelt, Stan Smokler, Dev Devereux, Katee Boyle, Lele  Galer, Vicki Vinton, Peter Willard, Carol Lesher, Gerald Harris, and Dennis Beach. This show is always a blast, it'll be my fourth year returning to view. Enjoy a glass of wine, and some truly extraordinary art in a bucolic setting. Nothing quite like taking in some original paintings while surrounded by fluttering barn swallows and the sounds of the leaves rustling just beyond the barn. Phew. Do you think you'll have enough art to fill your weekend? I know I will.
Next week tune into Art Watch WCHE 1520AM as John Chambless, journalist, hosts – Lindsay Schmittle, letterpress artist who walked the Appalachian Trail and documented it in art. Until next week!