By Nathaniel Smith, Columnist, The Times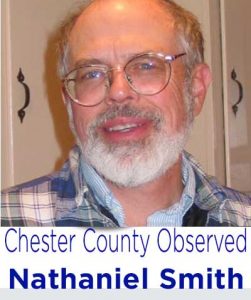 In the Chester County Democratic primary election, the winners for U.S. Senator and Governor were (unopposed) men, but women for US House PA-06 (also unopposed) and Lt. Governor (Kathi Cozzone carried Chesco but not PA), so that's half men and half women Dem winners in Chesco.
For PA Senate and House, 3 men and 8 women won Democratic races in districts that include Chesco (some were contested, most not). These candidates worked their way through the primary season, may have been endorsed, and may have had enough support to induce potential rivals not to file in the primary.
For Dem State Committee, Dems also preferred women candidates. Their ballot had 9 men and 9 women, and voters could choose up to 4 of each. One would expect votes cast for men and women to be about equal; but In fact, women totaled 14,835 more votes (unofficial figures; not including write-ins). To judge the scale, if a 10th man had been in the race and received all those undervotes, he would have been the top male vote-getter.
Did voters know the women better as individuals? Did voters prefer to vote for women and consciously undervote for men? Did more women than men vote? We can't tell right now. But the results for state legislature and Democratic State Committee certainly support the Year of the Woman hypothesis.
How about on the Republican side? For US Senate and House, Governor and Lt. Governor, 4 men won (4 women and 2 men ran but did not win). For PA Senate and House, 9 men and 2 women won.
For State Committee, again one would expect equal numbers, since the ballot allowed R's to vote for one man and one. In fact, there was again a male undervote, although much smaller: 856 votes, or about 4% of votes cast for R State Committee.
So, with the slight exception of the Republican State Committee, we must conclude that if this is the Year of the Woman in Chesco elections, it is mostly a Democratic phenomenon.
The November general election will have only men on the ballot for the 3 statewide positions. But the 12 seats entirely or partly in Chester County will have 1 D woman vs. a R woman, 2 D men vs. R men, 1 D man vs. a R woman (in predominantly D district), and 8 D women vs. R men.
Of course, it's not just about who candidates innately are, but if many voters of any or no party either prefer to vote for a woman or connect gender to issues important to them, such as education, health care, environment, and legislative performance in Washington and Harrisburg, it could have a far-reaching impact.