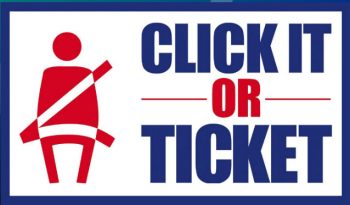 With Memorial Day weekend and the summer travel season approaching, the Pennsylvania State Police (PSP), the Pennsylvania Department of Transportation (PennDOT), and municipal departments across Pennsylvania today announced that they will partner to participate in the national "Click It or Ticket" seat belt enforcement from May 14 through June 3, 2018.
Pennsylvania law requires drivers and passengers younger than 18 to buckle up when riding in a vehicle. After turning 18, drivers and passengers must wear a seat belt when behind the wheel or in the front passenger seat. During "Click It or Ticket," law enforcement adopts a zero-tolerance approach toward violators.
As part of the enforcement, PSP, along with agencies across the eastern half of the United States, will participate in a Border-to-Border initiative to provide increased seat belt enforcement at state borders, reinforcing the states' focus on safety. According to PennDOT data, 378 unrestrained fatalities occurred in 2017, a decrease from 408 in 2016.
"Seat belts are the first line of defense in the event of a motor vehicle crash and buckling up is the number one thing drivers and passengers can do to keep themselves safe in a car," said Major James B. Basinger, director, Pennsylvania State Police Bureau of Patrol. "Adults should wear a seat belt – every trip, every time – and ensure children are properly buckled in an appropriate child passenger safety seat."
During "Click It or Ticket," troopers certified as Child Passenger Safety Technicians will offer no-cost car seat fittings and inspections at various locations throughout the state. In Pennsylvania, children under the age of two are required to be secured in a rear-facing car seat. Children under the age of four must be restrained in an approved child safety seat. A booster seat is required for children until their eighth birthday.
A complete list of child passenger seat fitting stations is available at www.psp.pa.gov.
"The consistent use of seat belts and child passenger safety seats save lives," said PennDOT Secretary Leslie S. Richards. "Through continued enforcement and education, we hope to see more people taking the simple step of buckling up and fewer fatal crashes on Pennsylvania's roads."
The efforts of PennDOT and PSP will be supported by the National Highway Traffic Safety Administration with national advertising that airs across TV, radio, internet, and social media to convey the message that officers are out enforcing seat belt laws. The ads, airing in English and Spanish, are designed to generate awareness of stepped-up enforcement of seat belt laws and the increased chance of getting a ticket if you're not buckled up.
For more information on seat belt safety visit, www.penndot.gov/safety.
MEDIA CONTACTS: Ashley Schoch, PennDOT, 717-783-8800 or Ryan Tarkowski, PSP, 717-783-5556