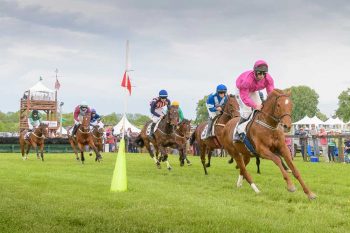 EAST MARLBOROUGH — The 26th Running of The Willowdale Steeplechase on Mother's Day, Sunday, May 13 has some new excitement to offer this year! The Chester County tradition is a spectacular rite of spring and a traditional Mother's Day event for people throughout the Brandywine Valley and beyond. 
This year, not only will the horses compete in six races for over $100,000 in prize money, but for the first time ever, there will be live streaming of the Willowdale races.  Charles C. Fenwick Jr, President of the National Steeplechase Foundation brings this new opportunity to Willowdale with the support of Brown Advisory.   "The enthusiasm of both Willowdale and Brown Advisory for our efforts to live stream racing at Willowdale this spring is very heartening," said Fenwick.  "It will be exciting to share a thrilling day of steeplechasing at Willowdale with our enthusiastic fans around the world."
Another significant change for Willowdale 2018: The hurdle races will run first, followed by the timber races.  We're moving the order of the races for two reasons, "says Race Chairman W. B. Dixon Stroud, Jr. "Efficiency and excitement.  The new order will make changing the jumps on the course in between races quicker and smoother.  As the day goes on, the excitement will build to the thrill of watching the horses take the bigger solid timber fences and intimidating water jump."
Two more firsts: a Featured Antique Car (Ford Model A) corral as part of the traditional antique car display and a local craft brewer on site serving beer to those who don't want to BYO!
As always, The Willowdale Steeplechase will feature top level horse racing over jumps, elegant tailgating, high fashion and most importantly, a community coming together to support three worthy causes: clean water, veterinary excellence and services for children with special needs.  The Willowdale Steeplechase is a 501 (c)(3). And the races benefit the Stroud Water Research Center, Quest Therapeutic Services and The University of Pennsylvania School of Veterinary Medicine's New Bolton Center.
The Miss Nancy Nicholas Memorial Side Saddle Race has a new format; it will be a Field Master's Chase.  The pony races, produced by U. S. Pony Racing, will begin at 11:30 am – immediately after the Jack Russell Terrier races.  As always, there will be activities for children, local food vendors and upscale boutique shopping.
From the inaugural race on Saturday, May 22, 1993 until today, attendance, interest and support have consistently become stronger. And since that day, the Willowdale Steeplechase has donated close to a million dollars to local charities
Visit www.willowdale.org to purchase tickets and learn more.