By Caroline Roosevelt, Columnist, The Times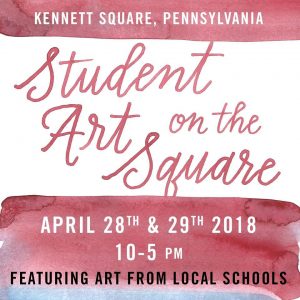 Summer vacation hasn't started yet, but several art locations are hosting collections of student art from the 2017-2018 school year and you should make your way over to check them out. Here's a listing of the local offerings, as well as a few other upcoming events.
First off, because it's happening TODAY, I should mention that the Delaware College of Art and Design is hosting ArtParty from 5:30pm – 8:30pm. You should check this event out. There will be a live auction and the DCAD Tattoo Parlor (for the more adventurous of us). In addition, there will be plenty of art for sale at two art shows; one comprised of collected artwork donated by DuPont through United Way or contributed by alumni, and local professional artists; the other, consisting of work by current students of DCAD. You can also get your caricature or silhouette created by Jerry's Artarama. While you're there, write a wish for the future of DCAD and add it to the Wishing Tree! ArtParty tickets are $50. Combine your purchase with a ticket for the Delaware History Maker Awards ($60), and pay a total of $100 for a Rock The Block ticket! So pop by, enjoy refreshments, music, and plenty of art in Wilmington.
Chester County Art Association will be hosting several student art shows this month. On April 23rd, they will be hosting the opening reception for the  Chester County High School Art Show at their main location from 5 – 7pm. This show will be on view until April 28th. You can check out over 500 artworks from high school students in the area. Artists from Avon Grove, Coatesville, DHS East, DHS West, Downingtown Cyber Academy, Downingtown STEM Academy, Great Valley, Kennett, Octorara Junior/Senior, Owen J Roberts, Oxford Area, Phoenixville, Conestoga, Tredyffrin/Easttown, Unionville, West Chester East, West Chester Bayard Rustin, and West Chester Henderson will all be represented. Reception from 5 -7 on April 23rd. Coming down on April 28 will be the Art Goes to School show at Exton Square Galleries as well as the Technical College High School Show. Check these out before they come down!
On April 28 and 29th, Kennett Square will be hosting their annual art show Student Art on The Square at The American Legion on State Street. High school artists from the area will participate in a one weekend, two day event where they can showcase their work. Linda Theis, owner of Kennett Jewelers, has been putting this show on for the past several years with great success and I look forward to seeing the impressive amount of student talent that will be on display.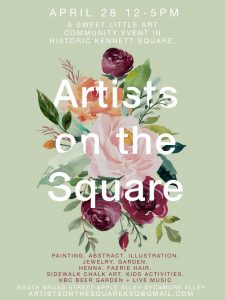 While you're there, check out the Artists On The Square event that will be taking over Broad Street. Activities include, paintings/illustrations/jewelry for sale, sidewalk chalk art, children's activities, faerie hair, KBC beer garden and live music! Both events run from 12 – 5pm.
On Saturday, make a night of it and head down State Street to Contemporary Kennett: A Pop Up Art Event above Nomadic Pies from 5- 8pm. This show, which is hosted in an adorable little apartment, will feature work by six local artists; I should mention that I'm among them, for full disclosure, as well as Emily Townsend, Rebecca Ayscough, Caitlin Kelley, Monserrat Saldivar and Lauren Mulhern. Small bites will be provided by Sarah Bates of Brewer's Hideaway Farm (although, get there early if you want to catch these) as well as a fun vintage popcorn machine (because POP up art!) Contemporary Kennett is a smaller event hosted/dreamed up by the PopUpArtKSQ, creators of Home Is Where The Art Is: Pop Up Art Tour in November and looks to create that same magical feeling of discovery. Expect to hear more from them in the coming months!
Tune in April 25th to Art Watch on WCHE1520 from 1- 1:30. This Wednesday, Lele Galer, artist, hosts – wine expert Eric Miller and his guests Sommelier Nichele Konopi of Savona Restaurant and beer expert Russell Burda of Lionville Beverage. Until next time!