By Denny Dyroff, Entertainment Editor, The Times
There are plenty of interesting music events around the area tonight – many of which have an international flavor, including a rising star from South Korea (Cifika), a rocker from England (the Kinks' Dave Davies), Imarhan (an Algerian Tuareg desert rock band), Jinjer (a Ukrainian metal band), and Alfredo Rodríguez (a singer from Cuba).
On April 5, area fans will have their first opportunity to hear a live performance by Cifika, an electronic musician/vocalist from Seoul, South Korea.
At the beginning of March, Cifika embarked on a five-week tour, which is the largest ever North American tour for a Korean artist. The tour brings her to Philly for a show at Ortlieb's (847 North Third Street, Philadelphia, 267- 324-3348, www.ticketfly.com).
"This is not only my first North American tour, it is my first tour ever," said Cifika, during a phone interview Wednesday afternoon from a yourt stop in Washington, D.C.
Cifika is touring in support of her new EP "Prism," a tasty offering of six songs that display the Korean artist's electronic music prowess and sparkling songwriting.
"A few years ago, I was working as an art director in L.A.," said Cifika, who was born and raised in South Korea and then moved to California.
"I always loved singing. I wanted to do something that I love – something that motivates me all the time. I was living in the states and moved back to Seoul."
Cifika has the singing ability and the good looks to be a major star in the world of K-Pop (Korean pop music) but that was the opposite of what she was seeking when she returned to her home city in the southern half of the Korean Peninsula.
"I was never into K-Pop," said Cifika. "I wanted to create everything myself – and to control everything myself. I was really into electronic music."
Gifted with DIY production skills, and a majestic voice that's textured as if sung from within a deep cave, Cifika composes music that evokes a futuristic dimension and otherworldly sound. Her music is a unique blend of ethereal sonics and deep beats.
"I stared making music two years ago. My music is digital and visual. I use a laptop and a monitor speaker. I also bring my own visuals that are synched with the music."
Cifika's first EP two years ago was "Intelligentsia," a debut that received critical acclaim.
"I made 'Prism in South Korea," said Cifika. "I started making it right after 'Intelligentsia' was released.
"My songwriting depends on what I want to focus on. I have archives of different lyrics. I bring these lyrics and try them out. If they don't work, I'll start over with a different drum beat.
"On the new EP, I wanted a sense of transparency. I wanted the songs to act as a prism so that my audiences can apply the music to themselves."
Signed by Third Culture Kids, Cifika deftly blends genres like R&B and low-fi with dark electronic soundscapes. At the same time, she combines lyrics in both English and Korean.
Cifika's songs on the new EP reach a balance that at first seems unlikely. Some songs are sad but also have a resilience that allows listeners to emerge from the sadness with a positive vibe. Many are dark and light at the same time.
"I grew up in an Asian family," said Cifika. "My parents practiced Buddhism and they always talked about having balance.
"That's why I want my songs to have juxtaposition of heavy and light, good and bad and light and dark. And, I'll sing in Korean and English in the same song because I don't think there is a language barrier in music.
"Sometimes, I write lyrics and put them on my iPhone. Other times, I use handwriting. And, there are some times when I draw abstract sketches. I do whatever is necessary to record my emotions."
Cifika explained the name change from her Korean name Youson Cho to her stage name Cifika.
"I was looking to create my stage name," said Cifika. "I saw a street sign in San Jose for Pacifica Avenue. I liked it – but there were too many Pacifica entries when you did a Google search. So, I took the 'Pa' off and nothing came up."
Cifika has been handling her maiden tour well.
"At first, I was really nervous because it was a whole different audience," said Cifika. "I wasn't that nervous after a few shows. The fans were open to the music, so I was really encouraged. I feel happy.
"On this tour, I play about a 40-minute set. I'm playing all the songs from 'Prism' and some that I've put up on SoundCloud. But, I don't play anything from 'Intelligentsia' anymore."
Video link for Cifika – https://youtu.be/APajMr0P85U.
The show at Ortlieb's, which has Blacksage, Fee Lion, and DJ Kyle Kimball as opening acts, will start at 8 p.m. Admission is free.
Other upcoming shows at Ortlieb's are Dear Forbidden, Resilient, Your Dream Coat, and Kelsey Cork and the Swigs on April 6 and
Tetra, The Bad Larrys, and Eyebawl on April 7.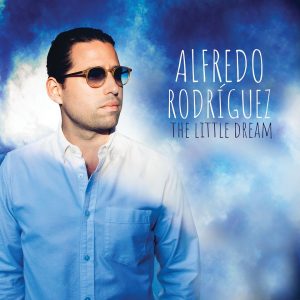 On April 5, Alfredo Rodríguez will perform in Philadelphia as part of the Annenberg Center's three-week Cuba Festival, which runs through April 13. The show will take place at the  Annenberg Center (3680 Walnut Street, Philadelphia, AnnenbergCenter.org).
Rodríguez is touring in support of "The Little Dream."
"The Little Dream," the title track of Cuban pianist and composer Alfredo Rodríguez's fourth studio album (Mack Avenue Records), gently builds into an uplifting statement — one that reflects the hope children hold in building a brighter future, where tiny dreams manifest into grandiose realities.
"I bring a message of peace and understanding," said Rodríguez. "My goal has been to inspire people."
There is no better example of this than Rodríguez's own personal journey — from his humble beginnings in Cuba to being discovered by Quincy Jones, ultimately leaving his family behind to immigrate to the United States and pursue his own dream.
Over the past decade, Rodríguez has gone from a young local Cuban artist to a globally recognized Grammy®-nominee with three previous releases on Mack Avenue Records –"Sounds of Space" (2011), "The Invasion Parade" (2014), and "Tocororo" (2016).
In a time where governments want to build walls instead of bridges, and uplifting programs like DACA (Deferred Action for Childhood Arrivals) are being rescinded, Rodríguez understands how important "dreams" are, especially for today's youth – and the immigrant children known as "DREAMers" – for shaping a more unified future.
According to Rodríguez , "The title of my new album, 'The Little Dream,' is my response to our current world climate. The title comes from my fascination with the dream world, which is a beautiful manifestation of our reality.
"My greatest dream is one where all humans live happily and in peace. Children are the hope and the answer to creating a world of love, peace, unity and understanding."
"The Little Dream" was recorded in just two days, with a majority of the songs being done impressively in one take.
"The album was recorded mostly in Los Angeles," said Rodríguez. "And, we did some recording in Spain — in Madrid."
Two musicians who join Rodríguez on The Little Dream and helped shape the album's sound are Michael Olivera and Munir Hossn.
The album's producer is jazz legend Quincy Jones.
"I met Quincy in 2006 when I was playing at the Montreux Jazz Festival in Switzerland," said Rodríguez, "I was one of 12 pianists selected to play at the festival.
"Quincy heard me play and said he liked what I was doing and that he's get in touch with me. I never expected it to happen. One month after I went back to Cuba, I got an email that Quincy wanted me to do something with him."
A short while later, Rodríguez was performing a show in Mexico with his father Alfredito Rodríguez. After the show, the Cuban musician crossed the border between the U.S. and Mexico in Laredo, Texas.
He applied for political asylum ands is now an American citizen. Since then, Jones has been his mentor. Rodríguez never stops learning from his teacher.
According to Rodriguez, "Quincy always impresses me, and for a young musician, it's such an incredible opportunity to get to be around a legend. Quincy has affected my life in so many positive ways.
"He is my mentor, and the most open-minded musician I know. His influence has made me a better person as well as a better musician."
Rodríguez has been playing music since he was a young child.
"There was always music in our home," said Rodríguez. "And, my dad brought me to his shows. When I was seven, I started studying classical piano at the Conservatory in Havana.
"My dad is not a classical musician. He is a popular singer. He did shows – and he sang on the streets. I listened to American music from the 50s and 60s – and Cuban music. I started performing with him when I was 13.
"Keith Jarrett was one of my favorite improv musicians. I was listening to him and Bud Powell and other jazz musicians from the states. Sometimes in the Conservatory, teachers don't want you to play much popular music.
"Cuban folklore music still has a big influence on me. The first time I heard bata (Cuban drum), I was fascinated. I wanted to translate bata and other drum music to the piano.
"I developed by listening to music and discovering things by myself. The challenge for me is to learn every day something new.
"Cuban music is difficult. My goal has been to translate it to piano. It's important that you feel it. In terms of improvising, piano playing became more percussive.
"I find myself in a different situation. Piano can be very percussive and aggressive. It also can be delicate and mild. Balance is very important – and not just for music.
"When it comes to music for me, it's been very easy. Music had endless possibilities. I like to follow my intuition and just let it go."
Video link for Alfredo Rodríguez — https://youtu.be/7aNuRnQf_Dc.
The show at the Annenberg Center on April 5 will start at 7:30 p.m. Tickets are $30 and $40.
The Annenberg Center's Cuba Festival continues with Daymé Arocena (April 6), Chucho Valdés (April 13), One-Man Show, Sancho: An Act of Remembrance, features Royal Shakespeare Company Actor Paterson Joseph (April 13-14), Daedalus Quartet with Beethoven Cycle of String Quartets (April 13), and "Ghost Town to Havana" (April 24).
Havana also comes into the picture concerning Dave Davies' concert.
On April 5, the Kinks' lead guitarist, whose guitar work on the song "You Really Got Me" was considered as the start of heavy metal, will headline a show at Havana Night Club (105 South Main Street, New Hope, https://www.havananewhope.com).
Video link for Dave Davies — https://youtu.be/XCkb60kEuqQ.
Algeria's Imarhan, which is touring in support of its new album "Temet," will perform on April 5 at West Kensington Ministry (2140 North Hancock, Philadelphia,https://www.ticketfly.com/event/1634143-imarhan-philadelphia).
Video link for Imarhan — https://youtu.be/p4Fxa3V8BLo?list=PLr1rv7Dl-ouwDNgS7rWOcBPH3_gZw-4hG.
Jinjer will be performing on April 5 at the Theatre of the Living Arts (334 South Street, Philadelphia, 215-222-1011, http://www.lnphilly.com) as part of the "Cradle of Filth: Cryptoriana World Tour," which also features Cradle of Filth and Uncured.
Video link for Jinjer — https://youtu.be/prcAtjEsPXc.
Other upcoming shows at the TLA are James Bay on April 6, Anderson East on April 7, Lawrence Arms on April 8, 5 Seconds of Summer on April 9, and Erik B. and Rakim on April 11.
Another act playing Philly on April 5 is an All-American act – a good old boy from the heart of North Carolina.
Songwriter, musician, and singer Kevin Daniel, who grew up in Tarboro, North Carolina, will bring his "Kevin Daniel — Myself Through You Tour" to The Fire (412 West Girard Avenue, Philadelphia, 267-671-9298, thefirephilly.com).
"Myself Through You" is Daniel's new EP which was released on March 16 via Creative Entertainment Network/The Orchard, a division of Sony Music.
The album is a blend of roots rock riffs, Americana flavor, alternative country, and a touch of blues.
"I've been playing music my whole life," said Daniel, during a phone interview Tuesday from his home in Brooklyn, New York.
"When I was five, I was singing songs into a turkey baster that I pretended was a microphone. I started with keyboards when I was five or six – taking classical piano lessons from an old lady in the neighborhood.
"I was obsessed with jazz when I was six or seven. When I was eight, I was obsessed with playing alto sax. So, she bought me a sax.
"Both my parents listened to really bad music – like Jimmy Buffett. Once I got the horn, my parents realized how serious I was.
"I played in bands throughout high school. I even recorded a 10-song album when I was still in high school. It's not terrible – but it's not good either.
"Sax and singing were my main things until I got to college. I started guitar there and now I can play about 12 instruments. I went to George Washington University on a music scholarship."
By the time he graduated from George Washington University in 2008, Daniel had already played in various bands of many genres. But it was his move to New York City in 2013, and a sudden and unexpected tragedy, that put Kevin on the path towards his solo career.
In the winter of 2013, Kevin's mother and stepfather, adventure-seekers and amateur pilots, had been flying back from their mountain house in western North Carolina when their plane crashed. Tragically, neither survived.
"That plane crash has been a big part of my life," said Daniel. "They were in a single-prop plane flying from the mountains in the western part of North Carolina to the east coast of the state when it crashed. I got a call while I was hosting a dinner party in New York."
Daniel's world was forever changed. During his return home to help with family business, and while reliving his parent's lives through photos and stories he wrote over a dozen songs. The result was his inaugural EP, "Fly" in 2015.
"I recorded 'Fly' about three years ago," said Daniel. It's a pretty good record but a little different than what I'm doing now. I just released my new EP, 'Myself Through You.'
"To me, this is my first real offering based on my music taste. I recorded it at the same studio I did my first one — Degraw Sound in Brooklyn. It was produced, engineered, and mixed by Ben Rice (Jack Penate, Silya & The Sailor, Aoife O'Donovan). Ben helped a lot.
"With this EP. I had a license to be happy – with the lyrics and with the music. The songs make you happy. It's been five years since my parents passed away and I'm a different person.
"When I tour, I always play with a band. There are three of us. I'm doing every song from the second EP and a couple from 'Fly.' I also do a few songs I haven't recorded yet – and two covers."
Video link for Kevin Daniel – https://youtu.be/Pt2Y1Ud4fYY
The show at The Fire will start at 7 p.m. Tickets are $10.
Other upcoming shows at The Fire are The SoftSpots and Distant Voices on April 6, Wolf Herder on April 7, and Crooked Coasrt on April 8.
Kennett Flash (102 Sycamore Alley, Kennett Square, 484-732-8295, http://www.kennettflash.org) will present Dangermuffin and
Sparkle Pony on April 5; The Melton Brothers with Special Guest Angelee on April 6; Waiting For December, The Stone Eye, and Pleb Mahogany on April 7; and "Fresh Faces of The Kennett Flash" — Brand New Crescent Moon, Artificial Happiness, and West Fire on April 8.
The Steel City Coffee House (203 Bridge Street, Phoenixville, 610-933-4043, www.steelcitycoffeehouse.com) will host Chris Rattie & the New Rebles and Hinton, Bower, Jones on April 7 and Philadelphia Main Line Ukulele Groupo on April 8.
Chaplin's (66 North Main Street, Spring City, 610-792-4110, http://chaplinslive.com) will present Bluegrass Jam on April 5; Brosef Gordon Levitt, Double Suede and Merit on April 6, and "TRIBUTE NIGHT II" on April 7.
The Ardmore Music Hall (23 East Lancaster Avenue, Ardmore, 610-649-8389, www.ardmoremusic.com) will host Swift Technique on April 5, The Clarks with special guest Stargazer Lily on April 6, Splintered Sunlight with special guests Northeast Corners on November 7, and "Glenn Fest 2018: Walking Dead, Grizz Band and more" on April 8.
Burlap & Bean Coffeehouse (204 South Newtown Street Road, Newtown Square, 484-427-4547, www.burlapandbean.com) will present David Wilcox with John Statz on April 6, and Vilebred on April 7.
The Keswick Theater (291 N. Keswick Avenue, Glenside, 215-572-7650, www.keswicktheatre.com) presents Cry, Cry, Cry on April 6, the Fab Faux on April 7 and David Foster on April 8.
The Sellersville Theater (24 West Temple Avenue, Sellersville, 215-257-5808, www.st94.com) presents Boat House Row: A Yacht Rock Experience on April 5, Nick Moss Band and Mikey Junior on April 6, The Drifters & Cornell Gunter's Coasters on April 7, Jack Ingram with Travis Meadows on April 8, "Inside F1 Racing Ft. Leigh Diffey, David Hobbs & Steve Matchett + Special Guest Mario Andretti on April 10, and Jason Eady and Kyle Swartzwelder on April 11.
The Grand Opera House (818 North Market Street, Wilmington, Delaware, 302-652-5577, www.thegrandwilmington.org) will host the Mavericks on April 6 and Jeanne Roberston on April 7.
Now through April 8, "Dirty Dancing — The Classic Story On Stage" will play The Playhouse on Rodney Square (10th and Market streets, Wilmington, Delaware, 302-888-0200,www.thegrandwilmington.org). Ticket prices range from $40-$95.
"The Drowsy Chaperone" is running now through April 22 at the New Candlelight Dinner Theatre (2208 Millers Road, Arden, Delaware, 302- 475-2313, www.candlelighttheatredelaware.org).
Performances are Friday and Saturday evenings (doors 6 p.m./show, 8 p.m.) and Sunday afternoons (doors, 1 p.m./show, 3 p.m.). Tickets, which include dinner and show, are $63 for adults and $33 for children (ages 4-12).