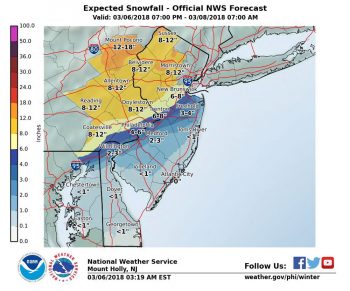 Just days after heavy winds took down trees and caused power outages around Chester County, a major snowstorm appears headed to the area – promising both heavy, wet snow and high winds and likely another round of power outages.
The National Weather Service said Tuesday morning that a storm could dump as much as 8 to 12 inches of snow in parts of Chester County, combined with winds of 15 to 20 miles an hour, gusting to 30 MPH by Wednesday night.
The heaviest snowfall will be in the north and eastern parts of the county, with 6 to 8 inches expected mid county and 4 to 6 inches in the southeast portion of the county. The snow will be wet and heavy – and may start as rain Tuesday night. At the storm's peak, as much as 1 to 2 inches per hour may fall in some areas.
The NWS said to "expect downed trees, power outages and blowing snow."
Meanwhile, as of Tuesday morning, PECO was working to restore power to more than 1,500 homes still without power from the weekend's storms.