By Dr. Stephanie McGann, DMD FAGD, Columnist, The Times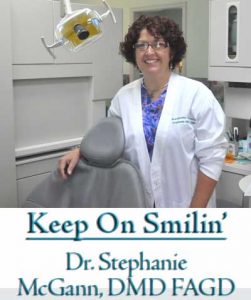 Every professional has those moments when they shake their heads at the circumstances facing them.
Recently, an acquaintance shared a story of a customer who neglected to follow up on the check engine light in her car. After months of that pesky light on the dash the young woman was shocked that her car wouldn't start and her mechanic explained that her engine had seized. That pesky light had been warning her of low oil pressure.  A simple oil change could have prevented a catastrophic engine failure.
History is full of examples of the age old adage "a stitch in time saves nine." Dentistry is no different. That six-month visit allows the dental team to evaluate and identify concerns while they are small, simple and most-importantly inexpensive to repair. Too often, in an attempt to cut costs, some patients are skipping these preventive visits. As dentists we shake our head when a patient has postponed dental care because "nothing was bothering me" arrives in our office with a painful concern that may require multiple visits and a significant investment to save a tooth.
A simple filling long before a tooth hurts is always a better, more conservative option.
I have put together a checklist for saving money and maintaining good dental health.
 Stay current with dental exams. Schedule your next check-up while you are in the office.
Ask your dentist about fluoride therapy. In-office fluoride therapy helps reduce decay. While benefit plans may limit it to children, the out of pocket cost for adult fluoride is usually way less than the cost of a filling.
Be pro-active.  Take care of small things right away. Ask your dentist about older dental restorations. Don't wait till it hurts.
Notify your dentist of major health changes. Some aggressive medical treatments may have a detrimental impact on your teeth and gums.
Be faithful with homecare. The better job you do keeping your mouth healthy, the less time and money you will need to spend at the dentist.
Be sure you have a dental home where you feel comfortable discussing changes in circumstances. Partnering with your dental team is essential. Great communication is key to success.
As we cross our fingers that the warm spring air will be here soon, I would be remiss not to remind everyone that springtime is a perfect time to brighten your smile. Ask you dentist or hygienist what whitening products are best for you.
Dr. Stephanie McGann, who has more than two decades of dental practice experience, is a resident of the Unionville area and along with her partner, Dr. Marie Scott, practice at The Brandywine Smile Center, a family-friendly dental practice in Concordville. Dr. McGann also owns a practice in Valley Township, Rainbow Valley Dental. She is the current President of the Chester/Delaware Dental Society and she is a Fellow of the Academy of General Dentistry.