By Kelly Hockenberry, Columnist, The Times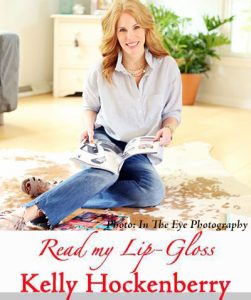 I have an embarrassing confession. (How many times have I revealed pieces of myself to you, the reader? Countless. Yet, I still manage to show my face in public.)
In high school, I kept a clothes diary. Yep, I did (vapid as it may seem).
An elaborate, daily log of what I wore (including accessories) so as not to repeat for as long as possible. I had an elaborate asterisk system for outfits that worked (four stars) and the duds (one star). I mean, I kept this thing for YEARS. It was a binder with tabs, people.
(Cringing)
I'm only divulging this information because I am confident that I am not alone. In fact, I can list at least five friends off the top of my head, lest ye be too judgy.
Fast forward to 2018.
Now, we have technology designed to do the legwork for you. Amazon's Echo Look is available for a mere $200 and offers the user the option to photograph (hands free and from a multitude of angles), catalogue, and "favorite" the clothes in your closet. It even allows you to organize by color, season, style, occasion, etc. Essentially, it is a personal lookbook that can be shared with friends. (The mom in me is waving a little red flag signalling "bullying risk"….but that is a whole different write-up).
In my opinion, the best part (depending on your confidence level) is the "style check" feature, which is the ability to compare two different ensembles with the input of a virtual stylist.
You heard me.
Confused about what to wear to happy hour with girlfriends? Feeling clueless regarding what is appropriate for a cocktail party? Stumped as to which shoes go best with your cropped denim? Share your images via social media/text and receive input from fashion experts. (Although, to be
honest, I'm still not sure the details on exactly who these "experts" are or their qualifications). The concept is genius, though.
WHY DIDN'T I THINK OF THIS?
The Echo Look also has the Alexa type features we are accustomed to: ask questions, get weather info, set alarms, check traffic, play music, and on and on and on.
What do you think? Does this latest advance in the cloud based service appeal to you? My husband's reaction was a firm "no".
His quote: "what does it say about our society that we need an app to tell us what we should be wearing?"
But perhaps he feels this way, in part, because he's had a real-life Echo Look standing by his side for the past few decades.
😉 Happy Weekend