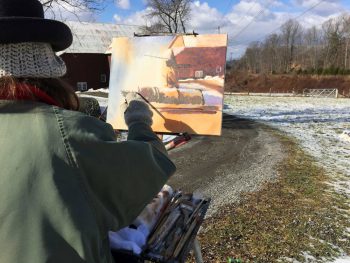 CHADDS FORD — The Chadds Ford Historical Society hosts its 10th annual Plein Air art event called Paint Out Chadds Ford from Thursday, February 1 through Saturday, February 3, 2018. Artists from the Mid-Atlantic region will be painting outdoors around the Chadds Ford area as well as at the Barns Brinton House, John Chads House and along Brandywine Creek.
Paint Out Chadds Ford celebrates local art and artists, and harkens back into time when early American illustrators and painters such as Frank Schoonover, Howard Pyle, Bayard Berndt, and N.C. Wyeth were inspired by the beauty of our region and painted outdoors en plein air.
The Chadds Ford Historical Society will host a special art exhibition at the Society's Barn Visitors Center on Saturday evening, February 3. From 6:00 p.m. to 8:00 p.m. the public is invited to an Artists Reception and a wet paint sale. Admission is $15 per person ($10 for Chadds Ford Historical Society members), and includes light refreshments. Guests can meet the artists, and view the work just completed in the Paint Out Chadds Ford plein air event as well as select art featuring the Brandywine Valley. All exhibited artwork is available for purchase. A portion of the proceeds from each painting sold helps support the Chadds Ford Historical Society.
For more information about Paint Out Chadds Ford and to purchase tickets please visit our website www.chaddsfordhistory.org. Tickets are also available in advance or on the night of the reception at our Barn Visitor Center at 1736 Creek Road