By Denny Dyroff, Staff Writer, The Times
West Chester's Braham Crane put together his highly-acclaimed dance company in Chester County more than 10 years ago and called it A.S.H. (which stands for "Artists.Simply.Human").
A.S.H. made its area debut in 2004 with a pair of shows at the Painted Bride Art Center. In 2006, Crane brought his company back to Philly for a show at the prestigious Annenberg Center venue on the campus of the University of Pennsylvania.
Over the years, A.S.H. has developed into one of the most respected modern dance companies in America. It also changed its punctuation and became simply ASH. The 2017-2018 tour season for ASH began in October in Orlando and will conclude in May in Miami.
Some of the stops along the way are Orlando, Tysons Corner, Nashville, Detroit, Nashville, Boston, Santa Clara, New Brunswick, Jacksonville, Dallas, Houston, Chicago, Denver, Pittsburgh, Orange County, Tacoma, and Philadelphia. The local event will take place this weekend at Loew's Philadelphia Hotel (1200 Market Street, Philadelphia).
"It's a dance education type event," said Crane, whose mother Joyce Crane ran Crane Performing Arts in West Chester for more than 25 years before recently closing shop. "It's not like dance competition events.
"This year, we're going to 18 different cities and then we'll finish at Nationals in Orlando this summer. We have many faculty members who are tops in the industry. They all travel to different cities.
"In Philly, it will be a three-day event with 100 companies and around 1,000 dancers. There will be two performance showcases with about 200 numbers over the two shows and a closing show on Sunday with the best numbers from the performance showcases along with faculty performances.
"The event will also have workshops with master teachers as well as competitions and showcases. There will be a lot of scholarships provided by ASH, various colleges and different sponsors. There will be over $150,000 in scholarships just at the Philly event."
All current styles of dance will be represented including jazz, tap, hip hop, ballet, jazz-funk and contemporary.
"There will be activities for teachers, parents, dancers and spectators," said Crane. "There will be 375 pieces by dancers. We expect about 1,500 attendees. It will run from 9:30 a.m.-10 p.m. on Friday and 4-11:45 p.m. on Saturday with the final event on Sunday at 2 p.m.
"All the shows are free and open to the public. And, all the showcases will be broadcast live via the internet at www.ASHWebcast.com."
Video link for ASH Productions — https://youtu.be/ZdWc7P2mdAc
The event will run from noon on January 12 until 3 p.m. on January 14. The final activity will be the "Closing Show" on Sunday at 2 p.m. For more information on activities and schedules, call 855-ASH-Dance (855-274-3262) or visit https://ashdance.com.
The music of Memphis is legendary – a melting pot of soul, blues, gospel and good old rock-and-roll.
The impressive list of musicians who got their start in Memphis in the 50s and 60s includes such luminaries as Aretha Franklin, Elvis Presley, Jerry Lee Lewis, Otis Redding, B.B. King, Johnny Cash, Booker T. & the M.G.'s, Isaac Hayes, Roy Orbison, Percy Sledge, Carl Perkins and Sam & Dave.
Memphis is also known as the home of Stax Records – the label that gave the world Wilson Pickett, Carla Thomas, the Bar-Kays, Eddie Floyd, Little Milton and Inez Foxx – as well as Redding, Sam and Dave and Booker T. & the M.G.'s.
Stax still has a roster of top-flight acts such as Ben Harper, Leela James, Angie Stone, Nikka Costa, Soulive and Lalah Hathaway.
It also is the home of one of the best new bands to come out of Memphis in years – Southern Avenue.
On January 12, Southern Avenue will bring its brand of Memphis music to the area for a show at the World Café Live (3025 Walnut Street, Philadelphia, 215-222-1400, www.worldcafelive.com).
The band takes its name from Southern Avenue, a Memphis street that runs from the easternmost part of the city limits all the way to Soulsville, the original home of Stax Records.
The musical collective features five young-but-seasoned musicians who came from diverse musical and personal backgrounds to create music that spans their wide-ranging musical interests. The band's self-titled debut album offers a blend of gospel- tinged R&B vocals, roots/blues-based guitar work and soul-inspired songwriting
Southern Avenue features Memphis-born, church-bred sisters Tierinii and Tikyra Jackson, respectively a soulful, charismatic singer and a subtle, powerful drummer; guitarist Ori Naftaly, an Israeli-born blues disciple who first came to America as an acclaimed solo artist; versatile jazz-inspired bassist Daniel McKee; and keyboardist Jeremy Powell, an early alumnus of Stax's legendary music academy.
The band began with the nucleus of Tierinii Jackson and Naftaly.
Naftaly, a native of Tel Aviv, Israel, moved to the United States in 2013. He represented Israel at the International Blues Challenge in Memphis and then decided to stay.
"Ori was in Memphis with his solo band and was looking for a singer," said Tierinii. "He asked around and I was recommended to him. He looked at my stuff online at YouTube. I came to meet with him and everything was good."
Naftaly said, "When I moved to Memphis, I met Tierinii. I went to hear her sing and I was amazed. I asked her to join my band and she said yes. She introduced me to her sister who is a great drummer.
"We played together for three months and realized we had to start our own band and not play in the Ori Naftaly Band. We decided to form our own band and that's when Southern Avenue started. Jeremy came next and then we met Daniel."
The band quickly became a tight unit – and found its groove.
"My sister and I have our roots in gospel," said Tierinii. "We always sang in church when we were growing up. But, we weren't allowed to listen to rock-and-roll – or even snap our fingers."
Still, the powerful singer was able to find a way to listen to the music that influenced her greatly.
"My biggest influences are Aretha Franklin, Michael Jackson, James Brown and Tina Turner," said Tierinii. "And, there was always the gospel music.
"The magic of Southern Avenue is the balance between our soul and gospel influence and Ori's blues background."
Naftaly said, "We recorded our debut album in two parts. It started with a five-song EP in December 2015. Then, we did five more songs in August 2016 at Zebra Ranch Studio in Memphis. It was all recorded live. We only overdubbed a few vocals. We recorded analog and then took it to digital. Everything was done in one, two or three takes.
"Me and Tierinii do the songwriting. I write some of the songs by myself but most are with Tierinii. I do the music and she does the lyrics. We really cross genres. We call it Memphis music – blues, soul, rock and funk. We are really trying to represent the Memphis sound and what the future will be."
Tierinii said, "I was born, bred and raised in Memphis. The Memphis sound is alive. I'm excited. I'm like the mascot – the people's pet."
Video link for Southern Avenue – https://youtu.be/cfQzB5kZ60A.
The show at the World Café Live will start at 8:30 p.m. Admission is free with an RSVP – www.worldcafelive.com.
Other upcoming shows at the World Café Live are "Philly Loves Bowie Presents: The World Premiere of SIGMA KIDS" on January 11, Osler Circle on January 13 and Karl Blau, Birdie Busch, and Heatwarmer on January 17.
On January 13, Charlie Cooper and his long-time group The HumblemanBand will perform at the Mermaid Inn (7673 Germantown Avenue, Philadelphia, 215-247-9797, www.themermaidinn.net).
"The HumblemanBand was formed in1999," said guitarist/songwriter/vocalist Charlie Cooper, during a phone interview from his office on Philadelphia. "I was in a band with our drummer Buck Buchanan. Three of us were living near each other in South Philly and we gradually picked up people.
"The third guy was bassist Bruce Koch, who just died a year ago from a massive heart attack. That was a real loss – as a friend and as a bandmate. We weren't sure we were going to pick up the pieces. We were using hired hands to fill in. We just recently added a permanent bass player – Boz Heinly, who lives in Plymouth Meeting.
"Now, there are five of us in the band and four of us live on the same block of Johnson Street in Germantown. We get along really well musically and as friends. We have a lot of respect for each other."
The band's current lineup includes Wain Ballard on guitar, Kim Empson on vocals and percussion, Heinly on bass, Buchanan on drums and Cooper on vocals and guitar.
"We put out an album a few years ago called 'Least Bad of Humbleman 1984-2009'," said Cooper. "That album was a 25-year compilation starting with our days in 1984 as a punk band called The Proles. We released our most recent album 'Late Bloom' in fall 2015. It was self-produced – mostly D.I.Y.in my basement using CakeWalk. We went into the studio for the rhythm section and then put on overdubs and the rest.
"We're actually due to do some recording. We hope to put out an EP later this year. We went out to Standing Rock (Indian Reservation) on Thanksgiving and a brand-new song about the American Indian in the 21st century came out of that. We have another new song called 'Tattoo Removal Man.' As a band, we try to play good-time music — and be smart."
Video link for the HumblemanBand — https://youtu.be/uDk9751ZLd0.
The HumblemanBand show at the Mermaid Inn will start at 9 p.m. on January 13. Tickets are priced at $8.
Other upcoming shows are "Poetry with Veronica" on January 17.
"Les Miserables," which is being presented as part of the Kimmel Center's Broadway Philadelphia series, is running through January 21 at the Academy of Music (Broad and Locust streets, Philadelphia, 215-731-3333,www.kimmelcenter.org).
Based on Victor Hugo's novel, this sweeping epic is one of the most popular musicals in history, a tale of love and revolution that draws audiences in time and time again. Its classic score, written by Herbert Kretzmer and Claude-Michel Schonberg, includes the timeless "I Dreamed A Dream," "One Day More" and "Do You Hear the People Sing."
The main story is the tale of Jean Valjean, a fugitive whose devotion to doing the right thing leads to problems as he engages in a life-long struggle to elude Inspector Javert, a self-righteous and cruel police officer.
On the surface, Valjean has the role of the good guy while Javert looks like the villain. In reality, Javert is merely obsessed with justice. He respects the law above all else and relentlessly pursues Valjean, hoping to bring the escaped convict to justice. He firmly believes in the justice of the law, and has no room for mercy. In the end he commits suicide, broken by the mercy he experiences from Valjean.
"Les Misérables" has been able to remain popular for such a long time because of the now-familiar music — and because the story is such a universal story. It is a story that has the ability to touch people – and it's the fifth-longest running Broadway musical ever.
Video link for "Les Misérables" —  http://lesmiz.com/
"Les Misérables" will run from January 9-21 at the Academy of Music. Ticket prices range from $20-$139.
Kennett Flash (102 Sycamore Alley, Kennett Square, 484-732-8295, http://www.kennettflash.org) will have Jackets in July and Up After Dain on January 11, Apache Trailsand Black Horse Motel on January 12 and Bel Heir and Stone Shakers on January 13.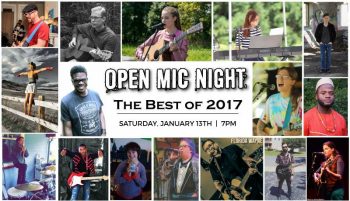 The Steel City Coffee House (203 Bridge Street, Phoenixville, 610-933-4043, www.steelcitycoffeehouse.com) will host "Steel City's Best of Open Mic 2017" on January 13 featuring Greg Sover, Florida Wayne, Jon Eirich, Anna Spackman, Alyssa Dodge, Larkspur Gunther, Sara Chodak, Abby Cohen, Shawn Cephas, Julianna Baker Cohen, Gene Groeschel, David Saul, Steivan William Johnson, Alyssa Garcia, Magic Zach, Ikechukwu, and Jason McGovern.
Chaplin's (66 North Main Street, Spring City, 610-792-4110, http://chaplinslive.com) will have Gamma Wolf & Ryan Kilo on January 13.
The Ardmore Music Hall (23 East Lancaster Avenue, Ardmore, 610-649-8389, www.ardmoremusic.com) will present Splintered Sunlight (Grateful Dead tribute) on January 11, New Orleans Suspects and the Billy Walton Band on January 12, Antibalas and Worldtown SoundSystem on January 13 and Larry Keel Experience + John Kadlecik on January 14.
Burlap & Bean Coffeehouse (204 South Newtown Street Road, Newtown Square, 484-427-4547, www.burlapandbean.com) will present
All Good People – A Tribute to Yes on January 12 and Michael Braunfeld and Larry Ahearn on January 13.
The Merriam Theater (250 South Broad Street, Philadelphia, 215-893-1999, www.kimmelcenter.org) will host Paula Poundstone on January 11.
The Sellersville Theater (24 West Temple Avenue, Sellersville, 215-257-5808, www.st94.com) will present Cherry Poppin' Daddies and Slicked Up 9s on January 11, Bruce In The USA (Bruce Springsteen Tribute) on January 12, Lights Out (Frankie Valli & The Four Seasons Tribute) on January 13, and Albert Lee and The Cryers on January 14.
Theatre of the Living Arts (334 South Street, Philadelphia, 215-222-1011, www.lnphilly.com) will host Cracker & Camper Van Beethoven on January 12, Dorothy on January 13 and Oteil and Friends on January 17.
Fillmore Philadelphia (1100 Canal Street, Philadelphia, 215-309-0150, www.thefillmorephilly.com) presents Passion Pit on January 14 and Stick Figure on January 17.