By Gail Supplee Tatum, Columnist, The Times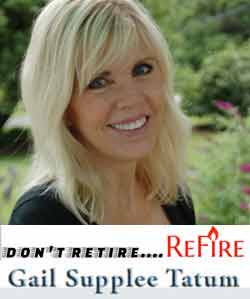 Happy New Year!  Does the New Year excite you?  Does it scare you?  Do you ask yourself, "What is my mission going to be?  What am I going to do, in the coming year, if anything, to improve my health, my relationships, my finances, my work, and/or any other aspect of my life?"
Do you ask others the same questions, in order to possibly find inspiration or maybe to find someone who shares the same sentiment as you, positive or negative.  If it's positive, then I will fuel your fire.  If it's negative, my hope is that something in this article will give you food for thought.  Is your mission a continuation of what you started last year or longer ago?  What does that mean for you?  Is it just another year or do you approach the New Year, like you did as you prepared for the first day of a new school year, with anticipation and excitement about what lies ahead.  You probably bought new clothes, new shoes and new school supplies. You felt like you could conquer the world! When you feel confident and good about yourself, you can go to that meet-up, or interview and know that you look good which translates to your performance.
We don't need the turning of a new year to set goals or follow through on something(s) that you've been putting off.  A new year is the time that most do set out to "turn over a new leaf".  No matter where you are in the enormous realm of possibilities, you must start by knowing you have a purpose to fulfill here on earth.  You have a mission.  Your mission can be small and subtle or big and audacious. There is only one thing for certain, it must be your own.  In order to know that, you must know yourself.   Being true to yourself and knowing who you are and what you stand for is the first step towards greatness.
To assist you in opening your mind to the possibility of who you are and what your mission is, consider and answer for yourself the following questions:
If money were not an object, what would you be doing? If you could wake up in the morning, spring to your feet, excited for the day, and do what brings joy and fulfillment to you and others, what would that look like?  It may take you just a moment to answer that question or it may take a little while to think that through.  This answer will help you identify who you are and what you stand for.
Recollect times when you were not being true to yourself, where you went against your intuition and just "played it safe", because you didn't want to "make waves" or make someone angry. In that moment, by playing it safe, you found that it didn't make you feel better.  As a matter of fact, it made you feel bad about yourself.  Now, go back to those times and replay the situation and what it would have looked like if you took a stand for yourself and expressed your difference of opinion.  How did taking a stand for yourself and being bold and fearless feel?
Live in gratitude. Gratitude for where you are right now.  Stand quietly in that space and let your inner voice rise up and speak to you.  Find time, each day, if only for a moment and give thanks for little things and for big things.  I'm thankful for my health, my family, my close friends and for a roof over my head to keep me warm and safe. Sometimes, as we acknowledge our blessings and show gratitude, we open our hearts to the world around us.  Is there something you see where you can contribute?
I can speak to this subject very well because for most of my life, I played it safe.  Knowing who I am and what I stand for, in the last 8 years and doing what I was put on this earth to do has made these last 8 years, the best of my life.  It's better late than never but my advice to you is to know yourself and know your power sooner rather than later.
To quote Oprah Winfrey – "Cheers to a new year and another chance to get it right!"