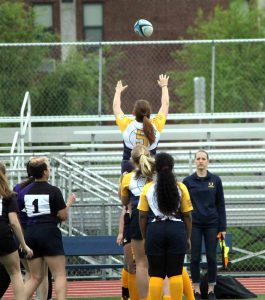 Become part of one of America's fastest growing sports: rugby!
Signups for the Spring 2018 season are now underway — with high school age teams for both boys and girls fielded for a season that begins in March.
While the boys team — which has won a State Championship in recent years and reached the State Playoffs in 2017 — is always looking for new players, the girls' team is especially seeking to fill out the roster.
For Unionville High School girls, the rugby team is an excellent opportunity to play a team sport — there are great opportunities for new players to get playing time this season. No experience is necessary, just a desire to play hard, have way too much fun and make new friends.
In addition to being a great and fun sport (with no more injury risk than other girls' sports such as soccer or volleyball), it looks great on college applications — and because of Title IX, many colleges are seeking women rugby players for their scholarship programs, so this could be a great opportunity for the right girl!
With new exposure as part of the Olympics, rugby is growing very quickly in the US — and is poised to become one of the most popular participation sports in the next decade. All of our coaches are certified by RugbyUSA — they teach proper techniques to keep players safe — and pass a full background check as required by the Unionville-Chadds Ford School District. Although rugby is not yet a PIAA-sanctioned sport, the program is now closely aligned with and supported by the school district.
Home games are played at the UHS Stadium — with practices after school and Saturday, starting in February at the school's practice fields. Matches are played primarily on Sunday afternoons.
To learn more about the girls' team, contact Head Coach Megan Brosius at meganbrosius@yahoo.com. For inquiries about the boys' team, contact Head Coach Brian Dunbar at bdunbar1993@yahoo.com or visit www.unionvillerugby.org for more information.
Registration for the 2018 season closes on Jan. 31, 2018 so act now!