By Kelly Hockenberry, Columnist, The Times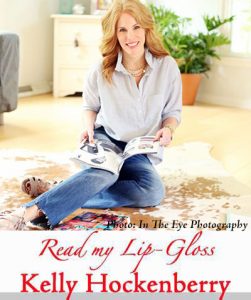 Ho Ho Ho! Ready for the Holiday Super Six? Anyone else in "Present Panic Mode" like I am?
While online shopping offers many conveniences, the sheer volume of options has me paralyzed, overwhelmed, and unable to get past "add to cart". I have a tendency to second guess and I worry that what I see on my computer might not be as awesome in person. (More issues than Vogue. That's me.)
I realize it may sound high maintenance, but, I prefer to see and touch a gift before I spend money on it. So, isn't it cool that we have some AMAZING shopping opportunities right here in our community? Like, crazy good stuff!
Here are a handful of my picks that would make me pretty happy on December 25th. And, isn't it kind to be able to offer your loved ones a plethora of choices to ease the stress of what to put under the tree?
(Always thinking of others. That's me, too) OK, Santa…take note:
Metallic Star Elbow Patch Cashmere Sweater – available at No. 109 Shop
What woman wouldn't want a slouchy, cozy, cashmere sweater for Christmas? Remember my "price per wear" rationale? Essentially, if you purchase an item that you will reach for time and time again, it justifies paying a bit more (Econ. 101). This sweater is classic with a cool twist. Dress it up with black velvet pants or down with denim and sneakers. Find it at No.109 Shop located at 109 W. State Street, Kennett Square.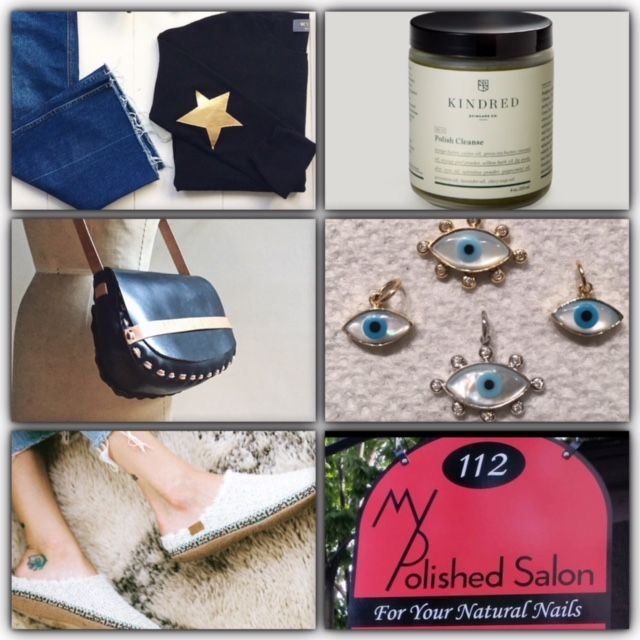 Kindred Polish Cleanse – available at Houppette
High quality skin care products make a great gift! Especially in the cold months of winter, keeping the skin supple and hydrated is a challenge. The key to a healthy glow comes from proper exfoliation. I am obsessed with Polish Cleanse by Kindred because it is an all-natural option that gently sloughs off any dry, flakey skin. This is a critical step in your routine because a rough surface prohibits effective absorption of any moisturizer you put on top of it. This miracle concoction will brighten your complexion, soften fine lines, and clear up any blemishes. Available at Houppette, 101 W. State Street, Kennett Square.
Arden + James Handwoven Saddle Handbag – available at Arden + James
Handbags are one of my favorite accessories. But, I'm not talking about an ordinary handbag. Carrying this kind of purse is like walking around with a piece of art on your arm. I know. I'm lucky to be the proud owner of an Arden + James tote and EVERY SINGLE TIME I use it, I get compliments. Founder and designer, Bri Brant, is a super talented lady who will help you find exactly what you've been dreaming of. While it may be too late to special order a custom piece in time for Christmas, a gift card would still make a spectacular present! Check for available,
in-stock, inventory via the website at www.ardenandjames,com or visit the Chadds Ford Village Barn Shops located at 1609 Baltimore Pike, Unit 400a, Chadds Ford (wed-fri 10-5 / sun 12-5 or by appointment) or Kennett WORKS located at 432 S. Walnut Street, Kennett Square. (fri-sun 11-5).
Evil Eye Charms – Alexis Kletjian Jewelry
Ooooooh! Unwrapping a jewelry box on Christmas morning is the quintessential, holiday experience, isn't it? These evil eye charms are SO fabulous! Go into 2018 warding off any bad energies once and for all. Customizable with and without diamonds in gold, platinum, or silver, they can be added to a chain necklace or charm bracelet. I've got my "eye" on this one, Santa! (hahahahaha) Shop the Alexis Kletjian Gallery located at 131 E. State Street, Kennett Square.
TOMS Slippers – Green Eyed Lady Boutique
The TOMS philosophy of One for One (gifting a pair of shoes to a child in need with your purchase) is enough to make this a perfect present for the holiday season. PLUS, these are really cute, cozy, shearling, indoor/outdoor shoes. Guaranteed you will be wearing them all winter long. Pick up a pair at Green Eyed Lady located at 100 E. State Street, Kennett Square.
Gift Card – My Polished Salon
You know that one woman on your gift list that you have absolutely no idea what to get? I have the solution: a gift card for a mani/pedi. Right now My Polished Salon is running a special – Buy a $50 gift card and it is worth $55! The girls there are the BEST. Hands down! (Get it?)
Visit 112 S. Union Street, Kennett Square. Call 484-732-8694 for an appointment.
Voila! Holiday shopping complete! Check that box. Hope you enjoyed my picks – as always, feel free to let us know what is on YOUR gift list this holiday! Leave your comments in the section below.
Happy Weekend