By Denny Dyroff, Staff Writer, The Times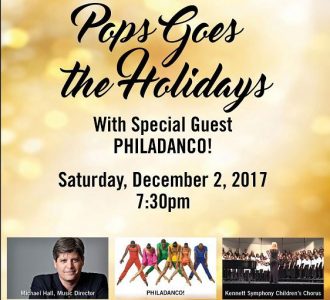 The Kennett Symphony invites you to join with its musicians and special guests for a festive holiday celebration this weekend.
On December 2, the Kennett Symphony (http://kennettsymphony.org/) is presenting "Pops Goes the Holiday with Special Guest Philadanco" at 7:30 p.m. at Unionville High School (750 Unionville Road, Kennett Square).
Under the guidance of Conductor and Music Director Michael Hall, the talented symphony from Chester County will perform a program of seasonal songs that will fill the air with the magic of the holidays.  Special guests Philadanco and the Kennett Symphony Children's Chorus will join the Symphony for this special concert.
The program features Robert Wendel's "Christmas A La Valse," Ted Ricketts' arrangement of "Hark! The Herald Angels Sing," Vaughan Williams' "Fantasia on Greensleeves," Robert Chilcott's "The Time of Snow," Johann Sebastian Bach's "Orchestral Suite No. 3 / Suite En Bleu," John Higgins' "Christmas on Broadway," Kenneth Goldstein's arrangement of "God Rest Ye Merry Gentlemen," James M. Stephenson's "O Christmas Tree," Michael Finnegan's "Sing Along" and Leroy Anderson's "Sleigh Ride."
Tickets are $58, $50, and $35 with student tickets available at $10.
Stop Light Observations, a South Carolina band that visits the area for a show on November 30 at Bourbon and Branch (705 North Second Street, Philadelphia, 215-238-0660, bourbonandbranchphilly.com),is an alt/indie rock band that has been on the scene since 2013.
The band — Will Blackburn (lead vocals), John Keith "Cubby" Culbreth (songwriter, keyboards, vocals), Louis Duffie (guitar, synths, percussion) and Luke Withers (drums) — has an interesting origin to its name.
"There was an old man who sold newspapers on the same street corner in Charleston for 25 years," said Culbreth, during a phone interview  Monday afternoon from his home in Charleston. "He was the king of stop light observations.
"Everybody obeys the command of robotic life. But then, when you're stopped at a light, there is a brief moment to observe your surroundings."
Now, those moments probably still only exist in states with rigidly-enforced laws against driving and texting. Drivers in this area are much too distracted with their cellphones to look at anything but a small screen.
The moments may be on the downswing, but Stop Light Observations is definitely on an upswing.
The quartet's latest album "Toogoodoo" was well-received last year. This year, the band followed with an ongoing series of digital 45s, each with an A-side and B-side, entitled "The Volume." Stop Light Observation's debut album "Radiation" was released in 2013.
"The biggest difference between the two albums is that 'Toogoodoo' was a live album," said Culbreth. "It was recorded live at Toogoodoo's – an old haunted house in the boondocks outside Charleston.
"It was an all-analog recording studio set up in a haunted house. We spent three weeks at Toogoodo's recording the album.
"Now, we're working on a project called 'Volume.' 'Volume One' came out two months ago and 'Volume Two' will be released on December 8."
Like many bands these days, SLO has realized that it's more effective to release a series of singles rather than a full-length album.
"We're leasing digital 45s with an A-side and a B-side," said Culbreth. "We're living in a world where people are so distracted that albums don't work like they did. Instead, it's all about 45s.
"A single is a great way to release content. But, there is no artistic integrity – no connection. By also releasing a B-side, it creates a tie-in. Our B-sides have deeper integrity."
Stop Light Observations' roots go back pretty far.
"We started playing when we were back in school," said Culbreth. "The band's name came together five or six years ago.
"Will and I met in middle school. We knew each other but we weren't really friends. I was in a band in high school and I heard Will sing on Facebook.
"After that, I had a dream. A great spirit came to me and told me I had to call Will to be in the band. It was the most vivid dream I had ever had. So, I asked Will to join the band and he said yes. He came to a practice and we've been jamming together ever since."
Video link for Stop Light Observations – https://youtu.be/W_Yn_m-Xgmg.
The show at Bourbon and Branch, which also features Little Stranger, will start at 8 p.m. Tickets are $15.
Other upcoming shows at Bourbon and Branch are Kicking Sunrise on December 1, The Outside Eyes on December 2, Rents Due on December 5 and Christina LaRocca on December 6.
Over the last two decades, smooth jazz sax legend Dave Koz has played Philadelphia many, many times – and each show has been different from its predecessors. There have been romantic Valentine's Day shows, summer festival vibe shows and tours when he has brought along several top-flight jazz artists to share the bill. He also hosts ocean-going cruises on a regular basis.
"I stay focused on whatever I'm doing at the time," said Koz, during a phone interview.
Now, the nine-time Grammy Award nominee is on the road with his annual Christmas tour. Each year, Koz puts together a new, all-star lineup of artists for his holiday run, which has been going on for almost two decades. The tour will touch down in this area on December 3 at the Scottish Rites Theatre (315 White Horse Pike, Collingswood, N.J., http://scottishriteauditorium.com).
This year's 20th anniversary tour promises to be extra-special as it reunites Koz with two members of the original lineup — David Benoit and Peter White – and Rick Braun, a guest on many of Dave's holiday jaunts, dating back to the early years. Newcomer Selina Albright will also join in the festivities. Together, the five remarkable artists will perform fresh renditions of Christmas classics as well as a Chanukah medley and hits from their respective catalogs.
"For a nice Jewish boy, what's wrong with this picture?," asked Koz. "I love Christmas and I love being on the road at this time of the year. The show morphs and changes from year-to-year. We try to keep it fresh. That's the big thing.
"The impetus for the whole tour goes back to a conversation I had with David Benoit in 1997. My dad and his mom had both recently passed away. It was his idea to go on the road and make music for our parents. We did six or seven holiday shows and people liked it. The next year, Peter White came along. It's just kept growing ever since.
"What the tour has always been about is family. Now, the audience has adults who have been coming ever since they were kids. Now, they are bringing their children to the show — kids are actually bringing their kids."
Parents have no trouble deciding whom to bring. It's not that easy for Koz.
"Deciding who to bring out on tour with me each year can be tough," said Koz. "In January, we look at the options. It's like casting a movie. You have to find the right combination of people. I don't want any divas. I just want people who love what they do. It's about creating moments that are shared."
Koz has a good cast on the stage with him and a good production crew working behind the scenes.
"This is a big show with the lighting and everything," said Koz. "The lighting is almost like a character in the show. This is a two-hour show split with a 20-minute intermission. This is the kind of show that brings people together – a show that reminds us of a simpler time."
Video link for Dave Koz — https://youtu.be/qqFuNU3qhes.
The show at Scottish Rites will start at 7 p.m. Tickets are $85, $69, $59 & $49.
Years ago, the University of Pennsylvania's Annenberg Center (3680 Walnut Street, Philadelphia, 215-898-3900, www.annenbergcenter.org) was a Philadelphia hot spot for cutting-edge entertainment with a line-up of shows that featured groundbreaking dance companies, intriguing theater, avant-garde music and inspiring performance art.
In recent years, the Annenberg Center fell into a bit of a rut. The line-up of performers featured acts that returned year-after-year. The spark seemed gone.
Fortunately, all that has changed now with the arrival of a new Artistic Director.
The Annenberg Center for the Performing Arts' 2017-18 season, the first under the leadership of Executive and Artistic Director Christopher A. Gruits, features a return to a full dance series of six dance ensembles; premiere theatrical productions; musical artists from diverse genres including jazz, world music, classical and hip-hop; a three-week Cuba Festival, and family and holiday programming.
Four world premieres and nine Philadelphia premieres are scheduled for the Annenberg Center's stages and six artists or companies will make their Philadelphia debuts. The Annenberg Center launches its inaugural artist residency with renowned choreographer Mark Morris and a new residency partnership with The Chamber Orchestra of Philadelphia.
Gruits was Vice President and Executive Producer of "Presentations," the programming and broadcasting division of the Interlochen Center for the Arts, the world-renowned arts school and cultural center in Michigan. He produced more than 600 events each year with students, faculty, and visiting artists, closely coordinating between public programs and the school's curriculum, as well as live presentations and webcasts, music broadcasting on Interlochen Public Radio, and the Interlochen Arts Festival, one of the largest and most comprehensive summer arts festivals in the country.
Before coming to Interlochen in 2013, Gruits was Director of e-Strategy at Carnegie Hall in New York City, developing and implementing a highly successful strategic plan for Carnegie Hall's virtual presence, including broadcasts, ecommerce, social media, original web content, and Carnegie Hall's first mobile app.  He served for four years as an Artistic Projects Manager at Carnegie Hall, overseeing a wide range of artists and performances as well as artistic operations for the opening of the Zankel Hall performance space, and earlier as Director of Dilettante Music, the pioneering social media network for classical music, and in positions at the Seattle Symphony and the Brooklyn Underground Film Festival.
"I was very excited to come here a year ago from Interlochen," said Gruits, during a recent phone interview. "I wanted to bring new works to Philadelphia with artists Philadelphia hadn't seen before."
December's schedule of shows at Annenberg show that Gruits has things headed in the right direction.
"Spring Awakening" by the Penn Players is running from November 30-December 2 and "Stop, Rock and Rolls' by Penn Off the Beat is scheduled for December 1 and 2. The show on December 7 will be "An Evening with David Rawlings" and "Anything Goes" by the Penn Singers will be presented from December 7-9.
The comfortable venue in the heart of Penn's campus is hosting a pair of top-flight international acts back-to-back. On December 9, Irish Christmas in America will treat fans to Celtic holiday traditions. On December 10, Canadian Brass will get audience members in a holiday mood with its "Christmas Time Is Here" program.
Irish Christmas in America, now in its 13th season, evokes the rich historical traditions of Ireland with popular Irish music, song, and dance in an engaging performance rich in history and humor, staged against a backdrop of stunning photographic imagery. Produced by Oisín Mac Diarmada of Irish group Téada, it features special guest singers Niamh Farrell and Séamus Begley.
The show brings to stage the seasonal traditions of Ireland, where friends and family gather around the hearth or in pubs to share songs and stories. The warm and lively performance features traditional Irish music, thrilling step dance, compelling songs and carols in both English and Irish, and plenty of good Irish fun.
Champion step dancer Samantha Harvey lights up the stage, and joins in on piano with Diarmada, Grainne Hambley on the harp, and Seán Gavin on the uilleann pipes. Special guest dancer Marcus Donnelly joins the Philadelphia show in one of only three cities on the 26-date tour.
Canadian Brass celebrates the holiday season with "Christmas Time is Here," mixing classical brass standards, beloved Christmas favorites, and a lively sense of humor. Canadian Brass is made up of five talented musicians — founder and tuba legend Chuck Daellenbach plus top brass stars Caleb Hudson and Christopher Coletti (trumpets), Achilles Liarmakopoulos (trombone) and Bernhard Scully (horn).
Now in its 47th season, Canadian Brass has performed in virtually every major concert hall in the world, been seen by millions of people on television, sold two million of its approximately 130 albums worldwide and contributed over 600 new works and arrangements to the brass quintet repertoire. The band is renowned for genre-bending versatility and joyous performances.
The international vibe will continue with "ImproTech Paris-Philly :: Concert #1" on December 11 and performances of "The Great Russian Ballet" by the Moscow Ballet on December 18 and 19.
Celebrating its 25th anniversary, Moscow Ballet is staging "Great Russian Nutcracker," featuring an over-the-top production and world-class Russian artists. Also featured will be larger-than-life puppets, nesting dolls and gloriously hand-crafted costumes.
"We have a lot of interesting things in our season line-up," said Gruits.
Video link for Canadian Brass — https://youtu.be/U3fe9dHV7J4.
Video link for Moscow Ballet — https://youtu.be/LXGgCCs5Oio.
Kennett Flash (102 Sycamore Alley, Kennett Square, 484-732-8295, http://www.kennettflash.org) will have Julia Scotti and Joe Bublewicz on December 1, Countdown To Ecstasy – A Tribute to Steely Dan on December 2; and Open Mic with guest host William Rose on December 3.
The Steel City Coffee House (203 Bridge Street, Phoenixville, 610-933-4043, www.steelcitycoffeehouse.com) will host Jutaun with special guest Joy Ike on December 1.
The Colonial Theatre (Bridge Street, Phoenixville, 610- 917-1228, www.thecolonialtheatre.com) will present City Rhythm Orchestra Holiday Style on December 3.
Chaplin's (66 North Main Street, Spring City, 610-792-4110, http://chaplinslive.com) will present Herman & Friends on December 2.
The Ardmore Music Hall (23 East Lancaster Avenue, Ardmore, 610-649-8389, www.ardmoremusic.com) will have J.E.D.I. (Jazz Electronic Dance Improvisation): members of Brazilian Girls, Lettuce, Break Science & The Nth Power and Let's Danza! (feat. members of Brothers Past & Particle) on November 30; Splintered Sunlight (Grateful Dead tribute) and The Quixote Project plays Garcia & Grisman on December 1; Consider The Source feat. David Fiuczynski of Screaming Headless Torsos, iNFiNiEN, and Gnarbot on December 2; Sherwood Brothers: A Very Merry Acoustic Christmas and Stella Ruze on December 3; and Steve Earle & The Dukes and The Mastersons on December 5.
Oddity Bar (500 Greenhill Avenue, Wilmington, Delaware, 302-668-1078, https://www.facebook.com/odditybar) is hosting "Winter Warm Up featuring Nalani & Sarina along with Suga Grits, Kira Alejandro and Noelle Picara on December 1; and Tony Travalini & The Still Lifes and Cerebelles on December 2.
The Keswick Theater (291 N. Keswick Avenue, Glenside, 215-572-7650, www.keswicktheatre.com) presents Sinbad on December 1, Jackie Evancho's Holiday Show on December 2, Todd Rundgren on December 3, Need to Breathe on December 4 and Theaterworks USA's "A Christmas Carol" on December 6.
The Sellersville Theater (24 West Temple Avenue, Sellersville, 215-257-5808, www.st94.com) presents Patterson Hood (of Drive By Truckers) on November 30; Christmas With The Celts on December 1; John Denver Christmas starring Ted Vigil on December 2; Sister's Christmas Catechism on December 3; Joe Henry Thrum Tour w/ Special Guest Rose Cousins on December 4: and Vinnie Moore w/ Gus G. on December 6.
The Oddity Bar in Wilmington, Delaware, 302-668-1078, https://www.facebook.com/odditybar) is hosting "Winter Warm Up featuring Nalani & Sarina along with Suga Grits, Kira Alejandro and Noelle Picara on December 1; and Tony Travalini & The Still Lifes and Cerebelles on December 2.