By Denny Dyroff, Staff Writer, The Times
Thanksgiving is looming just around the corner and that means a huge number of Christmas-related events will be filling the event calendar over the next few weeks.
Fortunately for those who are not yet ready to listen to carols and be bombarded by Christmas sales non-stop, there are several special events around the area this weekend that are not holiday-related events.
This weekend, the Greater Philadelphia Expo Center (100 Station Ave., Oaks, 484-754-3976, http://www.phillyexpocenter.com) is going to the dogs.
On November 18 and 19, the National Dog Show will be held at the Greater Philadelphia Expo Center – from 8 a.m.-6 p.m. on Saturday and 8:30 a.m. -5 p.m. on Sunday – and Santa Dog will not be making an appearance.
The show's sponsor – the Kennel Club of Philadelphia – will host two all-breed dog shows with completely different competitions each day. The annual event is one of only a handful of "benched" events in the United States.
Many who are not familiar with competitive dog shows may find themselves wondering what the difference is between a benched dog show and a non-benched dog show.
A benched show is where the participating dogs are required to be on assigned benches when they are not being shown in competition. This allows for all interested spectators, breeders, handlers and attendees to meet all the participating dogs, interact, ask questions, and share information about the various breeds present at the show. A non-benched dog show does not require all dogs to remain "benched" throughout the competition.
The National Dog Show, which has been held annually since 1933, is one of the four remaining (and the oldest) benched dog shows in the United States.
Visitors to the show will be able to check out more than 2,000 of the top American Kennel Club sanctioned dogs from across the country.
More than 150 different breeds and varieties compete for best of Breed, First in Group and the coveted title of Best in Show. Each day brings different competitions and attractions.
Saturday is The National Dog Show Presented by Purina, taped for telecast nationwide on Thanksgiving Day by NBC. It is the most widely viewed dog show in America. Sunday's show offers more canine competitions, enhanced athletic dog exhibitions plus family-friendly activities and hands-on fun.
There will be a full schedule of events each day, including breed judging and demonstration events. The exhibitors at the show will be competing for prizes in categories featuring more than 160 different canine breeds in seven main groups — terrier, toy, working, sporting, hound, non-sporting and herding.
From 1-6 p.m. on November 18, NBC-TV will film the "Group" and "Best in Show" competitions for "The National Dog Show Presented by Purina" show which will air on Thanksgiving Day at noon immediately following the Macy's Thanksgiving Parade.
On November 19, there will be three special canine-based presentations in Hall D's Family Fun Zone — "Diving Dogs," "Freestyle Flying Disc," and "Agility Dogs." The area will also feature dog-themed face painting, caricatures and more.
Admission either day is $16 for adults, $7 for children (ages 4-12) and free for children (3 and under).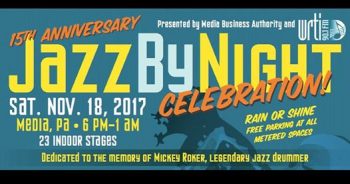 On November 18, Media will host the 15th Anniversary Jazz by Night Celebration (State Street, Media, 610-566-5039, www.mediajazzbynight.com) from 6 p.m.-1 a.m. The music will be performed on 23 indoor stages around the downtown area.
The roster of top-flight jazz acts performing at the Celebration includes Bootsie Barnes B-3 Quartet, Larry McKenna Trio, Johnny DeFrancesco Trio, Pasquale Grasso Quartet, Budesa Brothers feat. Michelle Beckham, Jazz By Night Celebration All-Stars, V.Shayne Frederick, Elliott Levin w/DMHotep, Hailey Brinnel Quartet, and Zazous.
The line-up also includes RK$TDY, The Sermon, Joe Kenney Band, Ken Ulansey & Phyllis Chapell, Rhenda Fearrington Duo, Bruce Anthony, Rev. Chris, The Midnighters, Ben Tinsley/Dimitri Papadopoulos, Dave Sanders, Stephen DiJoseph, Dallas Vietty Duo, Mitchell Cheng and Andrea Carlson.
Adult tickets are $20.
The 42nd Annual Unionville Art Gala, which will be held on November 17 and 18 at Unionville High School (750 Unionville Road, Kennett Square, 610-347-1600, www.unionvilleartgala.com), is the largest group art show of the season. It features approximately 70 professional and 50 student artists with works in a wide array of styles and types, including painting, photography, sculpture, jewelry, wood carving and ceramics.
There will also be an art silent auction with proceeds from all activities benefiting the education programs at Unionville High School.
The featured artist is MaryAnn Weselyk, a colorist who works mainly in oils.
Live music and light appetizers will be part of the opening night reception on Friday from 6-9 p.m. The show continues Saturday from 11 a.m.-4 p.m. with live music and access to view the art.
Admission is free and 30 per cent of all sales are tax deductible.
This weekend, Galer Estate Vineyard and Winery (700 Folly Hill Road, Kennett Square, 484-899-8013, www.galerestate.com) celebrates its sixth anniversary with a pop-up show by local painter John Hannafin, who will include newly painted images of the winery and vineyard.  The painting show starts November 17 and continues through November 19 with live music every day, plus food offerings, winery tours and raffles.
Another art-related event this weekend is The Haverford Guild of Craftsmen Fine Arts and Crafts Show will be held at the Agnes Irwin School (South Ithan Avenue and Conestoga Road, Rosemont, http://haverfordguild.org/) on November 18 from 10-7 p.m. and November 19 from 10-4 p.m.
The 2017 Holiday Fine Craft Sale at Historic Yellow Springs (1685 Art School Road, Chester Springs, 610-827-7414, www.yellowsprings.org) is scheduled for November 18 and 19 from 10 a.m.-5 p.m. each day. There will also be an "Opening Reception" on November 17 from 5:30-8:30 p.m.
The event, which will be held in Historic Yellow Springs' Washington and Lincoln Building Galleries features a huge selection of artwork and crafts created by many of the area's top-flight artists and artisans. Some of the featured genres are woodworking, painting, ceramics, jewelry, glass, pottery, photography and fiber arts.
The Chester Springs Studio is a vibrant arts center at Historic Yellow Springs.  Founded in 1978 as an offshoot of Historic Yellow Springs, the Studio grew in reputation as a nationally-known home for the visual arts, particularly in the areas of painting and ceramics.
Admission to the popular annual event is $5.

On Saturday, the always-popular annual St. Gabriel's Christmas Bazaar & Craft Fair will be held from 10 a.m.-4 p.m. at St. Gabriel's Hall (Route 48, Avondale, 484-614-5354).
The Saint Gabriel Christmas Bazaar and Craft Fair draws artisans and vendors from across the tri-state area. Some of this year's featured items will be handcrafted jewelry, home decorations, folk art, specialty candles, and scarves.
Other attractions include a silent auction, a "50/50 Christmas-fest," porchetta broccoli rabe sandwiches and fresh mushrooms for sale.
The Strasburg Railroad (Route 741, Strasburg, 717-687-7522, www.strasburgrailroad.com) is gearing up for the Christmas holiday attractions with the santa Trains beginning right after Thanksgiving. But, it has one more special event to offer before then.
One of the most popular special events each year at the Strasburg Railroad is "Day Out With Thomas." Kids and Thomas the Tank Engine have a mutual love affair and it's in full bloom when Thomas encounters his fans up-close during his visits to the Strasburg Railroad.
Every year, the steam locomotive named Thomas makes several visits to Lancaster County where he entertains enthusiastic children and their parents. The locomotive, which has its own PBS television series, will be in Strasburg now through November 19 to participate in "Day Out With Thomas."
For more than 50 years, Thomas the Tank Engine and his Island of Sodor friends have been favorites of preschoolers and their parents. Based on "The Railway Series" (classic stories authored by a father who loved trains and wanted a shared experience with his son), "Thomas & Friends" has evolved into a rite of passage that inspires imagination.
America's favorite little blue engine will bring along a special guest for his stay in Lancaster County — his pal Percy. The locomotive named Percy has travelled from the Island of Sodor made his national debut in Strasburg last year.
Tickets for "Day Out With Thomas," which are $21, include the train ride with Thomas the Tank Engine, the opportunity to meet Percy and a bonus train ride aboard Strasburg Railroad's miniature steam train "The Pint-Sized Pufferbelly."  For an additional $6, a trip with Percy can be added to the package.
If your holiday shopping list includes friends or family who are collectors of antiques — or if you just like to shop for antiques for yourself — there is a special event this weekend that you should check out.
The Antiques at Kimberton Show will be held at the Kimberton Fire Company (61 Fire House Lane (off Kimberton Road), Kimberton, http://antiquesatkimberton.com) on November 18 and 19. The popular annual event will run from 9 a.m.-5 p.m. on Saturday and 11 a.m.-4 p.m. on Sunday with a $7 admission fee and free parking.
The well-attended annual event will feature more than 65 dealers whose booths will occupy over 10,000 square feet of exhibition space. Visitors will be able to shop for items from a wide variety of antiques categories, including furniture, paintings, jewelry, books and historical items. Additionally, dealers will be on hand to discuss their items and chat about antiques-related topics.
Another good option for gift hunting is the Pennsylvania German Folk Art Sale which is presented each year by the Lancaster Mennonite Historical Society (2215 Millstream Road, Lancaster, 717- 393-9745, www.lmhs.org). The event will open this weekend and run through December 31.
The annual sale kicks off on Friday with an opening reception from 6-8:30 p.m. The reception features craft demonstrations, live music, a variety of refreshments and displays of the work of more than 20 Pennsylvania artists.
The local artists will display their wares, covering a broad swath of traditional art forms originating in the communities of Swiss and German immigrants to Pennsylvania. This includes fraktur, a "broken" method of lettering originally developed to illuminate manuscripts; redware, low-fired ceramics made with red clay; and scherenschnitte, intricate patterns and scenes cut out of paper.
There will also be painted boxes, including traditional patterns and those featuring false graining; hand-woven textiles; and hand-quilted wall hangings. In addition to utilitarian offerings, some have a touch of whimsy, such as hand-carved wooden birds.
The Lehigh Valley Wine Trail (http://lehighvalleywinetrail.com) is presenting its annual "Nouveau Weekend" on November 18 and 19. "Nouveau Weekend" is a free event but some of the wineries charge for wine tastings. Event hours at all the wineries are Saturday from 11 a.m.-5 p.m. and Sunday from noon-5 p.m.
The eight wineries of the Lehigh Valley Wine Trail will debut the first wines from the new vintage during Nouveau Weekend. Wineries will also feature food and wine pairings for visitors to sample. Nouveau wines are bottled very young without barrel aging and, as a result, exhibit lots of fruitiness. These selections are light and fruity red wines that range from semi-dry to dry.
Participating wineries are Amore, Blue Mountain, Clover Hill, Franklin Hill, Galen Glen, Tolino, Vynecrest and Pinnacle Ridge.
The UniverSoul Circus (52nd Street and Parkside Avenue, Philadelphia, 800-345-7000, www.universoulcircus.com), which opened on November 3 and will run through November 27, is offering something different for circus fans. The performances, which will be held in the UniverSoul Big Top next to the Mann Music Center, blend traditional circus attractions with urban culture, hip hop tunes and world beat music.
Celebrating its 21st anniversary in Philadelphia, UniverSoul Circus has come full circle in its influence in the international entertainment marketplace — garnering the distinction of being known as a one-of-a-kind, must see attraction. Since its first performance in 1994, UniverSoul Circus has presented more than 10,000 performances to live audiences and has been seen in more than 60 million households on both local and national television networks.
UniverSoul Circus connects with progressive, upwardly mobile, urban pop cultures from around the world. Celebrating more than two decades under the big top, UniverSoul Circus features music, theatrical performances and incredible circus acts.
Returning by popular demand are the viral internet sensations The Fresh Clownsss. Hailing from Detroit, The Fresh Clownsss and their energetic and infectious dance moves have won over audiences and become a YouTube sensation with their popular dance, "JuJu On That Beat," garnering millions of views.
Also appearing at UniverSoul are the Xtreme Bikes fromChicago and the Bone Breaking Contortionists from Guinea.
Families will witness an amazing array of international human and animal talent including Elephants (USA), Teeter Board & Hand Vaulting (Gabon, Guinea, Ethiopia), Mixed Animal Act (Mexico) featuring Zebras and Camels, Horses (Gabon, Guinea, Russia), and perennial favorites Caribbean Dancers (Trinidad and Tobago).
Leading the charge this year is Ringmaster Lucky Malatsi of South Africa, a multitalented entertainer who brings his unbridled energy to center ring. Malatsi has been with UniverSoul Circus in a wide range of capacities during his 15 years with the company – from contortionist and hip-hop dancer to trapeze artist. Joining him will be the pint-sized Ringmaster's Sidekick extraordinaire, Zeke.
UniverSoul Circus is rated as one of the top two circuses along with Cirque du Soleil. UniverSoul's fresh approach to family-friendly live entertainment has garnered it a coveted spot as one of Ticketmaster's top ten most requested family events, along with other shows including Sesame Street Live, Disney on Ice, and Radio City Christmas Spectacular.
The circus will be in town now through November 26 at its site in Fairmount Park. Ticket prices range from $11-$35.
On November 19, it will be time once again for the Flyers Wives Carnival at the Wells Fargo Center (3601 South Broad Street, Philadelphia, https://www.nhl.com/flyers/community/flyers-wives-carnival).
The Flyers Wives Carnival is one of the longest-tenured and successful one-day charity events hosted by a professional sports franchise. Flyers Charities proudly support a multitude of non-profit organizations that provide educational and recreational resources to underserved youth, engage in important medical and healthcare research and countless community development initiatives across the Greater Philadelphia region.
The Flyers Wives Carnival offers families a fun-filled afternoon at a very reasonable price, all for a good cause. Fans have the opportunity to meet Flyers players on a very personal level and receive autographs and photos with players and alumni, alike. Activities include: interactive games against players, a dunk tank, shot-on-goal and coming back again this year, a 60-ft Ferris Wheel and Carousel at center ice.
Tickets are $25 for adults and $15 for children.
On November 18, "Nerdtino Expo 2017" will be held at Taller Puertorriqueño (2600 North Fifth Street, Philadelphia, www.tallerpr.org) from 11 a.m.-6 p.m.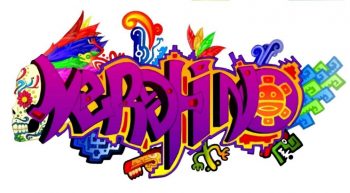 "Nerdtino Expo 2017" is the first Latinx Comic Book, Science Fiction, Fantasy, Horror, & Pop Culture Convention on the East Coast. Visitors will be able to celebrate the history and presence of Latinx, Hispanic, Xicano, Afro-Latinx, and Afro-Caribbean creators and fans in Geek Culture.
To combat the erasure of Latin Americans in popular culture and media, Nerdtino Entertainment Studios, LLC organized a Latinx Geek community on social media. Their goal was to promote the presence and history of Latinx, Hispanic, Xicano, Afro-Latinx, and Afro-Caribbean creators and fans in geek culture. From Comic Books and Fantasy to Science Fiction and Video Games, they brought together Cosplayers, Gamers, Writers, Artists, Academics, and casual fans under one banner: Nerdtino.
Participants at this weekend's event will be able to meet industry and independent professionals, partake in creative workshops and panels and learn about the history and presence of Latino creators in geek culture at this one-day festival.
Tickets are $25.
November 23 is Thanksgiving – a day known for lavish dining feasts and non-stop football games on television. It is also a holiday known for its parades and one of the best parades in the country is Philadelphia's annual Thanksgiving Day Parade, which is celebrating its 98th anniversary this year.
The parade, which traverses a 1.4-mile route along the Benjamin Franklin Parkway is the oldest Thanksgiving Day Parade in the country. As always,
Guests making special appearances this year will Mickey and Minnie, Tweety Bird, Cat in the Hat, a Tyrannosaurus Rex, Curious George, The Grinch, Mr. Potato Head and more.
This is an event that should definitely be experienced live – at least once.
Spectators can head down to the Center City Philadelphia on Thanksgiving and watch the parade from any number of good vantage points. The parade starts at 20th and Market streets at 8:30 a.m. It then moves toward 16th Street, where it turns left before turning left again onto Benjamin Franklin Parkway. It then follows the Parkway all the way to its conclusion at the Philadelphia Museum of Art.
This is the time of year when special events at Longwood Gardens (Route 1, Kennett Square, 610-388-1000, www.longwoodgardens.org) are getting ready to change seasons.
The 36th Annual Mum Fest, a top-flight exhibit featuring more than 20,000 colorful, blooming chrysanthemums in Longwood's huge conservatory, is running now through November 19. So, if you want to check it out, you have just a few days left.
The horticulturalists at Longwood Gardens have grown and developed the mums into a variety of unusual forms. They have groomed chrysanthemums to resemble clouds, torches, spirals, fans, 13-foot arches and more. The stars of the show are Longwood Gardens' "Thousand Bloom" mums.
Next on the agenda for the popular tourist attraction in Kennett Square is "A Longwood Gardens Christmas."
The festive holiday display at Longwood Gardens, which opens on Thanksgiving Day (November 23) and continues through January 7, features spectacular lights, lavish decorations, holiday music and colorful displays featuring thousands of brilliant poinsettias, brightly decorated trees and fragrant flowers — all inside the heated Conservatory.
The colorful annual event, which appeals to the entire family, also has a lot of outdoor attractions such as fountain shows and nighttime light displays. Longwood's Christmas celebration also includes a wide array of seasonal music — holiday concerts, organ sing-alongs and carillon performances.
The organ sing-alongs will be featured in the Ballroom either three or six times a day. There will also be performances by choirs and musicians almost every evening throughout December.
When darkness arrives at Longwood, a night-blooming garden of more than a half-million lights strung on close to 100 trees with approximately 40 miles of wire comes to life. A carillon with 62 cast bells plays holiday music every half hour during daylight hours. Longwood's Open Air Theatre fountains dance to holiday music each half hour — temperature permitting.
As always, admission by "Timed Ticket" — tickets issued for specific dates and times. Timed ticketing limits the number of people in the Gardens at any given time and allows guests to enjoy minimal lines and a better viewing experience. There are different prices for "Peak" and "Off Peak" times.
Visitors to "A Longwood Gardens Christmas" can also check out Longwood's Garden Railway — a whimsical display set into motion with G-scale model trains. This is the 16th year that the railway has delighted visitors with special water features and custom trains traveling in and out of bridges and tunnels.
Admission to Longwood Gardens is $23 (non-peak), $30 (peak) for adults, $20/$27 for seniors (ages 62 and older) and $12/$16 for students (ages 5-18).
One of the best holiday events in the area is the annual "Yuletide at Winterthur." This year's 39th annual staging of the event, which runs from November 18 through January 7 at Winterthur Museum, Garden & Library (Route 52, Wilmington, Delaware,800-448-3883, www.winterthur.org).
Revel in the beauty and warmth of the holidays as we explore treasures of Christmases past with displays of holiday traditions from the 1800s to the early 20th century, including displays of: the earliest types of colorful lights decorating house exteriors; a full-room scene of Clement Moore's Christmas classic A Visit from St. Nicholas; the du Pont family holiday celebrations; and the evolution of Christmas trees over the decades from the 1880s to 1960s.
In celebration of the exhibit Royal Splendor: The Coronation Gown from The Crown, which showcases the magnificent coronation gown worn on the popular Netflix series The Crown, the Yuletide Tour will re-create trees enjoyed by Queen Victoria's family at Windsor Castle, inspired by a painting depicting the queen's celebration in 1851.
One of visitors' favorites every year is the 18-room dollhouse mansion created by designer and philanthropist Nancy McDaniel over a period of 30 years. It features amazing intricate details in each room and is even decorated for the holidays! A tree decorated with 458 needlework ornaments, all crafted by Nancy McDaniel will also be on display.
In addition, two of Winterthur's own iconic rooms designed by H. F. du Pont will be on display in miniature form—the Cecil Bedroom and the Queen Anne Dining Room. These rooms were created by the renowned miniature artists Eugene J. Kupjack.
As always, the rooms will be enhanced with the floral displays so essential to du Pont's decorating, and with special Christmas trees inspired by the beauty of the Winterthur garden – including the popular Dried Flower Tree in the Conservatory.
Special family activities include "Glass Matters Wine Seminar and Tasting" (December 13), "Brunch with Santa" (December 16, 17 and 23), "Yuletide Jazz & Wine Concerts" (November 22 and 29, December 6, 13 and 20), theatrical presentation of Charles Dickens' "A Christmas Carol" (December 6 and 7), University of Delaware Chorale performs Carols by Candlelight (December 10), and Special Charles Dickens Reading (December 6).
Timed Yuletide Tour reservations are required. Admission to Yuletide at Winterthur is $22 for adults, $20 for seniors (age 62 and older) and $5 for children (ages 2-11).
Nemours Mansion & Gardens (Route 141 South, Alapocas Drive, Wilmington, Delaware, 302-651-6912, www.nemoursmansion.org) is welcoming visitors for the Christmas holidays with special holiday-themed tours. The three-hour tours are held Tuesdays through Sundays and run now through January 3.
Originally constructed in 1910, Nemours Mansion is one of Delaware's grandest buildings and includes the largest formal French garden in North America.
During the holiday period, the guided tours will include several stories of the house and part of the gardens. Many of the rooms featured in the tour will be decorated as they would have been when DuPont resided there in the early 1900s while some will retain their traditional period decorations.
Tickets for the tour at Nemours are $17 for adults, $15 for seniors and $7 for children (under 16).
The Historic Odessa Foundation's 2017 Christmas Holiday Tour is an event with an appeal that spans generations. The tours will be presented now through December 31 in Odessa's historic district (Main Street, Odessa, Delaware, 302-378-4119, www.historicodessa.org).
This holiday season the Historic Odessa Foundation (HOF) is celebrating the 30th anniversary of the Historic Houses of Odessa's annual Christmas Holiday Tours and Exhibits inspired by works of classic children's literature.
To commemorate three decades of recreating scenes from classic literature through interpretive vignettes and displays, Historic Odessa will recreate its very first 1987 exhibit "A Visit From St. Nicholas," also known as "Twas The Night Before Christmas." It will open on November 14 and run through New3 Year's Eve day in the National Historic Register Wilson-Warner House (c. 1769).
This iconic Christmas poem, attributed to Clement Clark Moore and first published anonymously in 1822, will once again be presented through historically-detailed holiday vignettes throughout the 248-year old National Historic Register Wilson-Warner House. Guests will be invited to recite the classic poem as they tour the displays.
Another popular attraction is the "Storybook Trees Exhibit," which is a festive display of Christmas trees that reflect books and works of children's literature. The trees have been decorated by local families, schools and organizations
All of the Historic Odessa Foundation's museum properties, collectively known as the Historic Houses of Odessa, are open and on display for the 2016 holiday season.
Special events and tours will be held throughout the holiday season including "Candlelight Tours" at 7 p.m. on December 5, 7, 12, 14, 19, 26, and 28;
"Christmas in Odessa" on December 2 from 10 a.m.-5 p.m.; "Storybook Time" on December 6 at noon and 4:30 p.m.; "Festive Foods/Hearth Cooking Demonstration" on December 9, 16, and 23 from 10 a.m.-3 p.m.; "Children's Holiday Tea Party" on December 10 at 2 p.m.; and "Curator Candlelight Tour" on December 21 at 7 p.m.
The Historic Houses of Odessa are open Tuesday through Saturday, from 10 a.m. to 4:30 p.m., and Sunday from 1 to 4:30 p.m. The last full tour of the Historic Houses starts at 3 p.m. The Houses will be closed on December 24 and 25. Admission to the Historic Odessa Foundation holiday tour is $10 for adults, $8 for seniors, and students and free for children (under 6).
Two of Montgomery County's scenic historic sites are ready to begin celebrating the 2017 Christmas holiday season this weekend.
Pennypacker Mills (3 Haldeman Road, Perkiomenville, 610- 287-9349, www.historicsites.montcopa.org) is hosting "Victorian Holiday Tours" from November 21-January 7 while "Twelfth Night Tours at Pottsgrove Manor" (100 West King Street, Pottstown, 610-326-4014, www.historicsites.montcopa.org) are running from November 24- January 7.
For the next seven weeks, Pennypacker Mills will offer free tours of the 18-century mansion used by General George Washington as temporary headquarters during the Revolutionary War. The home will be decorated for an old-fashioned Victorian Christmas and will feature the warm glow of oil lamps, festive decorations and a candy-making demonstration.
The event at Pottsgrove Manor features guided tours through an elegant 18th-century Georgian mansion that is decked out in period holiday decorations. Tour guides will discuss Twelfth Night celebrations and Christmastide traditions.
Visitors will be able to view the parlor and kitchen as it would have been during colonial times when the Potts family prepared for their holiday guests. They will also be able to check out the servants' quarters and see the rustic holiday celebrations as enjoyed by the household staff.
Suggested donations for these events is $2.
Other activities at Montgomery County's "Historic Sites" are "Holiday Craft Workshops" at Green Lane Park (215-234-4528) on November 18 featuring local cones, pods and nuts to create a holiday centerpiece; "Thanksgiving Centerpieces" at Norristown Farm Park (610-270-0215) on November 19 with park employees supplying colorful leaves, acorns and other nuts, grasses, field-dried wild flowers, berries, and fresh fall flowers for your masterpiece;  "Turkey Tales" at Norristown Farm Park (610-270-0215) on November 20 where visitors can learn about turkeys, hear a turkey call, touch a turkey feather, and make a very special turkey craft; and "Audubon Bird Town Bird Walks Lorimer Park" (215-947-3477) on November 21 where participants can look for late fall migrants passing through and returning winter residents.
Visitors to Peddler's Village (Routes 202 and 263, Lahaska, 215-794-4000, http://peddlersvillage.com) can get in the holiday spirit at the Village-wide Grand Illumination Celebration on November 78. Village shops will be open until 9 p.m. with a distinctive assortment of merchandise, special promotions and refreshments.
The Grand Illumination Celebration, which officially arrives with a burst of color at 6:15 p.m., will showcase thousands of tiny white lights outlining the Village's buildings, colorful lights with less-than-common colors (teal, peach, and fuscia) adorning the trees and shrubs and a landscaped backdrop featuring a group of reindeer glowing in white light.
Santa will arrive to turn on the lights and officially mark the beginning of the event. After the lights go on, visitors will be treated to free cider and toasted marshmallows.
After the Grand Illumination Switch-on, families are invited bring the kids to Giggleberry Fair for "Photos with Santa." The Giggleberry Fair will be open through December 23.
November 20 also marks the start of Peddler's Village "Gingerbread House Competition and Display." Slated to run through January 2, the "Gingerbread House Competition" features over $2,000 in cash prizes in such categories as Traditional and Authentic Reproduction of a Significant Building.
A popular holiday attraction is America's Garden Capital Maze at Dilworth Park (1 South 15th Street, Philadelphia, http://ccdparks.org/dilworth-park), a holiday-inspired Garden that was created in partnership with Greater Philadelphia
Gardens and is part of the Center City Parks District
Located on the Greenfield Lawn, the maze features vibrant plantings, topiaries, twinkling lights, and décor that showcases all of the public gardens, arboreta, and historic landscapes that are located within 30 miles of Philadelphia. A "Welcoming gazebo" will be at the center of the maze.
The Wintergarden and Maze is billed as "a way to celebrate in William Penn's original center square and the 32 regional gardens and arboreta that make this region America's Garden Capital."
Dilworth Park Wintergarden participants are Shofuso Japanese House & Garden, Stoneleigh: A Natural Garden, The Barton Arboretum & Nature Preserve of Medford Leas, The Gardens at Mill Fleurs, The Highlands Mansion & Garden, The Philadelphia Zoo, The Woodlands, Tyler Arboretum, Tyler Formal Gardens at Bucks County Community College, Welkinweir, Winterthur, and Wyck.
The roster also includes Ambler Arboretum, Arboretum at the Barnes Foundation, Awbury Arboretum, Bartram's Garden, Bowman's Hill Wildflower Preserve, Brandywine River Museum of Art, Camden Children's Garden, Chanticleer, Hagley Museum and Library, Haverford College Arboretum, Henry Botanic Garden, Henry Schmieder Arboretum, Hortulus Farm Garden & Nursery, Jenkins Arboretum & Gardens, Longwood Gardens, Morris Arboretum of the University of Pennsylvania, Mount Cuba Center, Nemours Estate, PHS Meadowbrook Farm, and Scott Arboretum of Swarthmore College.
America's Garden Capital Maze will be open from November 10-February 25 – 9 a.m.-9 p.m., Monday-Thursday; 9 a.m.-11 p.m., Fridays and Saturday; 9 a.m.-8 p.m. Sunday.
Another attraction is the Center City Parks District's Rothman Institute Ice Rink at Dilworth Park along with the Rothman Institute Cabin.
The Rothman Institute Ice Rink at Dilworth Park is an unparalleled entertainment experience on Philadelphia's center stage in a wonderfully urban and unique setting. Open seven days a week, the rink offers wintry fun for all ages, with a full slate of programs.
The 2017 Franklin Square Holiday Festival (200 North Sixth Street, Philadelphia, http://www.historicphiladelphia.org/franklin-square/holidays-in-franklin-square/) opens its season On November 9 and then will run until December 31.
The Electrical Spectacle Holiday Light Show will be open from 4-8 p.m. daily and 4-9 p.m. on Saturdays and Sundays and will be closed on Thanksgiving and Christmas Day.
Visitors are invited to experience the magic of the holidays and celebrate traditions new and old at the Franklin Square Holiday Festival.
Inspired by Benjamin Franklin's electrifying genius, the free Electrical Spectacle Holiday Light Show presented by PECO is the key to holiday fun in Franklin Square.
Attendees can marvel at more than 50,000 lights as they shimmer, dance, and illuminate the Square to a soundtrack of holiday classics, some of which are performed by The Philly POPS in two alternating shows every 30 minutes. Every evening, one lucky audience member will be selected to "ignite' the 4:30 p.m. show.
Additionally, visitors can enjoy comfort foods, seasonal snacks, and hot beverages at Ben's Sweets & Treats and SquareBurger, festive beers and cocktails presented by Cooperage at the Winter Beer Garden, special holiday events on #FranklinSquareFridays, Santa Saturdays, and Seasonal Sounds on Sundays.
If you want to really get in full-scale Christmas mood, visit Koziar's Christmas Village (782 Christmas Village Road, Bernville, 610-488-1110,www.koziarschristmasvillage.com) which began its 70th season on November 4.
Koziar's Christmas Village is truly a holiday wonderland — a wintertime spectacle that delights young and old alike with a huge amount of holiday displays and special attractions. It will remain open every night through January 1 — including Christmas Eve, Christmas Night, New Year's Eve and New Year's Night.
The tours of "Christmas Village" feature visits to a variety of displays and exhibits, including "Santa's Post Office," "Christmas in the Jungle," "Manger Scene," "Christmas Beneath the Sea," "'Twas the Night Before Christmas," "Olde Fashioned Bakery Shop," "Toy Maker and his Toy Shop," "Christmas in Other Lands" and "The Olde Church".
Other attractions at Koziar's Christmas Village include a huge model train display, a toy shop, a country kitchen, indoor and outdoor Christmas displays and a place to visit with Santa and even get pictures taken with the old guy in the red suit. Admission to Christmas Village is $10 for adults, $9 for seniors (65 and older) and $8 for children (ages 4-10).
The American Music Theatre (2425 Lincoln Highway East, Lancaster, 800-648-4102, www.AMTshows.com) has its holiday show running now through December 30.
The AMT's 2017 show "Home for the Holidays" is an all-new presentation of favorite sacred and secular holiday songs performed by professional artists from across the country. The show will feature spectacular vocal harmonies, lively musical arrangements, impressive dancing and the music of the AMT Orchestra.
Also featured will be elaborate scenery, elegant costumes and a theater decked out with holiday decorations.
The show will have both matinee and evening performances each week with the addition of 10:30 a.m. performances on Saturdays throughout December. Show length is two hours and 15 minutes with a short intermission. Tickets are $42 for adults and $21 for children.
"Christmas Candylane," which is the annual holiday event at Hersheypark (100 West Hersheypark Drive, Hershey, 800-HERSHEY, www.hersheypark.com), is running now through December 31. Tickets are $24 per person. Children age two and under are admitted free.
Visitors to Hershey can also experience the winter wonderland called "Hershey Sweet Lights, A Holiday Drive-Thru Spectacular." The attraction is a two-mile drive through wooded trails featuring approximately 600 illuminated, animated displays.
Admission is $26.15 on Fridays and Saturdays and $19.15 the rest of the week.
"A Very Furry Christmas at Sesame Place" (100 Sesame Road, Langhorne, www.sesameplace.com) is a festive, family-friendly celebration with everyone's favorite Sesame Street friends live and in-person at the amusement park in Langhorne.
The annual event, which runs through December 31, offers a wide array of family holiday activities.
Visitors to the park can sing along at three special Christmas shows and a spectacular music and light show at our giant 1-2-3 Christmas Tree, take a train ride tour through the Twiddlebugs' Gingerbread Cookie Factory on the Sesame Place Furry Express, take part in the Neighborhood Street Party Christmas Parade, and have the opportunity to meet Lightning, the adorable reindeer from the movie "Elmo Saves Christmas."
As an added attraction this year, Rudolph the Red-Nosed Reindeer is spending the holiday season at Sesame Place. The lovable reindeer along with his friends Clarice and Bumble, will be available for photos with guests.
Tickets for "A Very Furry Christmas" are $32.
The Rainbow Comedy Playhouse (3065 Lincoln Highway East, Paradise, 800-292-4301, www.Rainbowcomedy.com) is presenting its holiday production "Guess Who's Coming to Christmas? now through December 30.
Matinee performances are every Tuesday, Wednesday, Thursday and selected Saturdays with an 11:30 a.m. lunch and a 1 p.m. curtain. Evening performances are every Friday, Saturday and selected Thursdays with dinner at 6:30 p.m. and the show following at 8 p.m. There will also be "Twilight Performances" on selected Sundays with dinner at 2:30 p.m. and the show at 4 p.m. Ticket prices range from $25-$56.
The 2017 Holiday Art Star Craft Bazaar will be held on November 18 and 18 at the Event Center at SugarHouse Casino (1001 North Delaware Avenue, Philadelphia,http://www.artstarcraftbazaar.com/about-art-star-craft-bazaar-philadelphia) from 11 a.m.-6 p.m. both days.
The event will feature a line-up of 75 of the best art and craft vendors from the region. The show will provide an excellent opportunity to support independent makers and, at the same time, shop local this holiday season.
The show will feature a thoughtfully curated mix of handmade goods by returning Art Star favorites and many new vendors. Jewelry, pottery, housewares, clothing, men's and women's accessories, art, prints, blown glass, stationary, papercuts, t-shirts, baby gifts and more will be available.
Parked at the show entrance will be some of Philly's favorite local food trucks – Poi Dog Snack Shop, Oink and Moo BBQ, Kung Fu Hoagies, Sum Pig, Sweet Box Cupcakes, and Pie Stand.
The event will include affordable and family friendly "Make + Takes" such as mosaic coaster making with Black Hound Clay Studio, mini tapestry weaving with BobbinWeave and customizing 2D laser cut wooden design with NextFab.
Admission is $3 with children (under 12) admitted free.
On November 18, the Chestnut Hill Circle of Trees will take place at the Woodmere Art Museum (9201 Germantown Avenue, Philadelphia, Woodmere Art Museum,www.woodmereartmuseum.com).
During the event, which runs from 5:30-7 p.m., family and friends come together to meet Santa and celebrate the beginning of Chestnut Hill's holiday season.
The festivities will include live music, hot chocolate, cookies, and the opening of Woodmere's holiday exhibition, "Merry and Bright."
"Merry and Bright: The Christmas Collection of Jeanette Turnbull" which will be open through January 7, features a selection of holiday treasures including vintage and contemporary objects from the astounding Christmas collection of Jeanette Turnbull.
In addition, selections from the Germantown Historical Society bring to life 19th-century traditions with children's toys, holiday trimmings, an extraordinary dollhouse replica of a Germantown home, and a sculpture of Belsnickel, a Christmas figure from German folklore.
Families are encouraged to bring a new, unwrapped toy to donate to a charity for underprivileged children.
The event, which is sponsored by the Chestnut Hill Business and Community Association, is free and open to the public.