By Denny Dyroff, Staff Writer, The Times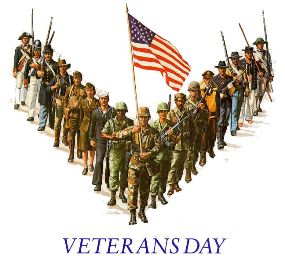 This is the weekend that America celebrates Veterans Day – a special holiday created to honor those who have served the nation as part of United States Armed Forces.
Valley Forge National Park (1400 North Outer Line Drive, Valley Forge, 610- 783-1000, www.nps.gov/vafo) is hosting a special "Veterans Day Commemoration" on November 11 beginning at 11 a.m. The scenic National Historical Park will commemorate the Continental Army's legacy, and honor all of America's military, past and present, with special events throughout the day. 
Activities will start with the "Commemoration Ceremony at the National Memorial Arch." The National Park Service will be joined by local and national military organizations to honor our nation's heroes through traditional ceremonial services. In the closing event, an Oath of Enlistment Ceremony will induct several new recruits into the United States Military.
From noon-3 p.m., visitors can check out "American Military Through the Ages" at the Muhlenberg Brigade Huts. Following the morning's ceremony, park staff and volunteers – along with veterans — will present Americas military history from the perspectives of a variety of conflicts including the Revolutionary, Civil, and Vietnam Wars.
Other activities will be "Valley Forge Trolley Tours" (90-minute guided tours depart from the Visitor Center at noon and 2 p.m.) and 40-minute, quarter-mile "Walking Tours" at 12:20 and 2:20 p.m. led by Rangers to Muhlenberg Brigade Huts.
All events are free and open to the public.
Military history will also be celebrated at another area site this weekend.
On November 11 and 12, the Olde Fort Mifflin Historical Society will celebrate the 240th Anniversary of the "Siege & Bombardment of Fort Mifflin."  There will be two days of activities commemorating the historic siege and bombardment of Fort Mifflin (Fort Mifflin and Hog Island roads, Philadelphia, 215-685-4167, www.fortmifflin.us) that took place in 1777. The event gets underway each day at 10 a.m. and continues until 4 p.m.
Four full scripted battles will tell the story of the greatest bombardment of the Revolutionary War.
Fort Mifflin, which was originally called Fort Island Battery, was commissioned in 1771. It was also known as Mud Island Fort because it sits on Mud Island (also known as Deep Water Island) on the Delaware River near the Philadelphia International Airport. During the American Revolutionary War, the British Army bombarded and captured the fort as part of their conquest of Philadelphia in autumn 1777.
During the siege, 400 American soldiers held off more than 2,000 British troops and over 250 ships that had been responsible for launching an endless barrage of cannonballs into the fort. After five days of holding off the British, the American troops evacuated the fort after having successfully denied the British Navy free use of the Delaware River.
Activities at this weekend's commemoration will depict life in the 18th century and feature weapons demonstrations, tactical demonstrations, musket drills for youngsters and a scavenger hunt. There will be military re-enactors portraying both American and British forces as they commemorate the largest bombardment that took place in the entire American Revolution. And, Benjamin Franklin will be a special guest both days.
Tickets are $10 for adults, $8 for seniors and veterans and $6 for children (ages 6-12).
Autumn's colors are on their way out – especially with the cold, windy weather forecast for the next few days. There is still time to take in autumn's annual color display by riding on a special excursion on an area tourist railroad.
The West Chester Railroad (Market Street Station, West Chester, 610-430-2233, www.westchesterrr.net) is running its special "Fall Foliage Express" trains on November 12 with departures at noon and 2 p.m.
The round-trip train ride travels to the village of Glen Mills and back and lasts for 90 minutes. During the brief layover in Glen Mills, riders can explore the historic Pennsylvania Railroad station and have a snack in the railroad's picnic grove along the Chester Creek.
Tickets are $15 for adults, $13 for children ages 2-12 and free for kids under two.
The Wilmington & Western Railroad (2201 Newport Gap Pike, Wilmington, DE, 302-998-1930, www.wwrr.com) is running its "Hayride Express" on November 10 at 7 p.m. Visitors can experience a one-hour evening ride through the Red Clay Valley on an original railroad flatcar converted especially for hayrides.
Hops'N'Helicopters will be presented by the American Helicopter Museum & Education Center (1220 American Blvd., Brandywine Airport, West Chester, 610-436-9600,www.helicoptermuseum.org) on November 10.
At the event, which runs from 5-9 p.m., breweries, home brewers and two cideries will share their wares. The event will also feature wine and two food trucks, games such as Giant Wooden Yard Dice and a Giant Toppling Tower, and live music.
Participating beverage manufacturers are Sly Fox Brewing Company, Stable 12 Brewing Company, Locust Lane Craft Brewery, Kennett Brewing Company, Root Down Brewing Company, Dressler Estate, Original 13 Ciderworks, and Appalachian Brewing Company.
Admission is $35 at the door and includes museum entry as well as a souvenir sampling glass. Admission is $10 for designated drivers or guests under age 21 (unlimited soda and water provided).
Homebrewers are encouraged to bring bottles of their own creations for sharing and comments. Fred Kline, owner of Artisan Homebrew in Downingtown, will host a tutorial about the homebrew process (both extract and all-grain) from 6:30-7 p.m. Kline will also have samples of his own brew for tasting and will be available to answer your homebrew questions throughout the evening.
Live music will be provided by The Unbearables, a mix of classic and modern rock. Food trucks Haute Wheels and Dos Gingos Mexican Kitchen will be on site.
Must be 21 or older to consume alcohol. Proof of age is required. Proceeds support the museum and its educational programs.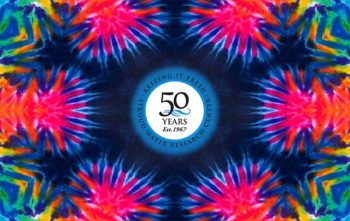 On November 11, the Stroud Water Research Center (970 Spencer Rd, Avondale, https://stroudcenter.org/) is hosting its "50 & Fabulous Party."
The Stroud Center is celebrating 50 years of freshwater research, education, and restoration while throwing it back to the year it was founded. Guests are invited to join a fun party highlighting the Beatles, the Mod era, and all things 1967 as the Center takes a look at its work over the past 50 years.
Food and beverages have been donated by Philadelphia Distilling, Victory Brewing Company, Archie's, Barnard's Orchard, Bravo Pizza, Custom Cake Crafter, Éclat Chocolate, The Farm at Doe Run, The Farmhouse Restaurant at Loch Nairn, Jimmy's BBQ, Landhope Farms, Natalie's Fine Foods, Red Sombrero, Talula's Table, Triple Fresh Market and The Whip Tavern.
Doors open at 7 p.m. and "GROOVY attire" is encouraged. Tickets are $50.
Vinewoods Forge (376 West Street Road, Kennett Square, 610-960-2822, http://www.vinewoodsforge.com/events) is hosting its annual premier metal show this weekend.
The event, which features nine of the Mid-Atlantic's finest metal artists, will be held on November 10 and 11.
The "Artists' Reception," which is open to the public, is slated for November 10 from 6-9 p.m. The public show will take place on November 11 from 10 a.m.-5 p.m.
This weekend, you can get a glimpse at how holidays are celebrated in Eastern Europe and Russia by visiting the festival at Saint Herman of Alaska Orthodox Church (1855 North Middletown Road (Route 352), Gradyville, 610-459-5310, www.sthermansoca.org).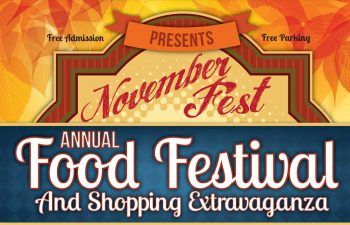 The annual Christmas bazaar and food festival at St. Herman, which is running from November 4-6, features authentic Eastern European cuisine. Visitors to the 2016 "Food Festival & Holiday Shopping Extravaganza" will be able to enjoy such taste treats as Beef Stroganoff, hiluski (stuffed cabbage), kielbasi and freshly-made pierogies in the dining room.
The Russian Tea Room will feature dessert items such as poppy cake, nut rolls and other Russian baked goods along with authentic Russian chai (tea). The festival will also host an expansive gift shop with a wide array of Eastern European and Russian items, including icons, jewelry, books and pysanki (Ukrainian-style decorated eggs).
There will also be demonstrations of traditional folk dancing. The festival, which features free admission, will be open from noon-8 p.m. on Friday and Saturday and noon-4 p.m. on Sunday.
On Saturday, you can get a look at German holiday traditions at a special event in Delaware.
The German Christmas Festival, which is also known as Christkindl Markt, will take place November 11 at the Delaware Saengerbund (49 Salem Church Road, Newark, Delaware, 302-366-9454, www.delawaresaengerbund.org). The free event is scheduled to get underway at 11 a.m. and continue through 4 p.m.
The kitchen will open at 11 a.m. and feature a wide array of German cakes and pastries along with a variety of hot food and sandwich items. The Bauernstube (restaurant) will be open all day with food and beverages. A wide array of vendor booths will be set up at the festival featuring imported candy, handmade articles, German Christmas items and ornaments, bakery items, a White Elephant sale and a children's gift shop.
Live entertainment will be presented all day with dance performances by the Children's Enzian Volkstanzgruppe at 1:30 p.m. and seasonal music by Enzian Musikanten throughout the day. Santa is scheduled to arrive between 2:30 and 3 p.m. and there will be a holiday raffle at 3:30 p.m.
The 2017 Craft Fair and Greek Food Fest at St. Sophia's Greek Orthodox Church (900 South Trooper Road, Jeffersonville, 610-650-8960, www.saintsophiachurch.org) runs now through November 12 and features a wide array of tasty Greek treats such as souvlaki, shish-ka-bob, moussaka, pastitsio and gyros and baklava.
Other festival activities are areas featuring vendors with crafts and Greek items. The free festival is open from 11 a.m.-8 p.m. on Friday and Saturday and from noon-6 p.m. on Sunday.
The Greater Philadelphia Expo Center (100 Station Avenue, Oaks, 484-754-3976, www.phillyexpocenter.com) will have several events that cater to a wide variety of tastes this weekend.
From November 10-12, the Expo Center is hosting the Americana Indian Art & Jewelry Show.
American Indian art is always a popular motif for home decorating is American Indian art — especially artwork produced in the American Southwest. This weekend, you can find a lot of examples of this art style at the Americana Indian Art & Jewelry Show on Oaks.
The show provides an excellent opportunity to look at artifacts and other items related to the history of Native Americans. The show is presented by the Americana Indian and Western Gallery and admission is free.
The Americana Indian and Western Gallery had its beginning in 1947 when its founder Lee Anderson attended school on a Navajo reservation and worked after school for his uncle in the trading post. The family collected American Indian art such as Navajo rugs, pottery, baskets, and other Indian and western items.
Anderson's sells Navajo, Hopi, Zuni, and Santo Domingo jewelry, as well as Navajo rugs, Hopi and Zuni kachinas, baskets, pottery, art and collectibles. One of the most respected Native American art dealers in the United States, Americana Indian Shows brings thousands of items direct from the Southwest to the show attendees.
Show hours are 11:30 a.m.-8 p.m. on November 10 and 11 a.m.-7 p.m. on November 11 and 12.
If you're at the Expo Center and are one of those people who get creeped out by snakes and lizards, then you better steer clear of a certain part of the exposition hall in Oaks this weekend or be prepared to suffer the consequences.
On November 11, the Greater Philadelphia Expo Center will host the East Coast Reptile Super Expo featuring hundreds of live snakes and reptiles.
The East Coast Reptile Super Expo, which is always a well-attended event, will run from 11 a.m.-4 p.m. this Saturday. Tickets are $10 with children (under five) admitted free.
Many people think snakes and lizards are interesting creatures and maybe even fun pets to own. If you fall into this category, you should check out the show on Saturday. A wide array of reptiles will be on display as part of the popular exhibition, which is an annual event that is closing in on its silver anniversary.
One of the show's main attractions is a sales exhibit area featuring a large number of vendors with live reptiles, amphibians and arachnids as well as food items, supplies, books, cages, and related accessories.
The roster of very diverse vendors includes AZO Reptiles, Rose's Reptiles, Dale's Bearded Dragons, Blake's Exotic Reptiles, Dower Reptiles & Rodents, Reptile Kingdom, DHA Pythons, Gecko Haven, Skins and Scales, Hunger Reptiles, Jungle Emporium, Delaware Turtle, Just Lizards, Dragon Fortress, Turtle Towns, Garden State Tortoise LLC, Reptile Addicts, Bob's Critters, MCO Reptiles and Fins, Feathers, Paws & Claws.
The list also includes RKZ Rodents, Monstar Reptiles, Turtle to Turtle, Delaware Valley Herpetarium, Newville Dragons, PM Herps, Black Jungle Terrarium Supply, VSCV Ventures LLC, Dachiu Dragons, Tom Rogan Reptiles, Native Exotics, Serpents Plus, Heath's Frog Farm, Corralus Creations, Rogue Reptiles LLC, Jason R Bartolett Captive Bred Reptiles, and Fowler Reptiles.
The other show at the Expo will draw a more specialized crowd. The Great American Guitar Show will be held on November 11 from 11 a.m.-5 p.m. and November 12 from 10 a.m.-4 p.m.
The popular show marks an annual pilgrimage for many guitarists (and other musicians). It features hundreds of manufacturers and dealers who will be buying and selling thousands of new, used and vintage musical instruments and accessories.
Admissions is $12 on Saturday and $10 on Sunday.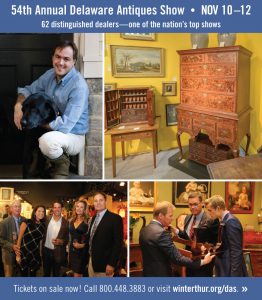 One of the area's longest-running traditional events is the Delaware Antiques Show (Chase Center on the Riverfront, Wilmington, Delaware, 800-448-3883,www.winterthur.org). The event, which has been around for more than 50 years, will be held from November 10-12.
Honored as one of the nation's most highly acclaimed antiques shows, the annual three-day event presents a large and diverse assemblage of art, antiques and design. With more than 60 top-flight dealers participating, the Delaware Antiques Show highlights the best of American antiques and decorative arts.
The show will feature sales displays featuring furniture and decorative accessories from the 17th to the early 20th centuries, including folk art, Native American art, ceramics, needlework, quilts, jewelry, prints, paintings, and rugs.
As usual, the knowledgeable dealers will at their booths answering questions and offering advice to collectors. Visitors to the show can learn from the experts about a variety of different antiques categories, including brass, jewelry, painting, ceramics, silver, textiles and 18th and 19th century furniture.
Proceeds from the Delaware Antiques Show benefit the educational programs at Winterthur Museum, Garden and Library. Hours are from 11 a.m.-6 p.m. on Friday and Saturday and 11 a.m.-5 p.m. on Sunday. Tickets are $15 and include the show catalogue. Children under 12 are admitted free.
If you're looking for arts and crafts rather than antiques, you're in good shape this weekend with several top-flight shows on the area calendar.
The Philadelphia Museum of Art Craft Show is the biggest, one of the oldest and unquestionably one of the best craft shows in the Mid-Atlantic region.
The 41st Annual Philadelphia Museum of Art Craft Show will be held November 10-12 at the Pennsylvania Convention Center (12th and Arch streets, Philadelphia, 215-684-7930, http://pmacraftshow.org). The well-attended juried show and sale of contemporary craft, which had over 1,000 applicants, includes approximately 200 of the finest and most respected craft artists in the United States.
Visitors to the show will be able to meet the craft artists, discuss the artisans' work and purchase their crafts. The show will feature crafts in a variety of categories, including paper, leather, furniture, clay, glass, baskets, jewelry, fiber wearable, metal, wood, mixed media and fiber-decorative works.
In just under 40 years the show has grown to more than 200 of the finest craft artists in the nation selected through a highly competitive jury process. This dynamic and premier show has always been in the forefront of craft education by presenting symposia, on-site artist demonstrations, collection and studio tours, room settings of craft furniture and accessories, and student exhibitions.
In 2001 a guest artist program was added whereby artists from a single country are selected to participate. Countries that have participated thus far include Japan, England, Ireland, Germany, Finland, Canada, Israel, Korea, Scotland and Lithuania. The 2017 Craft Show will devote its guest artists program to top-flight crafters from Korea.
The Philadelphia Museum of Art Craft Show is presented annually by the Women's Committee and Craft Show Committee of the Philadelphia Museum of Art for the benefit of the Philadelphia Museum of Art. Funds raised are used to purchase works of art and craft for the permanent collections of the Philadelphia Museum of Art, to fund conservation and publication projects and to support exhibitions and education programs.
Tickets for adults are $18 for one day and $25 for a two-day ticket. Children will be admitted for $5. Show hours are 11 a.m.-7 p.m., Friday; 10 a.m.-6 p.m., Saturday; and 10 a.m.-5 p.m., Sunday.
The Pennsylvania Guild of Craftsmen will be presenting one of its more popular events this weekend. The Lancaster Design Craftsmen Artisan Fair, which is being held November 11 and 12, features a roster of top-quality and very diverse artisans.
The fair will feature approximately 80 master artisans representing a wide variety of fine crafts including jewelry, quilts, basketry, pottery, clothing, sculpture, wood turning and more. Each artisan specializes in work that is functional, aesthetic or both. There will be thousands of works on display — all of which were created one at a time.
The event will be held at Spooky Nook Complex (2913 Spooky Nook Road, Manheim, 717-945-7087, http://www.spookynooksports.com/).
Hours are 10 a.m.-5 p.m. on Saturday and 10 a.m.-4 p.m. on Sunday. Tickets are $5.
The 34th Annual William Rush Woodcarving and Wildlife Art Show & Sale will be held November 11 and 12 at the Penn State Brandywine Athletic Center Gymnasium (Route 352, Lima, williamrushwoodcarvers.blogspot.com).
The event, which is scheduled to run from 10 a.m.-5 p.m. on Saturday and 10 a.m.-4 p.m. on Sunday, will focus on birds, figures, caricatures, marine life and wildlife art – all created by skilled artists. There will also be a special Nature Center Exhibit.
Books, Tools, and supplies will be available for purchase and there will be special woodcarving demonstrations each day.
As an added attraction, door prizes will be given out every hour — each prize being a unique carving. And, there will be free parking.
The UniverSoul Circus (52nd Street and Parkside Avenue, Philadelphia, www.universoulcircus.com), which is running now through November 26, is offering something different for circus fans.
The performances, which will be held in the UniverSoul Big Top next to the Mann Music Center, blend traditional circus attractions with urban culture, hip hop tunes and world beat music.
Celebrating its 21st anniversary in Philadelphia, UniverSoul Circus has come full circle in its influence in the international entertainment marketplace — garnering the distinction of being known as a one-of-a-kind, must see attraction. Since its first performance in 1994, UniverSoul Circus has presented more than 10,000 performances to live audiences and has been seen in more than 60 million households on both local and national television networks.
UniverSoul Circus connects with progressive, upwardly mobile, urban pop cultures from around the world. Celebrating more than two decades under the big top, UniverSoul Circus features music, theatrical performances and incredible circus acts including contortionists from Guinea, acrobats from Ethiopia, a clown trio from Detroit, dancers from the Caribbean and animal acts from Mexico.
The entire line-up will help this tour de force of circus artistry bridge cultures from around the world.
The circus will be in town now through November 26 at its site in Fairmount Park. Ticket prices range from $19-$35.
If you're planning on attending this year's Chrysanthemum Festival at Longwood Gardens (Route 1, Kennett Square, 610-388-1000, www.longwoodgardens.org), you better move quickly because the event is down to its final two weekends.
Longwood Gardens celebrates autumn with its annual Chrysanthemum Festival every year. The 35th Annual Mum Fest, a top-flight exhibit featuring more than 20,000 colorful, blooming chrysanthemums in Longwood's huge conservatory, is running now through November 20.
The horticulturalists at Longwood Gardens have grown and developed the mums into a variety of unusual forms. They have groomed chrysanthemums to resemble clouds, torches, spirals, fans, 13-foot arches and more. The stars of the show are Longwood Gardens' "Thousand Bloom" mums.
The Thousand Bloom (known in Japan as Ozukuri) is the most exacting and difficult of all the Chrysanthemum training styles. It derives its name for the ambitious goal of a single chrysanthemum plant producing 1,000 perfect blooms.
The method for growing the Thousand Bloom originated in China and Japan more than 200 years ago. It is a dying art form with only a few growers in the entire world skilled in the techniques needed to grow this special plant.
Another seasonal attraction at the site is Longwood's "Autumn Colors," an activity that is running now through November 19. Now is an excellent time to take a nature walk in Longwood's Meadow Garden, where visitors are surrounded by colorful flowers such as goldenrods and native asters along with meadow grasses.
Admission to Longwood Gardens is $23 for adults, $20 for seniors (62+) and $12 for students (ages 5-18).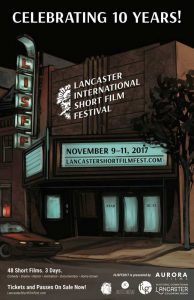 Initially known as the Rumschpringe International Short Film Festival, the Lancaster International Short Film Festival (http://lancastershortfilmfest.com/) is celebrating its 10th anniversary this year.
Now through November 11, more than 50 short films will be screened at the Elks Lodge, which is located in downtown Lancaster at 219 North Duke Street.
The films, which range from 2-3 minutes to 40 minutes, come from all over the world.
Friday's films will be screened with the first block at 7 p.m. and the second block – featuring all horror films — at 9 p.m. There will also be a special screening of "I'm Dreaming of a White Doomsday," at 10:30 p.m.
On Saturday, film blocks will be screened at 1, 3 and 5 p.m. at the Elks Lodge and the award winners will be presented at 8 p.m.
General admission to each block is $12. A full day pass is $35, and a three-day pass is $70.
By now, you probably have accepted the fact that the Christmas season has arrived. Sure, Thanksgiving is still two weeks away but Christmas marketing and holiday attractions have already taken over.
Anything dealing with "The Nutcracker" is always a good way to start the Christmas holiday vibe.
The Historic Odessa Foundation's 2017 Christmas Holiday Tour is an event with an appeal that spans generations. The tours will be presented now through December 31 in Odessa's historic district (Main Street, Odessa, Delaware, 302-378-4119, www.historicodessa.org).
This holiday season the Historic Odessa Foundation (HOF) is celebrating the 30th anniversary of the Historic Houses of Odessa's annual Christmas Holiday Tours and Exhibits inspired by works of classic children's literature.
To commemorate three decades of recreating scenes from classic literature through interpretive vignettes and displays, Historic Odessa will recreate its very first 1987 exhibit "A Visit From St. Nicholas," also known as "Twas The Night Before Christmas." It will open on November 14 and run through New3 Year's Eve day in the National Historic Register Wilson-Warner House (c. 1769).
This iconic Christmas poem, attributed to Clement Clark Moore and first published anonymously in 1822, will once again be presented through historically-detailed holiday vignettes throughout the 248-year old National Historic Register Wilson-Warner House. Guests will be invited to recite the classic poem as they tour the displays.
Another popular attraction is the "Storybook Trees Exhibit," which is a festive display of Christmas trees that reflect books and works of children's literature. The trees have been decorated by local families, schools and organizations
All of the Historic Odessa Foundation's museum properties, collectively known as the Historic Houses of Odessa, are open and on display for the 2016 holiday season.
Special events and tours will be held throughout the holiday season including "Candlelight Tours" at 7 p.m. on December 5, 7, 12, 14, 19, 26, and 28;
"Christmas in Odessa" on December 2 from 10 a.m.-5 p.m.; "Storybook Time" on December 6 at noon and 4:30 p.m.; "Festive Foods/Hearth Cooking Demonstration" on December 9, 16, and 23 from 10 a.m.-3 p.m.; "Children's Holiday Tea Party" on December 10 at 2 p.m.; and "Curator Candlelight Tour" on December 21 at 7 p.m.
The Historic Houses of Odessa are open Tuesday through Saturday, from 10 a.m. to 4:30 p.m., and Sunday from 1 to 4:30 p.m. The last full tour of the Historic Houses starts at 3 p.m. The Houses will be closed on December 24 and 25. Admission to the Historic Odessa Foundation holiday tour is $10 for adults, $8 for seniors, and students and free for children (under 6).
A popular holiday attraction is America's Garden Capital Maze at Dilworth Park (1 South 15th Street, Philadelphia, http://ccdparks.org/dilworth-park), a holiday-inspired Garden that was created in partnership with Greater Philadelphia
Gardens and is part of the Center City Parks District
Located on the Greenfield Lawn, the maze features vibrant plantings, topiaries, twinkling lights, and décor that showcases all of the public gardens, arboreta, and historic landscapes that are located within 30 miles of Philadelphia. A "Welcoming gazebo" will be at the center of the maze.
The Wintergarden and Maze is billed as "a way to celebrate in William Penn's original center square and the 32 regional gardens and arboreta that make this region America's Garden Capital."
Dilworth Park Wintergarden participants are Ambler Arboretum, Arboretum at the Barnes Foundation, Awbury Arboretum, Bartram's Garden, Bowman's Hill Wildflower Preserve, Brandywine River Museum of Art, Camden Children's Garden, Chanticleer, Hagley Museum and Library, Haverford College Arboretum, Henry Botanic Garden, Henry Schmieder Arboretum, Hortulus Farm Garden & Nursery, Jenkins Arboretum & Gardens, Longwood Gardens, Morris Arboretum of the University of Pennsylvania, Mount Cuba Center, Nemours Estate, PHS Meadowbrook Farm, Scott Arboretum of Swarthmore College, Shofuso Japanese House & Garden, Stoneleigh: A Natural Garden, The Barton Arboretum & Nature Preserve of Medford Leas, The Gardens at Mill Fleurs, The Highlands Mansion & Garden, The Philadelphia Zoo, The Woodlands, Tyler Arboretum, Tyler Formal Gardens at Bucks County Community College, Welkinweir, Winterthur, and Wyck.
America's Garden Capital Maze will be open from November 10-February 25 – 9 a.m.-9 p.m., Monday-Thursday; 9 a.m.-11 p.m., Fridays and Saturday; 9 a.m.-8 p.m. Sunday.
This weekend also features the Center City Parks District's opening of the Rothman Institute Ice Rink at Dilworth Park
The Rothman Institute Ice Rink at Dilworth Park is an unparalleled entertainment experience on Philadelphia's center stage in a wonderfully urban and unique setting. Open seven days a week, the rink offers wintry fun for all ages, with a full slate of programs.
Also opening this weekend at the site is the Rothman Institute Cabin at Dilworth Park.
On November 10, visitors can celebrate the season opening of the Rothman Institute Ice Rink and the Rothman Institute Cabin with a salute to veterans and active military. There will be free skating with military ID until 11 p.m.
The 2017 Franklin Square Holiday Festival (200 North Sixth Street, Philadelphia, http://www.historicphiladelphia.org/franklin-square/holidays-in-franklin-square/) opens its season On November 9 and then will run until December 31.
The Electrical Spectacle Holiday Light Show will be open from 4-8 p.m. daily and 4-9 p.m. on Saturdays and Sundays and will be closed on Thanksgiving and Christmas Day.
Visitors are invited to experience the magic of the holidays and celebrate traditions new and old at the Franklin Square Holiday Festival.
Inspired by Benjamin Franklin's electrifying genius, the free Electrical Spectacle Holiday Light Show presented by PECO is the key to holiday fun in Franklin Square.
Attendees can marvel at more than 50,000 lights as they shimmer, dance, and illuminate the Square to a soundtrack of holiday classics, some of which are performed by The Philly POPS in two alternating shows every 30 minutes. Every evening, one lucky audience member will be selected to "ignite' the 4:30 p.m. show.
Additionally, visitors can enjoy comfort foods, seasonal snacks, and hot beverages at Ben's Sweets & Treats and SquareBurger, festive beers and cocktails presented by Cooperage at the Winter Beer Garden, special holiday events on #FranklinSquareFridays, Santa Saturdays, and Seasonal Sounds on Sundays.
Now that Christmas activities have begun, Peddler's Village (Routes 202 and 263, Lahaska, 215-794-4000, http://peddlersvillage.com) is starting its celebration and that means there will be a lot of activity at the site over the next few weeks. Peddler's Village's "Kick Off to the Holidays" will take place on November 10 from 6:30-8:30 p.m.
Visitors to the Village can join special guest Mrs. Claus for festive fun and mini-lightings in a different Village neighborhood each night leading up to the Village-wide Grand Illumination Celebration. Village shops will be open until 9 p.m. with a distinctive assortment of merchandise, special promotions and refreshments.
The Grand Illumination Celebration, which is scheduled for November 17, will showcase thousands of tiny white lights outlining the Village's buildings, colorful lights with less-than-common colors (teal, peach, and fuscia) adorning the trees and shrubs and a landscaped backdrop featuring a group of reindeer glowing in white light. Santa will arrive to turn on the lights and officially mark the beginning of the event. After the lights go on, visitors will be treated to free cider and toasted marshmallows.
November 18 also marks the start of Peddler's Village "Gingerbread House Competition and Display." Slated to run through January 2, the "Gingerbread House Competition" features over $2,000 in cash prizes in such categories as Traditional and Authentic Reproduction of a Significant Building.
Anyone wanting to get into a full-scale Christmas mood early can visit Koziar's Christmas Village (782 Christmas Village Road, Bernville, 610-488-1110,www.koziarschristmasvillage.com) which began its 70th season on November 4.
Koziar's Christmas Village is truly a holiday wonderland — a wintertime spectacle that delights young and old alike with a huge amount of holiday displays and special attractions. It will remain open every night through January 1 — including Christmas Eve, Christmas Night, New Year's Eve and New Year's Night.
The tours of "Christmas Village" feature visits to a variety of displays and exhibits, including "Santa's Post Office," "Christmas in the Jungle," "Manger Scene," "Christmas Beneath the Sea," "'Twas the Night Before Christmas," "Olde Fashioned Bakery Shop," "Toy Maker and his Toy Shop," "Christmas in Other Lands" and "The Olde Church".
Other attractions at Koziar's Christmas Village include a huge model train display, a toy shop, a country kitchen, indoor and outdoor Christmas displays and a place to visit with Santa and even get pictures taken with the old guy in the red suit. Admission to Christmas Village is $10 for adults, $9 for seniors (65 and older) and $8 for children (ages 4-10).
The American Music Theatre (2425 Lincoln Highway East, Lancaster, 800-648-4102, www.AMTshows.com) has its holiday show running now through December 30.
The AMT's 2017 show "Home for the Holidays" is an all-new presentation of favorite sacred and secular holiday songs performed by professional artists from across the country. The show will feature spectacular vocal harmonies, lively musical arrangements, impressive dancing and the music of the AMT Orchestra.
Also featured will be elaborate scenery, elegant costumes and a theater decked out with holiday decorations.
The show will have both matinee and evening performances each week with the addition of 10:30 a.m. performances on Saturdays throughout December. Show length is two hours and 15 minutes with a short intermission. Tickets are $42 for adults and $21 for children.
Christmas Candylane," which is the annual holiday event at Hersheypark (100 West Hersheypark Drive, Hershey, 800-HERSHEY, www.hersheypark.com), is running now through December 31. Tickets are $24 per person. Children age two and under are admitted free.
Visitors to Hershey can also experience the winter wonderland called "Hershey Sweet Lights, A Holiday Drive-Thru Spectacular." The attraction is a two-mile drive through wooded trails featuring approximately 600 illuminated, animated displays.
Admission is $26.15 on Fridays and Saturdays and $19.15 the rest of the week.