Neighbors tell township supervisors they're unhappy about business near residential area
By Larhonda Swales, Correspondent, UnionvilleTimes.com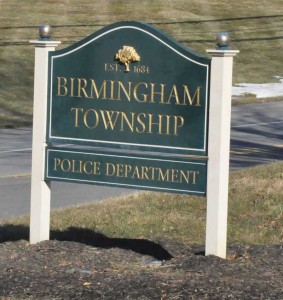 BIRMINGHAM — Even after months of mediation and agreements, township residents are still wary about the Board of Supervisors' mediation plan with the Leonard's landscaping property, which has been operating adjacent to a residential neighborhood for the last 25 years.
Amongst the township governing body's discussions of bill approvals, opening bids for 2011 Road Program and neighboring Pennsbury Township's Comprehensive Plan, most of the meeting consisted of back and forth tension and probing regarding the mediation over zoning of Leonard's Landscaping.
Residents complained about the board's actions towards the commercial property, which is located behind a residential area, claiming that the Leonard's property is not abiding by the agreements set forth by the township board. According to the township's solicitor, Kristen S. Camp, the zoning agreement lists who is allowed to run the property, what actions are allowed to happen on the property, and a section addressing the level of noise.
However, longtime residents say they are still unpleased.
"This is a residential area, and people pay a lot of money to live here," said a township resident, who spoke during the meeting.
Supervisors said the mediation agreement was made in order to avoid a messy zoning hearing, which the township could lose, due to the length of time the business have operated in the same location.
Though other residents say those allegations are false, Supervisor William J. Kirkpatrick said that other local residents have submitted written reports, supporting the complaints about the 25-year old landscaping property.
Residents also questioned the agreement, saying that the Leonard's are not fully abiding by the agreement.
According to some residents, the commercial business is allegedly advertising and selling fire wood to customers, which they say is not included in the landscaping agreement.
"Customers are not allowed to come onto that property in the agreement," Camp said.
On top of the complaints by local residents, perhaps one of the biggest concerns was fear of property value being lowered, due to the construction and loud noises from the Leonard's property.
One resident said that the property has a continuous amount of wood trafficking, delivered by loud trucks as early as 7A.M.
Peter Gangel, eight year resident of Brighton, said that he and his wife are worried that their property may be of lesser value, because of the commercial business.
Gangel also threatened to call the police, each time he felt the Leonard's property was not complying by the agreement.
The township board agreed to look more into the fire wood allegations and the specifics of the agreement, while also urging the residents to read the public restrictions, concerning the noise levels and actions of the property.