By Kelly Hockenberry, Columnist, The Times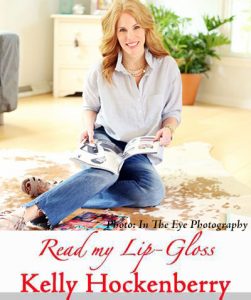 Hello November! Once Halloween is over, the insane rush to the holiday season is ON. Since it's time for my monthly Super Six, I figured we may as well jump on the bandwagon. After all, Walmart has the entire back of the store chock full of faux Christmas trees and inflatable snowmen. No time like the present to focus on some (pretty awesome) presents…
Ready?
UGG Quincy Boot – $169.95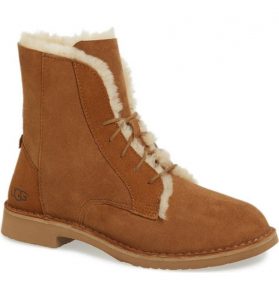 I know, UGGS aren't exactly fashionable. But they ARE warm and fuzzy and it will get cold in Pennsylvania, eventually. I am sure of it. I love these because they aren't the bulky, clunky version we typically associate with this brand. The "casual chic" look is strong this season. Pair these boots with your favorite skinny jean and plaid, button down shirt. Layer on a cashmere sweater and knit pom-pom hat and you look like a JCrew ad. And, isn't that the image we all aspire to? Click here for your pair: http://bit.ly/2h3Z9gS
Halogen Tie Sleeve Velvet Blazer – $99.00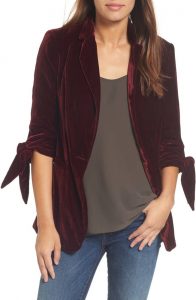 The color, the fabric, the little bows on the sleeve….are you kidding me? This may be THE quintessential holiday must-have. You can dress it up with a pencil skirt and heels or wear it casually with denim and boots. Available in black (always classic) or burgundy (my personal favorite). I think this blazer can take your outfit to the next level without feeling overly dressy. Click here: http://bit.ly/2zcivZe
Crafty Nicole Wine Board – $25.00 or $30.00 and $10.00 engraving

Finding a cool hostess gift can be tough. You want it to be unique because everyone brings the standard bottle of wine, right? Well, I have something better. This hand planed, solid red oak wine board holds either two or four glasses (included). It is also food treated to act as a quick cutting board for cheese and fruit. And, you can add a personal touch with laser engraving.
Cheers! Order through Facebook or Instagram at Crafty Nicole or text #610-905-6079.
Magnolia Collection for Target –

If you haven't heard of Chip and Joanna Gaines from HGTV's "Fixer Upper" you might need to get out a little more. They are basically the rockstars of interior decorating and have made a fortune parlaying their shabby to chic make-over skills into dollar bills. Well, to add to their bazillions, they designed a collection for Target that drops TODAY. Run, run, run to your computer, as sell-outs are inevitable.
Those of you who have been reading my column for a while know that, while I love to find great home decor, I struggle to get in the mood to decorate for Christmas. HOLD ONTO YOUR HATS. This Magnolia Collection has me planning where to put the tree on NOVEMBER 4th.
Whhhhaaaatttt? It's true. Here are (just) three of my many, many favorites….
Alexis Kletjian located at 131 E. State Street, Kennett Square –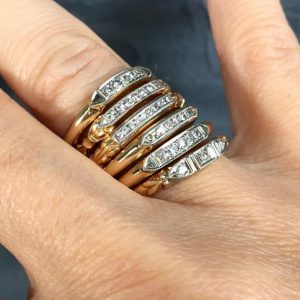 OK, so this next pick might be construed as being a bit on the sneaky side because I know that my husband reads my article. BUT, hear me out. My Super Six is all about things that I LOVE and want to pass along to the community. It is with nothing but pure intention that I hand select these suggestions. However, if they just so happen to be things that I would REALLY, REALLY love to have in my possession some day, so be it. Case in point, my favorite, award-winning, jewelry designer Alexis Kletjian, has a set of antique rings in her shop right now. One of these beauties fits me like a glove and partners, quite fetchingly, alongside my wedding set. Is it a sign? I think it may be.
If you are looking to add a little bling under the tree this holiday, you MUST shop here. But, don't buy that ring, it's mine.
Barefoot Dreams COZYCHIC LITE Pebble Beach Pullover and Pants $128 and $106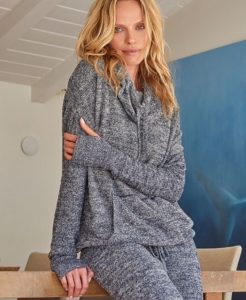 I don't know about you, but Daylight Savings Time really messes with my circadian rhythm. In the fall, when it gets dark by 4:30pm, I can't help but want to change into pajamas. Luckily, I found this set from Barefoot Dreams that is as cozy as your favorite nightgown, but much more respectable for running errands. The fabric is heavenly and the heathered color makes it dressier than a plain ol' grey sweatsuit. I'm sold. You'll find me in this outfit most days of the week once the sun goes down. Click here for yours: http://bit.ly/2AjyS6x
That's a wrap! Hope you love these 6 picks as much as I do. As always, share what you are obsessing over in the Comment section below.
Happy Weekend