By Denny Dyroff, Staff Writer, The Times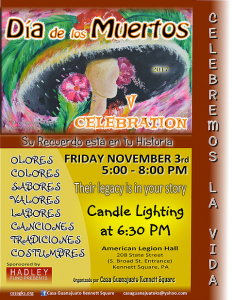 November 1 is a special day in Mexico and in Mexican-American communities throughout the states. It is the day known as "Dia de Los Muertos" — the Day of the Dead. It is a festive day when families remember and honor their loved ones who have passed away.
Kennett Square will be celebrating "Dia de Los Muertos" on November 3 with a special event at the American Legion Hall (208 East State Street, Kennett Square).
As a celebration of life, culture and the arts, Casa Guanajuato (645 E. Baltimore Pike, Kennett Square, http://www.casagks.org) will host an art exhibition on the Day of the Dead. The "Celebration of Life" event is a family-friendly activity with exhibits featuring local artists, music, traditional dances and lively festivities from 5-8 p.m. at the American Legion Hall. 
The special candle lighting ceremony is slated to get underway at 6:30 p.m.
Also on Friday, Kennett Square is presenting its First Friday Art Stroll.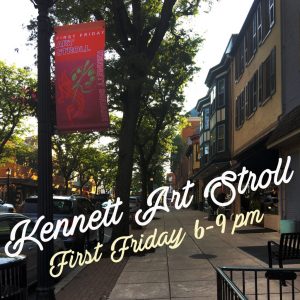 The Art Stroll is a monthly celebration of the local art scene as it is showcased in the galleries, shops and restaurants throughout town.  Residents and visitors alike are encouraged to stroll the tree-lined streets and browse the many businesses that stay open late.  Most every store in Kennett Square will highlight the work of a local artist, with food, wine and music.
The Art Stroll runs from 6-9 p.m. After 5 p.m., visitors to Kennett Square can enjoy free parking anywhere in the parking garage and at any street meter.
The City of Lancaster will also celebrate First Friday.
Special events include "Lancaster Press Building-Rooftop Terrace Reveal Party," "Grand Opening" of Upohar Ethnic Restaurant (798 New Holland Avenue), "Meet the Maker – Lush Bazaar" at Nicole+ Taylor Boutique and "Night for Africa Lancaster" at Tellus 360 featuring Light the Future Choir from Kenya and homemade Kenyan food.
On November 5, the Brandywine River Museum (Route 1, Chadds Ford, 610-388-2700, www.brandywinemuseum.org) will host "First Sundays for Families: Pirate Day."
Pirate Adventure Day returns to Brandywine River Museum of Art with amazing pirate adventures for all ages. Attendees will be able to create pirate-themed crafts, hunt for art treasures in the museum, meet a Pirate and enjoy "Storytime Peter Pan" presented by Hedgerow Theatre.
All activities are included with museum admission.
The event runs from 10:30 a.m. until 2 p.m. Admission to the museum is $18 for adults, $15 for seniors (65 and older), $6 for students with ID and children (ages 6-18.)
The Pennsylvania Hunt Cup (Pennsylvania Hunt Cup racecourse, Newark Road, Unionville, 484-888-6619, http://pahuntcup.org) is one of the oldest and most respected equestrian events in the Mid-Atlantic region. This year, the Hunt Cup will celebrate its 83rd anniversary on November 5.
The equestrian competition will feature four open races sanctioned by the National Steeplechase Association. Three of them will feature races over fences and one will be a race on the flat.
The challenging course features 22 post and rail fences and is one of just three four-mile races sanctioned by the National Steeplechase Association. Another popular race is the children's Pennsylvania Pony Hunt Cup.
Gates open at 10:30 a.m. The first event — the Pennsylvania Pony Hunt Cup – is scheduled to start at 11:30 a.m. followed by the Mrs. Ford B. Draper Side Saddle Race at 12:30 p.m.
There will be the traditional "Carriage Parade" at 1 p.m. followed by the Lewis C. Ledyard Memorial Foxhunters Chase at 1:30 p.m., the Parade of Cheshire hounds at 2 p.m., the Arthur O. Choate Jr. Memorial Trophy race at 2:15 p.m. and the Pennsylvania Hunt Cup at 3 p.m. The final race of the day will be the Athenian Idol Race at 3:30 p.m.
Traditionally, the Pennsylvania Hunt Cup has had several local conservation organizations as beneficiaries. For 2017, the beneficiaries are Chester County Food Bank, Work to Ride and Upland Country Day School. General Admission, which is $50 per car, includes parking and admission for all occupants of one vehicle.
On November 4, Hope Lodge (553 South Bethlehem Pike, Fort Washington, 215-646-1595, http://www.ushistory.org/hope) will host its 36th annual "1777 Whitemarsh Encampment." This event commemorates the time from November 2 to December 11 in 1777 when General George Washington and the Continental Army were encamped in the Whitemarsh Hills.
Saturday's activities will begin at 10:30 a.m. with lecture and book signing by Jeffrey Finegan, Sr. author of the "I Knew George Washington" series.
Activity shifts into high gear at 11:30 a.m. with a skirmish re-enactment in the back field. The battle display will be followed by another skirmish re-enactment at 2:30 p.m.
On Sunday, the event will open with a Revolutionary War era church service in the formal garden at 10:30 a.m. followed by the cashiering of a disgraced soldier on terrace in front of mansion at 11:30 a.m. There will be a weapons demonstration in the back field at 1 p.m. The weekend's activities will conclude with another skirmish re-enactment at 2:30 p.m.
Two special events will be "Experiments of Dr. Benjamin Franklin" at 1 p.m. presented by Michael Kochan, and historical song performance by Les Chanteurs Historiques at 1:30 p.m. The list of all-day activities includes Textile and Dyeing Demonstrations (presented by Colonial Pennsylvania Plantation), Papermaking Activity (presented by Colonial Pennsylvania Plantation), Military Surgeon Presentations by Wayne Skilton, sutlers, open hearth cooking demonstrations, bobbin lace demonstration by Becky Ledebohm, dulcimer entertainment by Lynn King and presentations by The Schooner Pursuit Historical Society.
Video link for Encampment — https://youtu.be/xqUdOHZpigI.
As an added attraction, the Hope Lodge mansion will be open for self-guided tours all day (except during the skirmishes). Admission is $10 for adults, $6 for seniors (age 60 and older) and youths (ages 6-17). Children ages 5 and under are free. There is a special family (one car) admission of $20.
This weekend, the Greater Philadelphia Expo Center in Oaks (100 Station Avenue, Oaks, 631-940-7290, www.phillyexpocenter.com) will be bustling with activity with a trio of special events dealing with beer and cider, colorful gems and top-quality crafts.
The Seventh Annual Valley Forge Beer & Cider Festival (http://valleyforgebeerfest.com) will be held at the Expo Center on November 4 from 12:30-9 p.m.
This thirst-quenching, pay-one-price tasting experience, called "a not-to-be-missed event for fans of real beer" by Drink Philly, will be fun-filled day for all — the beer lover and the cider drinker.  The event will break all records of years past with over 150 beers and ciders for sampling.
The event will feature the most popular local breweries and cideries along with an array of producers from across the country and around the world.
General Admission sessions are 12:30-4 p.m. and 5:30-9 p.m. Tickets are $40 and include beer and cider sampling, a five-ounce tasting cup and free parking.
For the seventh year in a row, the festival is partnering with the local Committee to Benefit the Children (CBC) to support them in their efforts to improve the quality of life for children and families who face cancer, leukemia and serious blood disorders.
A good way to get your holiday shopping season started is a visit to the 2017 edition of Gemarama which is scheduled for November 4 and 5 at the Greater Philadelphia Expo Center.
Visitors to the 48th Annual Gemarama will find an amazing variety of gems on display and available for purchase. Gem specialists and dealers from all over the country will be displaying and selling their specialties at this popular gem and mineral show.
Show attendees will be able to look at gems and rare stones from all around the world — many of which are for sale and not just exhibition pieces. Visitors will be able to examine and select purchases from a huge number of collectible items ranging from fossils to precious gems.
As an added attraction, members of the Tuscarora Lapidary Society will be presenting demonstrations of various lapidary and jewelry making skills including faceting, intrasia, faceting, channel jewelry, metal craft, silversmithing, bead stringing, chain making and wirewrap jewelry.
At the "Children's Table", youngsters will be able to make bracelet and key chains, use informative children's coloring books on gems and minerals and toss a bean bag to win a prize.
Also featured will be a variety of competitive exhibits with awards in the following categories — Best in Show, Best Theme Exhibit, Most Educational Exhibit, Best Non-Member Exhibit, Best Mini-Case Exhibit and Director's Award.
Gemarama will run from 10 a.m.-6 p.m. on November 4 and 9 a.m.-5 p.m. on November 5. Tickets for adults are $6 with two-day tickets available for $9 while tickets for children (under 12) are $1.
The Sugarloaf Crafts Festival (http://sugarloafcrafts.com/festivals/fall-tour/oaks), which is being held November 3-5 at the Greater Philadelphia Expo Center, presents the work of over 250 top-flight crafters, many of whom are in the upper echelon of American artisans.
The festival will feature a large variety of crafts categories, including blown glass, tapestry, rugs, leather, sculpture, woodturnings, forged iron, baskets, photography, woodwork, weaving, pottery, mixed media, hats, painted silk, musical instruments, jewelry, fused glass, fine arts, brass items, boxes, wind chimes, specialty foods, accessories, bells, quilts, glass, copperware, chair caning, enamels, furniture, pillows and clothing.
The event will also feature a variety of craft demonstrations and a full schedule of live entertainment, including performances by Janet Spahr and her Handpans, costume storytelling by Middle Earth Studios and guitarist Ed Wright. Hours are 10 a.m.-6 p.m. on Friday and Saturday and 10 a.m.-5 p.m. on Sunday. Tickets are $10 and are good for all three days. Children under 12 are admitted free.
Longwood Gardens (Route 1, Kennett Square, 610-388-1000, www.longwoodgardens.org) celebrates the popular autumnal flower with its annual Chrysanthemum Festival every year in October. This year's Mum Fest, which is running through November 20, is a top-flight exhibit featuring more than 20,000 colorful, blooming chrysanthemums in Longwood's huge conservatory.
Longwood's horticulturalists have grown and developed the mums into a variety of unusual forms. They have groomed chrysanthemums to resemble clouds, torches, spirals, fans, 13-foot arches and more. The stars of the show are Longwood Gardens' "Thousand Bloom" mums.
The Thousand Bloom (known in Japan as Ozukuri) is the most exacting and difficult of all the Chrysanthemum training styles. It derives its name for the ambitious goal of a single chrysanthemum plant producing 1,000 perfect blooms.
The method for growing the Thousand Bloom originated in China and Japan more than 200 years ago. It is a dying art form with only a few growers in the entire world skilled in the techniques needed to grow this special plant.
This year, Longwood has the largest chrysanthemum outside of Asia on display. Grown at Longwood, the plant is expected to produce over 1,500 perfectly placed, uniform blooms on one plant.
Admission to Longwood Gardens is $23 for adults, $20 for seniors (62+) and $12 for students (ages 5-18).
On November 4 at 3 p.m., West Chester University's "WCU Live!' (www.wcupatix.com) will present a show featuring Peter Gros of Mutual of Omaha's "Wild Kingdom" at Emilie K. Asplundh Concert Hall (South High Street, West Chester
In his popular live presentations, Gros, a wildlife expert and environmental conservationist, Gros introduces the audience to his exciting animal world, travel experiences, and timeless tales. Gros is best known for hosting the original Mutual of Omaha's "Wild Kingdom" on Animal Planet.– one of the most well-known and longest-running wildlife series on television.
With a strong desire to share his passion for the natural world with young people across the planet, Gros lectures frequently on conservation and preservation at universities, zoos, theaters, and nature and science centers around the nation.
Ticket prices are — Orchestra Full-View: Adults $27, Students/Seniors $22; Orchestra Partially Obstructed: Adults $22, Students/Seniors $17;
Balcony: Adults $19, Students/Seniors $15.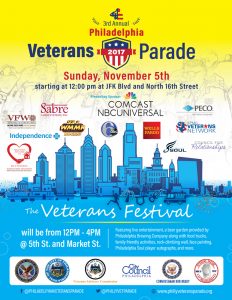 The Third Annual Philadelphia Veterans Parade (www.phillyveteransparade.org) will take place on November 5 in Center City Philadelphia.
The parade route originates at the intersection of JFK Boulevard and North 16th Street. The parade concludes at Fifth and Market streets, where the Veterans Festival will be set up.
This year's notable attendees include The United States Secretary of Veterans Affairs, David Shulkin; Colonel Joe Marm, the only living Medal of Honor recipient from Pennsylvania, and last year's Grand Marshal, Tuskegee Airman Gene Richardson.
With more than 150 organizations involving over 3,000 participants including 34 Veteran Service Organizations, the Third Annual Philadelphia Veteran Parade will be a celebration to remember. The Veterans Festival will feature live entertainment from Modzilla, TC Riot Band and Savior Soul, and Midnight to Minutes.
The family-friendly festival will feature live music, food trucks, a beer garden, a rock-climbing wall, and fun activities for children such as face painting and balloon artists.
The 2017 Philadelphia Veterans Parade and Festival will run from noon-4 p.m.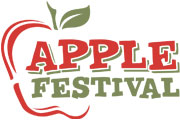 With a forecast of mild, sunny weather, this weekend should be a good time to travel through central Bucks County to enjoy autumn's colorful foliage. This weekend offers an even better time because it's the weekend of Peddler's Village's Apple Festival (Routes 202 and 263, Lahaska, 215-794-4000, www.peddlersvillage.com).
The 44th annual staging of the popular annual event will be held November 4 and 5 from 10 a.m.-5 p.m. each day at the Peddler's Village complex. It will feature a variety of artisans who will be demonstrating and selling their crafts. There will also be live music and the curiously entertaining pie-eating contests.
As expected, the free festival will be a showcase for apples served in all sorts of tasty ways — apple cider, caramel-covered apples, apple fritters, apple sundaes, apple pie and apple strudel.
Visitors will even be able to sample country apple butter cooked over an open fire. Many of the apple treats will be available for take-home as well as for eating at the festival. Additionally, visitors will be able to purchase a variety of fresh apples in bushels from the site's orchard.
The roster of live entertainers includes The Big Chill, The Overtones, Toby Mochel, Tino & Ashley, Bellevue Cover Band, Ray Owens, Galena Brass Band, Spinning Straw, BC Discoveries Dance Company, Give and Take Jugglers, Raven Hill, Lolly and YoYo, Jersey Harmony Chorus, and Borderline.
A leisurely way to take in autumn's annual color display is to ride a special excursion on an area tourist railroad.
The West Chester Railroad (Market Street Station, West Chester, 610-430-2233, www.westchesterrr.net) is running its special "Fall Foliage Express" trains on November 5 and 12 with departures at noon and 2 p.m.
The round-trip train ride travels to the village of Glen Mills and back and lasts for 90 minutes. During the brief layover in Glen Mills, riders can explore the historic Pennsylvania Railroad station and have a snack in the railroad's picnic grove along the Chester Creek.
Tickets are $15 for adults, $13 for children ages 2-12 and free for kids under two.
The Wilmington & Western Railroad (2201 Newport Gap Pike, Wilmington, DE, 302-998-1930, www.wwrr.com) is running its "Autumn Leaf Special" with trains on November 4 and 5.
Trips are either a one-and-one-half hour roundtrip to the Mt. Cuba Picnic Grove or two-and-one-half hour roundtrips to Hockessin.
The W&WRR also is running its "Hayride Express" on November 10 at 7 p.m. Visitors can experience a one-hour evening ride through the Red Clay Valley on an original railroad flatcar converted especially for hayrides.
On November 4 and 5, the Railroad Museum of Pennsylvania (300 Gap Road, Strasburg, 717-687-8628, www.rrmuseumpa.org) is presenting a special event that is sure to appeal to the patriotic spirit in everyone — an event called "Trains & Troops." It is a Veterans Day celebration a few days early.
"Trains & Troops" is the museum's annual tribute to the U. S. Armed Forces — to all those who served or are serving in defense of our nation. At the annual autumn event, visitors will be able to greet our men and women in uniform — including veterans, civilians, railroaders and re-enactors from the Civil War forward. Also featured will be a large array of military and military railroad service-related posters, uniforms, equipment, field gear, maps, books and photographs on display.
The annual event is also a tribute to American railroads and their role in supporting the U. S. Armed Forces. Railroads built our nation and came to the country's defense during times of war — both on the home front and overseas. The American Civil War marked the first major military application of railroads. The Military Railway Service was created in 1916 for World War I. In World War II, U. S. freight and passenger railroad service, both military and civilian, was huge.
There will be a salute to veterans and active duty service personnel with the Lancaster Red Rose Honor Guard on November 4 at 11 a.m.and November 5 at 1 p.m. The Lampeter-Strasburg Community Band will present a concert on November 4 from 11 a.m.-1 p.m. and the Lancaster Trombone Band will perform from 1-2:30 p.m. on November 5.
The museum's vast Rolling Stock Hall will come alive to the music of the Moonlighters Band at the "Taking the Swing Train '40s Dance" scheduled for November 4 from 7-10 p.m. Tickets cost $25 for the dance only or $35 for a combination with "Trains & Troops" admission. Tickets for "Trains and Troops" only are $10 for adults, $9 for seniors and $8 for youth (ages 3-11).
The UniverSoul Circus (52nd Street and Parkside Avenue, Philadelphia, www.universoulcircus.com), which is running now through November 26, is offering something different for circus fans.
The performances, which will be held in the UniverSoul Big Top next to the Mann Music Center, blend traditional circus attractions with urban culture, hip hop tunes and world beat music.
Celebrating its 21st anniversary in Philadelphia, UniverSoul Circus has come full circle in its influence in the international entertainment marketplace — garnering the distinction of being known as a one-of-a-kind, must see attraction. Since its first performance in 1994, UniverSoul Circus has presented more than 10,000 performances to live audiences and has been seen in more than 60 million households on both local and national television networks.
UniverSoul Circus connects with progressive, upwardly mobile, urban pop cultures from around the world. Celebrating more than two decades under the big top, UniverSoul Circus features music, theatrical performances and incredible circus acts including contortionists from Guinea, acrobats from Ethiopia, a clown trio from Detroit, dancers from the Caribbean and animal acts from Mexico.
The entire line-up will help this tour de force of circus artistry bridge cultures from around the world.
The circus will be in town now through November 26 at its site in Fairmount Park. Ticket prices range from $19-$35.
This weekend, you can get a glimpse at how holidays are celebrated in Eastern Europe and Russia by visiting the Church Bazaar at Saints Peter and Paul Ukrainian Orthodox Church (1406 Philadelphia Pike, Claymont, Delaware, 302-798-4455, www.sspeterandpauluoc.org).
The menu of food items which can be eaten onsite or purchased to go includes Holubtsi (Ukrainian stuffed cabbage rolls), Kovassa (Ukrainian-style kielbasa), Halushki (cabbage and noodle), Pyrohy (Ukrainian pierogies), Borscht (beet soup), Mushroom Soup and authentic handmade Ukrainian bakery items such as nut rolls, Pascha and poppy rolls.
There will also be church tours, pysanka for sale and a variety of other vendors with cultural and religious items for sale. The free event runs from 10 a.m.-3 p.m.
November's edition of the "Full Moon Tour" at the Wolf Sanctuary of Pennsylvania (465 Speedwell Forge Road, Lititz, 717-626-4617, http://wolfsanctuarypa.org) is scheduled for November 4.
The Sanctuary offers this tour once a month on the closest Saturday to the full moon. This month, it's slated for this Saturday and the full moon is known as the Beaver Moon.
This event allows participants to create their own experiences. Instead of following a tour guide from pack to pack at a regulated pace that fits within a 45-minute time line, you get to go at your own pace from pack to pack.
There is also the option of talking to tour guides who are stationed at each pack. You can listen to what they have to say about the wolves when stopping at a station – and you have the option to ask questions.
With this tour, you move at whatever speed you find comfortable. If you get tired, you can go over and sit next to a roaring bond fire (weather permitting) and just relax.
Visitors are requested to bring a blanket, a flashlight, a chair and maybe some hot dogs and marshmallows.
The tour starts at 7:30 p.m. Tickets are $20 and no reservations are required.
The line-up for the remainder of this year's "Full Moon Tours" features the Cold Moon tour on December 2.
Another full moon event will take place on November 3 at The Nature Place (575 St. Bernardine Street, Reading, 610-372-4992, www.berksnature.org).
From 6-8 p.m., Berks Nature will offer a special "Full Moon Hike" around the grounds of the society's site in Reading.
Participants are instructed to "leave the flashlights at home."
Berks Nature guides will lead the hike and give talks about bats and the moon as well as other nature topics.
Admission for this all-weather outdoor event is $6.
The Hockessin Art & Book Fair, which will be held November 4 at Hockessin Community Recreation Center (7259 Lancaster Pike, Hockessin, Delaware,https://www.eventbrite.com/e/hockessin-art-book-fair166)  showcases the work of local independent and self-published authors and artists.
The family-friendly event will be full of performances, author readings, cos-play opportunities, and much more in the "Kids Corner" as well as on the "Main Stage."
The 2017 Honorary Chairs are Sharon Huss Roat, author of the Young Adult novels "Between the Notes" and "How to Disappear" and artist Lee Zimmerman a.k.a The Puppet Guy, who has been performing his rock and roll marionette show all over the world from more than 30 years.
Participants can get a Free Hockessin Art & Book Fair bag, which will be given out on a first-come, first-served basis while supplies last.
The event will run from 11 a.m.-3 p.m. Admission to the Fair is free to the public.
By now, most of us have had our fill of Halloween stuff and a ready to move on.
But, there are others who can never get enough of the spooky stuff. Fortunately for them, there are number of Halloween activities continuing through this weekend.
Pennhurst Asylum (100 Commonwealth Drive, Spring City, 484-866-8964, www.pennhurstasylum.com) is on the site of a former mental asylum which has been shuttered for over a quarter of a century.
It has been transformed into a haunted attraction with huge sets, detailed rooms and live actors. Visitors can also explore the labyrinth of underground tunnels.
This weekend, it will be time for "Black Out!" — Pennhurst Asylum's first ever lights out experience.
The house will be lit with very limited lighting and participants will be given one "Glow Stick" per group.
The special "Black Out!" activity will be held on November 3 and 4 only. Tickets are $18.
The "32nd Annual Jason's Woods" (99 Stehman Road, Lancaster, 717-872-5768, www.jasonswoods.com), which is running through November 4, is a horror show complex that features a combination of live actors, impressive animation and scary special effects.
Popular attractions include "Horrifying Hayride," "Chamber of Horrors," "Zombie Apocalypse," "Lost in Jason's Woods," and "Carnival of Fear," Admission prices are for combo tickets are $25 for three attractions and $40 for five.
"Terror Behind the Walls" (Eastern State Penitentiary, 2124 Fairmount Avenue, Philadelphia, 888-763-NITE, www.easternstate.org), which continues through November 11, takes place at a site Penitentiary that was once was an active prison and is now a National Historic Landmark.
It is a scream-inducing event featuring laser and special-effect lighting, digital sound, sinister scents, animatronic creatures and 3-D illusions.
Attractions include "Blood Yard," "Infirmary," "Break Out!," "Quarantine 4D," "Lock Down," and "Machine Shop."
Admission prices, which vary with the date, start at $19.
The "25th Annual Field of Screams" (Stone Battery Road, Lancaster, 717-285-7748, www.fieldofscreams.com), which is open now through November 11, features "Den of Darkness" (three-story horror house), "Frightmare Asylum" (walk-through haunted barn), "Extreme Blackout," "Nocturnal Wasteland" and the "Haunted Hayride" (a 25-minute fright-filled ride featuring state-of-the-art special effects, pyrotechnics and animatronics). Ticket prices start at $16.
"Hurricane Hill Farm Maze" (Baldwin's Farm, 704 East Reeceville Road, Coatesville, 610-384-6952, www.hhfmaze.com) will be open Saturdays and Sundays until November 5.
This event features miles of trails through a five-acre corn maze along with a corn slide, hayrides, a pumpkin patch and a farm animal display.
This year's theme is "The Great Train Adventure." Maze design includes a dynamic view of a steam locomotive.
Tickets are $14.
Another popular corn maze in the area is running now through November 5 at Cherry Crest Adventure Farm (150 Cherry Hill Road, Ronks, 717-687-6843,www.cherrycrestfarm.com).
The main attraction is Cherry Crest's "Amazing Maize Maze." Billed as "the world's most dynamic and interactive corn maze," it is a five-acre corn maze with over two-and-one-half miles of paths, scenic bridges, and clues. There will also be a "Flashlight Maze" every Friday and Saturday night. Tickets are $17 on Thursday and Fridays and $20 on Saturdays.
"Pumpkinland" (Linvilla Orchards, 137 West Knowlton Road, Media, 610-876-7116, www.linvilla.com), which is open through November 5, features fairy tale characters from nursery rhymes along with a huge scarecrow and a really tall storybook.
Other activities include train rides, a straw bale maze, hayrides, pick-your-own apples and pony rides. Admission is free and hayrides are $9 per person.
While some can't let go of Halloween, others can't wait until the Christmas season starts. Well, it has started this weekend.
Anyone wanting to get into a Christmas mood early can visit Koziar's Christmas Village (782 Christmas Village Road, Bernville, 610-488-1110,www.koziarschristmasvillage.com) which begins its 70th season on November 4.
Koziar's Christmas Village is truly a holiday wonderland — a wintertime spectacle that delights young and old alike with a huge amount of holiday displays and special attractions. It will remain open every night through January 1 — including Christmas Eve, Christmas Night, New Year's Eve and New Year's Night.
The tours of "Christmas Village" feature visits to a variety of displays and exhibits, including "Santa's Post Office," "Christmas in the Jungle," "Manger Scene," "Christmas Beneath the Sea," "'Twas the Night Before Christmas," "Olde Fashioned Bakery Shop," "Toy Maker and his Toy Shop," "Christmas in Other Lands" and "The Olde Church".
Other attractions at Koziar's Christmas Village include a huge model train display, a toy shop, a country kitchen, indoor and outdoor Christmas displays and a place to visit with Santa and even get pictures taken with the old guy in the red suit. Admission to Christmas Village is $10 for adults, $9 for seniors (65 and older) and $8 for children (ages 4-10).
The American Music Theatre (2425 Lincoln Highway East, Lancaster, 800-648-4102, www.AMTshows.com) has its holiday show running now through December 30.
The AMT's 2017 show "Home for the Holidays" is an all-new presentation of favorite sacred and secular holiday songs performed by professional artists from across the country. The show will feature spectacular vocal harmonies, lively musical arrangements, impressive dancing and the music of the AMT Orchestra.
Also featured will be elaborate scenery, elegant costumes and a theater decked out with holiday decorations.
The show will have both matinee and evening performances each week with the addition of 10:30 a.m. performances on Saturdays throughout December. Show length is two hours and 15 minutes with a short intermission. Tickets are $42 for adults and $21 for children.
If you're reading this and it is still November 3 – Happy Sandwich Day.
You live in the Philly region and Philadelphians have a reputation for wanting to make sandwiches out of anything and everything. So, go have a sandwich and enjoy your local heritage.