By Denny Dyroff, Staff Writer, The Times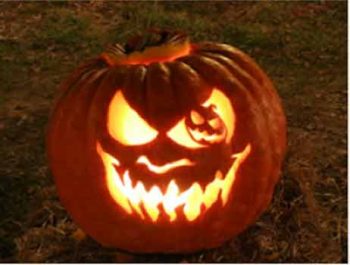 One of the most eagerly-anticipated autumn events in the area is "The Great Pumpkin Carve" (Chadds Ford Historical Society, Route 100, Chadds Ford, 610-388-7376,www.chaddsfordhistory.org) which is running now through October 21.
The colorful event began with the carving competition on October 19. Live entertainment, hayrides and hot food are featured all three days. Admission is $10 for adults (18 and older) and $5 for children (ages 7-17).
There are many other pumpkin celebrations going on around the Delaware Valley.
One of the most ambitious is "The Glow: A Jack O'Lantern Experience" (www.theglowjackolantern.com).
"The Glow," which runs now through October 29.
This is a family-friendly, immersive Halloween stroll along a trail illuminated by more than 5,000 hand-carved jack o' lanterns.
The Halloween-themed happening will delight visitors as they are surrounded by thousands of intricately-carved pumpkins dangling from above and along the third-of-a-mile walk.
In the Pre-Historic Park, jack o' lantern dinosaurs stand up to 16 feet tall. Captain Jack and his band of marauders helm a 30-foot-long pirate ship, complete with skeletons and pumpkin pirates. In the pumpkin graveyard, guests will encounter black cats, ghosts and gravestones.
"The Glow" also illuminates some of Philly's most famous natives with pumpkin look-a-likes featuring sports figures, famous icons, superheroes and princesses.
"The Glow" is located in West Fairmount Park adjacent to the Mann Music Center on Parkside Avenue. Tickets start at $16.
"Pumpkinland" (Linvilla Orchards, 137 West Knowlton Road, Media, 610-876-7116, www.linvilla.com), which is open through November 5, features fairy tale characters from nursery rhymes along with a huge scarecrow and a really tall storybook.
Other activities include train rides, a straw bale maze, hayrides, pick-your-own apples and pony rides. Another attraction, which runs through October 30, is "Hayride to the Witch's House." Admission is free and hayrides are $9 per person.
The "Great Pumpkin Express Trains" (West Chester Railroad, Market Street Station, West Chester, 610-430-2233, www.westchesterrr.net) are scheduled for October 21, 22, 28 and 29.
The "haunted trains" with ghoulish characters leave West Chester's Market Street Station at noon and 2 p.m. Tickets are $22 for adults, $16 for children and $9 for toddlers (9-23 months).
A nice option for enjoying autumn's annual color display is to ride a special excursion on an area tourist railroad.
The West Chester Railroad is running its special "Fall Foliage Express" trains on November 5 and 12 with departures at noon and 2 p.m.
The round-trip train ride travels to the village of Glen Mills and back and lasts for 90 minutes. During the brief layover in Glen Mills, riders can explore the historic Pennsylvania Railroad station and have a snack in the railroad's picnic grove along the Chester Creek.
Tickets are $15 for adults, $13 for children ages 2-12 and free for kids under two.
The Wilmington & Western Railroad (2201 Newport Gap Pike, Wilmington, DE, 302-998-1930, www.wwrr.com) is running its "Autumn Leaf Special" with trains on October 21, 22, 25 and 28 and November 4 and 5.
Trips are either a one-and-one-half hour roundtrip to the Mt. Cuba Picnic Grove or two-and-one-half hour roundtrips to Hockessin.
The W&WRR also is running its "Hayride Express" on October 20 and 27 and November 10 at 7 p.m. Visitors can experience a one-hour evening ride through the Red Clay Valley on an original railroad flatcar converted especially for hayrides.
The New Hope & Ivyland Railroad (32 West Bridge St, New Hope, 215- 862-2332, www.newhoperailroad.com) offers a two-and-one-half hour, 35-mile roundtrip ride on its "Fall Foliage Trains" now through October 29. Every weekend, the rail line in Bucks County will operate regularly scheduled round trip trains out of New Hope Station and SEPTA's Warminster station.
Passengers can enjoy the sights of the beautiful fall scenery while riding aboard the rail line's "First Class Bar Car," "Antique Seat Coach" or "Open Air Car." Coach tickets are $48.95 for adults, $46.95 for children (ages 2-11) and $9.95 for toddlers.
This is the time of year when nature's colors go through a shift. The bright colors of summer's flowers are beginning to disappear and are being replaced by the autumnal colors of changing leaves. The only plants that really hang on and continue to have flowers are hardy pansies, which can bloom all winter long, and chrysanthemums, which are primarily autumn flowers.
Longwood Gardens (Route 1, Kennett Square, 610-388-1000, www.longwoodgardens.org) celebrates the popular autumnal flower with its annual Chrysanthemum Festival every year in October and November.
The 36th Annual Chrysanthemum Festival, which runs now through November 19, is a top-flight exhibit featuring more than 20,000 colorful, blooming chrysanthemums in Longwood's huge conservatory.
Longwood's horticulturalists have grown and developed the mums into a variety of unusual forms. They have groomed chrysanthemums to resemble clouds, torches, spirals, fans, 13-foot arches and more. The stars of the show are Longwood Gardens' "Thousand Bloom" mums.
The Thousand Bloom (known in Japan as Ozukuri) is the most exacting and difficult of all the Chrysanthemum training styles. It derives its name for the ambitious goal of a single chrysanthemum plant producing 1,000 perfect blooms.
The method for growing the Thousand Bloom originated in China and Japan more than 200 years ago. It is a dying art form with only a few growers in the entire world skilled in the techniques needed to grow this special plant.
This year, Longwood has the largest chrysanthemum outside of Asia on display. Grown at Longwood, the plant is expected to produce over 1,500 perfectly placed, uniform blooms on one plant.
Regular admission to Longwood Gardens is $23 for adults, $20 for seniors (62+) and $12 for students (ages 5-18).
Plein Air Brandywine Valley (www.pleinairbrandywinevalley.org) is a painting and photography competition, show and sale featuring the beauty of the Brandywine Valley interpreted by a number of highly-acclaimed artists. It is free and open to the public.
From October 16-19, artists painted and photographed the most scenic properties of the Brandywine Valley including private estates, land preserves, and renowned du Pont properties.
All works entered into the competition will be judged and then displayed for viewing and purchase at an opening gala scheduled for October 20 at 6:30 p.m. at the Visitor Center of Winterthur Museum and Garden (Route 52, Wilmington, Delaware).
The works will remain on display for purchase and viewing on October 21 and 22 — from 10 a.m.-4 p.m. on Saturday and Sunday. A portion of the proceeds from the art sales will benefit Children's Beach House.
A popular area autumn event is "Hayrides at Hagley" at Hagley Museum and Library (Buck Road East entrance via Route 100, Wilmington, Delaware, 302-658-2400,www.hagley.org).
This year, the hayrides will take place on October 21 from 11:30 a.m.-4 p.m.
Participants will be able to take a hayride along the Brandywine to experience the beautiful fall foliage in the Powder Yard. Guests can create fall-themed crafts, see a gunpowder explosion, a roll mill in action, and more.
Upon arrival, reserve your hayride at the Visitor Center. Come early to make sure you get a spot because rides are filled on a first-come, first-served basis.
Family-friendly activities include crafts such as needle felting, leaf animals, and corn husk dolls. Kids can explore the Powder Yards with a scavenger hunt during their Hayride. A guide will be on-hand to answer questions during the Hayride.
The activities are included with admission, which is $14 for adults and $6 for children (ages 6-14).
There is a big event for specialized memorabilia collectors this weekend — the Philly Non-Sports Card Show. The event will be held on October 21 from 10 a.m.-5 p.m. and 22 from 10 a.m.-3 p.m. at Merchants Square Mall (1901 South 12th Street, Allentown, 717-238-1936, http://phillynon-sportscardshow.com). Tickets are $8 each day or $14 for a two-day pass.
There are two basic categories of trading cards — sports cards and non-sports cards. Sports cards depict athletes at all levels. Non-sport cards offer so much more. There are card sets dealing with music, movies, politics, nature, pop culture and history.
For more than a century, non-sport trading cards have documented trends in pop culture – providing people with history lessons provided by small, rectangular pieces of cardboard.
Twice each year, collectors from across the country come together in eastern Pennsylvania for this very special event. Now in its 33rd year, the event is the oldest show of its kind in the country. This weekend's extravaganza, which will be held Saturday and Sunday at the Merchants Square Mall in Allentown, is the 63rd edition of the show.
Many of the hobby's top manufacturers will have exhibit booths at this weekend's show and will be distributing free promo cards. There will be a huge array of non-sport cards, sets, singles, wrappers, chase cards, promos, and related memorabilia.
The 1696 Thomas Massey House (Lawrence Road, Broomall, 610-353-3644, http://www.thomasmasseyhouse.org) will be celebrating autumn with its Harvest Day Festival on October 15. The free festival features demonstrations of a variety of colonial crafts by period re-enactors and other special activities from 10 a.m. until 4 p.m.
Visitors will be able to learn how to make apple butter, churn butter and make candles. There will be a working walk-in fireplace as well as a working blacksmith shop. Live music will be provided by the Marple Community Band.
The Strasburg Railroad (Route 741, Strasburg, 717-687-7522, www.strasburgrailroad.com) is presenting a special event on October 21 — "The Great Train Robbery."
Billed as "A Bonnie & Clyde Adventure," the event allows guests to travel back in time to 1934 for an adventurous 45-minute ride on the rails through scenic Amish Country.
An A-list celebrity is planning to travel in style at the railroad complete with high fashion, sparkling jewels and bountiful riches.  However, there have been alleged sightings of dynamic duo, Bonnie and Clyde, whose exploits have captured the attention of the American public.
This interactive ride will rob you poor. But, all real money "donated" to the train's robbers will go to the Clinic for Special Children.
Boarding time for the train is 3:45 p.m. and departure is set to take place at 4 p.m. First Class Lounge Car and First Class Parlour Car tickets are $27. Coach Car tickets are $18 for adults and $12 for children.
If you're a Harry Potter fan then you need to head to Chestnut Hill this weekend. On October 20 and 21, Chestnut Hill will be the site of the Seventh Annual Harry Potter Festival and Quidditch Tournament. The free fan fest stretches a full 10 blocks along Germantown Avenue.
There will be a wide array of Harry Potter-related activities including a round-robin Brotherly Love Cup Quidditch Tournament, Hogwarts train, Hedwig's Hollow Selfie Park, Horcrux activity stations, and a "Sorting Hat Demonstration" led by Dumbledore.
There will also be rides on the Knight Bus, an "academy of wizardry and witchcraft" at the Jenks Playground, Thestral Rides, a Muggles read-a-thon featuring live readings of "Harry Potter & the Chamber of Secrets," ice sculpting and pop-up Harry Potter Festival art gallery.
For more information, visit https://chestnuthillpa.com/events/harry-potter-festival-2016.
The Reading Terminal Market Harvest Festival will be held on October 21 from 10 a.m.-4 p.m. at the Reading Terminal Market (51 North 12th Street, Philadelphia,http://www.readingterminalmarket.org).
The Reading Terminal Market is a great place to experience the bounty of fall in the Delaware Valley and Eastern Pennsylvania – especially during the annual Harvest Festival.
The festival, which is held outside the market, offers taste treats such as candy apples, turkey legs
Stoudts Brewery (2800 North Reading Road, Adamstown, 717-484-4386, http://stoudts.com) is hosting "Oktoberfest with the Joe Weber Orchestra" on October 22 from noon- 6 p.m.
The Stoudt family is carrying on its heritage in the Gemutlichkeit Bier Garden with a fun-filled family event held every Sunday in October.
The event features live German music, dancing, Stoudts award winning lagers and ales, hand-rolled soft pretzels from the Wonderful Good market, locally-produced German-style sausages and other delicious German food.
Gates open at noon for General Admission and the Joe Weber Orchestra plays from 1-5 p.m. General Admission tickets are $10 with children under 11 admitted free.
Halloween is less than two weeks away. Spirits are getting restless. Halloween costumes are hot sellers and bags of individually wrapped candy items are flying off the supermarket shelves.
Halloween, the holiday that features trick-or-treating and other ghostly fun events, takes its name from All Hallows Evening (Hallow e'en).
The area schedule of Halloween attractions is huge and very diverse with something for any taste. They can be classified in four main categories – events, attractions, mazes and amusement parks.
EVENTS
On October 21 and 22, the Brandywine Ballet will present performances of "Dracula" at West Chester University's Emilie K. Asplundh Hall (700 South High Street, West Chester, 610-696-2711, www.brandywineballet.org).
The mysterious story of Dracula takes place in an old, stone castle set in old Europe. Prince Dracula and his bride Elisabeta are madly in love when the Prince is called to lead his nation into battle.
Believing that her beloved has been killed, Elisabeta takes her own life. Upon his return, the Prince finds his bride has died, and becomes a madman in his heartbreak. He vows, "never to die," and terrorizes the lands as a menacing vampire.
The ballet is a story of his love, passion, and a Curse that may never be lifted. This tale of love, heartbreak, and a reunion of two lovers will excite, thrill, and shock audiences.
Shows are scheduled for October 21 at 7 p.m. and October 22 at 2 p.m. Tickets range from $25-$40.
On October 20 and 21, visitors to Sugartown (690 Sugartown Road, Malvern, http://historicsugartown.org/events) will have the opportunity to see Sugartown in a whole new light at the
"Sugartown at Sundown Lantern Tours."
Guides will lead visitors through the village by lantern and offer chilling tales about the village. The lantern tours will begin each night with the first tour at 6 p.m.
The tour will last approximately one hour. At the conclusion of the tour, guests can enjoy hot apple tea punch and treats from Simpson House Tea Room in the Carriage Museum
Admission is $10 for adults and $8 for children 6-10. The event is not recommended for children under age 6.
On October 21 and 28, the Colonial Pennsylvania Plantation (Ridley Creek State Park, Media, 610-566-1725, www.colonialplantation.org) is presenting "Lantern Ghost Tours."
Now in its third season, the Lantern Ghost Tours event runs from 6-9:30 p.m. each night in timed slots.
Space is limited and tickets must be purchased in advance. Tickets for the regular ghost tours are $12. The event is recommended for people 10 and older. No pets are allowed.
Since 1974 the Colonial Pennsylvania Plantation has given visitors a glimpse of 18th- century Pennsylvania farm life. Visiting the Plantation is an educational experience that is unique and unforgettable – and even a little scary on special nights.
Another event scheduled for October 21 is the "All Hallows Eve Fall Festival at Pennypacker Mills" (5 Haldeman Rd, Schwenksville, 610-287-9349,www.montcopa.org/pennypackermills). The event is free but there is a suggested donation of $2 per person.
The annual event, which is slated to run from 1-4 p.m., features tractor-pulled hayrides, pumpkin painting for kids, fall crafts, an apple cider press, corn shucking, a "Hay Pile Jump" and a bean bag toss.
From October 24-31, the Academy of Natural Sciences of Drexel University (1900 Benjamin Franklin Parkway, Philadelphia, 215-299-1000, www.ansp.org) is presenting an activity called "Halloween in Outside In."
Each day from 10 a.m.-4:30 p.m., the animal enclosures in "Outside In" will get a festive fall makeover.
The Academy's animals will revel in enrichment, so guests are invited to put on their costumes for the event.
Potential sights include seeing a snake slither around a pumpkin, a rat nibble a jack-o-lantern, or a tarantula scramble over a set of vampire fangs.
Visitors might also see an armadillo bob for apples, watch a bunny go trick-or-treating, or hear a not-so-spooky story ("Night Animals" by Gianna Marino) from Marty the Moose in costume. Other activities include a daily coloring page plus a Halloween-themed scavenger hunt, and cut-out-and color an animal mask to take home.
The "Not-So-Spooky Storytime" with Marty the Moose will take place daily at 1 p.m.
Museum admission is $17.95 for adults, $14.95 for seniors and $13.95 for children (ages 3-12)
"Candlelight Ghost Tours" (Fort Mifflin, Fort Mifflin and Hog Island roads, Philadelphia, 215-685-4167, http://fortmifflin.us) are scheduled for October 20 and 21.
Visitors can tour historic (and haunted) Fort Mifflin by candlelight from 7-10 p.m. each night and hear true stories of ghostly encounters. This event is billed as an "authentic experience." Tickets are $20 for adults and $15 for students (12 and under).
"Boo at the Zoo (Elmwood Park Zoo, Harding Boulevard, Norristown, www.elmwoodparkzoo.org) will be held October 21, 22, 28, 29 and 30 from noon-3 p.m. each day.
"Boo at the Zoo" features live entertainment, costume contests, costume parades, trick-or-treat stations with candy, prizes, crafts and educational pieces.
Children are encouraged to bring their own treat bags for trick-or-treating. The zoo will not be providing any bags.
"Boo at the Zoo" is free with zoo admission, which is $19.95 for adults, $14.95 for students and $12.95 for seniors and children.
"Boo at the Zoo" (Brandywine Zoo, 1001 N. Park Drive, Wilmington, 302-571-7747, www.brandywinezoo.org) will be held on October 20 and 21 from 5-7 p.m. each night.
The popular annual non-scary family event features games, animal enrichment programs, live critters and trick-or-treating. Children (and their grown-ups) are encouraged to wear costumes. Tickets are $5.
October 21 is the date for "Ghosts in the Graveyard" (Old Swedes Historical Site, 606 Church Street, Wilmington, Delaware, 302-652-5629, www.oldswedes.org).
From 6:30-9 p.m., visitors will be able to stroll through the complex, meet some of the ghosts who reside in the site's burial grounds and maybe even solve the mystery of the late-night bell ringing at Old Swedes Church.
Tickets are $10 for adults and $6 for students (ages 12-17).
Ghost Tour of Philadelphia (215-413-1997, www.ghosttour.com), Ghost Tour of Lancaster (717-687-6687, www.ghosttour.com) and Ghost Tour of Strasburg (717-687-6687,www.ghosttour.com) operate through November and offer an eerily entertaining evening of true ghost stories and real haunted houses.
Tickets are $17 for adults for Philadelphia and $15 for Lancaster and Strasburg and $10 for children at all locations.
On October 20, 26 and 27, Rock Ford Plantation (881 Rockford Rd., Lancaster, 717-392-7223, www.rockfordplantation.org) will present "Sleepy Hollow: The Legend Comes to Rock Ford."
During this original 45-minute immersive play, guests will follow Ichabod Crane, Brom Bones, Katrina Van Tassel and Squire Van Tassel from room to room on the first floor of the candlelit Rock Ford mansion which will be transformed into the Van Tassel family home, scene of the autumn ball in Washington Irving's classic tale, "The Legend of Sleepy Hollow."
Admission is $15 per person (recommended for children ages 12 and older).
The Paws Discovery Farm (1105 Hainesport-Mount Laurel Rod, Mount Laurel, 856-778-8795, https://www.pawsdiscoveryfarm.com) will present "Paws Happily Haunted Halloween" on October 21 from 6-9 p.m.
The event will celebrate all things Halloween, including "spook-tacular stories," Halloween-themed games, music and dancing, costume contests, snacks, animal encounters and more.
ATTRACTIONS
Pennhurst Asylum (100 Commonwealth Drive, Spring City, 484-866-8964, www.pennhurstasylum.com), which is open through October 30, is on the site of a former mental asylum which has been shuttered for over a quarter of a century.
It has been transformed into a haunted attraction with huge sets, detailed rooms and live actors. Visitors can also explore the labyrinth of underground tunnels.
Tickets are $18 for each of the attractions with a variety of combo packages available.
The "32nd Annual Jason's Woods" (99 Stehman Road, Lancaster, 717-872-5768, www.jasonswoods.com), which is running through November 4, is a horror show complex that features a combination of live actors, impressive animation and scary special effects.
Popular attractions include "Horrifying Hayride," "Chamber of Horrors," "Zombie Apocalypse," "Lost in Jason's Woods," and "Carnival of Fear," Admission prices are for combo tickets are $25 for three attractions and $40 for five.
The 27th annual edition of "Haunted Hayride, Bates Motel and Haunted Corn Maze at Arasapha Farm" (1835 N. Middletown Rd., Gradyville, 610-459-0647,www.thebatesmotel.com) will be scaring visitors through October 31.
The haunted hayride through the woods features monsters, special effects and actors. The Bates Motel has haunted rooms with special effects and computerized lighting.
Another attraction is the "Revenge of the Sacrecrow Haunted Trail." A haunted trail is cut through a cornfield inhabited by monsters.
Admission prices are: Haunted Hayride, $20; Bates Motel, $15; Haunted Trail, $15; combination tickets, $40. There are reduced rates for children.
"Valley of Fear" (300 W. Bristol Road, Feasterville, 215-942-9787, www.valleyoffear.com), which is open through October 30, features four "heart pounding attractions" — "Haunted Hayride," "Scareytales," "The Facility," and "Operation Z Escape."  Admission prices start at $19.
"Terror Behind the Walls" (Eastern State Penitentiary, 2124 Fairmount Avenue, Philadelphia, 888-763-NITE, www.easternstate.org), which continues through November 11, takes place at a site Penitentiary that was once was an active prison and is now a National Historic Landmark.
It is a scream-inducing event featuring laser and special-effect lighting, digital sound, sinister scents, animatronic creatures and 3-D illusions.
Attractions include "Blood Yard," "Infirmary," "Break Out!," "Quarantine 4D," "Lock Down," and "Machine Shop."
Admission prices, which vary with the date, start at $19.
The "25th Annual Field of Screams" (Stone Battery Road, Lancaster, 717-285-7748, www.fieldofscreams.com), which is open now through November 11, features "Den of Darkness" (three-story horror house), "Frightmare Asylum" (walk-through haunted barn), "Extreme Blackout," "Nocturnal Wasteland" and the "Haunted Hayride" (a 25-minute fright-filled ride featuring state-of-the-art special effects, pyrotechnics and animatronics). Ticket prices start at $16.
MAZES
"Hurricane Hill Farm Maze" (Baldwin's Farm, 704 East Reeceville Road, Coatesville, 610-384-6952, www.hhfmaze.com) will be open Saturdays and Sundays until November 5.
This event features miles of trails through a five-acre corn maze along with a corn slide, hayrides, a pumpkin patch and a farm animal display.
This year's theme is "The Great Train Adventure." Maze design includes a dynamic view of a steam locomotive.
Tickets are $14.
Corn mazes, hayrides, a pumpkin patch and scarecrows will be featured at Ramsey's Farm (500 Ramset Road, Wilmington, Delaware, 302-477-1499,http://www.ramseysfarm.com) on weekends now through October 29.
The theme for the Corn Maze at Ramsey's Farm this year is a trip around the world with sections for North America, Europe, South America, Africa, Australia and Asia. Tickets are $7 for the corn maze, $4 for the sorghum maze, $3 for the hay maze, $2 for pumpkin painting and $3 for a hayride.
Another popular corn maze in the area is running now through November 5 at Cherry Crest Adventure Farm (150 Cherry Hill Road, Ronks, 717-687-6843,www.cherrycrestfarm.com).
The main attraction is Cherry Crest's "Amazing Maize Maze." Billed as "the world's most dynamic and interactive corn maze," it is a five-acre corn maze with over two-and-one-half miles of paths, scenic bridges, and clues. There will also be a "Flashlight Maze" every Friday and Saturday night. Tickets are $17 on Thursday and Fridays and $20 on Saturdays.
AMUSEMENT PARKS
"Great Pumpkin Fest and Halloween Haunt at Dorney Park" (3830 Dorney Park Road, Allentown, 610-395-3724, www.dorneypark.com) is running now through October 29.
The event features scary creatures roaming the park and scarecrows lining line the walkways while frightening activities take place at the following attractions — "Fright Lane Including Skeleton Key," "Chamber of Horrors" and "CarnEvil" along with seven mazes and four "Creepy Scare Zones." Admission is $38.
The "26th Annual Fright By Night" (Six Flags Great Adventure, Route 537, Jackson, NJ, 732-928-2000, www.sixflags.com), which is running now through October 31, features family-oriented activities during the day and much scarier attractions after dark for teens and adults.
The attractions include "Big Top Terror," "Wicked Woods," "Unleashed," "Lady of the Lake Cemetary," "Total Darkness," "Wasteland," "The Manor," "Cell Block 6"," and "The Blood Shed."
Tickets start at $75.99.
For "Count's Halloween Spooktacular at Sesame Place" (100 Sesame Place, Langhorne, 215-752-7070, www.sesameplace.com), the popular amusement park has been converted into a Halloween-themed safe venue for kids with trick or treating, pumpkin decorating, hayrides and a hay maze.
Featured attractions, which will continue until October 29, are "Abby Cadabby's Magical Halloween Maze," "Rubber Duckie Costume Party," and "The Not-So-Spooky Hayride." Admission to the park is $45.