By Denny Dyroff, Staff Writer, The Times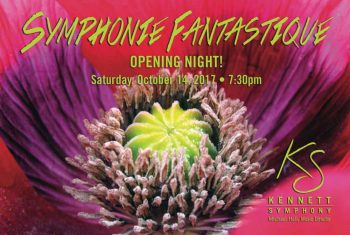 On October 14, it will be time for "Opening Night" for the 2017-2018 season of the Kennett Symphony of Chester County (610-444-6363m, http://www.kennettsymphony.org).
The show, which will get underway at 7:30 p.m., is being held at Unionville High School on Route 82 in Kennett Square.
The KSCC concert will feature Michael Hall as Conductor and Andrew Staupe on piano.
The evening's program features Roydon Tse's "Three Musings," Robert Schumann's Piano Concerto in A minor, Op. 54 and Hector Berlioz' "Symphonie Fantastique."
"Three Musings" is a triptych for chamber orchestra which was written in 2010, and is a set of three miniatures entitled "Lullaby," "Scherzo," and "Lament."  Berlioz could not get the girl of his dreams.
The Piano Concerto in A minor, Op. 54 (completed in the year 1845), is the only piano concerto written by Romantic composer Robert Schumann.
"Symphonie Fantastique" is an epic for a huge orchestra. Through its movements, it tells the story of an artist's self-destructive passion for a beautiful woman.
Adult ticket prices are $58, $50 and $35 day of concert — $5 cheaper in advance — with student (age 18 and under) tickets priced at $10.
Longwood Fire Company will be hosting its annual Open House on October 15 from noon-3 p.m. The fire company and its crew of dedicated firefighters will be opening the bay doors to welcome the community to the station. The event will also showcase the company's fire apparatus, equipment, and talent.
The popular annual event features a wide array of activities including LifeNet Air Medical Chopper, Vehicle Rescue Demonstration using the Jaws of Life, flu shots, Child ID fingerprinting, tours of the station, free food and beverages, face painting, and raffles.
The Willowdale Pro Rodeo is held in conjunction with the Unionville Community Fair but on a different weekend.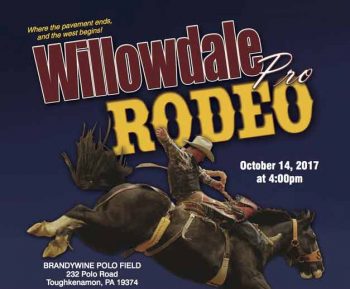 The Seventh Annual Willowdale Pro Rodeo, which is staged as a benefit for the Unionville Community Fair, will be held at the Brandywine Polo Field (232 Polo Road, Toughkenamon) on October 14.
The main event begins at 4:00 p.m. with the slack rodeo starting at 12:00 p.m.
Tickets for the professional rodeo, which will be held rain or shine, are $17 for ages 13 and older, $12 for ages 4 to 12, and free for ages 3 and younger. Tickets are available through the UC Fair web site at www.ucfair.org as well as at the gate day of the event.
This weekend's schedule features a pair of long-running fall festivals that have become area traditions – the Downingtown Friends Fall Festival and the Hay Creek Apple Festival.
The Friends Fall Festival at the Downingtown Friends Meeting (Downingtown Friends Meeting, 800 E. Lancaster Ave., Downingtown, 610-269-4223,www.downingtownfriendsmeeting.org) is scheduled for October 14 from 9 a.m.-4 p.m.
One of the most popular fall festivals in the region, the Friends Fall Festival has been offering families a day of wholesome fun and value for more than 30 years. A special supervised area includes children's crafts and games. There's also a hay wagon ride and exceptional face painting for both kids and adults.
Some of the free festival's many attractions are plant, craft and white elephant sales, the Friends Mercantile for the sale of books, housewares, jewelry and children's toys and the Quaker Heritage Exhibit, which features antique Quaker clothing and memorabilia.
At 2 p.m. there will be a re-enactment of the first wedding held in the Meeting House in 1806.
Visitors can attend the wedding inside the Meeting House and have photographs taken with the bride and groom and wedding party — all of whom will be dressed in authentically reproduced early 19th-century Quaker garb.
The festival, which also offers free parking, will feature live folk and rock music along with demonstrations and community exhibits.
There will also be a variety of tasty food items available for purchase. The Wooden Ladle will offer homemade vegetarian chili, hearty vegetable soup, juicy grilled hot dogs, funnel cake and hot apple cider, coffee, or cold drinks.
The Friendly Cafe, which is an indoor venue, features homemade pastries, pumpkin and apple pies, specialty teas, cakes and coffee.
The Friends Mercantile, a not-to-be-missed stop for serious garage-sale shoppers, opens its doors at 9 a.m. and attracts a loyal following of shoppers with everything from fine gifts to children's toys, books, housewares, jewelry, electronics, and more. The festival's craft vendors offer everything from handcrafted needlework to woodcraft, leather, ceramics and more.
The Hay Creek Apple Festival (Historic Joanna Furnace, Route 10, Morgantown, 610-286-0388, www.haycreek.org), which also has been around for more than 30 years, is scheduled for October 14 and 15.
The festival is a celebration of autumn and especially autumn's favorite fruit — the apple — with a long list of special activities and an amazing variety of taste treats featuring apples.
There will be more than 2,000 apple dumplings and over 800 apple pies ready for consumption this weekend at the festival. Also offered will be a variety of other treats such as fresh-pressed apple cider, apple waffles, apple crisp, Schnitz Un Knepp, apple fritters and the famous Hay Creek Apple Butter.
The festival will have a variety of family fun events starting with the belly-filling "All-You-Can Eat Apple Pancake Breakfast" from 7-11 a.m. Other family activities will be hayrides, scarecrow building, mini-tractor rides, pumpkin painting, Early American games, pony rides, an "Apple Dessert Contest", basket weaving, Early American craft demonstrations and rides on the "Apple Barrel Express."
The festival, which runs from 7 a.m.-5 p.m. on Saturday and from 7 a.m.-3 p.m. on Sunday, will also feature a flea market with over 100 stands. Visitors can shop for crafts, flowers, fall items, antiques and other items related to Berks County history.
The Hagley Craft Fair is known for being one of the oldest and best annual craft events in the Brandywine Valley. Celebrating its 39th anniversary this year, the event will be held October 14 and 15 at Hagley Museum and Library (Buck Road East entrance via Route 100, Wilmington, Delaware, 302-658-2400, www.hagley.org).
The popular annual show, which is being held inside Hagley's Library Building and Soda House along with the grounds outside the building, is a juried craft fair with more than 50 top-flight artisans demonstrating, displaying and selling their crafts.
The Hagley Craft Fair, which was created to celebrate the history of the textile industry along the Brandywine in the late 18th and early 19th centuries, will spotlight artists who specialize in wearable art, Shaker boxes, wood, pottery, jewelry, glass, soap, metal and other media.
Some of the participating vendors are Allen D. Androkites, Andrea's Whimsies, She Got Glass, and Shady Hill Clayworks.
The Craft Fair will run from 10 a.m.-5 p.m. Saturday and 10 a.m.-4 p.m. on Sunday. Tickets are $5.
Stoudts Brewery (2800 North Reading Road, Adamstown, 717-484-4386, http://stoudts.com) is hosting "Oktoberfest with Alex Meixner Band" on October 15 from noon- 6 p.m.
The Stoudt family is carrying on its heritage in the Gemutlichkeit Bier Garden with a fun-filled family event held every Sunday in October.
The event features live German music, dancing, Stoudts award winning lagers and ales, hand-rolled soft pretzels from the Wonderful Good market, locally-produced German-style sausages and other delicious German food.
Gates open at noon for General Admission and the Alex Meixner Band plays from 2-6 p.m. General Admission tickets are $10 with children under 11 admitted free.
For those whose preference is wine rather than beer, there are several special events for you this weekend.
Paradocx Vineyard (1833 Flint Hill Road, Landenberg, www.paradocx.com) will be hosting its annual "Family Fun Day" on October 14.
Activities will include live music, hay wagon rides, pumpkin rides, local vendors and "Pumpkin Bowling."
There will also be an array of activities for the kids, including bounce houses, yard games and the "KD Design Paint Class" from 2-4 p.m.
"Family Fun Day," which is free and open to the public, will run from noon-6 p.m.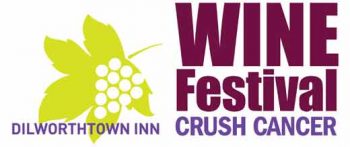 On October 15, wine lovers will gather to help wage war against cancer at the 26th Annual Dilworthtown Inn Wine Festival (Dilworthtown Inn, 1390 Old Wilmington Pike, West Chester, 610-431-5329, http://www.chestercountyhospital.org/cchfdn.asp?p=1210).
The event kicks off at noon and runs until 4 p.m. — rain or shine.
The festival features more than 100 wines, craft beers, hard cider along with delicious food prepared by Dilworthtown Inn chefs. There will also be a "Silent Auction," shopping opportunities in the Gallery of Artisan Vendors, live music and a Craft Beer Area.
The Dilworthtown Inn, and the Brandywine and Greystone branches of The Women's Auxiliary to Chester County Hospital jointly organize this event. Proceeds from the wine festival benefit patients of The Cancer Program of Chester County Hospital and Neighborhood Hospice.
Tickets are $45 in advance and $50 at the door.
On October 13 and 14, the Eighth Annual Fall Wine Festival (Skippack Pike, Skippack, 610- 584-1155, http://winetober.com) will be held Friday from 5-9 p.m. and Saturday from 1-6 p.m. along the main street of the scenic village near the Skippack Creek in Montgomery County.
The popular annual event, which is also known as Winetober Fest, will feature vendors with a tasty array of wine and food samples along with live music. Tickets for the event, which include food and wine sampling, are $25 on Friday and $30 on Saturday.
One of Chester County's most popular wineries will be participating in Saturday's event — Paradocx Winery. And, there will even be a meadery – Haymaker Meadery.
The list of participating wineries also includes Bee Kind Winery, Benignas Creek Vineyard and Winery, Juniata Valley Winery, Blue Mountain Vineyard and Cellars, Crossing Vineyards, Kog Hill Winery, Naylor Winery, Jay Zell Wines, Mountain Lake Winery and A'Dello Vineyard and Winery.
On October 14 and 15 16, the Lehigh Valley Wine Trail (http://lehighvalleywinetrail.com) will introduce visitors to the region's official wine grape during Chambourcin Weekend.
Chambourcin is the only wine grape that is grown by all eight wineries. In the greater Lehigh Valley, there are more than 40 acres of Chambourcin that ferments into approximately 150,000 bottles of wine annually.
Each winery will feature its own activities such as wine tastings, live entertainment, vineyard tours and food and wine pairings. Event hours at all of the wineries are Saturday from 11 a.m.-5 p.m. and Sunday from noon-5 p.m. Chambourcin Weekend is a free event but some of the wineries charge for wine tastings.
The eight wineries on the Lehigh Valley Wine Trail are Amore (Nazareth), Blue Mountain (New Tripoli), Clover Hill (Breinigsville), Franklin Hill (Bangor), Galen Glen (Andreas), Pinnacle Ridge (Kutztown), Tolino (Bangor) and Vynecrest (Breinigsville).
The Historic Odessa Foundation (Main Street, Odessa, Delaware, 302-378-4119, http://www.historicodessa.org) will present an event that is aimed at sending chills down your spine.
The Delaware Shakespeare Festival will put audience members in a nicely-spooked state with two performances of "Shakespeare/Poe: A Night of Readings from the Dark Side." On Oct. 14 from 7:30-9 p.m., actors will read seasonally spooky selections from the plays of Shakespeare and the poems and short stories of Edgar Allan Poe.
The weird sisters of Macbeth will meet again and the raven will certainly come knocking on the chamber door, but this year's "Shakespeare/Poe" event will also offer readings that have not appeared in previous installments of this popular autumn show.
The Historic Odessa Foundation offers tours to the public, families, groups and schools of its landmark Delaware properties — the Historic Houses of Odessa. The tour also provides a look at the foundation's collection of more than 6,000 objects and furnishings that span an interpretive period in regional decorative arts from 1760-1850.
The Historic Houses of Odessa are open to the public March through December, Tuesday through Saturday, 10 a.m.-4:30 p.m., and Sunday 1-4:30 p.m. General Admission is $10 for adults, $8 for seniors and students, and free for children (under six).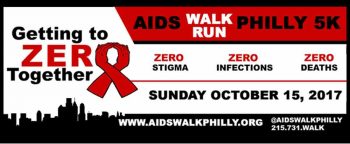 The 31st Annual AIDS Walk Philly and AIDS Run Philly will be held October 15 at The Oval (2451 Benjamin Franklin Parkway, Philadelphia). The event will feature a 5K Run and a 5K Walk.
The HIV/AIDS epidemic has evolved over the last 30 years, so AIDS Fund is evolving its mission to create an even greater impact on the lives of those living with HIV disease in our community. Beginning in 2017, AIDS Fund will be providing support to the most vulnerable people in our community living with HIV by providing emergency financial assistance for critical life needs.
Advances in treatment and new prevention strategies have now made "Getting to Zero" — zero new infections, zero deaths, zero stigma– an achievable goal. For additional information, visit www.aidswalkphilly.org.
Check-in starts at 6:30 a.m. with the 5K Run slated to start at 7:30 a.m. and the Fun Walk listed for 9 a.m.
Pumpkin time has arrived.
Everywhere you look, there are pumpkins or pumpkin-related items have arrived and they've come in all shapes, sizes and forms – live pumpkins, carved pumpkins, illuminated plastic pumpkins, miniature pumpkins, pumpkin Oreos, huge pumpkins, white pumpkins, pumpkin lattes, artificial pumpkins and even digital pumpkins. If you look hard, you might even find pumpkin toothpaste.
This is also the time of the year when pumpkin celebrations are all around you.

One of the premier pumpkin events in the state is the annual Pumpkin Days event at Tyler Arboretum. (515 Painter Rd., Media, 610-566-9134, www.tylerarboretum.org).
Tyler Arboretum's Pumpkin Days event is a fun-filled family festival as well as being one of the nature-oriented site's major annual fundraising events. This year's event will be held October 14 and 15 from 10 a.m.-5 p.m. each day.
The wide array of activities includes hay wagon tours, scarecrow making, a bounce house, face painting, a pumpkin patch, an inflatable obstacle course, pumpkin racing, arts and crafts, a haunted tree house, pumpkin painting and goats in the meadow.
Tickets are $15 for adults, $13 for seniors and $9 for children (ages 3-15). Free parking for Pumpkin Days is exclusively at the Penn State Brandywine campus, where visitors can catch the complimentary shuttle bus to and from Tyler Arboretum.
"Pumpkinland" (Linvilla Orchards, 137 West Knowlton Road, Media, 610-876-7116, www.linvilla.com), which is open through November 5, features fairy tale characters from nursery rhymes along with a huge scarecrow and a really tall storybook.
Other activities include train rides, a straw bale maze, hayrides, pick-your-own apples and pony rides. Another attraction, which runs through October 30, is "Hayride to the Witch's House." Admission is free and hayrides are $9 per person.
The "Great Pumpkin Express Trains" (West Chester Railroad, Market Street Station, West Chester, 610-430-2233, www.westchesterrr.net) are scheduled for October 14, 15, 21, 22, 28 and 29.
The "haunted trains" with ghoulish characters leave West Chester's Market Street Station at noon and 2 p.m. Tickets are $22 for adults, $16 for children and $9 for toddlers (9-23 months).
From October 19-21, "The Great Pumpkin Carve" (Chadds Ford Historical Society, Route 100, Chadds Ford, 610-388-7376, www.chaddsfordhistory.org) will return to its annual haunt.
The popular event will start with the carving competition on October 19. Live entertainment, hayrides and hot food are featured all three days. Admission is $10 for adults (18 and older) and $5 for children (ages 7-17).
A guaranteed way to get into the Halloween holiday spirit – and to be awed by pumpkins — is to visit Fairmount Park in Philadelphia to check out "The Glow: A Jack O'Lantern Experience" (www.theglowjackolantern.com).
"The Glow," which runs now through October 29, is a family-friendly, immersive Halloween stroll along a trail illuminated by more than 5,000 hand-carved jack o' lanterns.
This Halloween happening will delight visitors as they are surrounded by thousands of intricately-carved pumpkins dangling from above and along the third-of-a-mile walk.
In the Pre-Historic Park, jack o' lantern dinosaurs stand up to 16 feet tall. Captain Jack and his band of marauders helm a 30-foot-long pirate ship, complete with skeletons and pumpkin pirates. In the pumpkin graveyard, guests will encounter black cats, ghosts and gravestones.
"The Glow" also illuminates some of Philly's most famous natives with pumpkin look-a-likes featuring sports figures, famous icons, superheroes and princesses.
"The Glow" is located in West Fairmount Park adjacent to the Mann Music Center on Parkside Avenue. Tickets start at $16.
A great way to enjoy autumn's annual color display is to ride a special excursion on an area tourist railroad.
The New Hope & Ivyland Railroad (32 West Bridge St, New Hope, 215- 862-2332, www.newhoperailroad.com) offers a two-and-one-half hour, 35-mile roundtrip ride on its "Fall Foliage Trains" now through October 29. Every weekend, the rail line in Bucks County will operate regularly scheduled round trip trains out of New Hope Station and SEPTA's Warminster station.
Passengers can enjoy the sights of the beautiful fall scenery while riding aboard the rail line's "First Class Bar Car," "Antique Seat Coach" or "Open Air Car." Coach tickets are $48.95 for adults, $46.95 for children (ages 2-11) and $9.95 for toddlers.
The Wilmington & Western Railroad (2201 Newport Gap Pike, Wilmington, DE, 302-998-1930, www.wwrr.com) is running its "Autumn Leaf Special" with trains on October 14, 15, 18, 21, 22, 25 and 28 and November 4 and 5.
Trips are either a one-and-one-half hour roundtrip to the Mt. Cuba Picnic Grove or two-and-one-half hour roundtrips to Hockessin.
The W&WRR also is running its "Hayride Express" on October 20 and 27 and November 10 at 7 p.m. Visitors can experience a one-hour evening ride through the Red Clay Valley on an original railroad flatcar converted especially for hayrides.
The West Chester Railroad (Market Street Station, West Chester, 610-430-2233, www.westchesterrr.net) is running its special "Fall Foliage Express" trains on November 5 and 12 with departures at noon and 2 p.m.
The round-trip train ride travels to the village of Glen Mills and back and lasts for 90 minutes. During the brief layover in Glen Mills, riders can explore the historic Pennsylvania Railroad station and have a snack in the railroad's picnic grove along the Chester Creek.
Tickets are $15 for adults, $13 for children ages 2-12 and free for kids under two.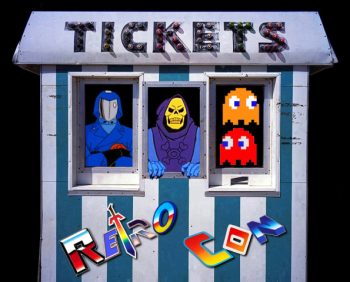 This weekend, the Greater Philadelphia Expo Center (100 Station Avenue, Oaks, 484-754-EXPO, http://www.phillyexpocenter.com) will host two very different events — Retro-Con on October 14 and 15 and Minefaire on October 14 and 15 also.
Retro Con: Retro Toy & Gaming Show is a Toy Show that's dedicated to all things retro.
The show's spotlight will shine on the toys from the 60's, 70's, 80's and 90's – and more.
The event will also have gaming systems set up – systems such as the classic NES & Saga — for fans to play.
Another main attraction will be more than 200 vendor tables featuring toys and collectibles, plus replica tv/movie cars and props, special guests, video games, panels, costumes, raffles, contests, and more.
The show will run from 9 a.m.-6 p.m. on Saturday and 9 a.m,-4 p.m. on Sunday. Tickets are $20 on Saturday and $15 on Sunday.
Minefaire is a convention of fans of the block-o-licious world of Minecraft, a game about placing blocks and going on adventures. Participants explore randomly-generated worlds and build amazing things from the simplest of homes to the grandest of castles.
Visitors to Minefaire will be able to play in Creative Mode with unlimited resources or mine deep in Survival Mode, crafting weapons and armor to fend off dangerous mobs.
Minefaire will run from 9 a.m.-5 p.m. on Saturday and Sunday. Admission is $29.50.
Halloween is just a little more than two weeks away so you better be wary because the spirits of the night are beginning to prowl the area.
They know that Halloween and All Saints' Day (also known as All Hallows Day) are coming soon and they're ready to raise some hell.
Halloween, the holiday that features trick-or-treating and other ghostly fun events, takes its name from All Hallows Evening (Hallow e'en).
The schedule of special Halloween attractions is loaded to say the least. There is an attraction for almost any age or taste.
Ghost Tour of Philadelphia (215-413-1997, www.ghosttour.com), Ghost Tour of Lancaster (717-687-6687, www.ghosttour.com) and Ghost Tour of Strasburg (717-687-6687,www.ghosttour.com) operate through November and offer an eerily entertaining evening of true ghost stories and real haunted houses.
Tickets are $17 for adults for Philadelphia and $15 for Lancaster and Strasburg and $10 for children at all locations.
The "32nd Annual Jason's Woods" (99 Stehman Road, Lancaster, 717-872-5768, www.jasonswoods.com), which is running through November 4, is a horror show complex that features a combination of live actors, impressive animation and scary special effects.
Popular attractions include "Horrifying Hayride," "Chamber of Horrors," "Zombie Apocalypse," "Lost in Jason's Woods," and "Carnival of Fear," Admission prices are for combo tickets are $25 for three attractions and $40 for five.
The 27th annual edition of "Haunted Hayride, Bates Motel and Haunted Corn Maze at Arasapha Farm" (1835 N. Middletown Rd., Gradyville, 610-459-0647, www.thebatesmotel.com) will be scaring visitors through October 31.
The haunted hayride through the woods features monsters, special effects and actors. The Bates Motel has haunted rooms with special effects and computerized lighting.
Another attraction is the "Revenge of the Sacrecrow Haunted Trail." A haunted trail is cut through a cornfield inhabited by monsters.
Admission prices are: Haunted Hayride, $20; Bates Motel, $15; Haunted Trail, $15; combination tickets, $40. There are reduced rates for children.
For "Count's Halloween Spooktacular at Sesame Place" (100 Sesame Place, Langhorne, 215-752-7070, www.sesameplace.com), the popular amusement park has been converted into a Halloween-themed safe venue for kids with trick or treating, pumpkin decorating, hayrides and a hay maze.
Featured attractions, which will continue until October 29, are "Abby Cadabby's Magical Halloween Maze," "Rubber Duckie Costume Party," and "The Not-So-Spooky Hayride." Admission to the park is $45.
Pennhurst Asylum (100 Commonwealth Drive, Spring City, 484-866-8964, www.pennhurstasylum.com), which is open through October 30, is on the site of a former mental asylum which has been shuttered for over a quarter of a century.
It has been transformed into a haunted attraction with huge sets, detailed rooms and live actors. Visitors can also explore the labyrinth of underground tunnels.
Tickets are $18 for each of the attractions with a variety of combo packages available.
"Hurricane Hill Farm Maze" (Baldwin's Farm, 704 East Reeceville Road, Coatesville, 610-384-6952, www.hhfmaze.com) will be open Saturdays and Sundays until November 5.
This event features miles of trails through a five-acre corn maze along with a corn slide, hayrides, a pumpkin patch and a farm animal display.
This year's theme is "The Great Train Adventure." Maze design includes a dynamic view of a steam locomotive.
Tickets are $14.
Corn mazes, hayrides, a pumpkin patch and scarecrows will be featured at Ramsey's Farm (500 Ramset Road, Wilmington, Delaware, 302-477-1499, http://www.ramseysfarm.com) on weekends now through October 29.
The theme for the Corn Maze at Ramsey's Farm this year is a trip around the world with sections for North America, Europe, South America, Africa, Australia and Asia. Tickets are $7 for the corn maze, $4 for the sorghum maze, $3 for the hay maze, $2 for pumpkin painting and $3 for a hayride.
Another popular corn maze in the area is running now through November 5 at Cherry Crest Adventure Farm (150 Cherry Hill Road, Ronks, 717-687-6843, www.cherrycrestfarm.com).
The main attraction is Cherry Crest's "Amazing Maize Maze." Billed as "the world's most dynamic and interactive corn maze," it is a five-acre corn maze with over two-and-one-half miles of paths, scenic bridges, and clues. There will also be a "Flashlight Maze" every Friday and Saturday night. Tickets are $17 on Thursday and Fridays and $20 on Saturdays.
"Great Pumpkin Fest and Halloween Haunt at Dorney Park" (3830 Dorney Park Road, Allentown, 610-395-3724, www.dorneypark.com) is running now through October 29.
The event features scary creatures roaming the park and scarecrows lining line the walkways while frightening activities take place at the following attractions — "Fright Lane Including Skeleton Key," "Chamber of Horrors" and "CarnEvil" along with seven mazes and four "Creepy Scare Zones." Admission is $38.
The "26th Annual Fright By Night" (Six Flags Great Adventure, Route 537, Jackson, NJ, 732-928-2000, www.sixflags.com), which is running now through October 31, features family-oriented activities during the day and much scarier attractions after dark for teens and adults.
The attractions include "Big Top Terror," "Wicked Woods," "Unleashed," "Lady of the Lake Cemetary," "Total Darkness," "Wasteland," "The Manor," "Cell Block 6"," and "The Blood Shed."
Tickets start at $75.99.
"Valley of Fear" (300 W. Bristol Road, Feasterville, 215-942-9787, www.valleyoffear.com), which is open through October 30, features four "heart pounding attractions" — "Haunted Hayride," "Scareytales," "The Facility," and "Operation Z Escape."  Admission prices start at $19.
"Terror Behind the Walls" (Eastern State Penitentiary, 2124 Fairmount Avenue, Philadelphia, 888-763-NITE, www.easternstate.org), which continues through November 11, takes place at a site Penitentiary that was once was an active prison and is now a National Historic Landmark.
It is a scream-inducing event featuring laser and special-effect lighting, digital sound, sinister scents, animatronic creatures and 3-D illusions.
Attractions include "Blood Yard," "Infirmary," "Break Out!," "Quarantine 4D," "Lock Down," and "Machine Shop."
Admission prices, which vary with the date, start at $19.
The "25th Annual Field of Screams" (Stone Battery Road, Lancaster, 717-285-7748, www.fieldofscreams.com), which is open now through November 11, features "Den of Darkness" (three-story horror house), "Frightmare Asylum" (walk-through haunted barn), "Extreme Blackout," "Nocturnal Wasteland" and the "Haunted Hayride" (a 25-minute fright-filled ride featuring state-of-the-art special effects, pyrotechnics and animatronics). Ticket prices start at $16.
"Candlelight Ghost Tours" (Fort Mifflin, Fort Mifflin and Hog Island roads, Philadelphia, 215-685-4167, http://fortmifflin.us) are scheduled for October 14, 20 and 21.
Visitors can tour historic (and haunted) Fort Mifflin by candlelight from 7-10 p.m. each night and hear true stories of ghostly encounters. This event is billed as an "authentic experience." Tickets are $20 for adults and $15 for students (12 and under).
"Boo at the Zoo (Elmwood Park Zoo, Harding Boulevard, Norristown, www.elmwoodparkzoo.org) will be held October 14, 15, 21, 22, 28, 29 and 30 from noon-3 p.m. each day.
"Boo at the Zoo" features live entertainment, costume contests, costume parades, trick-or-treat stations with candy, prizes, crafts and educational pieces.
Children are encouraged to bring their own treat bags for trick-or-treating. The zoo will not be providing any bags.
"Boo at the Zoo" is free with zoo admission, which is $19.95 for adults, $14.95 for students and $12.95 for seniors and children.
October 14 and 21 are the dates for "Ghosts in the Graveyard" (Old Swedes Historical Site, 606 Church Street, Wilmington, Delaware, 302-652-5629, www.oldswedes.org).
From 6:30-9 p.m. each night, visitors will be able to stroll through the complex, meet some of the ghosts who reside in the site's burial grounds and maybe even solve the mystery of the late-night bell ringing at Old Swedes Church.
Tickets are $10 for adults and $6 for students (ages 12-17).
Other fun events around the area worth noting are the Conshohocken Beer Festival (A. A. Garthwaite Stadium, 198 East 11th Avenue, Conshohocken,https://conshybeerfest.ticketleap.com) on October 14; DesignPhiladelphia (NextFab, 1227 North 4th Street, Philadelphia, www.designphiladelphia.org) the largest and oldest festival of its kind in the nation with 120 events representing 400 nationally recognized designers on October 14; the Rittenhouse Square Fine Craft Market (210 W. Rittenhouse Square, Philadelphia, https://www.pacrafts.org/fine-craft-fairs/rittenhouse-fine-craft-show-fall-show) now through October 15; the Fishtown RiverCity Festival (Penn Treaty Park, 1301 North Beach Street, Philadelphia, http://www.rivercityfestival.org) on October 14; the Manayunk Harvest Festival (Pretzel Park, Main Street, Manayunk,http://manayunk.com) on October 14; the Made In Philadelphia Fall Market (Dilworth Park, 1 South 15th Street, Philadelphia, http://centercityphila.org/parks/dilworth-park/octoberfest) on October 14 and 15; and the Eighth Annual Historic Germantown Historic House Tour (6601 Greene Street, Germantown, www.freedomsbackyard.com) on October 15.